Conferences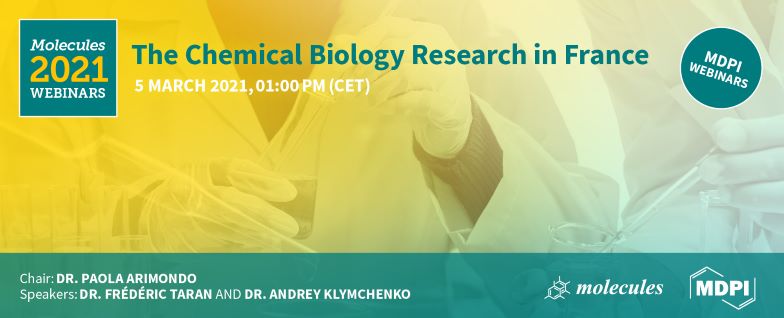 Chemistry at the interface of biology has played an important role in research in France since the end of the 19th century, with the discoveries made by Louis Pasteur and their application to medicine and biotechnology. Chemical Biology opens many possibilities to develop new cutting-edge technologies to understand biology, and discover, for example, new treatments for human diseases or new agronomical applications.
The chemical probes that are developed help to detect and follow biological macromolecules, events and organisms in living cells and animals, and constitute a valuable toolbox for detailed studies of biological processes. Notably, combined with a Medicinal Chemistry program, chemical probes can favour the emergence of drug candidates.

This Webinar will show two examples of the design and development of chemical reactions, and use of novel chemical probes, including functional fluorescent molecules and nanomaterials, for biosensing, imaging, diagnostics and drug-release applications.

The related Special Issue, "Chemical Biology Research in France", which will be published by the open-access journal Molecules, will present some examples of novel developments of chemical tools and chemical probes that are ongoing in French laboratories, as well as their applications.
The following experts will present and talk:
Dr. Paola B. Arimondo, Institut Pasteur, France
Dr. Frédéric Taran, French Alternative Energies and Atomic Energy Commission (CEA), France
Dr. Andrey Klymchenko, University of Strasbourg, France
When? 5 March 2021 at 1.00pm CET | 7.00am EST | 8.00pm CST Asia