20–22 May 2019
The Fourth World Congress on Agroforestry (Agroforestry 2019)
Montpellier, France
Over one thousand agroforestry geeks will come together to bring news of agroforestry's progress from the four corners of the globe, celebrate progress, push global policymakers to support agroforestry, and discuss the most up-to-date research into these amazing land use systems, which, by combining trees, crops and/or animals, can...
The overall objective of the Congress is to contribute to the progress of agroforestry science and practice in order to bridge the science-policy gap.
Major topics include:
agroforestry and climate change
agroforestry, food security and nutrition
adoption of agroforestry
agroforestry policies
special attention will be paid to vulnerable countries and populations.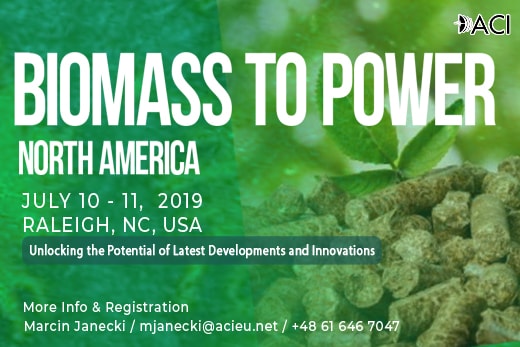 10–11 July 2019
Biomass to Power North America
Raleigh, North Carolina, USA
Broadening horizons on the growing Biomass Power industry for almost a decade at the sell-out Biomass to Power conference in Europe, ACI is thrilled to announce the expansion of its Energy portfolio of events across the Atlantic with the release of Biomass to Power North America will be taking place in Raleigh, NC, USA July 10-11 2019.
This year's show will play host to an audience of owners and operators of biomass power facilities, utilities, producers and distributors of biomass feedstocks and many more, providing a focal point to discuss the latest advancements in the field.
Over the two days, the event will give you in-depth look into case studies giving practical examples of planning, finance and technology strategies utilized for biomass cogeneration projects.
On Tuesday July 9 a limited number of conference delegates will receive a unique opportunity to visit NOVEC Energy Production, Halifax County Biomass plant. There is no extra charge to attend the site visits, but spaces are strictly limited and allocated to conference delegates on a first-come, first-served basis, so it is highly recommended to book early to guarantee availability.
Key topics include:
Sourcing & Sustainability Supply
Technological Advancements of Biomass to Power
Biomass Handling & Storage
Investment Opportunities in Biomass Energy Sector
Case Studies: Biomass to Power Projects in North America
Policy & Regulation
The Latest Biomass Conversion Developments Stimulating & Transforming The Biomass Industry
Sustainability of Biomass to Energy
Confirmed speakers include:
Darcey Bailey, West Production Manager, Ontario Power Generation
Joseph Aquino, Head Of Sustainability, Pinnacle Renewable Energy Inc.
William Strauss, President, FutureMetrics, LLC
Paul Newall, President, Newall Consulting Inc.
Fred D. Circle, President CEO, FDCE
Trevor Taylor, Engineering Specialist, Coal Milliing Projects
Brian Baldwin, Professor, Mississippi State University
Latest agenda HERE>>
For more information & registration, please contact:
Marcin Janecki
Phone:
+48 61 646 7047
Email:
[email protected]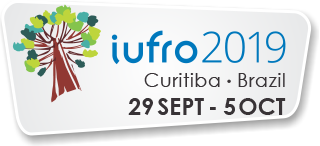 29 September–5 October 2019
XXV IUFRO World Congress (IUFRO 2019)
Curitiba, Paraná, Brazil
In 2019, for the first time Latin America will host a World Congress of the IUFRO (International Union of Forest Research Organizations). This event will take place in Curitiba, Paraná, Brazil (at Expo Unimed), from September 29 to October 5, and will be organized and coordinated by the Brazilian Forest Service (SFB) and EMBRAPA. Approximately three thousand participants are expected at the event, which will discuss various aspects related to forest research.
The Congress will be a great opportunity to exchange experiences and knowledge on technological innovations, as well as to stay up to date on the latest research findings and trends for the future of forestry and forest research in all areas of the world.
Congress Themes:
Forests for People
Forests and Climate Change
Forests and Forest Products for a Greener Future
Biodiversity, Ecosystem Services and Biological Invasions
Forests, Soil and Water Interactions