Epigenomes Events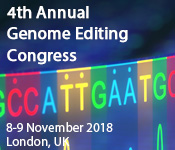 8–9 November 2018
4th Annual Genome Editing Congress 2018
London, United Kingdom
Gene Editing is the future of therapy. Join Oxford Global for the 4th Annual Genome Editing Congress (https://www.oxfordglobal.co.uk/genomeediting-congress/ ) as our panel of over 20 world class speakers discuss the latest gene editing technologies, gene delivery systems and gene therapy applications.
Our esteemed speaker list features Zoltán Ivics, Head of Division, Paul Ehrlich Institute, presenting on non-viral genome editing transposon vectors, and Adriana Beltran, Director Human Pluripotent Stem Cell Core, University of North Carolina Chapel Hill who will provide insights on CRISPR stem cell models of genetic disease.
Putting you in contact with over 600 senior level delegates, this is the number one industry event for scientific networking with leading genome editing experts.
The event is co-located with our 10th Annual Next Generation Sequencing & Clinical Diagnostics Congress, our 6th Annual Single Cell Analysis Congress and Synthetic Biology Congress.
Download the congress agenda here: https://www.oxfordglobal.co.uk/genomeediting-congress/download-agenda/
Alternatively contact Danielle Dalby on [email protected]