Epigenomes Events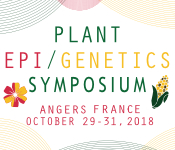 29–31 October 2018
International Plant Epi/Genetics Symposium 2018
Angers, France
"Plant epi/genetics" is an international conference on epigenetics and transposable elements. The aim of this conference is to bring together experts, novices, students and breeders to exchange and discuss their latest results in the fields of epigenetics and transposable elements. The conference will range from fundamental research to applications in crop plants. Plant breeding companies are encouraged to join in and participate at this meeting.
Thanks to kind sponsors, we'll have poster and presentation prizes for PhD students.
The main themes of the conference will be:
Epigenetic and genetic mechanisms involved in genome stability.
Transposable elements and plant genome evolution.
Heritability of epigenetic marks.
Regulation of phenotypic variability in plants by transposable elements and epigenetics
Harnessing epigenetics and transposable elements for crop breeding.
Novel sequencing technologies and bioinformatics tools for the analysis of epigenetic marks and transposable elements.
Keynote Speakers
Isabel Bäurle
Claude Becker
Tetsuji Kakutani
Marie Mirouze
Olivier Panaud
Bob Schmitz
Nathan Springer
Clémentine Vitte
Jian-Kang Zhu
We hope to meet you in Angers soon!
Etienne Bucher
for the organizing committee