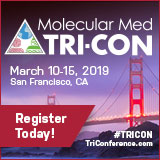 10–15 March 2019
26th International Molecular Medicine Tri-Conference
San Francisco, CA, USA
Join over 3,700 drug discovery, development & diagnostics professionals worldwide at the 26th International Molecular Medicine Tri-Conference!
Spanning five days, the 2019 Tri-Conference includes compelling talks, including case studies and joint partner presentations, will feature over 500 of your fellow industry and academic colleagues discussing themes of cancer research, big data, molecular diagnostics, precision medicine, rare diseases, data science, human microbiome, point-of-care diagnostics, infectious diseases, and so much more.

12–15 March 2019
ME/CFS. The biological basis, diagnosis, treatment, and management. International Research Symposium
Geelong, Australia
Emerge is proud to host this international research symposium on ME/CFS supported by funding from the Australian Government Department of Health. It presents an immense opportunity for both local and international scientists to share insights and collaborate, and critically serve the needs of the ME/CFS patient community to be informed and heard. We welcome all those interested in ME/CFS to join us for all or part of the symposium from 12–15 March 2019.
12th March – Afternoon arrival & Cocktail Welcome Reception
13th March – Day 1 Scientific programme
14th March – Day 2 Scientific programme & Symposium Dinner
15th March – Day 3 Clinical Focus & Open Day including a Symposia Summary with Q&A
Key speakers will include: Dr. Neil McGregor, Professor Paul Fisher, Associate Professor Brett Lidbury, Professor Sonya Marshall-Gradisnik and Professor Don Staines. A Special Issue "Biomedical Insights that Inform the Diagnosis of ME/CFS" (https://www.mdpi.com/journal/diagnostics/special_issues/ME_CFS) is edited by Associate Professor Brett Lidbury and Professor Paul Fisher. The Special Issue contains all of the speaker submissions and other accepted manuscripts contributing to our objective for Biomedical Insights that Inform the Diagnosis of ME/CFS. The deadline for submission is on 31 May 2019.

6–9 May 2019
7th International Molecular Diagnostics Europe
Lisbon, Portugal
Cambridge Healthtech Institute's Seventh International Molecular Diagnostics Europe event will move to a larger venue for 2019 - the Lisbon Marriott Hotel - from 6-9 May. This meeting provides a nexus for diagnostic developers in academia and industry as well as end users in the pharmaceutical and healthcare sector to gain a comprehensive picture of molecular diagnostics in the prenatal, oncology, infectious disease, point-of-care, and liquid biopsy fields, plus new coverage of biomarkers for immunotherapy and companion diagnostics for immuno-oncology. This exciting area has attracted attendance of over 400 delegates to learn what novel technologies, platforms and applications are emerging that will impact future healthcare delivery and pharmaceutical research. Join us next spring at this expanding event at the epicenter of diagnostics.