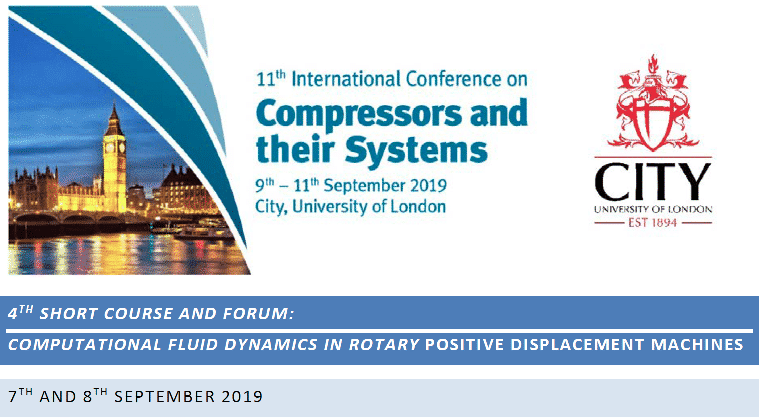 7–8 September 2019
4th Short Course and Forum: Computational Fluid Dynamics in Rotary Positive Displacement Machines
City, University of London, London, EC1V 0HB, United Kingdom
Following the success of three previous forums/short-courses on CFD in Positive Displacement Machines (PDM), in which there was strong participation from the compressor industry, CFD software providers and academia, this fourth event is dedicated to advanced topics in the application of CFD in PDM for industrial and research use. The main topics of the 4th short course and forum will be:
* Advances in grid generation, CFD tools and new techniques for PD machine analysis.
* Modelling leakage flows and conjugate heat transfer.
* Prediction of clearance gap sizes during operation and application of modern FSI computations.
* Stability and accuracy of Multiphase flow calculations in PD machines.
Participants from academia and industry are invited to submit their research manuscripts for publication in the Special Issue "Modelling, Analysis, and Design of Positive Displacement Machines" of Designs — an international, scientific, peer-reviewed, open access journal of engineering designs published by MDPI. Deadline for manuscript submissions: 31 May 2019. The Article Processing Charge (APC) is waived for well-prepared manuscripts submitted to this issue. For information on how to submit your manuscript, please visit: mdpi.com/si/18800.
This short course/forum will bring benefits to engineers, engineering managers and specialists from industry, students, researchers and educators from academia and anyone who is interested in modelling and design of rotary positive displacement machines. The short course will be presented by leading scientists and researchers from industry and academia and will give an insight into new technologies and the state of the art in modelling PDM.
The Forum/Short Course is organized by the Centre for Compressor Technology and will be held at the Northampton Square site of City, University of London on 7th and 8th September 2019.
https://www.city.ac.uk/compressorsconference/short-course-on-compressors