Routine Neuroimaging in Patients with Stage IV Non-Small Cell Lung Cancer: A Single Center Experience
Abstract
Background: There is a lack of consensus in current practice guidelines regarding routine neuroimaging in patients with stage IV non-small cell lung cancer (NSCLC) without neurologic symptoms, and there is a paucity of data on the impact of such imaging on overall survival
[...] Read more.
Background: There is a lack of consensus in current practice guidelines regarding routine neuroimaging in patients with stage IV non-small cell lung cancer (NSCLC) without neurologic symptoms, and there is a paucity of data on the impact of such imaging on overall survival (OS). Methods: This retrospective study included 257 patients with stage IV NSCLC without neurologic symptoms diagnosed between January 1, 2013 and December 31, 2016 at
Institut universitaire de cardiologie et de pneumologie de Québec
(IUCPQ). The primary objective of this study was to compare the evolution of patients with stage IV NSCLC who had baseline brain imaging versus with who did not. Secondary objectives were to determine the proportion of patients who underwent brain imaging in their initial investigation and the proportion of patients who developed metachronous central nervous system (CNS) metastasis. Results: CNS imaging, mainly with computed tomography (CT), was performed at diagnosis in 56% of patients, and the prevalence of synchronous CNS metastasis among these patients was 32%. There was no difference in median OS between patients who underwent initial CNS imaging and those who did not, but we did show a tendency for a higher cumulative incidence of metachronous CNS metastasis in patients without baseline imaging. These metachronous metastases were symptomatic and were more often not treated when compared to synchronous metastases. Conclusions: In this small, unicentric retrospective study, there was no benefit with routine neuroimaging in terms of median OS in stage IV NSCLC patients without neurologic symptoms.
Full article
►

▼

Show Figures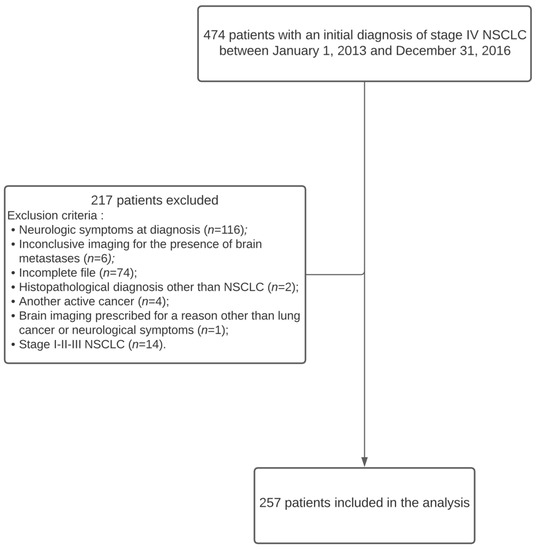 Figure 1