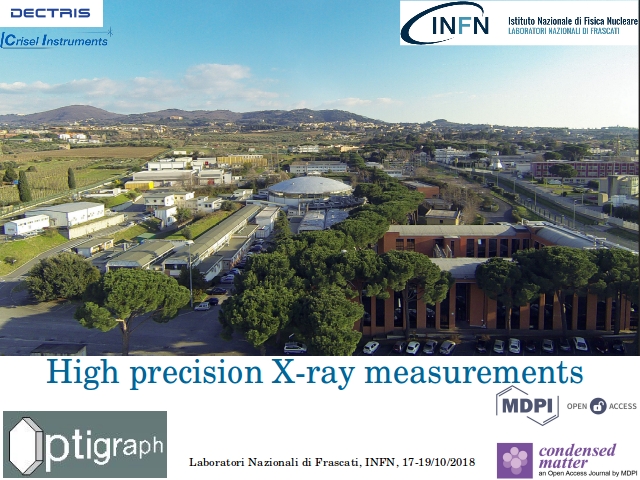 17–19 October 2018
High Precision X-ray Measurements
Laboratori Nazionali di Frascati INFN, Frascati, Italy
The aim of this workshop is to have an overview, from different communities and research fields, of the most recent developments in X-ray detection and their possible impacts in various fields. A special focus will be put on the role played by mosaic crystals of pyrolitic graphite which, thanks to their physical properties, may have promising applications for XRF, XES, EXAFS, plasma emission spectroscopy, monochromators, synchrotron radiation, telescopes and space engineering.
Main Topics:
X-ray energy detectors
X-ray position detectors
Spectrometers
X-ray optics
Graphite based applications
X-ray imaging
X-rays in astrophysics
X-rays in nuclear physics
Cultural heritage applications of X-rays
Medical applications

17–19 October 2018
NANOCON 2018 - 10th Anniversary International Conference on Nanomaterials - Research & Application
Hotel Voronez I, Brno, Czech Republic, EU
Nanomaterials - preparation, properties, characterization. Applications of nanotechnologies in industry, environment, medicine and biotechnology. The influence of nanomaterials to environment, health; metrology and standardization of nanomaterials. The topic nanomaterials for medicine will be accentuated in the X. NANOCON conference. The conference will be opened by the plenary session with the appearance of significant speakers focused on research and applications of nanomaterials. Conference abstracts will be accepted into five theme sessions.

Highly ranked keynote and invited speakers already confirmed their attendance. Plenary lecture will be given by Prof. Dr. Paras N. Prasat (University at Buffalo, New York State, U.S.A.) focusing on photonics and biology to impact on energy and health care, and Prof. Dr. Antonio H. Castro Neto (National University of Singapore and Boston University/USA), one of the leading theorists in the study of graphene. Confirmed speakers include also: Prof. Dr. Wilfried Vandervorst (IMEC, Leuven, Belgium), Prof. Dr. Andrei V. Kabashin (CNRS, Aix-Marseille University, France), Dr. Antonín Fejfar (Institute of Physics CAS, Prague, Czech Republic), Prof. Dr. Karl-Heinz Ernst (Swiss Federal Laboratories for Materials Science and Technology, Dübendorf, Switzerland) and others. More on Invited speakers is available at the web page of the conference.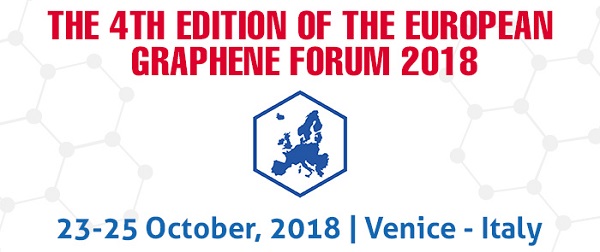 23–25 October 2018
The 4th Edition of the European Graphene Forum 2018 - EGF 2018
Venice, Italy
New Materials for the 21st Century
Graphene, the single layer carbon based material, is transparent, flexible, and has excellent electronic properties. As it is called "the dream material," graphene holds innumerable application potential. It is a material that still requires consistent research and at the same time it is a material that may hold the key to future electronics revolution with unlimited industrial value.
The 4th Edition European Graphene Forum will be organized in Venice (Italy) from the 23rd until the 25th October 2018. This event will cover the latest technology developments, applications, commercialization progress, end user requirements and challenges for Graphene and 2D Materials. Don't miss on this great opportunity to explore the graphene potential.
European Graphene Forum - EGF 2018 will feature:
Plenary sessions with internationally renowned speakers,
Industrial Sessions with focus on Graphene Commecialization,
Extensive parallel thematic workshops,
An International exhibition.
Forum Topics
The European Graphene Forum - EGF 2018 topics include:
Fundamental Science of Graphene and 2D Materials Beyond Graphene, Theory and Simulation,
Growth, synthesis techniques and integration methods,
Graphene modification and functionalization,
Large scale graphene production and Characterization,
Characterization techniques (AFM, SPM, TEM, etc.)
Chemistry and biology studies of graphene and 2D Materials
Graphene Coatings, Thin Films & Devices, Graphene Derivatives
Graphene-based nanocomposites: recent scientific studies and applications, Composites & Printing
Applications of graphene and related 2D materials in electronics/ Flexible Electronics, high frequency devices, Photonics and Plasmonics, Magnetism and Spintronics, Optoelectronics and sensors, Quantum transport,
Applications of graphene in energy, including photovoltaics, energy storage, fuel cells and hydrogen storage,
Application of Graphene in health and biomedical areas,
Graphene-related health and environment research/ Toxicity
Graphene: Innovation and commercialization.