Conferences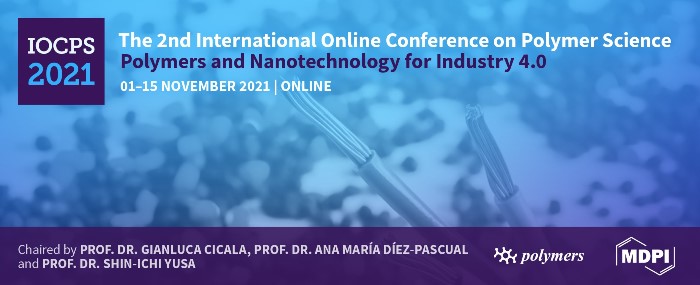 You are cordially invited to participate in the 2nd International Online Conference on Polymers Science - Polymers and Nanotechnology for Industry 4.0 (IOCPS 2021), sponsored by the MDPI open access journal Polymers (ISSN 2073-4360; IF: 3.426). The meeting is an opportunity for researchers in the field of science of materials science and technology to present their research and exchange ideas with colleagues. This is an electronic conference, removing the need to travel and eliminating participation expenses while still maintaining a rigorous selection of scientific contributions and, at the same time, ensuring the possibility for visibility for your own research.
The conference will be organized around the following general topics, providing a forum for presenting and discussing new results. Topics of interest include but are not limited to:
Smart polymeric Synthesis and Modification for Industry 4.0
Polymer Development for Additive Manufacturing
Advanced Functional Testing of Polymeric Materials
Nanotechnologies in Polymer Science
Biotechnologies and Functional Biopolymers
Applications Polymers in the Industry 4.0
Polymer Recycling
This conference will be held from 1 to 15 November 2021.