Conferences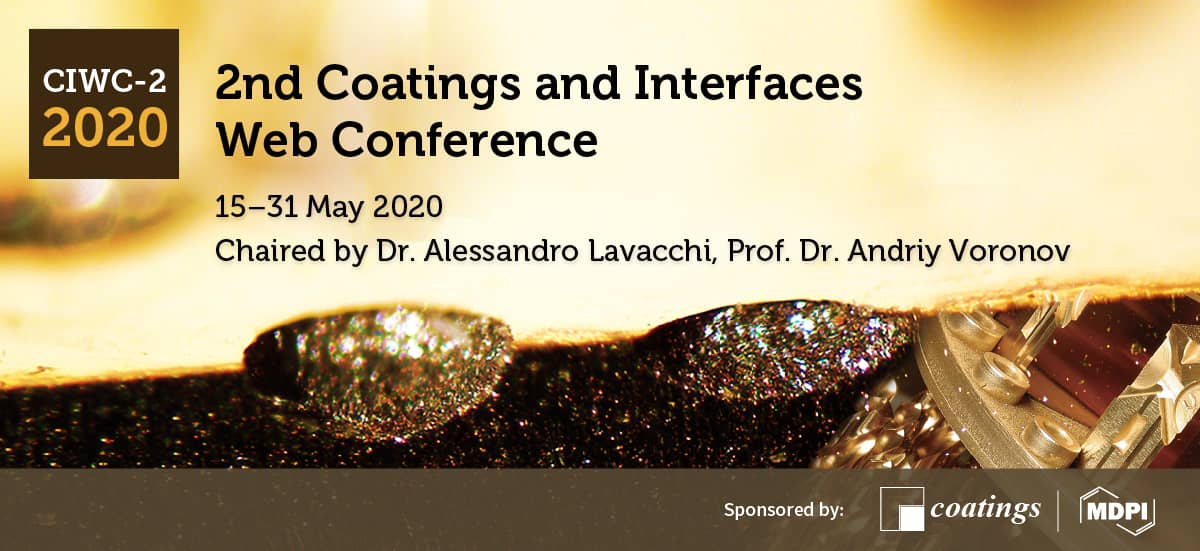 We are pleased to announce that the 2nd Coatings and Interfaces Web Conference (CIWC 2020) will be held on 15–31 May 2020 at Sciforum (https://ciwc2020.sciforum.net/). This conference is chaired by Dr. Alessandro Lavacchi (from the Italian National Research Council (ICCOM-CNR), Italy) and Prof. Dr. Andriy Voronov (from North Dakota State University, Fargo, ND, USA), and sponsored by MDPI, a scholarly open access publisher (https://www.mdpi.com/) based in Basel, Switzerland.
Through CIWC 2020, we aim to promote and advance the exciting and rapidly changing field of surfaces, coatings, and interfaces. Topics of interest include, but are not limited to:
Biocoating and biomaterial surfaces and interfaces;
Coatings and surfaces for mitigating wear, erosion, and corrosion;
Advances in high-temperature coatings and surfaces;
Hybrid surface coatings and process;
Applications of pavement surface coatings;
Coatings, surfaces, and interfaces for food safety and preservation;
Deposition and Modification on Surfaces;
Advances in coating and surface characterization.
The conference will be free of charge—both to attendees and for scholars. There will also be the possibility to submit selected papers to Coatings (ISSN 2079-6412; IF 2.330 (2018)) with a 20% discount on the APC (article processing charge); CIWC 2020 offers you the opportunity to participate in this international, scholarly conference without having the concern or expenditure of travel—all you need is your computer and internet access.
This year, as a sponsor, Coatings would like to award the best paper as selected by the organizers. The Best Paper Award and Best Poster Award will consist of 500 Swiss Francs. We look forward to reviewing your contributions.
Abstracts (in English) should be submitted online by 1 March 2020 at http://www.sciforum.net/login. For accepted abstracts, the corresponding full paper should be submitted by 15 April 2020.
**Important Dates**
Abstract Submission: 1 March 2020
Acceptance Notification: 15 March 2020
Full Paper Submission: 15 April 2020
Conference Open: 15-30 May 2020
We look forward to receiving your research papers and welcoming you to the 2nd Coatings and Interfaces Web Conference. If you have any questions, please feel free to contact <[email protected]>.