12–16 November 2018
10th Annual PEGS Europe
Lisbon, Portugal
PEGS Europe is the largest European event covering all aspects of protein and antibody engineering. In 2017, for the sixth year in a row, a record number of delegates participated in PEGS Europe, as more than 900 attendees from 35 countries convened in beautiful Lisbon, Portugal to discuss the latest advances in protein and antibody engineering. The 2018 event will feature:
- 1,000 attendees
- 225 technical presentations
- 150+ scientific posters
- Dedicated networking opportunities
- Exclusive exhibit & poster viewing hours
- Interactive roundtable, breakout & panel discussions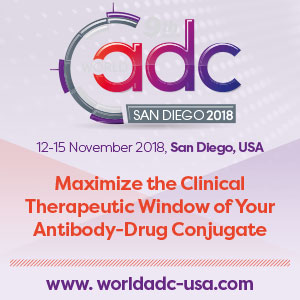 12–15 November 2018
World ADC San Diego
San Diego, CA, USA
World ADC San Diego is the industry's longest standing and most comprehensive antibody-drug conjugate conference.
Across multiple-streams of learning, World ADC will cover every element of ADC drug development from construct design to improving preclinical predictability and product manufacturability. This leading antibody-drug conjugate event will provide you with an unparalleled breadth and depth of content.
Don't miss this opportunity to join your fellow scientists at the heart of the ADC community. Join 650+ of your peers, from 220 organizations for your most valuable ADC learning and networking opportunity of 2018.

10–11 December 2018
Immunotherapies for Infectious Diseases Congress 2018
Lyon, France
We are pleased to invite you to attend the 2nd International Immunotherapies for Infectious Diseases Congress (I4ID2018) that will be held on December 10-11, 2018 in Lyon, France. The I4ID Congress, organized by MabDesign and BIOASTER, will bring together pharmaceutical industries, research labs, clinicians, service providers, technology developers and policy makers to exchange about the development of immunotherapy solutions for prevention and treatment of infectious diseases. This year edition is dedicated to "Host directed Therapies (HDT) to fight Infectious Diseases".
Keynote Speakers are:
Stefan H.Kaufmann–Institute for Infection Biology, Germany/Charité University Clinics, Germany
Richard Hotchkiss–Washington University School of Medicine, USA
Pierre François Laterre–St Luc University Hospital, Belgium
Moreover, we have currently an open Call for abstracts to give a Pitch and/or present a Poster until September 28th.
Share your innovative products, new technologies and research projects at the Pitch Session "Innovation on HDT approaches to treat Infectious diseases" or during the Poster session!
Check the guidelines to submit your abstract. You can find more information about the program at