The Sixth Asian Conference on Arts and Humanities 2015
2015-04-02 to 2015-04-05
Rihga Royal Hotel, Osaka, Osaka Prefecture, Japan
This international and interdisciplinary conference will again bring together a range of academics and practitioners to discuss new directions of research and discovery in the arts and humanities.
http://iafor.org/iafor/conferences/acah2015/

Upcoming HERA Conference
2015-04-08 to 2015-04-11
San Francisco, CA, USA
Binary oppositions define their counterpart through difference: Good/Bad, Light/Dark, New/Old, Nature/Technology, East/West, Sacred/Profane, etc. In an age when the personal is political, such systems, which function by means of difference and exclusion, contain potentiality for problematic results. Binary oppositions have dominated the theoretical landscape for centuries, structuring our language, thought, actions, research, and expression. Is this an inescapable framework for structuring reality or is an alternative possible?
http://www.h-e-r-a.org/Conferences/conferences.htm

The Humanities and/in the Public Sphere
2015-04-10 to 2015-04-11
Marymount University, Washington, DC, USA
Possible topics for presentations include, but are not limited to:
policy, politics and the humanities
funding the humanities
museum culture and tourism
digital humanities and/or digital history
education and the humanities
debating the "crisis" in the humanities
literature in the public sphere
making sense of history
technology and the humanities
ethics and/in public humanities
public art and humanities initiatives
telling and/or collecting stories in public
public performance and public art
public humanities versus private humanities
artistic performances that explore publicity in some dimension
http://vahumanitiesconference.org/


Cognitive Futures 2015—Forging Futures from the Past: History and Cognition
2015-04-13 to 2015-04-15
Oxford University, UK
Building on the conferences associated with the 
Cognitive Futures in the Humanities
network in Bangor (2013) and Durham (2014), the 2015 conference in Oxford aims once again to bring together a wide array of papers from the cognitive sciences, philosophy, literary studies, linguistics, narratology, cultural studies, critical theory, film, performance studies and beyond.
http://coghumanities.com/durham-2014/

The 20th International Humanities Conference
2015-04-29 to 2015-05-03
Hoorn, NH, Netherlands
The ALL & EVERYTHING Conference provides an open, congenial & serious atmosphere for the sharing of researches and investigations of G. I. Gurdjieff's legacy. The Conference seeks to keep the study of the teachings of Gurdjieff relevant to global scientific, spiritual and sociological developments. The Conference includes the presentation of academic papers, individual view papers, seminars on chapters and themes in All & Everything, and relevant cultural events.
http://aandeconference.org/


Digital Humanities and Publishing Humanities Scholarship Today
2015-04-30 to 2015-05-03
Toronto, ON, Canada
Every year, the convention affords NeMLA's principal opportunity to carry on a tradition of lively research and pedagogical exchange in language and literature. This year's convention will include roundtable and caucus meetings, workshops, literary readings, film screenings, and guest speakers.
https://nemla.org/index.html

Globalising Sociolinguistics
2015-06-18 to 2015-06-20
Leiden University, The Netherlands
This conferences addresses mismatches between mainstream sociolinguistic models and non-Anglo-Western sociolinguistic settings. Papers are invited on sociolinguistic issues, from various areas in the world, which challenge or expand mainstream theories. Both theoretical and empirical contributions are welcome.
http://www.hum.leiden.edu/lucl/research/conferences/upcoming-conferences/glo-soc-2015.html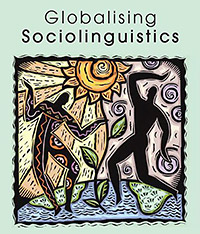 DH2015
2015-06-29 to 2015-07-03
University of Western Sydney, Sydney, Australia
This will be the first time that the annual Digital Humanities conference is being held outside of Europe and North America in its 26-year history. The theme of Global Digital Humanities acknowledges the field's expansion worldwide across disciplines, cultures and languages.
http://dh2015.org/

JSAA 2015 Conference
2015-06-30 to 2015-07-03
La Trobe University's Melbourne, Australia
We invite panels and individual papers from all areas of Japanese Studies, from those who teach, research and study Japan, providing an opportunity for scholars to present their own research and to keep abreast of current scholarly discourse in Japanese Studies.
Aging
Transnational migration
Civil society
History
Language and communication
Youth and education
Literature and translation
Law
Economics, trade and business
Politics and international relations
Cultural Studies
Social psychology
Anthropology/Sociology and other social sciences
http://www.latrobe.edu.au/humanities/about/conferences/jsaa-2015