21–23 November 2018
Artificial Intelligence International Conference – A2IC 2018
Pompeu Fabra University – Balmes bulding, Carrer de Balmes 132, Barcelona, Spain
The A2IC conference aims to establish an international forum of reference for the latest advances in the field of Artificial Intelligence (AI). This first edition aims at joining both academy an industry by covering not only basic and applied research, but also philosophical and ethical issues regarding the future of humanity in an AI world.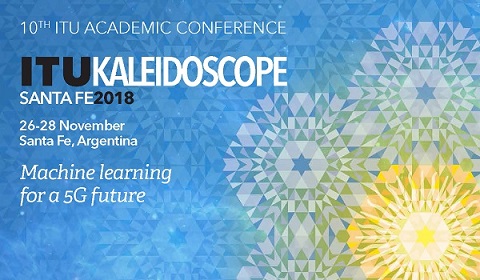 26–28 November 2018
Kaleidoscope 2018: Machine learning for a 5G future
Santa Fe, Argentina
Kaleidoscope 2018: Machine learning for a 5G future is the tenth in a series of peer-reviewed academic conferences organized by ITU to bring together a wide range of views from universities, industry and research institutions. The aim of the Kaleidoscope conferences is to identify emerging developments in information and communication technologies (ICTs) and, in particular, areas in need of international standards to aid the healthy development of the Information Society.
Machine learning shows promise to assist smarter use of network-generated data, enabling ICT network operators and service providers to adapt to changes in traffic patterns, security risks and user behaviour. This will also affect ITU standardization work in fields such as coding algorithms; data collection, storage and management; and network management and orchestration.
Kaleidoscope 2018 calls for original scientific papers addressing advances in research on machine learning and artificial intelligence techniques for future communication networks, covering all aspects of network design, management, implementation and optimization. This year's conference will assist ITU standardization experts in capitalizing on machine learning in their preparations for the 5G era and beyond. Authors of outstanding papers will be invited to contribute to the work of ITU-T Focus Group on Machine Learning for Future Networks including 5G.
For additional information on Kaleidoscope 2018, please refer to the website.
https://www.itu.int/en/ITU-T/academia/kaleidoscope/2018/Pages/default.aspx

3–6 December 2018
1st international workshop on Machine Learning for EEG Signal Processing (MLESP 2018)
Madrid, Spain
CALL FOR PAPERS
EEG signal processing involves the analysis and treatment of the electrical activity of the brain measured with Electroencephalography, or EEG, in order to provide useful information on which decisions can be made. The recent advances in signal processing and machine learning for EEG data processing have brought an impressive progress to solve several practical and challenging problems in many areas such as healthcare, biomedicine, biomedical engineering, BCI and biometrics. The aim of this workshop is to present and discuss the recent advances in machine learning for EEG signal analysis and processing. We are inviting original research work, as well as significant work-in-progress, covering novel theories, innovative methods, and meaningful applications that can potentially lead to significant advances in EEG data analytics. This workshop is an opportunity to bring together academic and industrial scientists to discuss the recent advances.
The topics of interest include but not limited to:
EEG signal processing and analysis
Time-frequency EEG signal analysis
Signal processing for EEG Data
EEG feature extraction and selection
Machine learning for EEG signal processing
EEG classification and clustering
EEG abnormalities detection (e.g. Epileptic seizure, Alzheimer's disease, etc.)
Machine learning in EEG Big Data
Deep Learning for EEG Big Data
Neural Rehabilitation Engineering
Brain-Computer Interface
Neurofeedback
Biometrics with EEG data
Related applications
Important Dates
:
Oct. 7, 2018 (11:59 pm CST): Due date for full workshop papers submission
Oct. 27, 2018: Notification of paper acceptance to authors
Nov. 15, 2018: Camera-ready of accepted papers
Dec. 3-6, 2018: Workshops