Open Access This article is
freely available
re-usable
Review
Control Strategies for Scabies
1
Tropical Diseases, Murdoch Children's Research Institute, Parkville VIC 3052, Australia
2
Department of Paediatrics, University of Melbourne, Parkville VIC 3052, Australia
3
Department of General Medicine, Royal Children's Hospital, Parkville VIC 3052, Australia
4
International Alliance for the Control of Scabies, Parkville VIC 3052, Australia
*
Author to whom correspondence should be addressed.
Received: 12 August 2018 / Accepted: 3 September 2018 / Published: 5 September 2018
Abstract
:
Scabies is a neglected tropical disease of the skin, causing severe itching and stigmatizing skin lesions. Further, scabies leads to impetigo, severe bacterial infections, and post-infectious complications. Around 200 million people are affected, particularly among disadvantaged populations living in crowded conditions in tropical areas. After almost 50 years, research into scabies control has shown great promise, particularly in highly-endemic island settings, but these findings have not been widely adopted. Newer approaches, utilizing ivermectin-based mass drug administration, appear feasible and highly effective. Inclusion of scabies in the WHO portfolio of neglected tropical diseases in 2017 may facilitate renewed opportunities and momentum toward global control. However, further operational research is needed to develop evidence-based strategies for control in a range of settings, and monitor their impact. Several enabling factors are required for successful implementation, including availability of affordable drug supply. Integration with existing health programs may provide a cost-effective approach to control.
Keywords:
scabies; neglected tropical diseases; impetigo; mass drug administration; ivermectin
1. Introduction
This review aims to re-examine the rationale for public health control of scabies, evaluate the available evidence for scabies control interventions, and identify the barriers and future research priorities needed to develop and scale-up implementation of scabies control activities.
3. The Need for Surveillance and Control
The World Health Organization Department of Neglected Tropical Disease (NTD) Control designated scabies as an NTD for large-scale disease control action in 2017. This designation was in recognition of: (1) the large known burden and impact of scabies, justifying a global response; (2) the geographic distribution of scabies among disadvantaged populations living in tropical and subtropical regions; (3) the amenability of scabies to public health control efforts, especially noting the success of mass drug administration (MDA) for scabies (detailed below); and (4) the broad neglect of scabies across multiple research domains [
23
]. In 2018, the ninth meeting of the WHO NTD Strategic Technical Advisory Group Global Working Group on Monitoring and Evaluation of NTDs recognized that there is a priority need to develop resources to aid defining the global burden of scabies, and to provide guidance for countries and regions for public health approaches for scabies control, including in outbreak situations [
24
].
Guidance is required for assessment of disease burden at local, national and regional levels, and should include guidelines for standardised diagnosis and surveillance methodology. Consensus criteria for the diagnosis of scabies were recently developed using a four-round Delphi process among 34 international experts, under the auspices of the International Alliance for the Control of Scabies (IACS) [
25
]. The IACS Criteria include three levels and eight subcategories such that the criteria can be applied across a range of situations, from a dermatologist's office to a field survey in a resource-limited setting (
Table 1
) [
26
].
The approach to community control for scabies is best aligned with the core strategies utilized by WHO Department of NTD Control: preventive chemotherapy using MDA, and/or innovative and intensified case management. Guidance around which approach to use will depend upon a number of factors, particularly disease burden at the community level. Therefore, feasible and accurate assessment of scabies prevalence will be crucial to inform an appropriate public health response, and also to monitor the effectiveness of this response. Below we outline the evidence to inform community control strategies for scabies, particularly MDA.
4. Community Control
The first controlled study of MDA for scabies control was conducted in Fiji in 2012. Three small island groups were randomized to one of ivermectin-based MDA (with permethrin for contraindicated groups), permethrin-based MDA, or 'standard-care' (where all community members were screened and referred for treatment if diagnosed with scabies). The trial found that at 12 months after MDA, the prevalence of scabies reduced in the ivermectin group by 94% (from 32% to 2%), in the permethrin group by 62% (42% to 16%) and in the standard-care group by 49% (37% to 19%). Once again, a considerable reduction was observed in the prevalence of impetigo without additional use of antibiotic therapy, most notably in the ivermectin group, where impetigo prevalence fell by 67% (25% to 8%).
However, in a single cohort study in a remote island community of Australia, ivermectin-based MDA was less effective. Two MDA campaigns were implemented, 12 months apart, for a population of approximately 1000. Scabies prevalence fell from a baseline of 4% to less than 1%, 6 months after MDA, then increased to 9% after 12 months. A second MDA was conducted at this time, and scabies prevalence fell to 2% when measured 6 months later. Factors identified that may have contributed to the results included a lower than anticipated baseline prevalence, a highly mobile population with many new arrivals to the community after the first MDA, and a cluster of new cases associated with a case of crusted scabies.
5. Outstanding Issues
The combined evidence of these control strategies reveals several common themes. First, in contrast to treating individuals and contacts, MDA strategies appear highly effective in reducing the burden of both scabies and impetigo. This strategy has been particularly successful in island communities with a very high baseline prevalence. With adequate community consultation, ivermectin-based MDA has been widely accepted by communities, well tolerated by individuals, and appeared more effective than permethrin-based MDA. Second, the benefit of MDA in communities with a lower baseline prevalence is less clear, and suggests that a different strategy may be appropriate for communities with lower prevalence (for example, less than 5%). Third, the most effective strategies have been those where active surveillance and treatment of new cases and new arrivals to the community have been incorporated, but it remains unclear to what extent these additional measures are required to ensure sustainable program success. Finally, environmental control measures (such as the washing of linen and clothing, or insecticide spraying) have not formed a component of the most successful strategies, suggesting this labor-intensive and costly strategy may not be required for community control. For control of institutional outbreaks, particularly where individuals have crusted scabies, environmental measures, if feasible, may be warranted.
6. Conclusions
In 2018, WHO recognized the need for 'a global strategy for scabies control' [
24
]. Such a strategy would align with the United Nations Sustainable Development Goals, including Target 3.3 to end the epidemic of NTDs (among other diseases) by 2030 [
76
]. Community control will be a central component of such a strategy, but broader progress will require consideration of several interrelated issues, including: engagement with key stakeholders at national, regional, and global levels to develop a coordinated, international framework; integration with existing NTD programs to leverage efficiency and cost-effectiveness of scabies control; provision of guidelines for monitoring and evaluation of programs; securement of drug supply at large scale; development of funding partnerships; and advancement of a research agenda, including operational research as outlined above, and research into improved diagnostics, new treatments (including moxidectin), and mite resistance monitoring.
Author Contributions
Conceptualization, D.E.; Writing—Original Draft Preparation, D.E. and A.C.S.; Writing—Review and Editing, D.E. and A.C.S.
Funding
This research received no external funding.
Acknowledgments
We acknowledge the contribution of Myra Hardy. The clinical photograph is provided courtesy of Daniel Mason. Informed consent was obtained and confidentiality maintained in accordance with the ethical review committee requirements.
Conflicts of Interest
The authors declare no conflict of interest.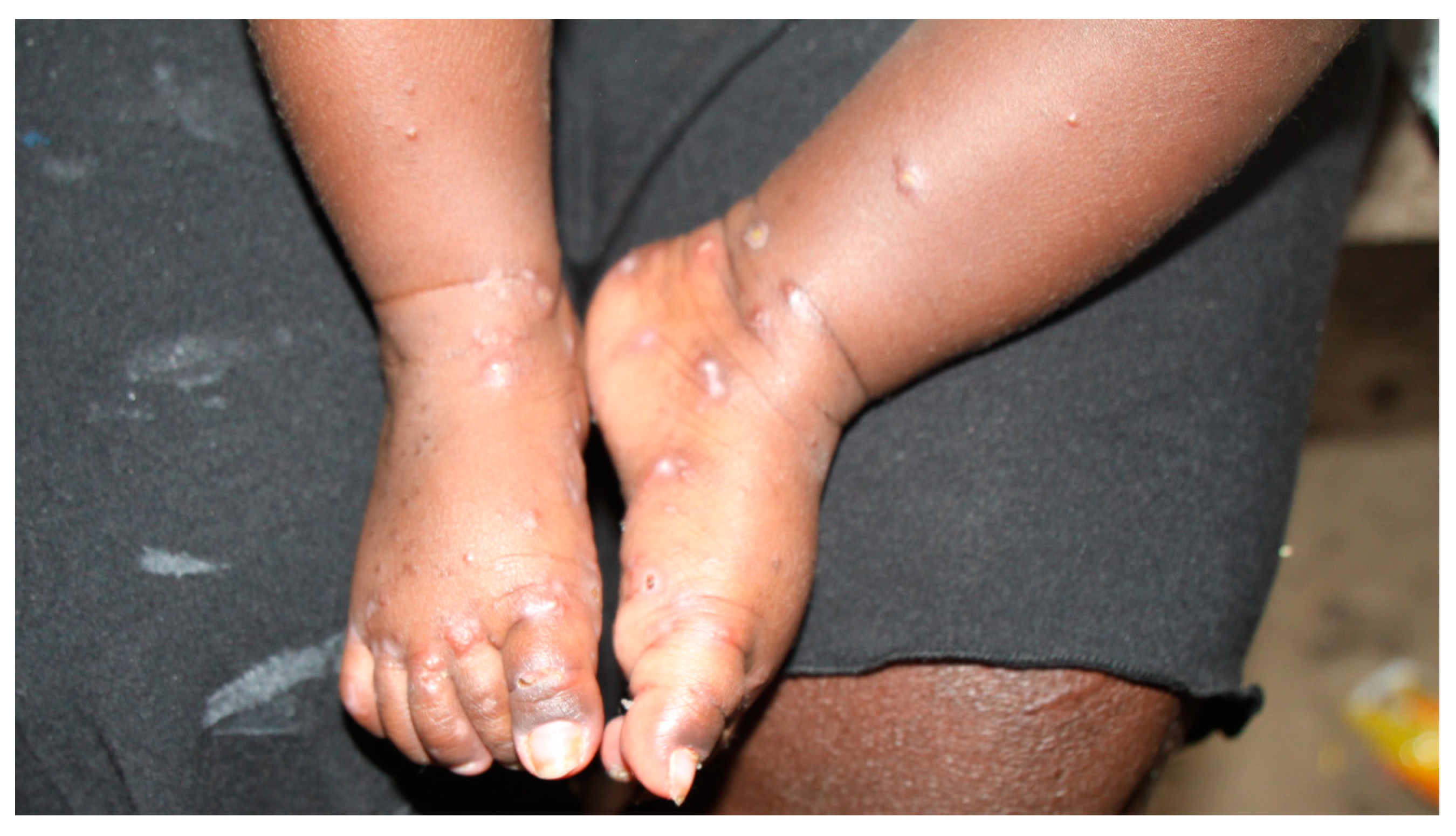 Table 1.
Summary of 2018 IACS
1
criteria for the diagnosis of scabies [
26
].
Level
Criteria
A. Confirmed scabies
At least one of the following:
A1: Mites, eggs or faeces on light microscopy of skin samples
A2: Mites, eggs or faeces visualized on individual using high-powered imaging device
A3: Mite visualized on individual using dermoscopy
B. Clinical scabies
At least one of the following:
B1: Scabies burrows
B2: Typical lesions affecting male genitalia
B3 Typical lesions in a typical distribution and two history features
C. Suspected scabies
One of the following:
C1: Typical lesions in a typical distribution and one history feature
C2: Atypical lesions or atypical distribution and two history features
History features
H1: Itching
H2: Close contact with an individual who has itching or typical lesions in a typical distribution

Notes:

Diagnosis can be made at one of the three levels (A, B, or C)




A diagnosis of clinical or suspected scabies should only be made if differential diagnoses are considered less likely than scabies.
1 IACS: International Alliance for the Control of Scabies.

© 2018 by the authors. Licensee MDPI, Basel, Switzerland. This article is an open access article distributed under the terms and conditions of the Creative Commons Attribution (CC BY) license (http://creativecommons.org/licenses/by/4.0/).