Open Access This article is
freely available
re-usable
Article
The Understanding of Ebola Virus Disease (EVD) Among Medical Practitioners of Karachi, Pakistan
1
Dow College of Pharmacy, Dow University of Health Sciences, Karachi 75270, Pakistan
2
Department of Pharmacy Practice, College of Clinical Pharmacy, Imam Abdulrahman Bin Faisal University (University of Dammam), Dammam 31441, Eastern Province, Saudi Arabia
3
Jinnah University for Women, V – C, Nazimabad, Karachi 74600, Pakistan
4
Faculty of Pharmacy, Hamdard University, Sharae Madinat al-Hikmah, Mohammad Bin Qasim Avenue, Karachi 74600, Pakistan
*
Author to whom correspondence should be addressed.
Academic Editor: John Frean
Received: 3 May 2017 / Accepted: 12 June 2017 / Published: 14 June 2017
Abstract
:
The World Health Organization (WHO) has acknowledged the large West African Ebola virus disease (EVD) outbreak to be a community health disaster of global concern, and the spread of disease demands a synchronized response. Medical practitioners have an increased risk of contracting the disease as compared to others as they are directly exposed to patients' blood or fluids. This study evaluated the knowledge of medical practitioners in Karachi regarding EVD. It was descriptive and exploratory in nature and took place over a period of 4 months, i.e., August 2016 to November 2016. The respondents were randomly selected by convenience sampling and surveyed with a 20-item questionnaire. Overall, 403 questionnaires were included in the study and a response rate of 80.6% was achieved. The majority (56.3%) considered themselves to be somewhat knowledgeable; females had more knowledge as compared to male (
p
< 0.003). More than 80% knew about the 2014 Ebola outbreak in West Africa. Interestingly, the findings revealed that respondents' knowledge about diagnosis and identification of EVD is good. Respondents considered EVD a severe disease and emphasized on the need for protective measures when contacting affected patients. Interventions should be tailored to focus on areas where respondents showed a lack of knowledge about the disease.
Keywords:
Ebola virus disease; healthcare practitioners; Pakistan
2. Methods
2.1. Study Design and Duration
This was a descriptive, cross-sectional exploratory study conducted for a period of 4 months, i.e., August 2016 to November 2016, to evaluate knowledge of EVD in HCPs of Karachi, Pakistan.
2.2. Study Population and Eligibility Criteria
All medical practitioners, i.e., doctors registered with Pakistan Medical and Dental Council (PM&DC), were identified as target population. Eligibility criteria included doctors practicing medicine at public sector, as well as private clinical and hospital settings in the city of Karachi, Pakistan. Those belonging to other fields of health care as well as those who did not consent to participate, and incomplete responses, were not included our study.
2.3. Sample Size
According to PM&DC records, a total of 71,109 doctors was registered in the city of Karachi, Pakistan [
14
]. This figure was assumed as the total population for our study. The sample size was calculated using online software for sample size calculation (Raosoft Inc.
®
, Seattle, DC, USA). The required sample size calculation was 377.
2.4. Sampling Technique
The participants were randomly selected by convenience sampling from the record of general practitioners, Karachi branch, provided by the Forum of General Medical Practitioners (FGMP). Practitioners were approached in their free time.
2.5. Research Instrument Development and Piloting
A questionnaire was developed by reviewing the available literature on the topic. The questionnaire contained 8 questions related to demographic information and 20 questions related to knowledge of the respondents. The piloting of the questionnaire was carried out on 30 HCPs and the questionnaire was validated. The Kaiser-Meyer-Olkin (KMO) measure of sampling adequacy reported a value of 0.654, and Bartlett's test of sphericity was significant, i.e.,
p
< 0.0001.
2.6. Data Collection and Analysis
The questionnaires were left with the respondents for a week. Following this time period, the filled questionnaires were collected. The questionnaire items were analyzed with IBM SPSS version 20 (Statistical Package for Social Sciences, IBM Corporation, Armonk, New York, NY, USA). Descriptive statistics and frequency were used to demonstrate respondents' demographic information and responses. Pearson's chi-square (X
2
) test was employed for evaluating the relationship between independent variables (demographic) and dependent variable (knowledge) of respondents. A value of
p
< 0.05 was considered significant.
2.7. Statement of Consent and Ethical Consideration
Prior to the data collection, the respondents were briefed about the aims and objectives of the study, and their consent was obtained. The involvement in the research was voluntary with secrecy. The respondents were neither pressurized nor incentivized for their participation. The study was exempted from ethical review.
3. Results
Out of 500 questionnaires, 410 questionnaires were returned. Seven questionnaires were found uncompleted and were not included. A total of 403 questionnaires was incorporated in the present study with a response rate of 80.6%.
4. Discussion
The limitations of the present study include the restriction to the population of a small number of institutions in Karachi. As with every retrospective study, our study faced the probable influence of issues with recall and social desirability response bias. Further limitations consist in the scarcity of research studies regarding EVD, thus making it difficult to generalize the findings in Pakistan. One of the major limitations was the reporting of self-perceived knowledge level by the respondents. The authors recommend developing an instrument to document knowledge of the subject in this population in order to have more thorough understanding of knowledge level.
5. Conclusions
The knowledge of medical practitioners about EVD was sub-optimal. While further studies should be conducted on a national scale to authenticate these results, interventions should be tailored to focus areas where respondents showed a lack of knowledge about the disease. Such an educational intervention may be the most successful pre-emptive defense strategy against Ebola outbreak in Pakistan.
Author Contributions
Sadia Shakeel and Wajiha Iffat and conceived and designed the study; Fouzia Ahmed and Shugufta Usmani conducted the study and collected data; Atta Abbas Naqvi, Manahil Mazhar, and Ayesha Nisar analyzed the data; Sadia Shakeel and Wajiha Iffat wrote the paper, Atta Abbas Naqvi wrote the methodology, validated the findings, reviewed the paper, and edited the manuscript in response to the reviewers comments.
Conflicts of Interest
The authors declare that they have no conflict of interest.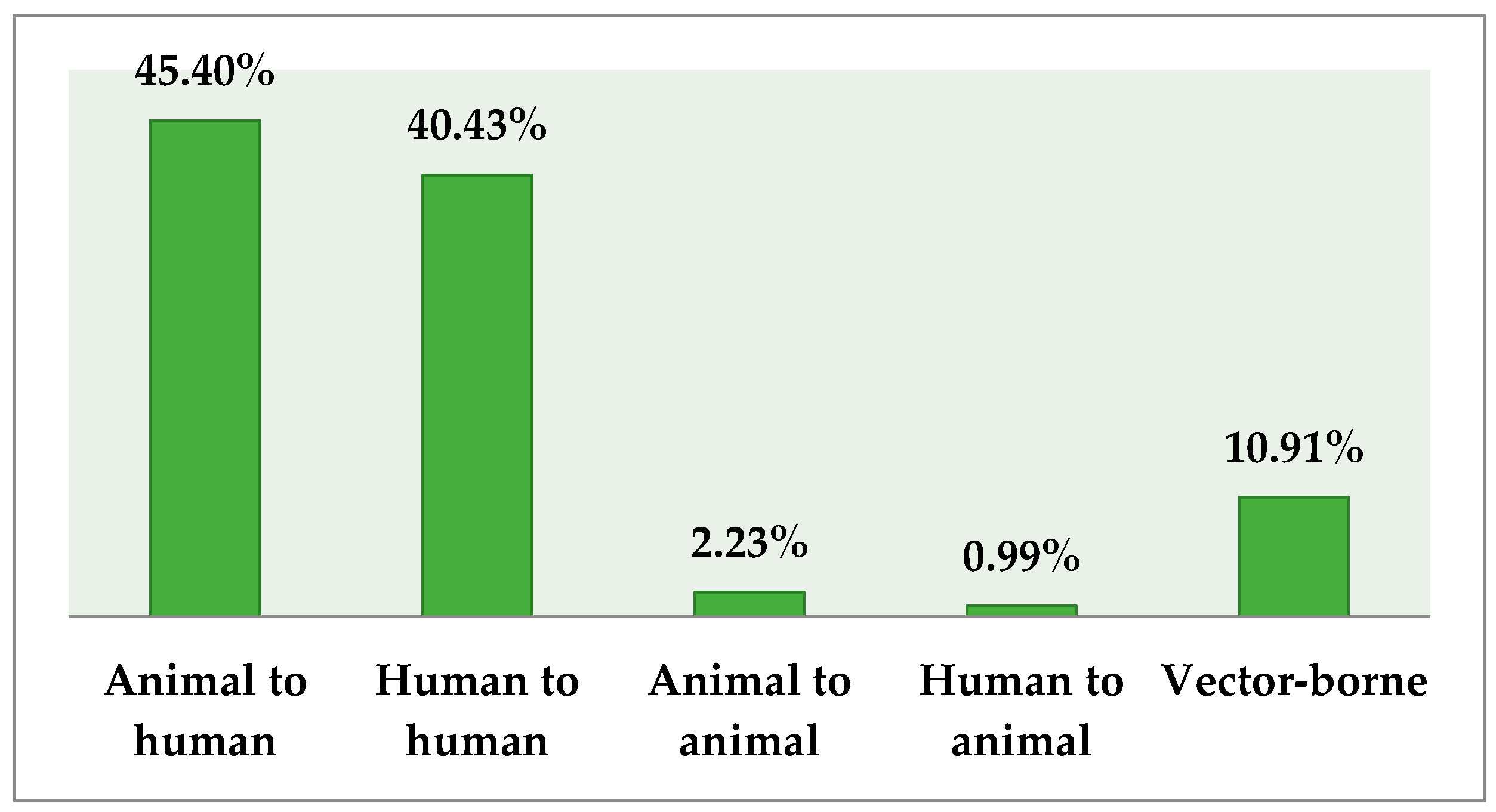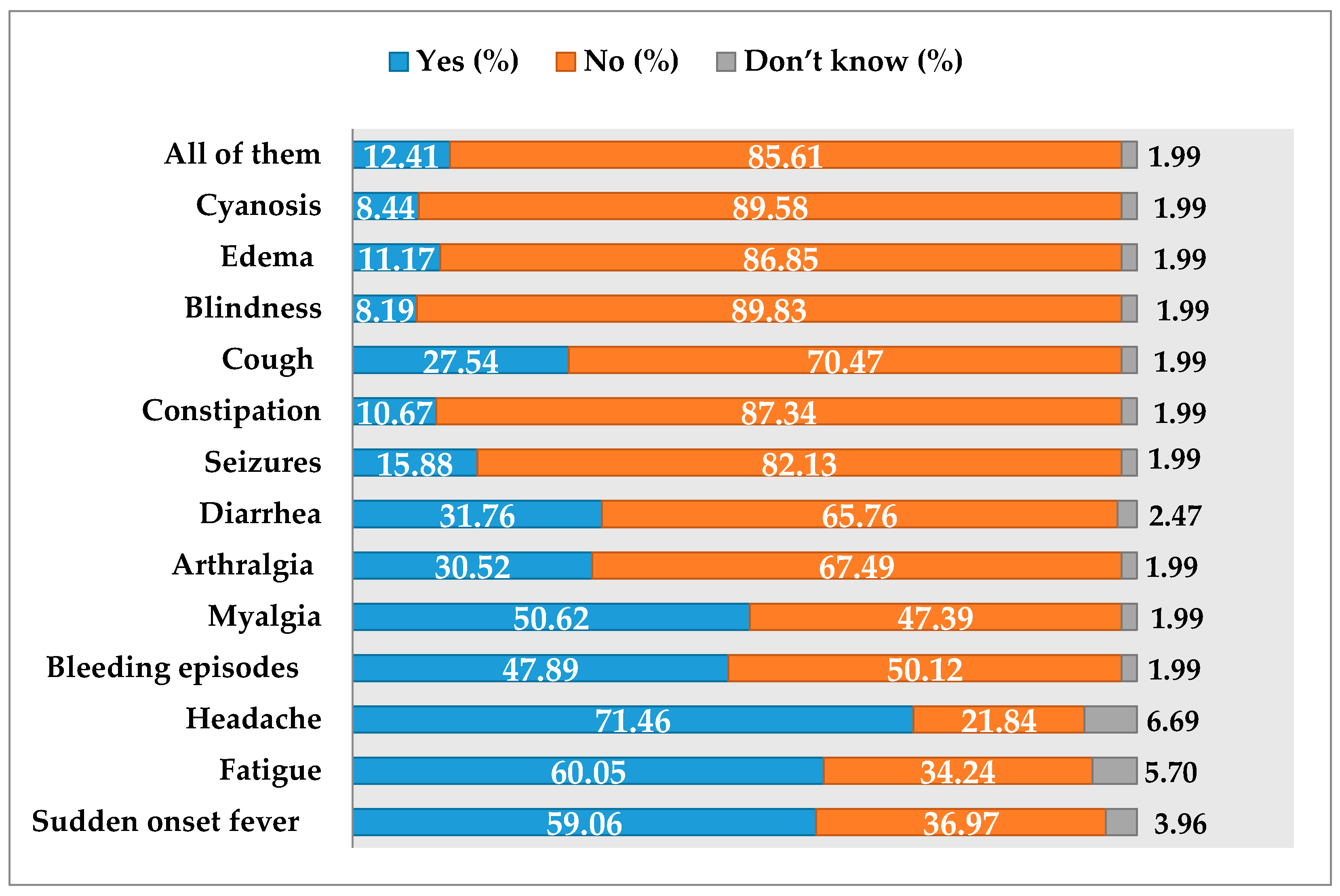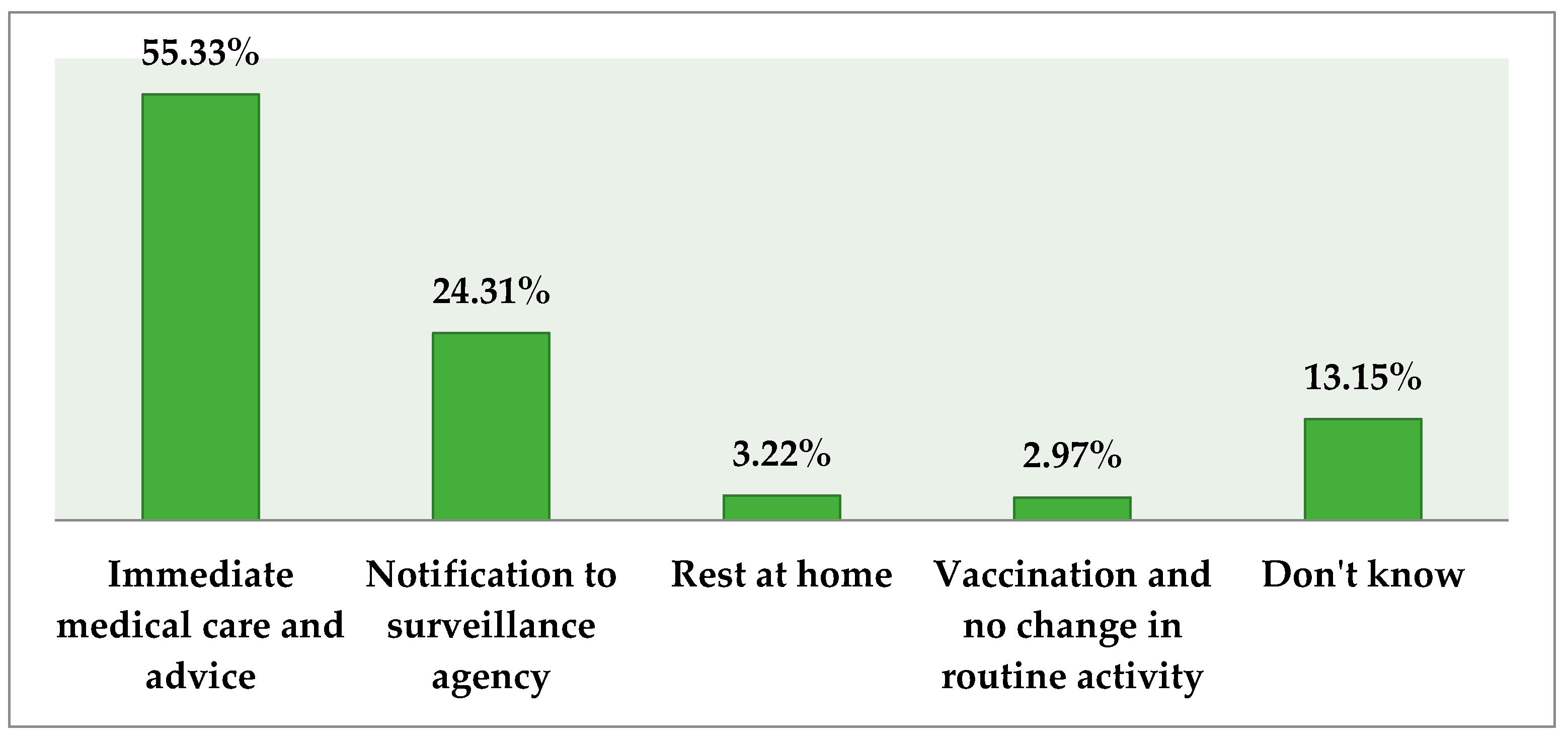 Demographic Information
Frequency (%)
Gender
Male
173 (42.92)
Female
230 (57.07)
Age
25–30 years
205 (50.86)
31–35 years
47 (11.66)
36–40 years
36 (8.93)
41–50 years
38 (9.42)
51 and above
77 (19.09)
Organization
Government
223 (55.32)
Private
177 (43.92)
Designation
General practitioner
89 (22.08)
Chief medical officer
54 (13.39)
Head of department
10 (2.48)
Resident medical officer
52 (12.90)
Faculty
198 (49.11)
Experience
Less than 5 years
185 (45.90)
5–10 years
73 (18.11)
10–15 years
39 (9.67)
15–20 years
62 (15.38)
20 and above
44 (10.91)
Average number of patients per day
1–30
114 (55.3)
31–60
68 (33.0)
61–90
20 (9.7)
Locality of Practice
Urban
207 (51.36)
Peri-urban
196 (48.63)
Demographics
Knowledge Regarding EVD
Gender
No Knowledge
No Adequate Knowledge
Somewhat Knowledgeable
Adequate Knowledge
Male
15 (23.9)
28 (21)
78 (76.6)
4 (4.4)
Female
50 (41.1)
28 (36)
130 (131.4)
8 (7.6)
Designation
General practitioner
21 (13.3)
10 (14.8)
51 (56.2)
7 (4.7)
Chief medical officer
5 (6)
3 (6.6)
29 (25.3)
3 (2.1)
Head of department
2 (1.5)
1 (1.7)
5 (6.3)
2 (0.5)
Resident medical officer
5 (7.8)
13 (8.6)
33 (32.8)
1 (2.7)
Professor
0 (1.2)
2 (1.3)
6 (5.1)
0 (0.4)
Lecturer
4 (7.2)
12 (8)
32 (30.3)
0 (2.5)
Experience
Less than 5 years
43 (34.3)
32 (29.7)
90 (97.7)
3 (6.3)
Between 5 to 10 years
8 (9.8)
10 (8.5)
28 (27.9)
2 (1.8)
Between 11 to 15 years
6 (3.5)
3 (3)
7 (9.9)
1 (0.6)
Between 16 to 20 years
2 (7.8)
6 (6.7)
24 (22.1)
5 (1.4)
Above 20 years
0 (4.7)
1 (4.1)
22 (13.4)
0 (0.9)
Case Management Strategies Available
No. (%)
Supportive treatment
270 (66.93)
Approved vaccine
88 (21.83)
Immunoglobulin
45 (11.16)
Personal Protection Among Health Care Workers
Hand hygiene
31 (7.69)
Personal protective equipment
66 (16.37)
Proper handling of sharps and needles
25 (6.20)
All of them
281 (69.72)
Personal Protective Equipment Recommended by WHO
Double examination gloves
40 (9.92)
Impermeable gown
15 (3.72)
Medical mask/face shield
21 (5.21)
Shoe covers
2 (0.49)
Head cover
1 (0.24)
All of them
324 (80.39)

© 2017 by the authors. Licensee MDPI, Basel, Switzerland. This article is an open access article distributed under the terms and conditions of the Creative Commons Attribution (CC BY) license (http://creativecommons.org/licenses/by/4.0/).