Post Publication Peer Review
Synthesis of A Silver Nanowire Array on Cu-BTC MOF Micropillars
Department of Chemistry, Drexel University, Philadelphia, PA 19104, USA
*
Author to whom correspondence should be addressed.
Received: 8 November 2018 / Accepted: 13 November 2018 / Published: 30 November 2018
Peer review status: 1st round review
Read review reports
Version 1:
Published: 30 November 2018
DOI: 10.3390/sci1010004.v1
Latest version
Abstract
An array of Ag nanowires has been prepared from a facile, templated approach on Cu(BTC) (1,3,5-benzenetricarboxylic acid) metal organic framework (MOF) micropillars. The Ag-deposited scaffolding material may be used to prepare electronic or optoelectronic devices for various applications.

►

▼

Figures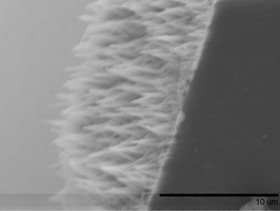 Graphical abstract
This is an open access article distributed under the
Creative Commons Attribution License
which permits unrestricted use, distribution, and reproduction in any medium, provided the original work is properly cited (CC BY 4.0).

Share & Cite This Article
MDPI and ACS Style
Qiao, Z.; Kojtari, A.; Babinec, J.; Ji, H.-F. Synthesis of A Silver Nanowire Array on Cu-BTC MOF Micropillars. Sci 2019, 1, 4.
Note that from the first issue of 2016, MDPI journals use article numbers instead of page numbers. See further details here.
Comments
Review Reports
Reviewer 1
Sent on 13 Feb 2019 by
Jinting Jiu
|
Not approved
Osaka Univesity
1, what is the formation mechanism of AgNWs?
2, what factors will determine the morphology of AgNW?
3, Why does Silicon and glass substrate not work?
Although it is a communication, a significant story should be provided.
Response to Reviewer 1
Sent on 23 Mar 2019 by
Zhen Qiao, Arben Kojtari, Jacob Babinec, Hai-Feng Ji
We don't have answers to any of these questions asked by the reviewer. It seems a lot of people are interested in this from the reading record after this paper was released on the web. We are happy to provide the results to readers and hopefully someone could help figure out the answers.
[Return to top]