Open Access This article is
freely available
re-usable
Review
Grain Rotation in Plastic Deformation
1
Center for High Pressure Science and Technology Advanced Research, Pudong, Shanghai 201203, China
2
Department of Engineering Mechanics and Center for X-Mechanics, Zhejiang University, Hangzhou 310027, China
3
International Joint Laboratory for Light Alloys, College of Materials Science and Engineering, Chongqing University, Chongqing 400044, China
4
Department of Chemistry & Biochemistry, University of California, Los Angeles, CA 90095, USA
*
Author to whom correspondence should be addressed.
Received: 16 January 2019 / Accepted: 23 July 2019 / Published: 26 July 2019
Abstract
:
The plastic deformation behaviors of crystalline materials are usually determined by lattice dislocations. Below a certain particle or grain size, focus is placed on the grain-boundary-mediated mechanisms (e.g., grain rotation, grain boundary sliding, and diffusion), which has been observed during recrystallization, grain growth, and plastic deformation. However, the underlying mechanisms of grain rotation remain to be studied. In this article, we review the theoretical models, molecular dynamics simulations, and experimental investigations on grain rotation. The development of in situ transmission electron microscopy (TEM) and X-ray characterization methods for probing grain boundary processes during plastic deformation provides a better understanding of the mechanisms of grain rotation. Especially, the ability to acquire high-quality X-ray diffraction patterns from individual nanograins is expected to find broad applications in various fields such as physics, chemistry, materials science, and nanoscience.
Keywords:
grain rotation; nanomaterials; plastic deformation
1. Introduction
Nanocrystals have a typical grain size of several tens of nanometers. There is experimental evidence that conventional grain interior dislocation-mediated activities prevail in nanocrystals coarser than 100 nm, whereas in nanocrystals smaller than 50 nm, the deformation is accommodated mostly at the grain boundaries (GB). Grain rotation, though not usually treated as an important plastic deformation mechanism in bulk-sized materials, is very relevant in nanomechanics [
1
]. For instance, oriented attachment of nanocrystals [
2
] and radiation-induced texture [
3
] involve the grain rotation of nanocrystals. However, the grain rotation mechanism remains puzzling because some processes, such as lattice diffusion, dislocations, disclinations, and curvature-driven grain boundary migration, may play roles, which complicates investigations into the grain rotation mechanisms [
3
,
4
]. In this article, we review the previous theories, computer simulations, and experimental investigations into grain rotation. It is expected that the established knowledge and experimental techniques will advance future explorations significantly.
2. Theories of Grain Rotation
Note that grain rotation plays an important role in the plastic deformation in polycrystalline materials, especially in the nanograined materials. The theoretical models mentioned above provide a comprehensive description for the grain boundary activities that are associated with grain rotations. It could be helpful to develop an elastoplastic framework for the plastic deformation in polycrystalline metals by considering grain rotation behaviors. There are still several challenges in theoretical models for grain rotations. For example: (1) How to distinguish the grain rotation behaviors in face-centered cubic (FCC), body-centered cubic (BCC), and hexagonal close packing (HCP) metals? (2) How to characterize the grain rotation under a high strain rate in the models? (3) Can the present models be applied to describe the grain rotation behaviors of polycrystalline materials at extreme conditions such as high temperature or high pressure?
3. Molecular Dynamics Simulations of Grain Rotation
4. TEM Characterizations of Grain Rotation
5. X-ray Characterizations of Grain Rotation
6. Summary
In this article, the theoretical models, computer simulations, and experimental studies on grain rotation are reviewed. Grain rotation is actually related to multiscale physics and a spectrum of techniques are needed for various investigations. The information at the atomic level, such as chemical bonding, crystal defects, local strain/stress environments, etc., are necessary for examining the grain rotation behaviors and mechanisms. The information at the nanoscale and microscale may correlate grain rotation with the macroscopic properties of materials such as texturing, materials strengthening, crystal growth, phase transition, etc. A few techniques are reviewed in this article only as representative cases. The advances in techniques enable grain rotation probing with high spatial and temporal resolutions, which provides more and better information for improving the theoretical models of grain rotation, and broader applications are expected in materials science, physics, chemistry, and nanoscience.
Author Contributions
Theory and computation review, L.Z.; TEM studies review, Y.X.; synchrotron studies review and format editing, B.C. and J.L.
Funding
The authors acknowledge the support of National Natural Science Foundation of China (Grant Nos. 51527801 and U1530402). The Advanced Light Source is supported by the Director, Office of Science, Office of Basic Energy Sciences, Materials Sciences Division, of the U.S. Department of Energy under Contract No. DE-AC02-05CH11231 at Lawrence Berkeley National Laboratory.
Conflicts of Interest
The authors declare no conflict of interest.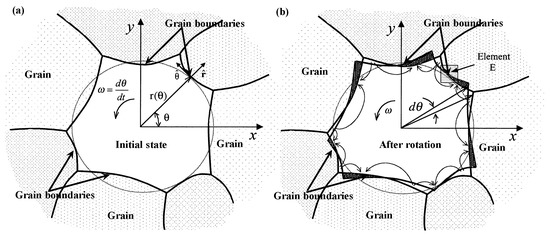 Figure 1.
The schematic drawing of a grain in a polycrystalline material (
a
) and the grain after rotation (
b
) [
15
].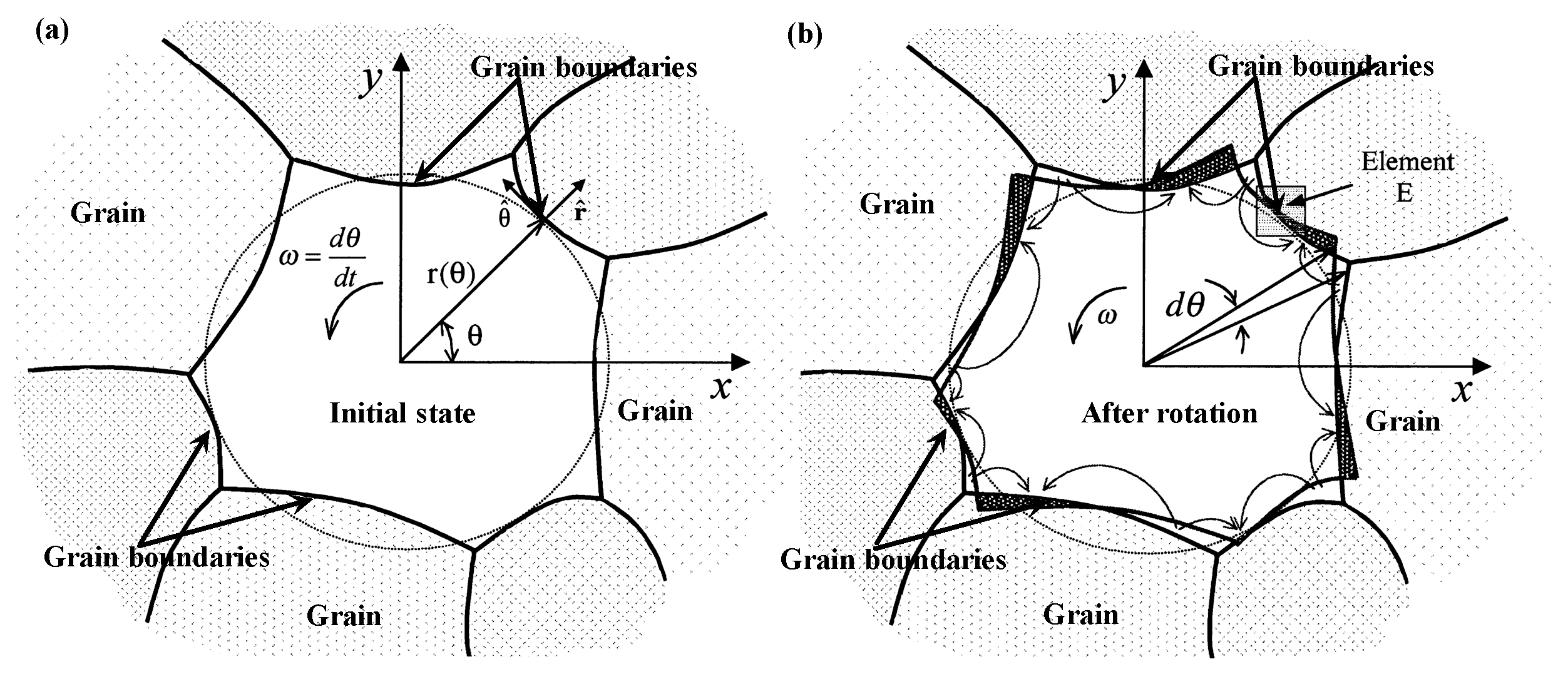 Figure 2.
The illustrations of the rotation–coalescence mechanism at the atomic scale in nanocrystalline by using MD simulations [
34
]. Initial configuration of grains (
a
), the change of grain shape and size after t = 1.11 ns (
b
) and t = 1.83 ns (
c
).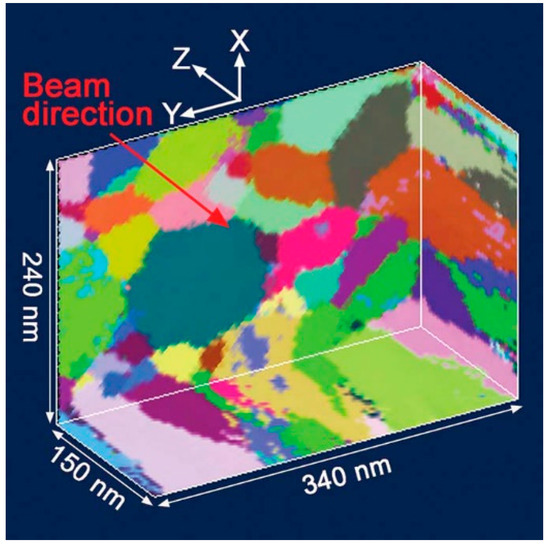 Figure 3.
3D grain-orientation mapping from an aluminum film with a thickness of 150 nm [
42
].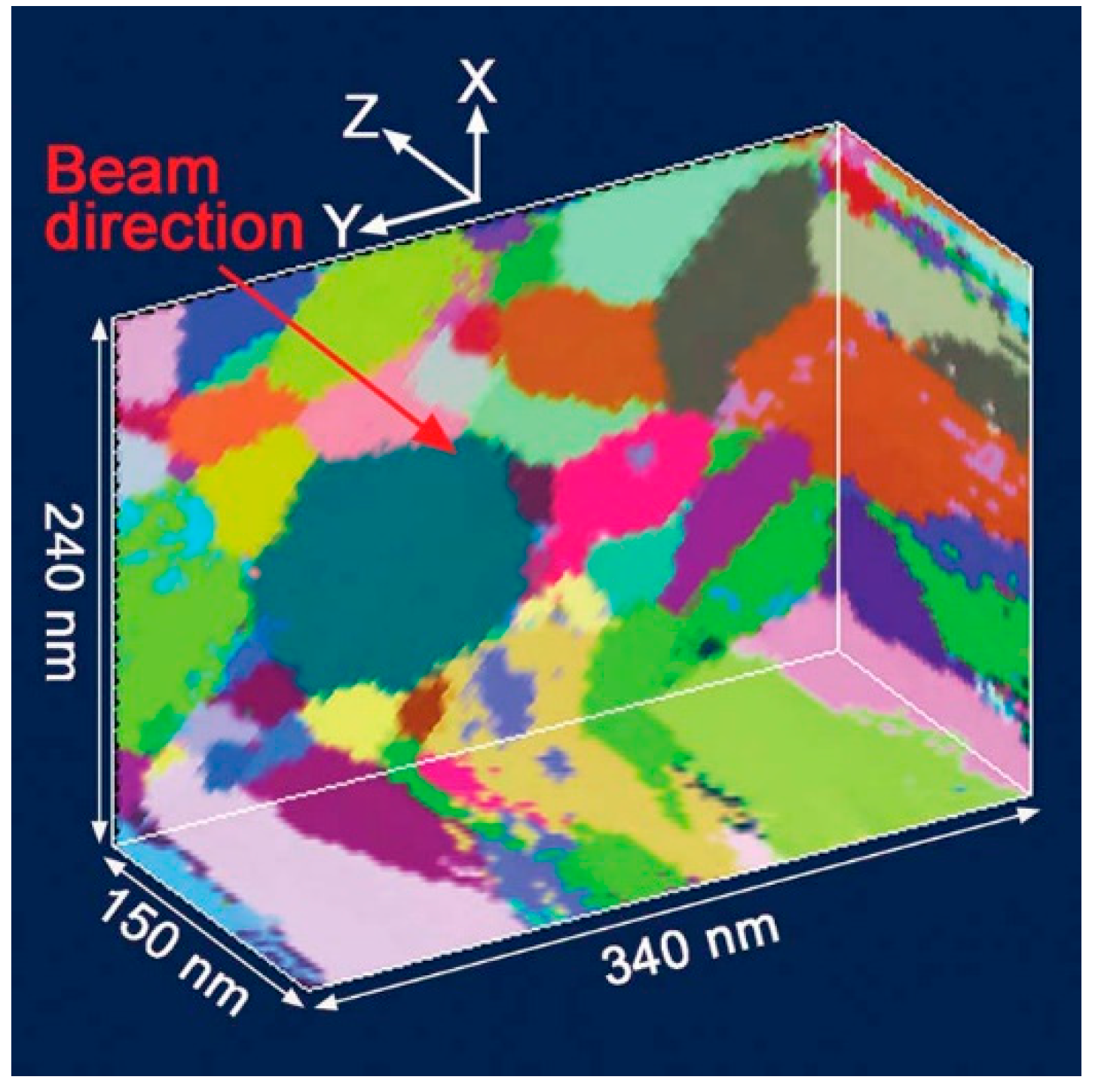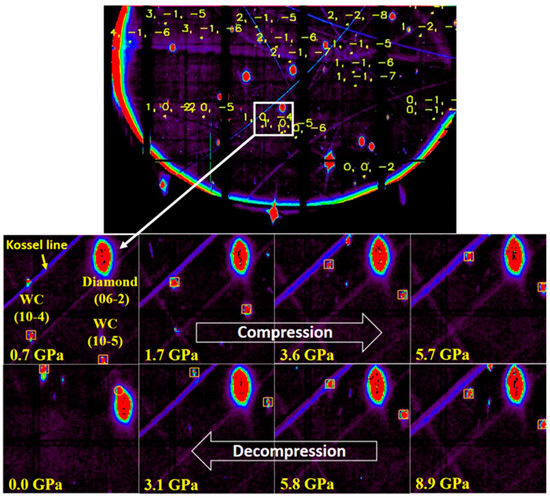 Figure 4.
Representative Laue XRD patterns (
top
) and close-up views on two Laue spots ((10-4) and (10-5)) of a marker grain under pressure (
bottom
). Basically, by indexing the Laue patterns, the orientation of each crystallite can be obtained. The biggest diffraction spots, coming from the entrance diamond anvil (a big single crystal), can be used as references. In the compression, the variations of the WC marker's diffraction spots with respect to the spots of the diamond signalize the change of the marker's position and orientation [
12
].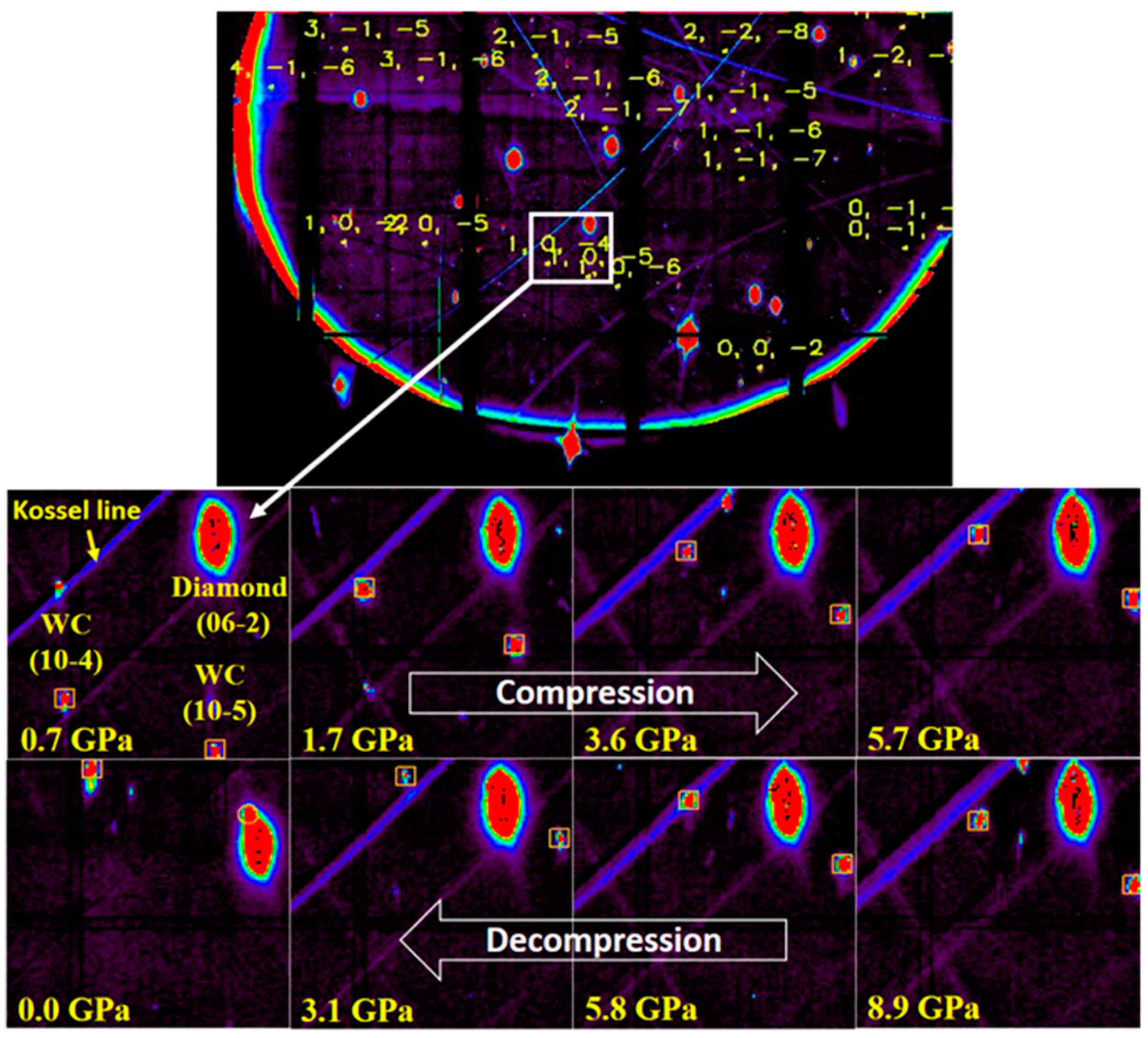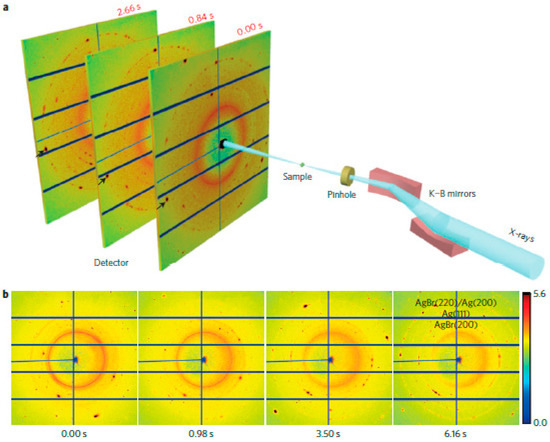 Figure 5.
Schematic layout of the X-ray nanodiffraction where a 5 ms temporal resolution was achieved. (
a
) Two KB mirrors focus monochromatic X-rays onto a spot size of approximately 370 nm × 270 nm. (
b
) Real-time tracking of the photolysis of AgBr grains and the formation of Ag nanograins (temporal resolution: 140 ms) [
62
]. Because of the nanosized beam, the number of sample particles is relatively small, and so diffraction spots, rather than continuous diffraction rings, can be acquired. By indexing the diffraction patterns, the orientation of each crystallite can be obtained.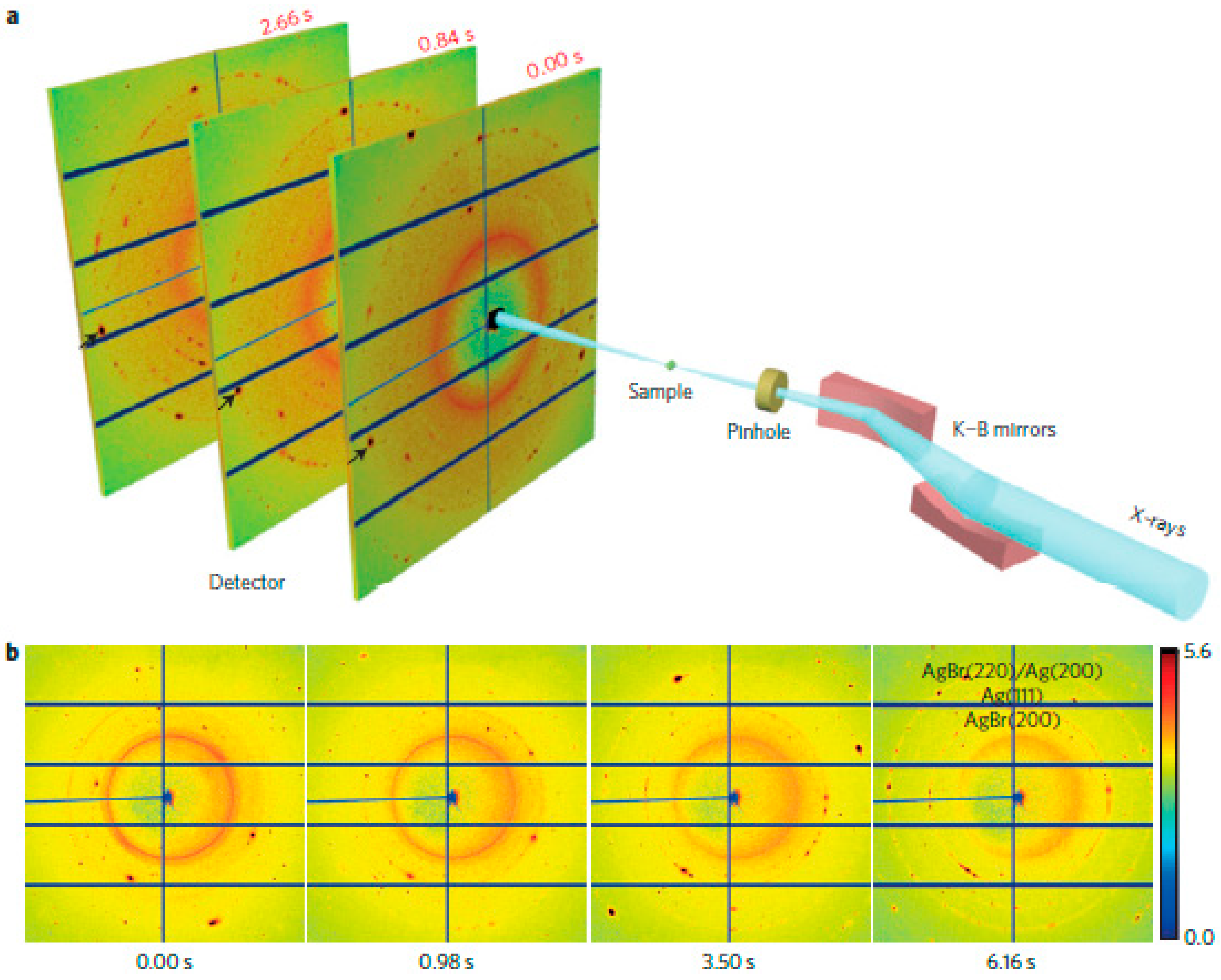 © 2019 by the authors. Licensee MDPI, Basel, Switzerland. This article is an open access article distributed under the terms and conditions of the Creative Commons Attribution (CC BY) license (http://creativecommons.org/licenses/by/4.0/).