Open Access This article is
freely available
re-usable
Article
Quantum State of the Fermionic Carriers in a Transport Channel Connecting Particle Reservoirs
1
L.V. Kirensky Institute of Physics, Federal Research Center KSC SB RAS, 660036 Krasnoyarsk, Russia
2
Department of Engineering Physics and Radio Electronics, Siberian Federal University, 660041 Krasnoyarsk, Russia
3
Department of Space Technologies and Materials, M.F. Reshetnev Siberian State University of Science and Technology, 660037 Krasnoyarsk, Russia
*
Author to whom correspondence should be addressed.
Received: 16 September 2019 / Accepted: 14 October 2019 / Published: 15 October 2019
Abstract
:
We analyze the quantum state of fermionic carriers in a transport channel attached to a particle reservoir. The analysis is done from first principles by considering microscopic models of the reservoir and transport channel. In the case of infinite effective temperature of the reservoir we demonstrate a full agreement between the results of straightforward numerical simulations of the system dynamics and the solution of the master equation on the single-particle density matrix of the carriers in the channel. This allows us to predict the quantum state of carriers in the case where the transport channel connects two reservoirs with different chemical potentials.
Keywords:
quantum transport
Author Contributions
Conceptualization, A.R.K.; investigation, A.R.K. and D.N.M.; writing–original draft preparation, A.R.K.; writing–review and editing, D.N.M.
Funding
This work has been supported by Russian Science Foundation through grant N19-12-0016. We appreciate discussion with Anna A. Bychek.
Conflicts of Interest
The authors declare no conflict of interest.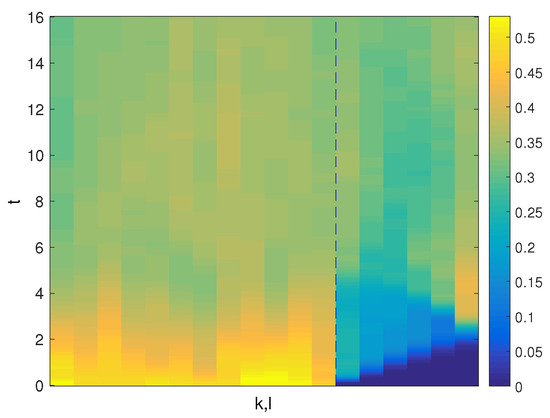 Figure 1. Population dynamics of the reservoir orbitals (left to the vertical dashed line) and the lattice sites (right to the dashed line) for infinite effective temperature of the reservoir. The system size is , , and . The value of the hopping matrix element , the coupling constant .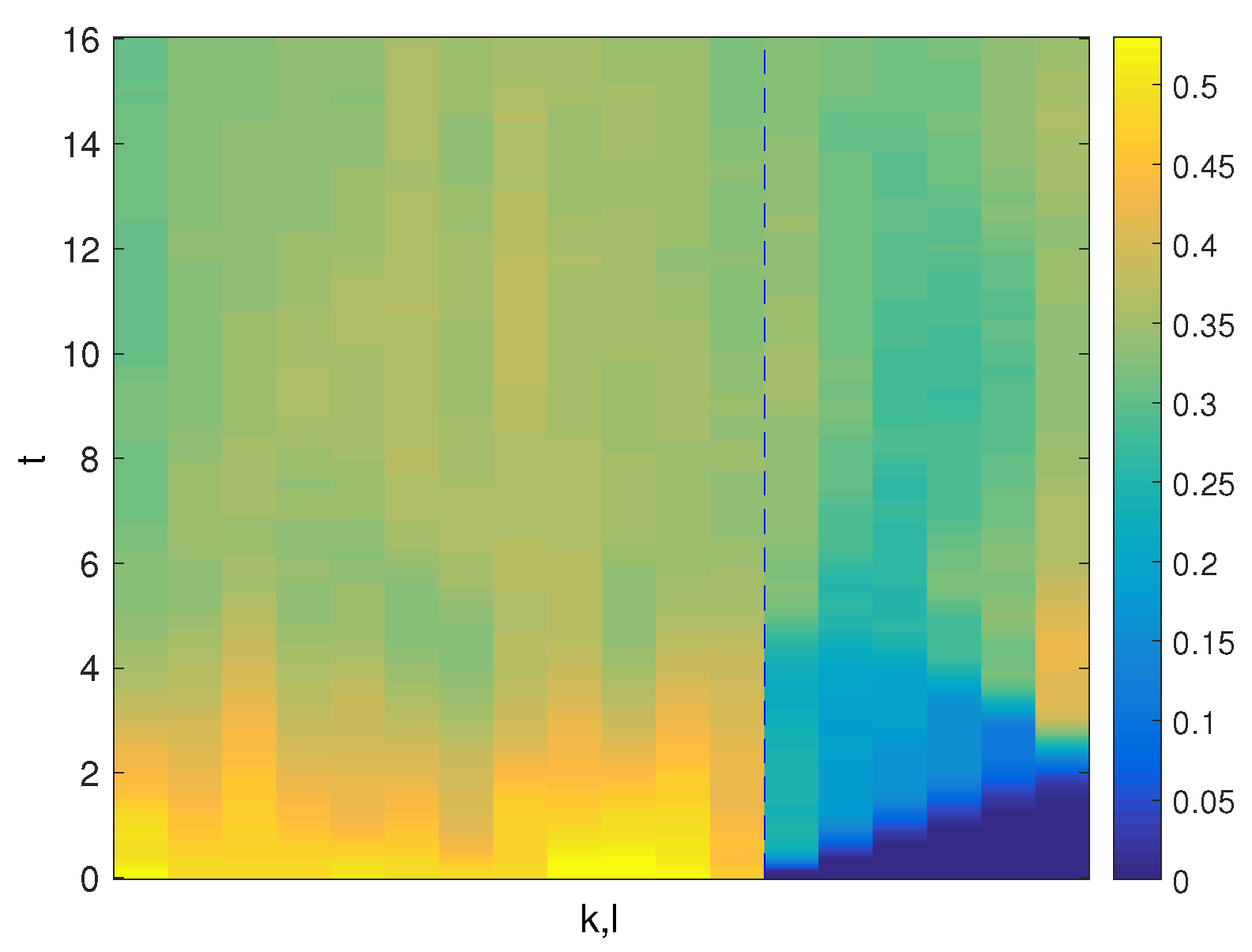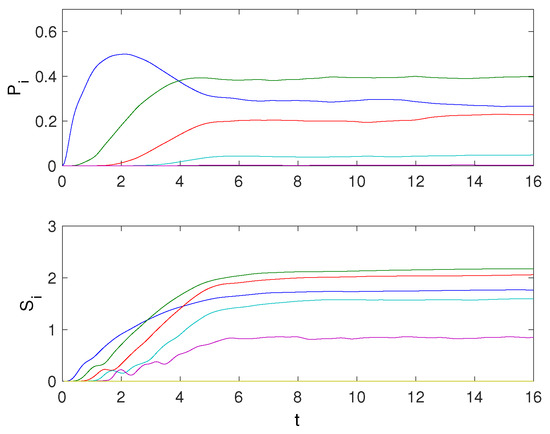 Figure 2.
Probabilities to find
i
fermions in the transport channel (upper panel) and von Neumann entropies of the normalized partial single-particle density matrices (SPDMs) (lower panel) as the functions of time. The different curves correspond to (blue), 2 (green), 3 (red), 4 (light blue), and 5 (magenta). Probability to find 6 fermions is close to zero and is not shown, as well as the probability to find 0 fermions, which is given by the equation .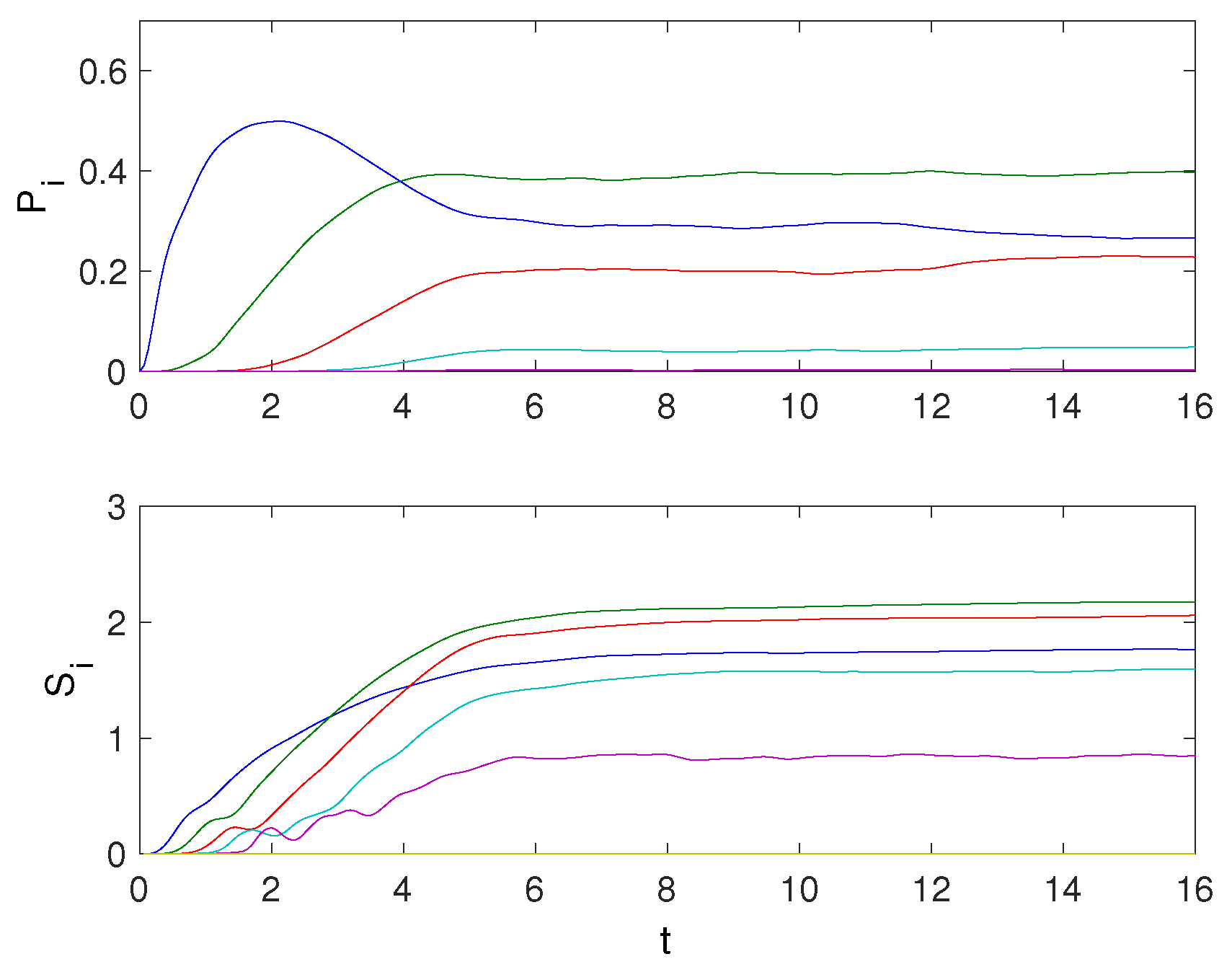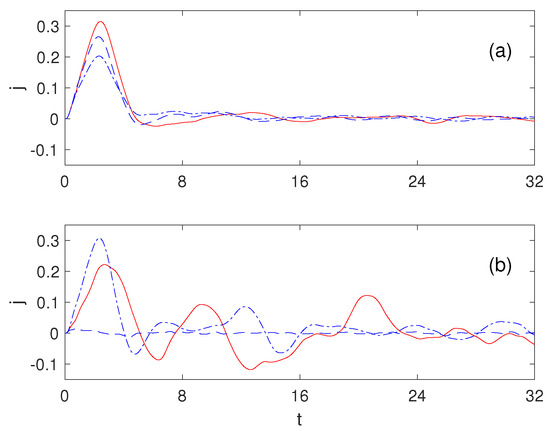 Figure 3. The total current in the transport channel as the function of time in the high-temperature (a) and low-temperature (b) limits. The dash-dotted, solid, and dashed lines correspond to different values of the gate voltage , respectively.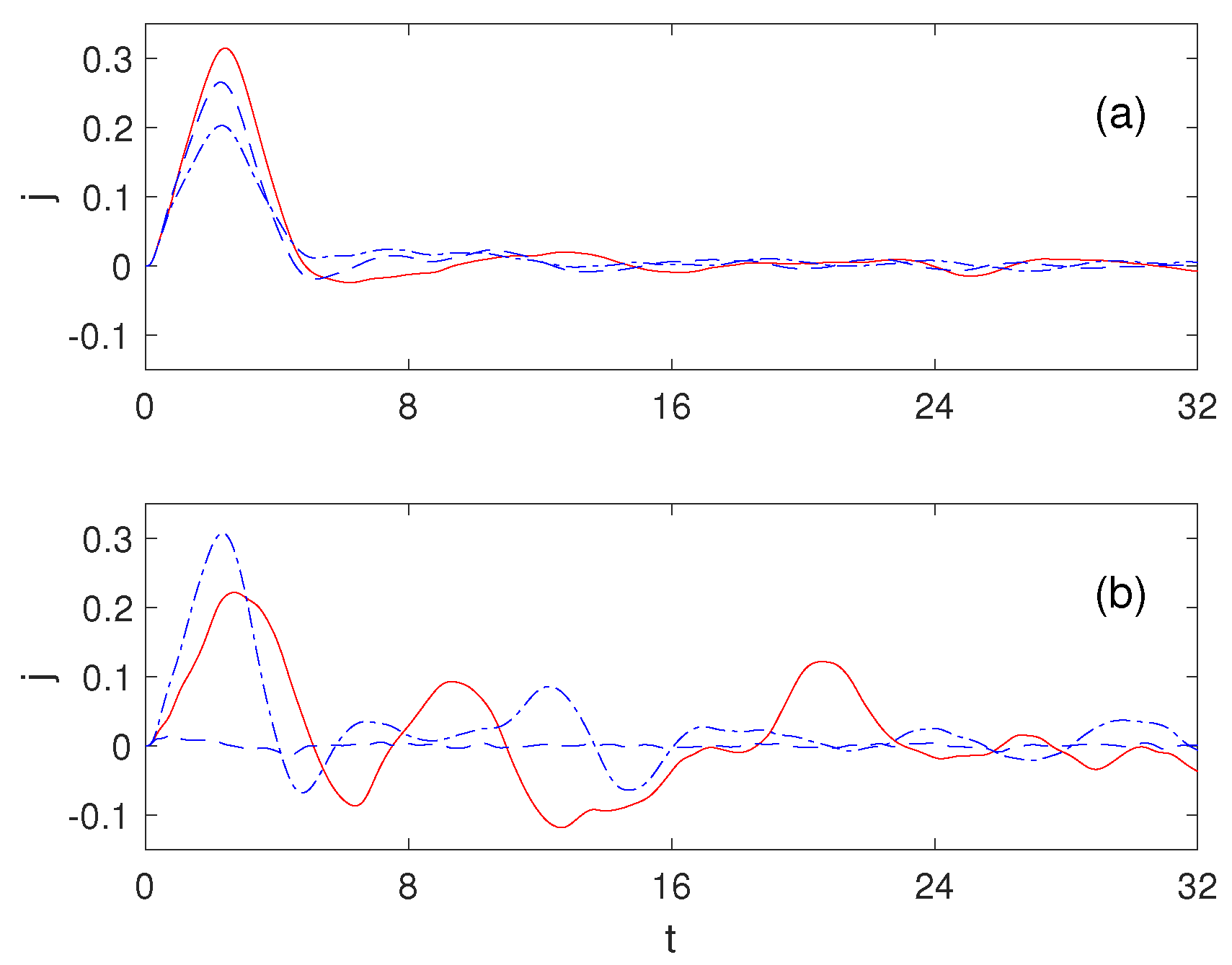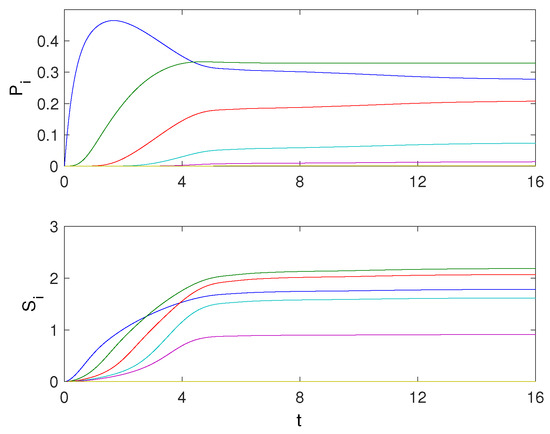 Figure 4.
The same quantities as in
Figure 2
yet calculated by using the master equation approach. The value of the relaxation constant is adjusted to .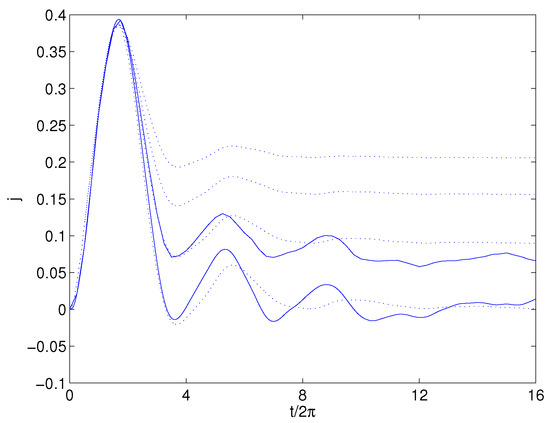 Figure 5.
The mean current in the transport channel connecting two reservoirs. Dotted lines show solution of the master equation with the source (, ) and sink (, from bottom to top) terms. The solid lines are solution of the master Equation (
20
) for and .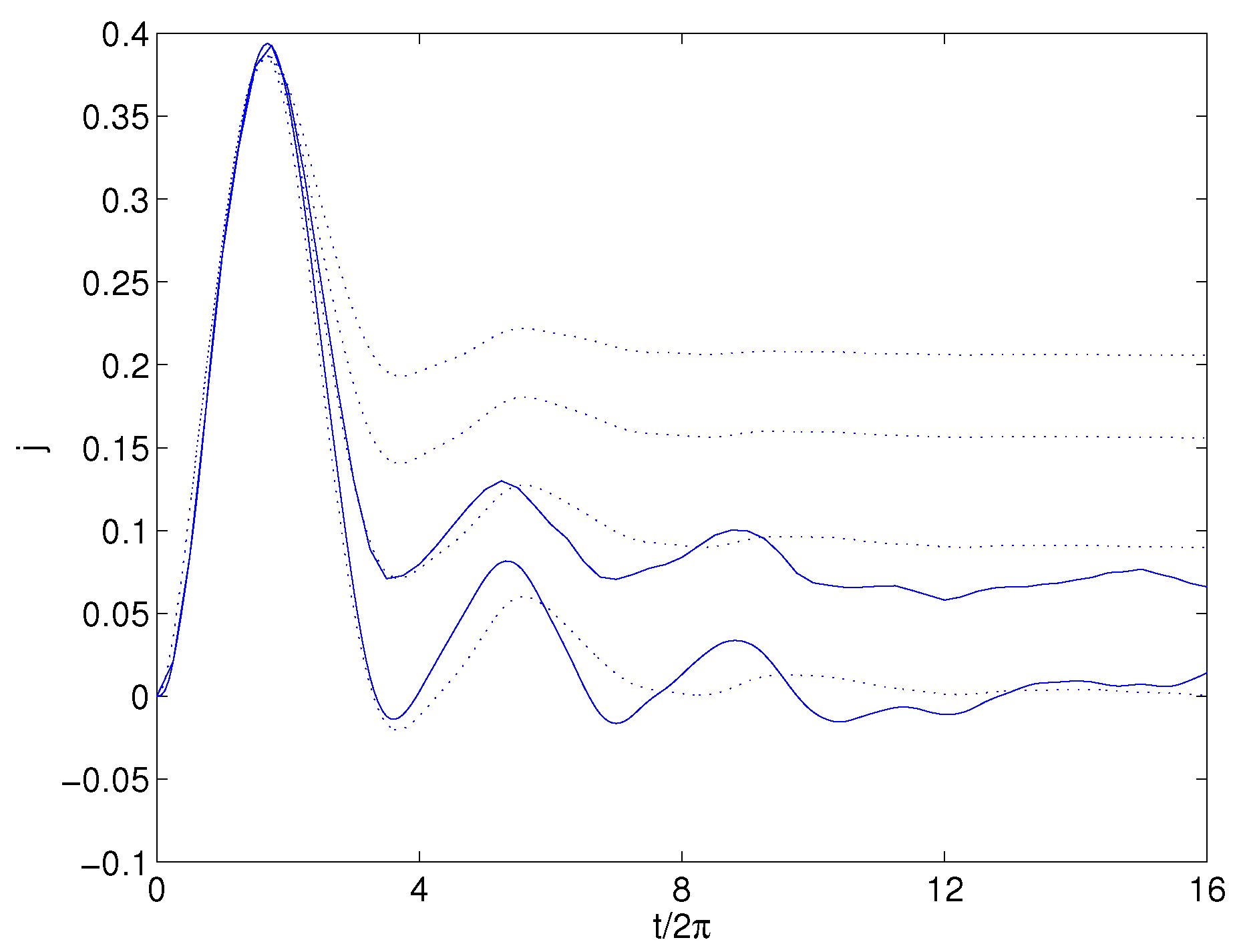 © 2019 by the authors. Licensee MDPI, Basel, Switzerland. This article is an open access article distributed under the terms and conditions of the Creative Commons Attribution (CC BY) license (http://creativecommons.org/licenses/by/4.0/).