Open Access This article is
freely available
re-usable
Article
Field Induced Slow Magnetic Relaxation in a Non Kramers Tb(III) Based Single Chain Magnet
Department of Chemistry, Indian Institute of Science Education and Research Bhopal, Bhopal Bypass Road, Bhauri, Bhopal 462 066, India
*
Author to whom correspondence should be addressed.
Received: 29 October 2018 / Accepted: 17 December 2018 / Published: 19 December 2018
Abstract
:
Herein, we report a novel Tb(III) single chain magnet with the chemical formulae [Tb(
μ
-OH
2
)(phen)(
μ
-OH)(nb)
2
]
n
by using 4-nitrobenzoic acid (Hnb) and 1,10-phenanthroline (phen) as ligand system. The single-crystal X-ray diffraction reveals that 4-nitrobenzoic acid acts as a monodentate ligand, water and hydroxyl ions are the bridging ligand and the phen serves as a bidentate chelating ligand. The static magnetic susceptibility measurement (from 2 K to 300 K) shows ferromagnetic interaction at very low temperature (below 6 K). The alternating current (AC) susceptibility data of the complex show temperature and frequency dependence under an applied 2000 Oe DC (direct current) field. The phen moiety behaves as an antenna and enables the complex to show the green light fluorescence emission by absorption-energy transfer-emission mechanism. To calculate the exchange interaction, broken symmetry density functional theory (BS-DFT) calculations have been performed on a model compound which also reveals weak ferromagnetic interaction. Ab initio calculations reveals the anisotropic nature (g
z
= 15.8, g
y
, g
y
= 0) of the metal centre and the quasi doublet nature of ground state with small energy gap and that is well separated from the next excited energy state.
Keywords:
Non-Kramer lanthanide; magnetic anisotropy; exchange interaction; single chain magnet
1. Introduction
Single molecule magnets (SMMs) have attracted great attention due to their potential applications in the field of quantum computing, molecular spintronics, magneto-optics and high density data storage [
1
,
2
,
3
,
4
]. These low dimensional magnets, such as single ion magnet (SIM), single molecule magnet (SMM) [
5
,
6
] and single chain magnet (SCM) [
7
,
8
,
9
] show slow magnetic relaxation due to the presence of an energy barrier between different m
J
states. The height of energy barrier of magnetization reversal (
U
eff
) depends upon the ground spin state and the magnetic anisotropy of the metal centre [
10
]. In SCMs, it is additionally affected by the intrachain interactions between the metal centres and the orientation of anisotropic axis for individual metal ions. Lanthanide elements are most preferable metal ions to achieve the high ground spin state value and by choosing the suitable ligand field high anisotropy can also be obtained [
11
,
12
,
13
]. Out of all molecular magnets the single chain magnets (SCMs) have shown a great importance due to its tune-ability towards the creation of anisotropic axes with high exchange interactions and dipolar interactions [
14
,
15
,
16
,
17
]. This leads to an enhancement to the effective energy barrier of magnetization reversal (
U
eff
) and stimulate the hysteresis loop with large coercive field [
18
,
19
]. Huge numbers of SCMs have been constructed from 3d metals [
20
,
21
,
22
], 3d–radical [
23
,
24
], 3d–3d [
25
,
26
,
27
], 3d–5d [
28
,
29
], 3d–4f [
30
] and 4f–radical systems [
31
] and characterized. Terbium is one of the most preferred non-Kramer lanthanide elements for the design of SIMs [
32
,
33
,
34
,
35
,
36
], SMMs [
37
,
38
,
39
,
40
], due to its high intrinsic magnetic anisotropy which favours the slow relaxation of magnetization; however, terbium based SCMs are relatively less explored [
41
]. In 2005, Bernot et al. reported a series of rare earth element based single chain magnet using radical as a bridging ligand, where Tb(III) based SCM has also been reported [
18
]. In 2012, Pasca et al. reported a cyanido bridged one dimensional chain of tungsten and terbium [
42
]. In 2012, Liu et al. and in 2014, Hu et al. reported Tb(III) based 1D chain where the bridging ligand was the basic unit of nitronyl nitroxide based radical [
43
,
44
]. In 2016, Turta et al. reported a carboxylate bridged Tb(III) SCM by using α-furon carboxylic acid [
41
].
Interestingly, Tb(III) based co-ordination polymers and complexes may also be considered as luminescent materials [
45
] and their emission can be explained by absorption-energy transfer-emission mechanism [
46
]. This can be achieved by using an attached ligand "antenna" which can absorb light and then transfers the energy to sensitize metal centre Tb(III)) efficiently, eventually emitting the characteristic lanthanide bands [
47
]. Pyridine based lanthanide complexes are very well studied in the arena of luminescence, particularly 1,10-phenathroline which is having three aromatic rings and very well known for sensitizing Ln
3+
Ions [
48
,
49
].
Even though there are many SCMs have been reported but the main challenges are to achieve the strong Ising type anisotropy in magnetic centres and weak inter-chain interaction [
14
] to achieve best results. Herein, we report the synthesis, characterization, structure determination, magnetic study, luminescence property study and ab initio calculation of the Tb(III) based single chain magnet, [Tb(
μ
-OH
2
)(phen)(
μ
-OH)(nb)
2
]
n
(Complex
1
) by using 4-nitrobenzoic acid (Hnb) and 1,10-phenanthroline (phen).
3. Materials and Methods
3.1. Starting Materials
All the reagents and solvents employed were commercially available and used without further purification. The synthetic reactions and work-up were done in the open air.
3.2. Preparation of the Complex
Synthesis of [Tb(μ-OH2)(phen)(μ-OH)(nb)2]n (1). Hnb (16.7 mg, 0.1 mmol), phen (60 mg, 0.3 mmol) and TbCl3·6H2O (36.4 mg, 0.1 mmol) were added to a mixture of solvents containing distilled water (5 mL) and ethanol (1 mL). After 30 min of constant stirring the reaction mixture was transferred to Teflon vessel (23.0 mL) sealed in a stainless steel container and heated at 140 °C for 72 h under autogenous pressure. Colourless block-shaped crystals were obtained after cooling down the reaction mixture to the room temperature and washed with distilled water. The grown crystals were highly suitable for single-crystal X-ray structural determination, separated manually and dried in air (yield: 34%). Calcd. for C26H19TbN4O10: C, 44.21; H, 2.71; N, 7.93%. Found: C, 44.06; H, 2.611; N, 7.88%. IR (KBr, cm−1): 3412 (s), 1948 (w), 1579 (s), 1514 (m), 1398 (m), 1344 (s), 1097 (w), 858 (w), 792 (w), 723 (w), 516 (w).
3.3. X-ray Data Collection and Structure Refinement
Intensity data were collected on a Brüker APEX-II D8 venture diffractometer using a graphite monochromated Mo-Kα radiation (λ = 0.71073 Å) at 120 K. Data collections were performed using φ and ω scan. Using Olex2 [
78
] as graphical interface, the structure was solved with the ShelXT [
79
] structure solution program using intrinsic phasing. The model was refined with ShelXL [
79
] with full matrix least squares minimisation on
F
2
. All non-hydrogen atoms were refined anisotropically. Crystallographic data for complex
1
have been summarized in
Table S1
. Bond lengths and angles are listed in
Tables S4 and S5 in the Supporting Information
.
3.4. Physical Measurements
The elemental analyses were performed on an Elementar Micro vario Cube elemental analyser. FTIR spectrum (4000–400 cm
–1
) was recorded for KBr pellets with a Perkin Elmer Spectrum BX spectrometer. Powder X-ray diffraction (PXRD) data were collected using a PANalytical EMPYREAN instrument (Cu-K
α
radiation). Magnetic measurements were performed by using a Quantum Design magnetometer. The measured values were corrected for the experimentally measured contribution of the sample holder, whereas the derived susceptibilities were corrected for the diamagnetism of the samples, estimated from Pascal's tables [
55
]. Absorption studies were recorded with an Agilent Cary 100 UV/Vis spectrophotometer. Thermogravimetric analysis was conducted with a Perkin–Elmer Thermogravimetric analyser with a heating rate of 10 °C min
–1
in the temperature range of 30–800 °C. The photoluminescence spectral measurements were recorded with a Horiba Jobin Yvon Fluoromax-4 spectrofluorometer.
4. Conclusions
In conclusion, we have synthesized a new non-Kramers Tb(III) single chain magnet which shows ferromagnetic behaviour at very low temperature (below 6.1 K) which is very well supported by the BS-DFT calculations. The complex also shows field induced slow relaxation of magnetization. The sharp luminescence of the complex confers its application in the field of multifunctional material. The ab initio calculations manifest the highly anisotropic nature of the Tb(III) SCM with gz = 15.80 and the quasi doublet nature of ground spin state with small energy gap which leads to fast relaxation. Future work will adjoin the appropriate coordination sphere around the Ln(III) centre to create the high anisotropy and reasonable bridging ligand to have maximum exchange coupling for excellent SMM properties.
Supplementary Materials
Crystallographic data for the structural analysis have been deposited with the Cambridge Crystallographic Data Centre No. 1865187 for complex
1
. Copy of the data can be obtained free of charge from the Director, CCDC, 12 Union Road, Cambridge CB2 1EZ, UK [fax: +44(0)-1223-336033; or e-mail:
[email protected]
or
http://www.ccdc.cam.ac.uk
].
Author Contributions
A.K.K. performed the experiments; solved the crystal structure and analysed the magnetic data; A.M. conducted the theoretical calculations and S.K. supervised the overall work and organized the project.
Funding
S.K. acknowledges DAE-BRNS Government of India [Project No. 37(2)/14/09/2015/BRNS] and IISER Bhopal for generous financial support. A.K.K. thanks CSIR, India for fellowship. A.M. is thankful to IISER Bhopal for PhD fellowship.
Acknowledgments
We thank Siba Prasad Bera and Subhadip Roy for their valuable scientific support. The high-performance computing (HPC) facility at IISER Bhopal is gratefully acknowledged for the computational work.
Conflicts of Interest
The authors declare no conflict of interest.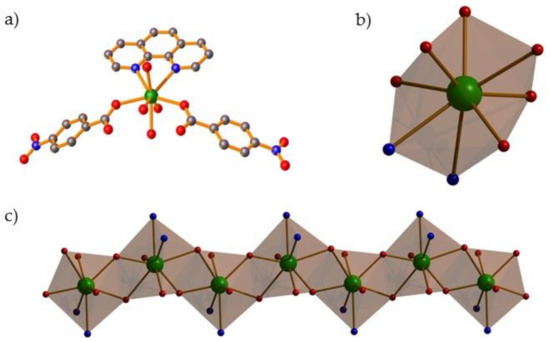 Figure 1. (a) Coordination sphere of Tb(III) ion the complex 1. (b) Polyhedron of coordination environment around Tb metal centre. (c) The one dimensional chain of complex 1 with Tb(III) ions propagated by water and hydroxyl bridges (Hydrogen atoms were omitted for clarity, colour code: Tb = green, O = red, C = grey, N = blue).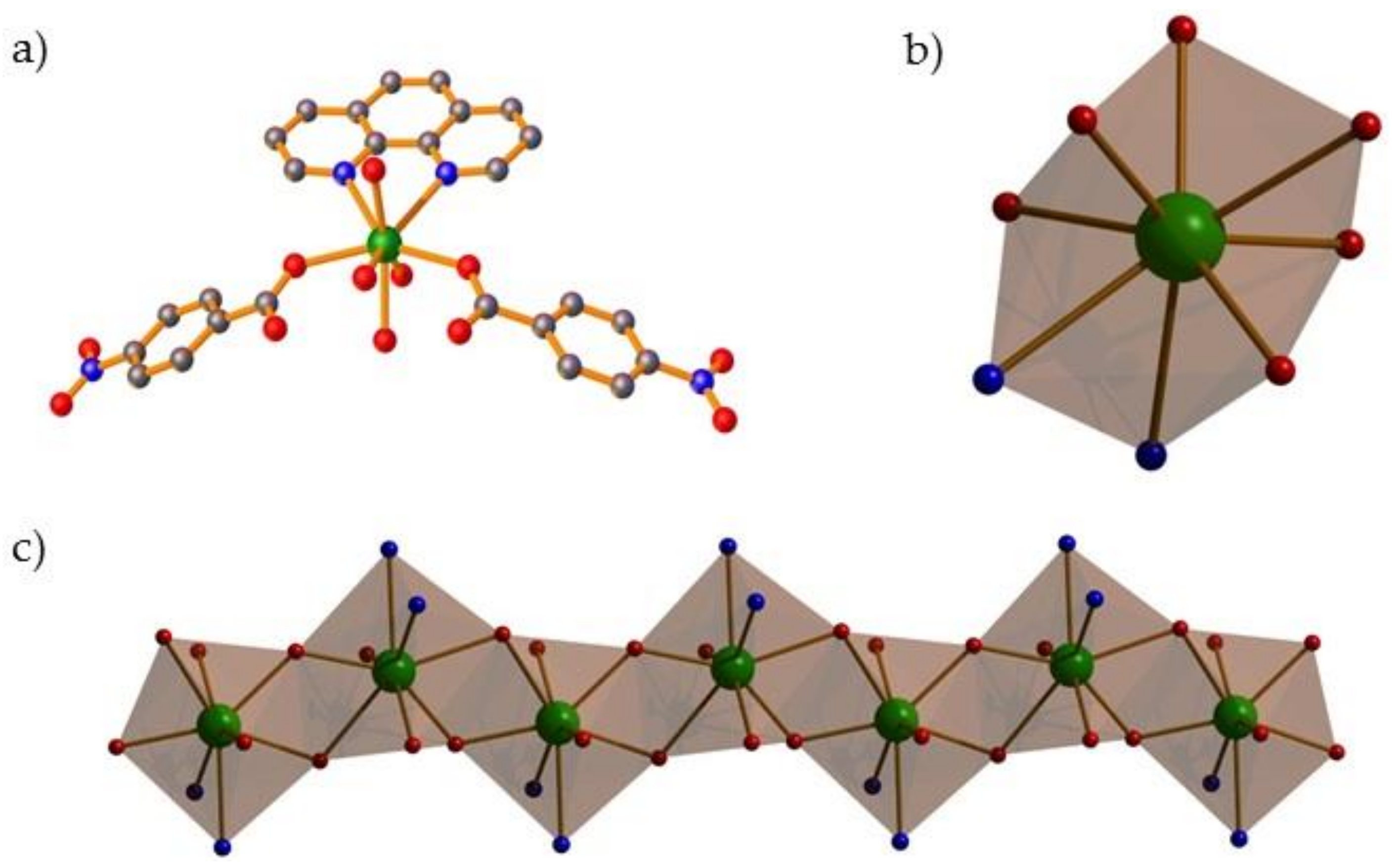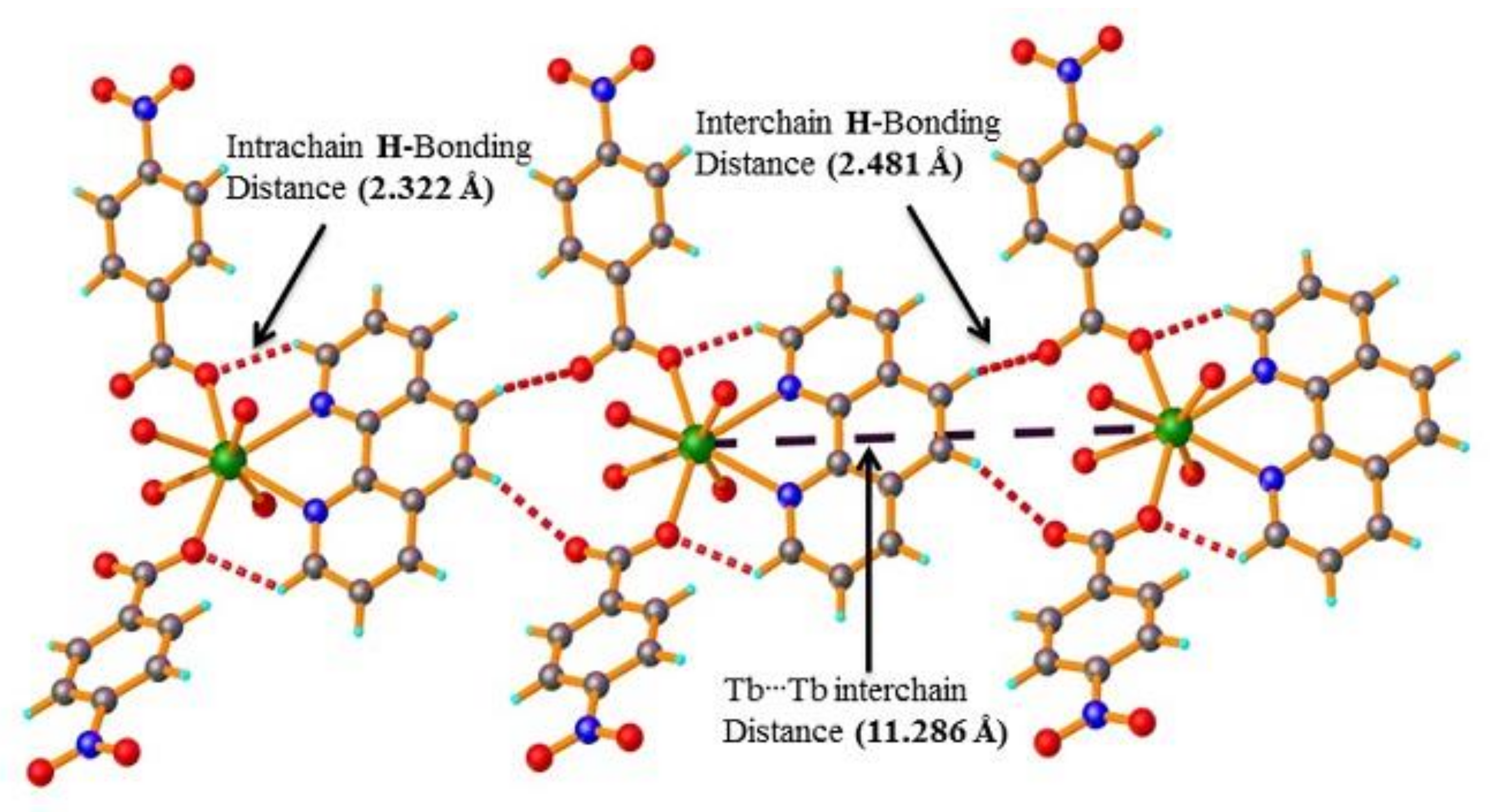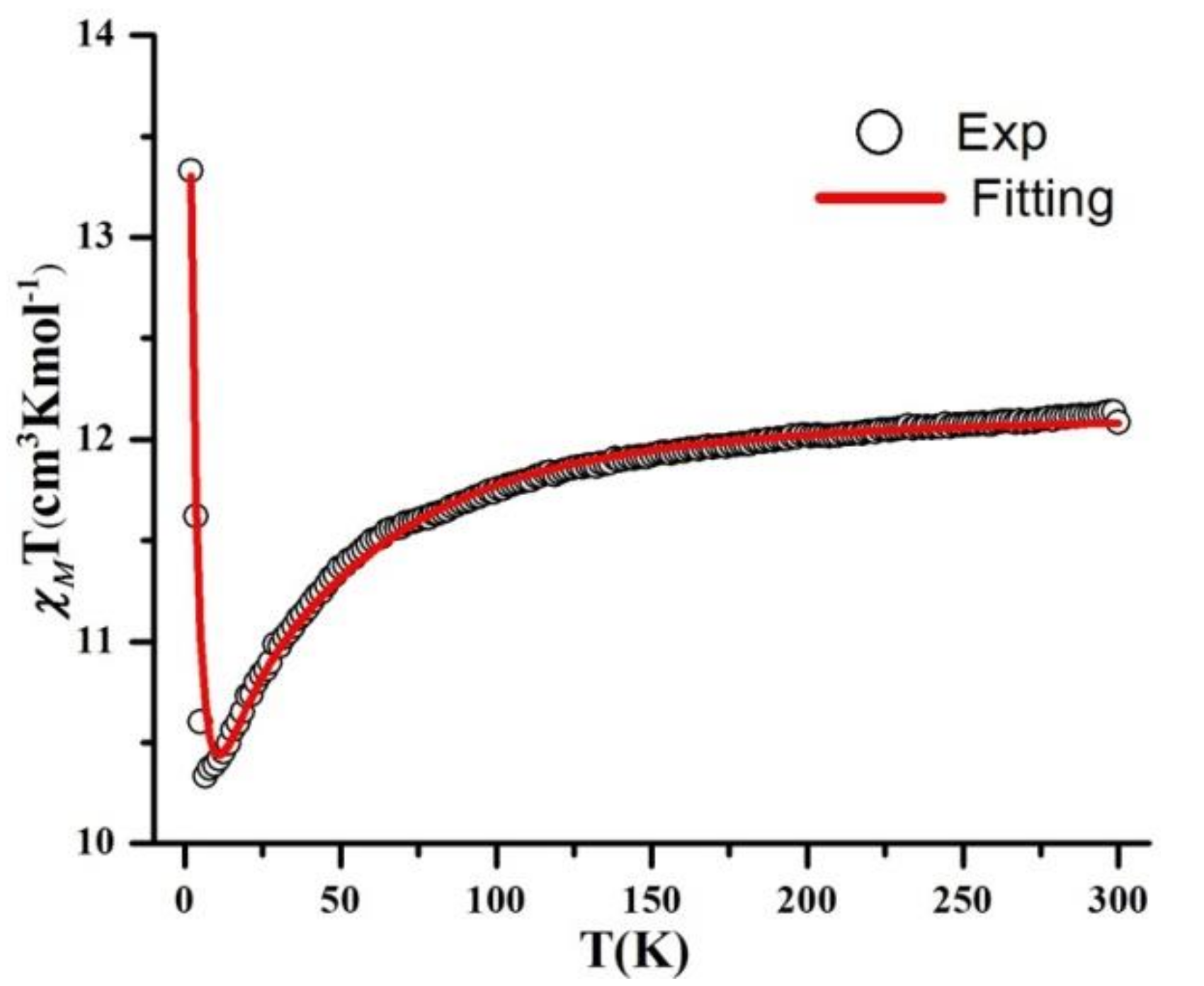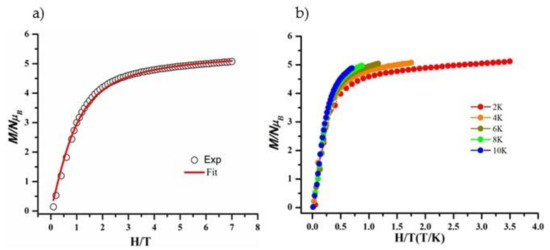 Figure 4. (a) DC magnetization as a function of the applied field, M(H), at 4 K and, (b) reduced magnetization plot in the field range of 0–7 T and temperature range of 2–10 K for complex 1.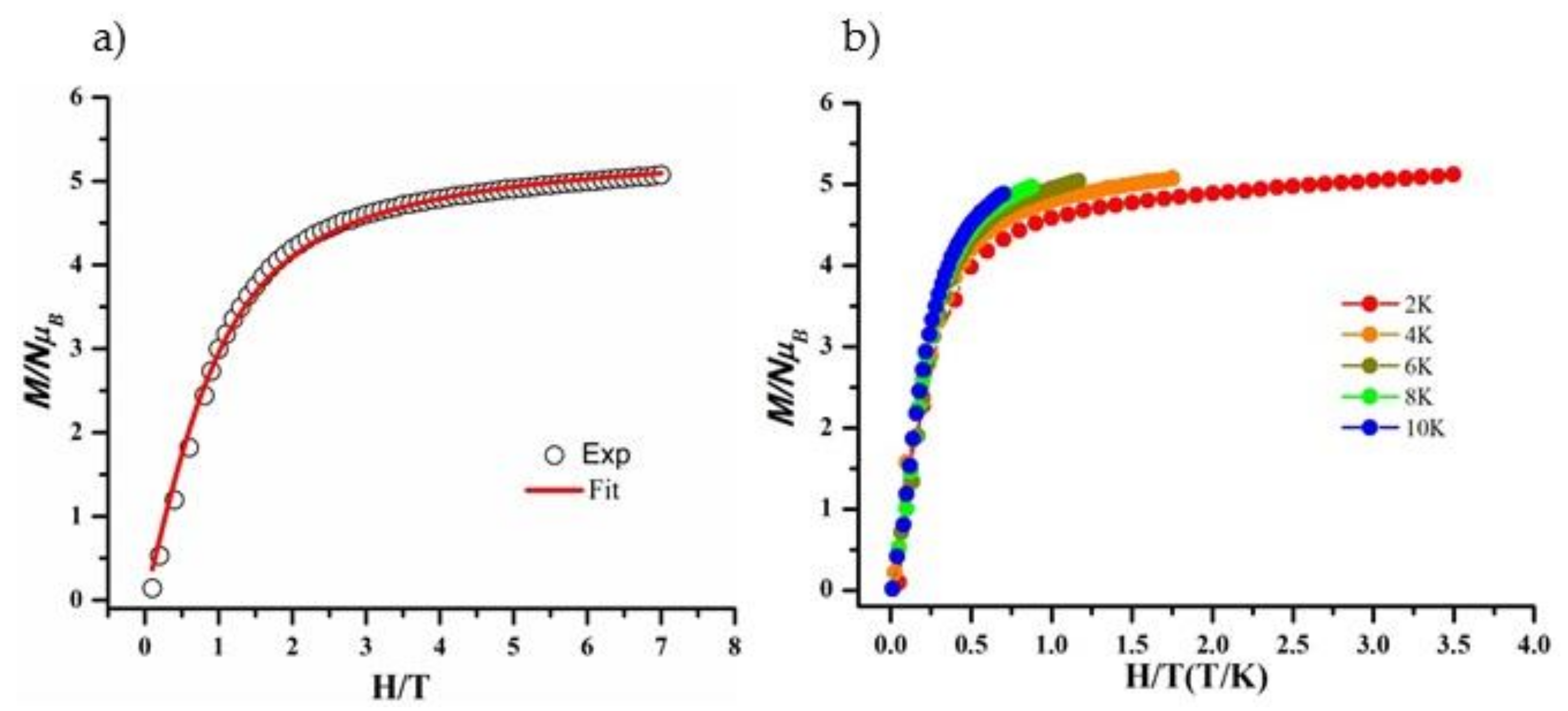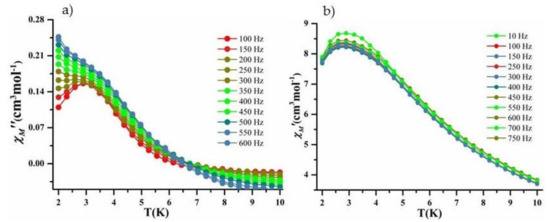 Figure 5.
(
a
) Out of phase (
χ
M
′′ vs. T) and, (
b
) in phase (
χ
M
′ vs. T) AC plot for complex
1
at 2000 Oe dc field.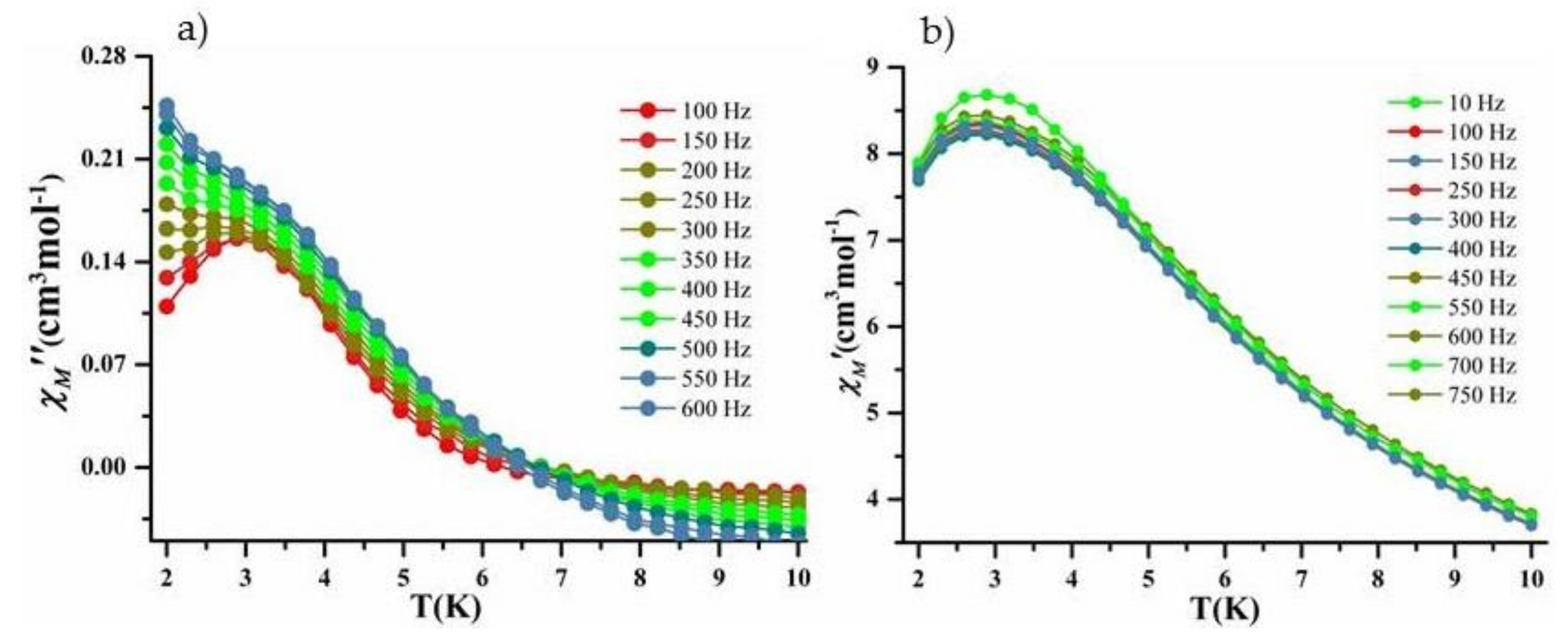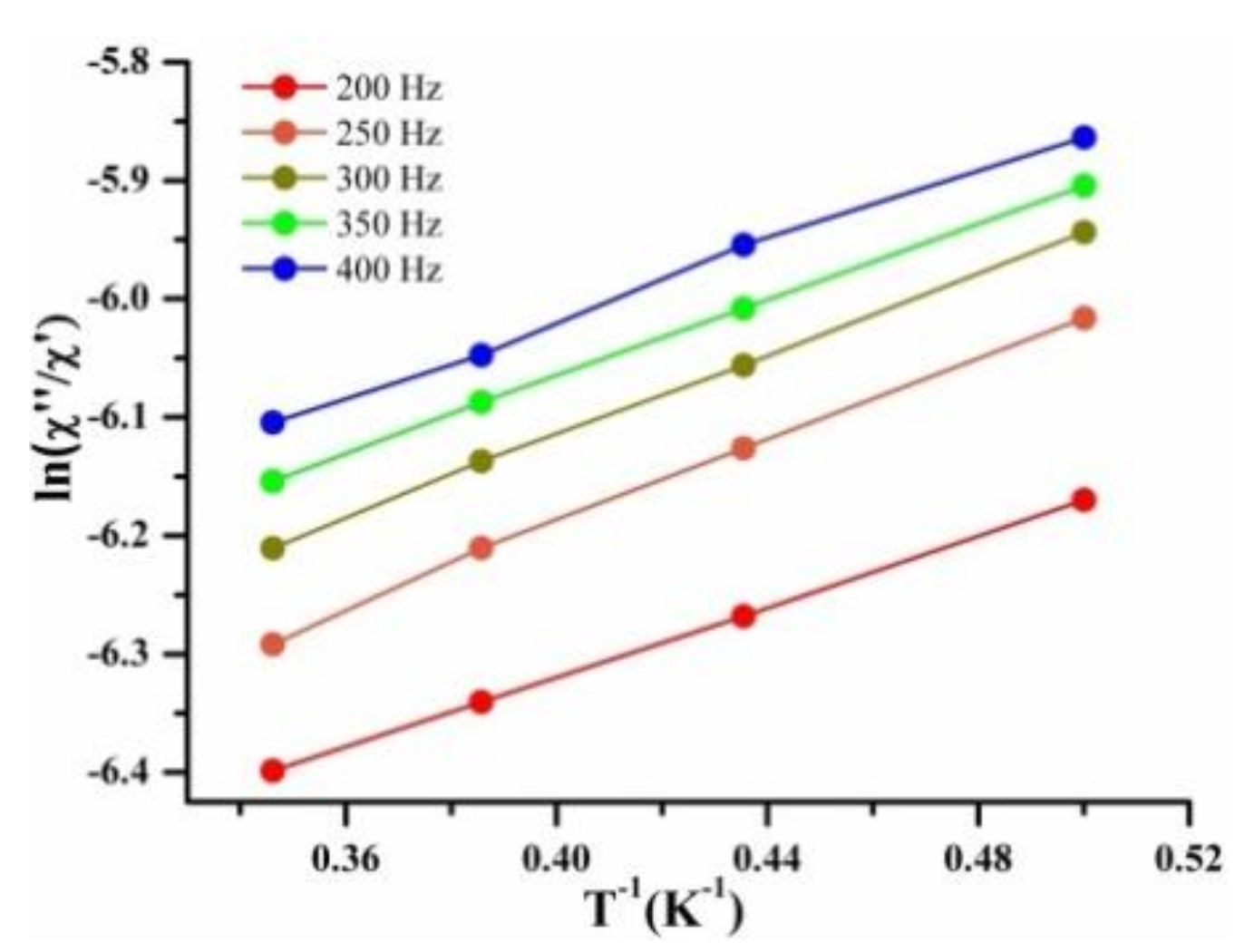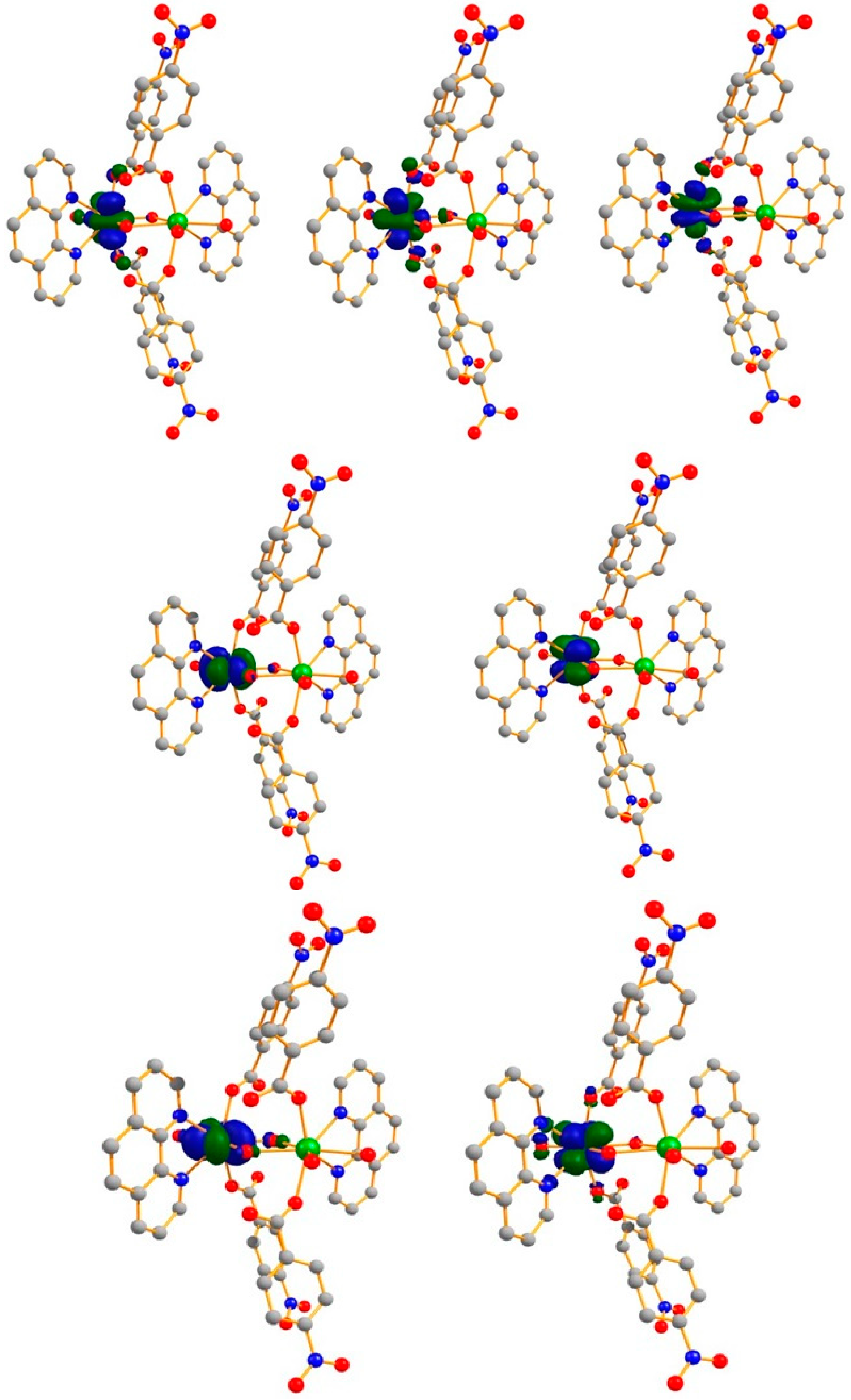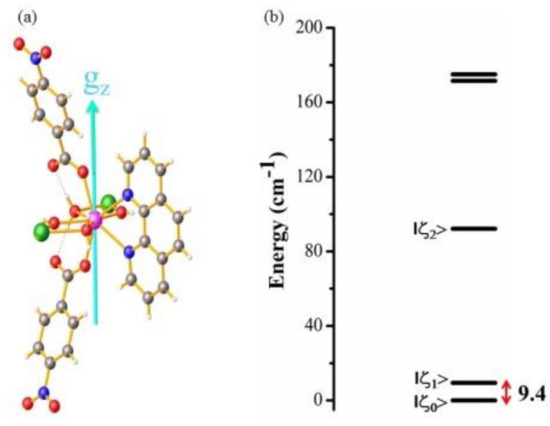 Figure 8. (a) Ab initio computed orientation of the principal magnetization axis of the ground state (b) CF split energy levels calculated by ab initio for Tb(III) centre in complex 1.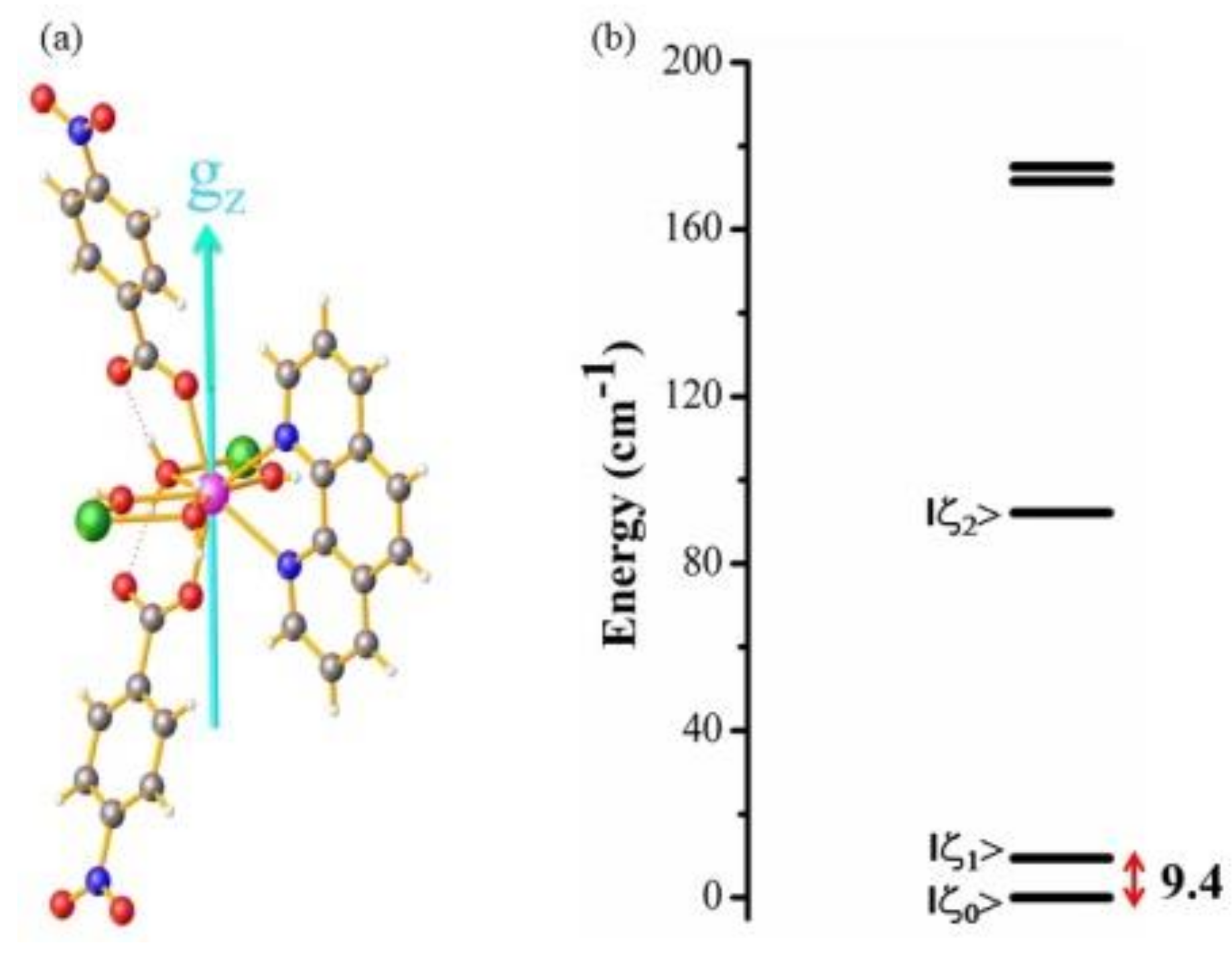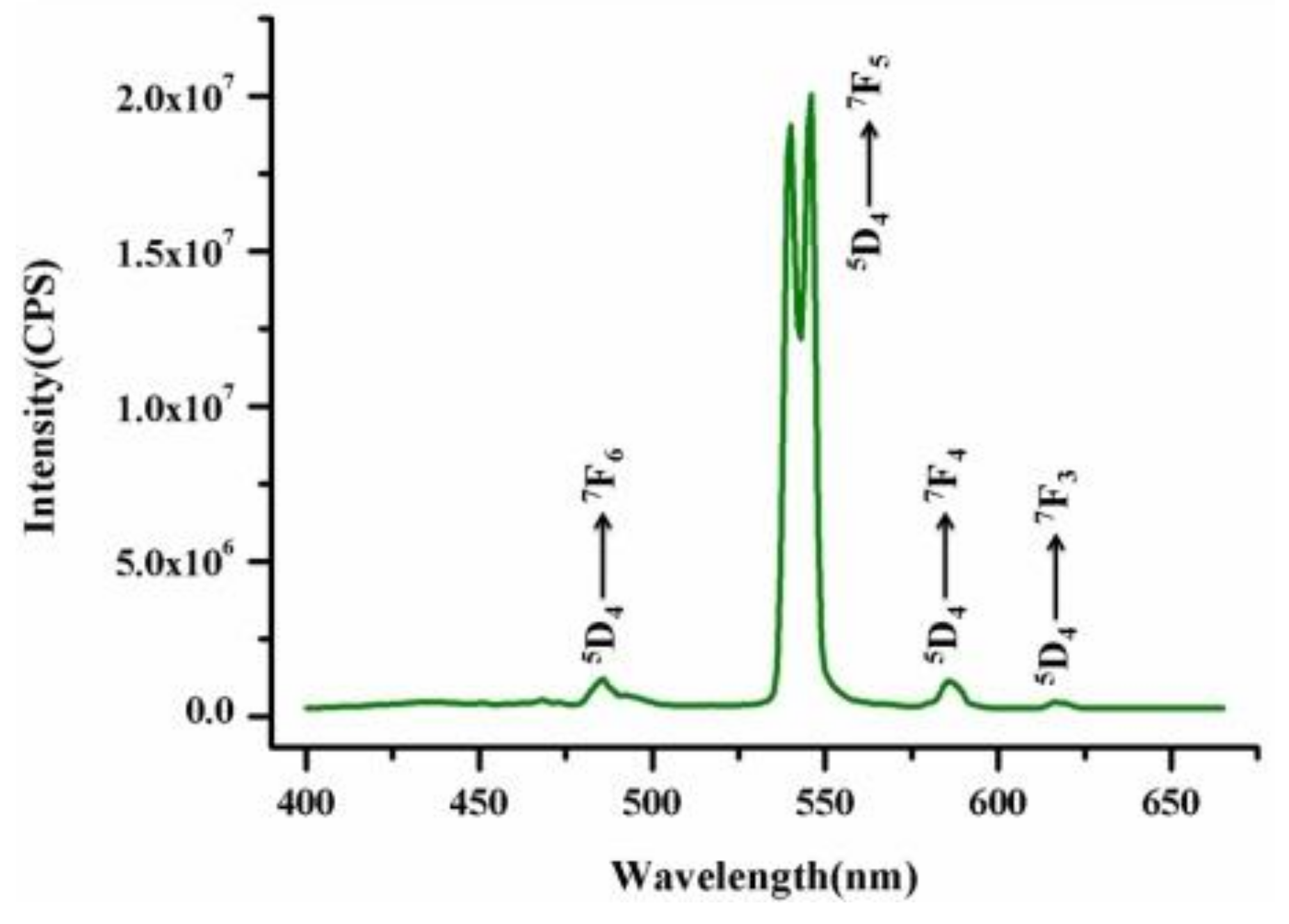 Complex 1
Fitting (cm−1)
From Calculations (cm−1)
Exchange Coupling Parameter (

J

)
+0.06
Crystal Field Parameters
(, , )
(−566, 155, 5.4)
(−356, 78.8, 4.6)

© 2018 by the authors. Licensee MDPI, Basel, Switzerland. This article is an open access article distributed under the terms and conditions of the Creative Commons Attribution (CC BY) license (http://creativecommons.org/licenses/by/4.0/).