Two Dimensional Magnetic Coordination Polymers Formed by Lanthanoids and Chlorocyananilato†
Instituto de Ciencia Molecular (ICMol), Departamento de Química Inorgánica, Universidad de Valencia, C/Catedrático José Beltrán 2, 46980 Paterna, Spain
*
Authors to whom correspondence should be addressed.
†
In memory of late Professor Samiran Mitra. A good researcher, a better friend and an excellent person.
Received: 8 November 2018 / Revised: 2 December 2018 / Accepted: 6 December 2018 / Published: 12 December 2018
Abstract
Here we show the important role played by the size of the lanthanoid and the solvent used in the final structures of several two-dimensional magnetic coordination polymers with the ligand chlorocyananilato, (C
6
O
4
(CN)Cl)
2−
. With this aim we have prepared five compounds: [Nd
2
(C
6
O
4
(CN)Cl)
3
(DMF)
6
] (
1
) (DMF = dimethylformamide), [Dy
2
(C
6
O
4
(CN)Cl)
3
(DMF)
6
]·4H
2
O (
2
), [Ho
2
(C
6
O
4
(CN)Cl)
3
(DMF)
6
]·2H
2
O (
3
), and [Ln
2
(C
6
O
4
(CN)Cl)
3
(DMSO)
6
] with Ln = Ce (
4
) and Nd (
5
) (DMSO = dimethylsulfoxide). These compounds are formed by two dimensional networks with a (6,3)-topology but, depending on the size of the lanthanoid and on the solvent used, show important structural differences, including the size, shape, distortion and content of the cavities as well as the flatness of the layers. The comparison of compounds
1
–
3
and
4
–
5
shows the role played by the size of the lanthanoid while keeping constant the solvent, whereas, the comparison of compounds
1
and
5
shows the role of the solvent (DMF vs. DMSO) while keeping constant the lanthanoid. The magnetic properties of all of them show the absence of noticeable magnetic interactions, in agreement with previous results that can be explained by the internal character of the 4f electron and the weak magnetic coupling mediated by these anilato-based ligands.
View Full-Text
►

▼

Figures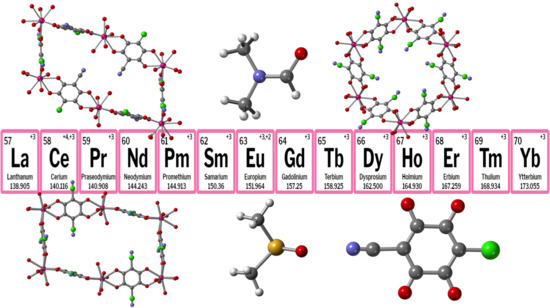 Graphical abstract
This is an open access article distributed under the
Creative Commons Attribution License
which permits unrestricted use, distribution, and reproduction in any medium, provided the original work is properly cited (CC BY 4.0).

Share & Cite This Article
MDPI and ACS Style
Benmansour, S.; Hernández-Paredes, A.; Gómez-García, C.J. Two Dimensional Magnetic Coordination Polymers Formed by Lanthanoids and Chlorocyananilato. Magnetochemistry 2018, 4, 58.
Note that from the first issue of 2016, MDPI journals use article numbers instead of page numbers. See further details here.
Related Articles
Comments
[Return to top]