Open Access This article is
freely available
re-usable
Article
Pathogen and Host Response Dynamics in a Mouse Model of
Borrelia hermsii
Relapsing Fever
Departments of Microbiology & Molecular Genetics and Medicine, University of California Irvine, Irvine, CA 92697, USA
*
Author to whom correspondence should be addressed.
Academic Editor: Ulrike Munderloh
Received: 13 July 2016 / Accepted: 24 August 2016 / Published: 30 August 2016
Abstract
:
Most
Borrelia
species that cause tick-borne relapsing fever utilize rodents as their natural reservoirs, and for decades laboratory-bred rodents have served as informative experimental models for the disease. However, while there has much progress in understanding the pathogenetic mechanisms, including antigenic variation, of the pathogen, the host side of the equation has been neglected. Using different approaches, we studied, in immunocompetent inbred mice, the dynamics of infection with and host responses to North American relapsing fever agent
B. hermsii
. The spirochete's generation time in blood of infected mice was between 4–5 h and, after a delay, was matched in rate by the increase of specific agglutinating antibodies in response to the infection. After initiating serotype cells were cleared by antibodies, the surviving spirochetes were a different serotype and, as a population, grew more slowly. The retardation was attributable to the host response and not an inherently slower growth rate. The innate responses at infection peak and immediate aftermath were characterized by elevations of both pro-inflammatory and anti-inflammatory cytokines and chemokines. Immunodeficient mice had higher spirochete burdens and severe anemia, which was accounted for by aggregation of erythrocytes by spirochetes and their partially reversible sequestration in greatly enlarged spleens and elsewhere.
Keywords:
tick-borne disease; zoonosis; spirochete; antigenic variation;
Ornithodoros
;
Mus musculus
1. Introduction
1.1. Early Animal Experiments
1.2. The North American Species B. hermsii
In the 1930s
B. hermsii
and the tick
Ornothodoros hermsi
were identified as, respectively, the cause and arthropod vector of cases of relapsing fever in California [
27
,
28
].
B. hermsii
is also found in mountains and foothills elsewhere in western North America, from British Columbia in the north, through the Great Basin region and the Rocky Mountains, and south into Arizona and New Mexico [
29
]. Reports of
B. hermsii
relapsing fever have included cases among residents and visitors of the Sierra Nevada mountains of California since 1922 [
30
] and of the Grand Canyon National Park in Arizona [
31
]. The usual reservoir hosts for
B. hermsii
are chipmunks and squirrels [
32
,
33
], but can also include
Peromyscus
spp., such as the deer mouse [
34
].
On the basis of whole-genome as well as shorter sequences,
B. hermsii
, together with
B. turicatae
,
B. parkeri
, and
B. coriaceae
, constitute a North American or "New World" clade [
35
]. Another set of species, including
B. duttonii
,
B. crocidurae
,
B. hispanica
, and
B. persica
, in Africa and Eurasia coherently constitute an "Old World" taxonomic clade [
36
]. The sole louse-borne relapsing fever agent,
B. recurrentis
, has a reduced genome and is a close derivative of
B. duttonii
[
37
]. There are other species (e.g.,
B. miyamotoi
) in the combined relapsing fever group in the genus
Borrelia
that are carried hard ticks, such as
Ixodes scapularis
, instead of soft ticks, and are found in North America as well as Eurasia [
35
], but these are not further considered here.
B. anserina
is another species in the relapsing fever group and is transmitted by soft ticks of the genus
Argas
, but its host range is largely restricted to birds, and recurrences of the bacteremia have not been observed [
38
].
Following
B. hermsii
's identification in California, this organism and other relapsing fever agents were studied by Gordon Davis and Willy Burgdorfer at the National Institutes of Health's Rocky Mountain Laboratory (RML) (e.g., [
39
,
40
]), by Dorthy Beck in California [
41
], and later by Coffey and Eveland in California [
42
,
43
]. Richard Kelly's breakthrough in cultivating a relapsing fever agent in the laboratory was achieved with
B. hermsii
[
44
]. Herbert Stoenner at the RML improved Kelly's medium [
45
] and used a strain, now named HS1, which was originally isolated in mice by Willy Burgdorfer from ticks collected at the site of an outbreak of relapsing fever in eastern Washington in 1968 [
46
]. Stoenner and Barbour used clonal populations of strain HS1 and variant-specific antibodies in their studies of antigenic variation during relapsing fever [
47
,
48
]. Schwan and his colleagues in their in-depth studies of the biology of
B. hermsii
at the RML used isolate HS1 through 1998 [
49
], but since 2000 they have primarily used isolate DAH, which has a different origin than HS1 [
50
]. However, the DAH and HS1 isolates are near-identical in sequence and essentially are the same strain [
51
,
52
]. In one study DAH and HS1 isolates reached the same peak densities in the blood of infected mice [
53
].
1.3. Overview
Two major aims of the paper are, first, to report on a series of experiments we have carried out that further define the biology of
B. hermsii
infection of
Mus musculus
in the laboratory, and, second, to put these findings in the context of previous work, with an emphasis, as for this introduction, on early investigations that have stood up over time. Inclusion of all pertinent studies of relapsing fever in animal models—a century-long, global endeavor—was beyond the scope of our more limited ambition. Many exemplary articles of our predecessors and contemporaries in the field could not be included. Mechanisms of disease are not neglected, but attention is focused primarily on the dynamics of growth and responses and the variances for the dynamics. Another objective is the provision of empirical data for those who would build deterministic or agent-based models of relapsing fever that incorporate both pathogen and host parameters. Although most of the space is devoted to experiments in laboratory animals and most other references are to human infection, there is increasing recognition of the occurrence of tick-borne relapsing fever in dogs and cats [
54
,
55
,
56
,
57
]. The studies of experimental animal models of relapsing fever likely provide insights for research on and clinical management of relapsing fever in domestic and companion animals.
2. Materials and Methods
2.1. Animals
The vertebrate animals protocol was approved by the Institutional Animal Care and Utilization Committee of the University of California Irvine (Approval code: 2080-1999). Inbred
Mus musculus
mice were strain BALB/c (Charles Rivers Laboratories) and two strains congenic with BALB/c with the severe combined immunodeficiency phenotype (SCID) and mutation (
scid
): CBySmn.CB17
-Prkdcscid
/J from Jackson Laboratory (BALB/c
scid
) and CB17/lcr-
Prkdcscid
/IcrlcoCrl from Charles River Laboratories (C.B-17
scid
). Other mice were Nu/J nude mice from Jackson Laboratory. Immunodeficient mice were housed in isolator cages under ABSL2 containment in an ALAAC-approved facility, provided with autoclaved bedding and food (Harlan Teklad Global Soy Protein-Free Rodent Diet), were kept on a 12 h light-dark cycle, and received autoclaved distilled water ad libitum. During experiments mice were examined and weighed daily. Blood was collected from either the tail (10–25 μL) or the saphenous vein (50 μL) in lithium-heparin coated Microvette CB300 collection tubes (Sarstedt). Terminal exsanguination and euthanasia under isofluorane or CO
2
anesthesia was performed by cardiac puncture and collection of the blood into either a heparinized syringe or heparinized tubes (Becton-Dickinson Microcontainer #365965).
2.2. Bacterial Strains and Culture Conditions
The Browne Mountain isolate of the type strain HS1 of
B. hermsii
(ATCC 35209; BioSample SAMN04481062) was used [
46
,
52
]. Original frozen stocks of mouse plasma with either 25% glycerol or 10% dimethyl sulfoxide were ≥98% pure in serotype identity by immunoflourescence assay with serotype-specific antisera [
47
]. For the present study, serotype 7 from these stocks was cloned again by limiting dilution in C.B-17
scid
mice. The serotype of a relapse population was identified by PCR amplification and sequence of the expression site for the variable major proteins, as described [
58
,
59
]. Two other serotypes of strain HS1 used in the study were serotype 19 and serotype 33. The second
B. hermsii
strain was CC1 serotype 1 (BioSample SAMN03408291) [
59
,
60
], which was first passed into C.B-17
scid
mice from frozen stocks before inoculation of the freshly-obtained plasma into other sets for mice for experiments.
B. hermsii
cells were cultivated in BSK II medium with 12% rabbit serum at 34 °C unless otherwise stated [
61
]. Bacteria were harvested from cultures and then washed as described [
59
]. Spirochetes in plasma or culture medium were counted in duplicate by phase microscopy on an Olympus BX40 microscope using a Petroff-Hausser counting chamber with a depth of 0.02 mm and 400× magnification. A volume of 4.5 μL was placed into the chamber and spirochetes in its 400 squares (1 mm
2
total area) were counted.
2.3. Mouse Infections
Mice were inoculated intraperitoneally with 1–10
B. hermsii
cells in 100 μL of phosphate-buffered saline, pH 7.4 (PBS), with 5 mM MgCl
2
(PBS-Mg) by intraperitoneal injection, unless otherwise noted. The innoculum cell count was determined either by limiting dilution for frozen stock of known viability or microscopic quantitation of cultures as described above. A rotation of one or two members of each group of inoculated mice was monitored daily for the presence and density of spirochetes by phase-contrast microscopy of a wet mount of blood obtained from the tail vein. Infected plasma was obtained from blood anti-coagulated with heparin or sodium citrate by centrifugation at 100×
g
for 3 min. Cell-free plasma was obtained by centrifugation of the infected plasma at 9500×
g
for 5 min for the aggregation experiment and at 16,000×
g
for 10 min for antibody experiments. At the time terminal anesthesia, the mice were weighed, and whole spleens were dissected and weighed. Spleens of some mice were fixed in 10% buffered formalin for histopathology processing at University of California Davis' Comparative Pathology Laboratory (Davis, CA, USA). Mice that were treated with an antibiotic received ceftriaxone (Sigma-Aldrich) at a dose of 25 µg per gm of body weight and administered subcutaneously every 12 h for 3 d, as described [
62
]. The hematocrit, percentage of packed red blood cells, was determined with heparinized microhematocrit capillary tubes (Fisher Scientific) with Critoseal caps (Oxford Labware, St. Louis, MO, USA) and centrifugation for 5 min on a ZIPocrit microhematocrit centrifuge (LW Scientific, Lawrenceville, GA, USA).
2.4. Antibody Agglutination Assays
The macro-agglutination and micro-agglutination assays were performed in 96-well, round-bottom, polystyrene 96-well microtiter plates. To each of the wells, which contained 25 µL of PBS-Mg with 5% bovine serum albumin (BSA) and 10
7
in vitro—cultivated or plasma-borne bacteria, was added an equal volume of mouse plasma serially two-fold diluted in the same buffer. Reactions were shaken at 200 rpm and incubated at 37 °C for 2 h. The highest dilution in which there was cell pellet surrounded by clear liquid rather than a homogeneous haze was recorded as the titer of the assay. For the micro-agglutination assay 12.5 µL of plasma serially-diluted in BSK II medium were added to 12.5 μL of a suspension of bacteria at a concentration of 5 × 10
7
per mL of medium. The suspension was incubated at 37 °C for 2 h on a shaker at 200 rpm. A 5 μL volume was examined under a cover slip by phase microscopy at 400× magnification. Agglutination was scored positive if >50% of the spirochetes were in clumps of ≥5 cells. A positive control for the micro-agglutination was a mouse monoclonal antibody H7-7 to serotype 7 with documented agglutinating capacity [
63
].
2.5. Growth Inhibition Assay
The growth inhibition assay for
B. hermsii
HS1 serotype 33 was performed in 200 μL reaction volumes in a 96-well microtiter plate as described [
63
]. A two-fold dilution series was made for both
B. hermsii
serotype 33 cells in BSKII media and monoclonal antibody H4825 diluted in BSK II media, IgG2a antibody specific for the Vtp protein of serotype 33 [
64
]. Each reaction well consisted of 195 μL of
B. hermsii
cell dilution and 5 μL of antibody dilution in a checkerboard fashion. Guinea pig complement (Diamedix) at two units per mL was added to some wells. The plate was then sealed and incubated at 34 °C for two weeks. The plate was monitored daily for growth of
B. hermsii
cells as indicated by a change in media color from pink to yellow. Wells were considered positive for growth inhibition if the media remained pink.
2.6. Indirect Immunofluorescence Assay (IFA)
Methanol-fixed thin smears of blood from mice infected with
B. hermsii
were incubated with mouse plasma diluted 1:10 in PBS at 37 °C for 1 h. The slides were washed with PBS for twice for 10 min each, and then incubated with fluorescein-labeled goat anti-mouse IgM antibody (Kierkegaard & Perry Laboratory, Gaithersburg, MD, USA) at 1:1000 dilution at 37 °C for 1 h. After washing again with PBS, buffered-glycerol and a cover slip were applied, and the slides were examined by UV microscopy.
2.7. Enzyme-Linked Immunosorbent (ELISA) Assay for IgM Antibodies
To wells of a 96-well flat-bottom polystyrene microtiter plate were added 10
8
washed bacteria suspended in 50 μL of 50 mM sodium carbonate, pH 9.6 buffer. Plate were centrifuged at 700×
g
for 30 min, buffer was removed by aspiration, wells were washed with 50 μL of PBS-Mg, and plates were centrifuged again at 700×
g
for 30 min. Wells were blocked with 200 μL blocking 50 mM Tris, pH 8.0-140 mM NaCl-1% BSA for 30 min. This solution was removed and the wells were washed three times with 50 mM Tris-140 mM NaCl, pH 8.0-0.05% Tween 20 (wash solution). Serial two-fold dilutions of the mouse plasma were made in the wash solution and added in 100 µL volumes to the wells of the plates, which were then incubated at 22 °C for 1 h. The wells were aspirated of their contents and then washed five times with the wash solution. Volumes of 100 μL of horse radish peroxidase-conjugated goat antibody for murine IgM (Bethyl Laboratories) at a 1:100,000 dilution in wash solution were then added to wells and incubation at 22 °C for 1 h was carried out. After the wells were aspirated, they were washed five times with wash solution. The reaction was developed with 3,3', 5,5'-tetramethylbenzidine (TMB) of the ELISA Starter Accessory Kit (Bethyl Labs), and optical densities of the colorimetric reactions were read at 450 nm. The cutoff value for a positive titer was defined as >3 standard deviations above the mean of 16 plasma samples from uninfected mice.
2.8. Assays for Cytokines, Chemokines, and Other Serum Components
Samples of freshly-obtained heparinized mouse blood were centrifuged at 13×
g
for 10 min. The plasma was then drawn off and snap-frozen at −80 °C. The samples were then shipped on dry ice to Myriad RBM (Austin, TX, USA) for performance of the bead-based quantitaive immunoassay for 68 analytes of the RodentMAP v. 1.0 panel (
Supplementary Table S1
). For samples in which the analyte in question was below the laboratory's lower threshold for accurate measurement (or, as it was termed, the "least detectable dose") and was reported as "low", we substituted a dummy value of 50% of the lower threshold value. For instance, if the reported least detectable dose was 68 and a particular result interpretation was "low", we substituted "34" (i.e., half the least detectable dose) for this particular analyte for that sample.
2.9. Iron Assay
The quantity of ferrous and ferric ions in the spleen was determined colorimetrically at optical density 593 nm with Ferene S of Biovision kit K390-100 (Biovision, Milpitas, CA, USA). Results were expressed as nmol iron per g of spleen mass.
2.10. In Vitro Blood Cell Aggregation Assay
In wells of round-bottomed 96-well polystyrene microtiter plates 5 μL volumes of heparinized blood from uninfected mice were mixed with equal volumes of plasma from infected mice taken on day 5 after i.p. inoculation on day 0. Bacterial densities in the plasma were determined by phase microscopy, as described above, and quantitative PCR, as described below. The infected plasma was either untreated, centrifuged at 9500×
g
for 5 min at 22 °C, or centrifuged and then heated in a water bath at 56 °C for 30 min to inactivate complement. The plates were covered and then incubated at 37 °C for 1 h. The plates were then placed at 4 °C for 12 h. The plates were backlit on a light table and digital pictures were taken with a Nikon D5000 and AF-S Micro Nikor 60 mm lens. TIFF-format photo files were subjected to image analysis with ImageJ v. 1.34 software (National Institutes of Health). Dispersion of the blood cells in the well was measured as the area under the curve of the histogram of values above the background. Samples from wells were examined by phase microscopy at 400× magnification, and pictures were taken with QImaging's (Surrey, BC, Canada) QIClick CCD camera.
2.11. Nucleic Acid Extraction and cDNA Synthesis
DNA was extracted from 20 μL of whole blood with Qiagen's QIAmp DNA micro kit or DNeasy Blood and Tissue kit. DNA was extracted from 100 mg spleen with the DNeasy kit. In some experiments the DNA Clean & Concentrator kit (Zymo Research) was used to remove inhibitors from the DNA sample per manufacturer's recommendations. The DNA standard for quantitative PCR was total genomic DNA extracted from culture-grown strain HS1 using a phenol-chloroform protocol as described (58). Total RNA was isolated from whole blood with TriReagent BD (Molecular Research Center) according to the manufacturer's instructions. Nucleic acid concentrations were measured with a NanoDrop™ 1000 spectrophotometer (Thermo Scientific). RNA extracts were treated with RNase-free DNase I (Ambion) according to the manufacturer's instructions. Reverse transcription reactions were carried out in reactions containing 2.5 μM of random hexamers (New England Biolabs), two units of Moloney Murine Leukemia Virus reverse transcriptase (New England Biolabs) per μL, 0.5 mM dNTPs, and 2 units of RNase inhibitor (Roche Applied Science) per μL in the following buffer: 5 mM Tris HCl, pH 8.3-7.5 mM KCl-0.3 mM MgCl2-2.1 mM dithiothreitol. Reactions were serially incubated in water baths at 25°C for 10 min, 37 °C for 3 h, and 100 °C for 5 min, and then immediately frozen at −80 °C. Reactions without the reverse transcriptase were carried out in parallel.
2.12. Quantitative PCR (qPCR)
The primers and probe targeted the single copy 16S ribosomal RNA (
rrs
) gene of
B. hermsii
and other relapsing fever group species as described [
65
,
66
]. The master mix was from Eurogentec (San Diego, CA, USA), and the reactions were run on either an iCycler (Bio-Rad Laboratories, Richmond, CA, USA) or a Rotor Gene 3000 (Corbett Research, Australia). By both methods the sensitivity was two to four gene copies; the coefficient of determination (
R2
) for replicate qPCR assays of the same samples was ≥0.90. One copy of a complete genome is equivalent to one copy of the
rrs
gene (Genbank CP000048). Quantitation of cDNA of transcripts of the
flaB
flagellin gene used the forward and reverse primers 5′-GTTGATTTCATCTGTAAGTTGCTCAATT-3′ and 5′-ACTTGCTGTTCAATCTGGTAATGG-3′, respectively, and the minor groove binding probe 6FAM-5′AACCTCTGTCTGCATC3′.
2.13. Growth Rate Determinations
The generation time in hours based on change in measurements of numbers (
N
) in genome copies between two time points, 0 and
t
, for the same mouse was calculated with this formula: ln(2)*(
t
– 0)/ln(
Nt
/
N
0
). The generation time in hours based on change in measurements of numbers in genome or RNA copies for groups of mice sampled at times into the infection was determined by linear regression of log-transformed data.
2.14. Statistics
Standard statistical tests were carried out with the SYSTAT v. 13 suite of programs (Systat Software, Inc., Chicago, IL, USA) and with Confidence Interval Analysis v. 2.1.2 (CIA Software, University of Southampton, Southampton, UK). Mean values and differences in means are presented with 95% confidence intervals (CIs). Parametric (
t
test) and non-parametric (Mann-Whitney rank sum) significance tests were carried out for continuous data and were two-tailed. Fisher's exact test was used for categorical data in a 2 × 2 contingency table and was two-tailed. Linear regression was by the least-squares method, and 95% confidence interval for the slope was calculated.
Z
scores were the number of standard deviations above or below the mean of the control group values. Euclidean distance cluster analysis was performed and a two-color graphic display (heat map) of multiplex continuous data was generated using the MultiExperiment Viewer v 4.0 software (The Institute for Genomic Research, Baltimore, MD, USA) [
67
].
3. Results and Discussion
Acknowledgments
The work was supported by National Institutes of Health grants AI-24424 and AI-065359. We thank Qiyuan Dia, April Phillips, and Adrienne Puteet-Driver for their valued contributions to the extended time course experiment presented here and Fong Hue for technical assistance.
Author Contributions
Christopher D. Crowder, Arash Ghalyanchi Langeroudi, Azadeh Shojaee Estabragh, Eric R. G. Lewis, Renee A. Marcsisin and Alan G. Barbour conceived and designed the experiments, performed the experiments, and analyzed the data; Christopher D. Crowder and Alan G. Barbour wrote the paper.
Conflicts of Interest
The authors declare no conflict of interest. The funding sponsors had no role in the design of the study; in the collection, analyses, or interpretation of data; in the writing of the manuscript, and in the decision to publish the results.
Abbreviations
The following abbreviations are used in this manuscript:
| | |
| --- | --- |
| J-H | Jarisch-Herxheimer |
| IFA | indirect immunofluorescence assay |
| PBS | phosphate-buffered saline |
| qPCR | quantitative polymerase chain reaction |
| SCID | severe combined immunodeficient |
| TLR | Toll-like receptor |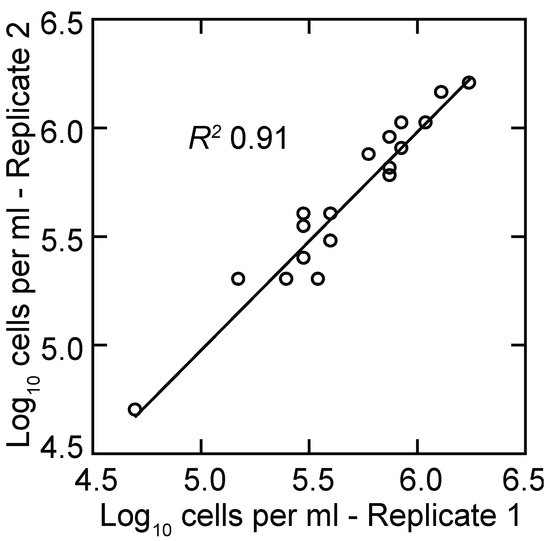 Figure 1.
Scatter plot of replicate log-transformed counts of
Borrelia hermsii
cells in plasma samples from infected mice by phase microscopy and counting chamber. The linear regression and coefficient of determination (
R2
) are shown.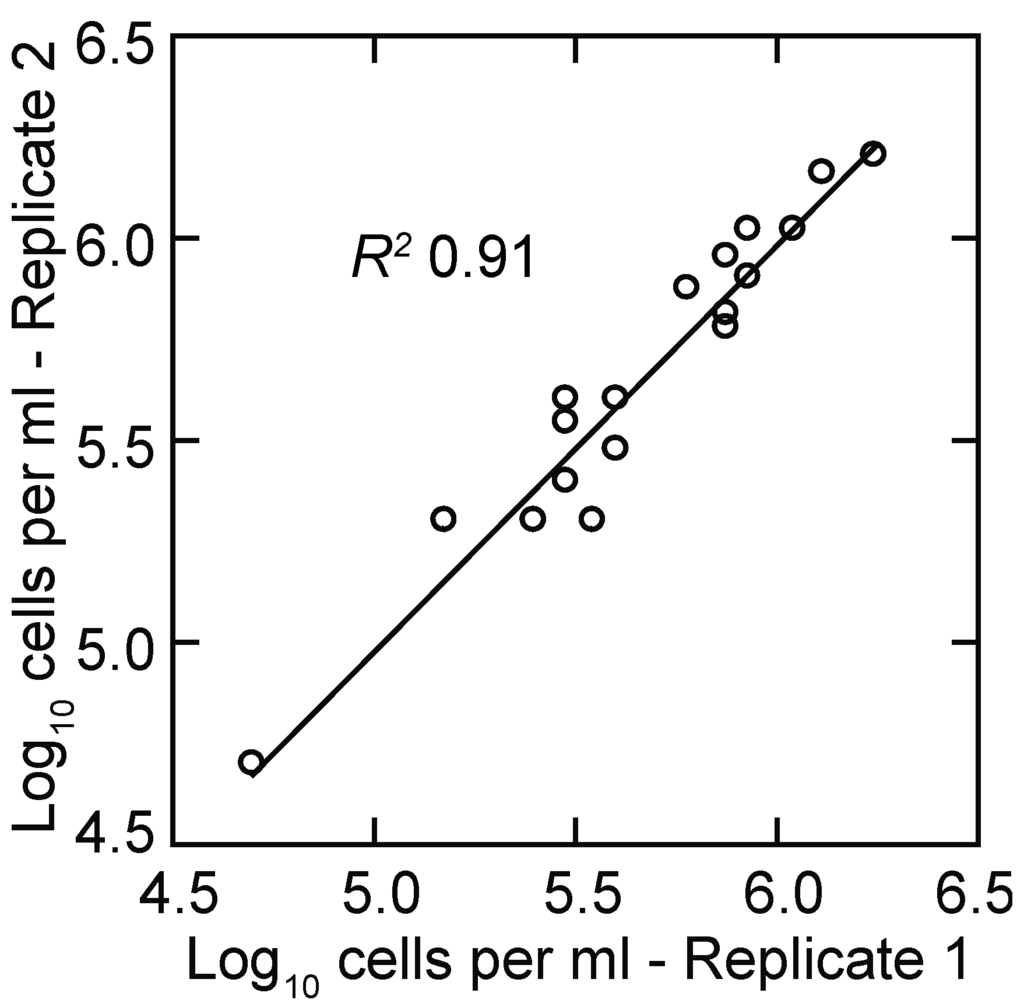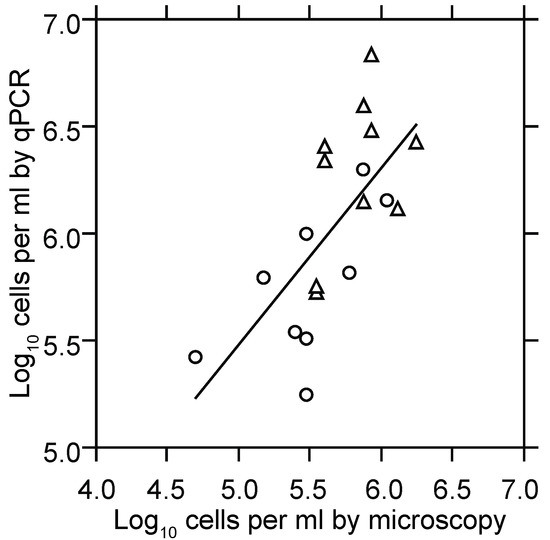 Figure 2.
Scatter plot with linear regression of log-transformed counts of
B. hermsii
cells in plasma by phase microscopy and counting chamber (
x
-axis) and quantitative PCR (qPCR;
y
-axis). Circles and triangles denote samples of blood taken at hours 94.5 or 102 from immunocompetent BALB/c mice infected at hour 0, as described in the text. The slope (95% confidence interval) for the least-squares regression was 0.85 (0.4–1.3), and the combined
R2
was 0.46 (
p
< 0.001).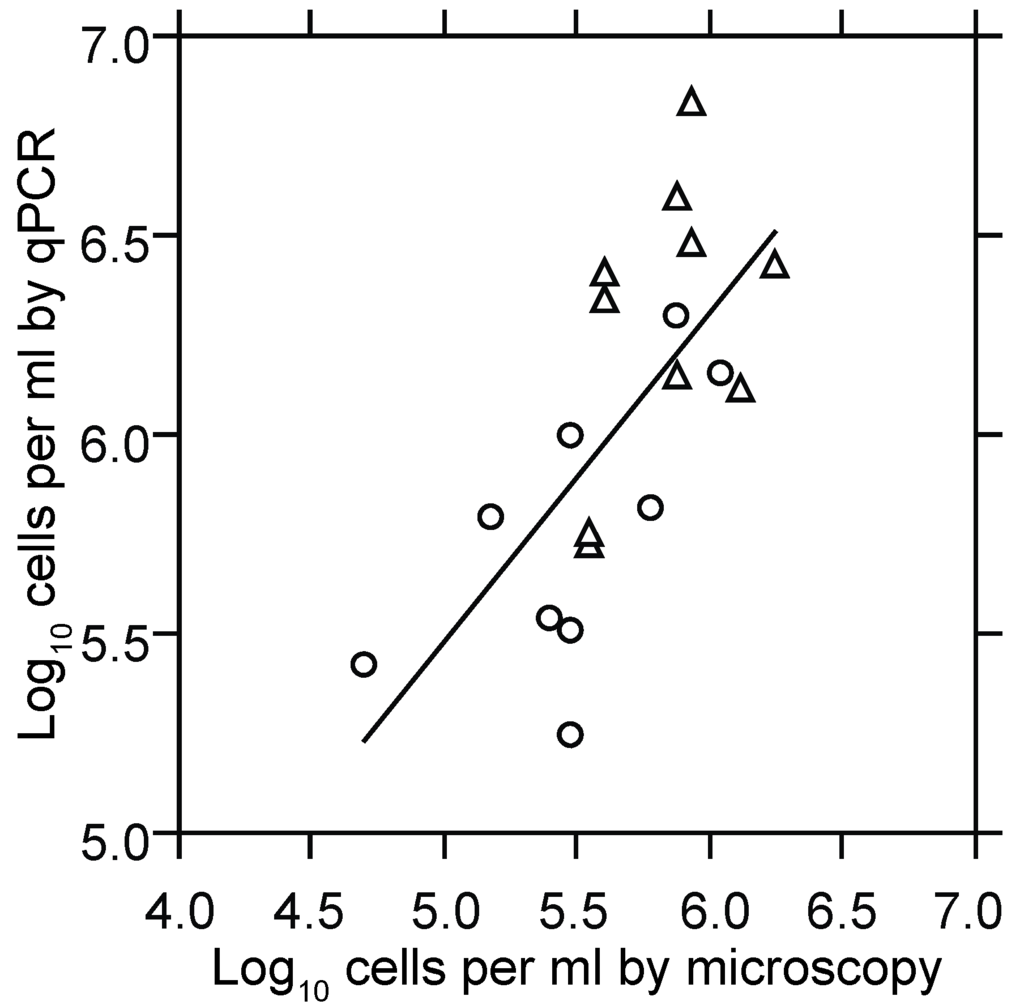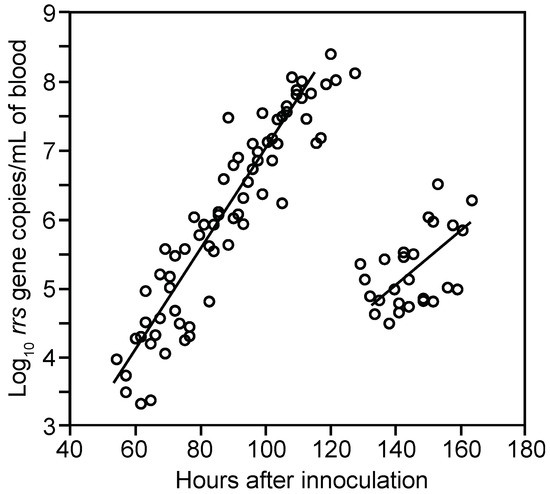 Figure 3.
Proliferation and decline of
B. hermsii
HS1 cells in the blood of infected immunocompetent mice over time. The graph is a scatter plot of collected data on gene copies of 16S ribosomal RNA (
rrs
) of
B. hermsii
by qPCR (
y
-axis) against time in hours (
x
-axis) after inoculation of 95 BALB/c mice with serotype 7 of strain HS1. Samples were collected every 3 h beginning 12 h after inoculation; second samples were obtained from each mouse 7.5 h after the first. Each data point is a sampling from a single mouse. Linear regression determinations were made separately for hours 50–120 (
R2
= 0.86) and >120.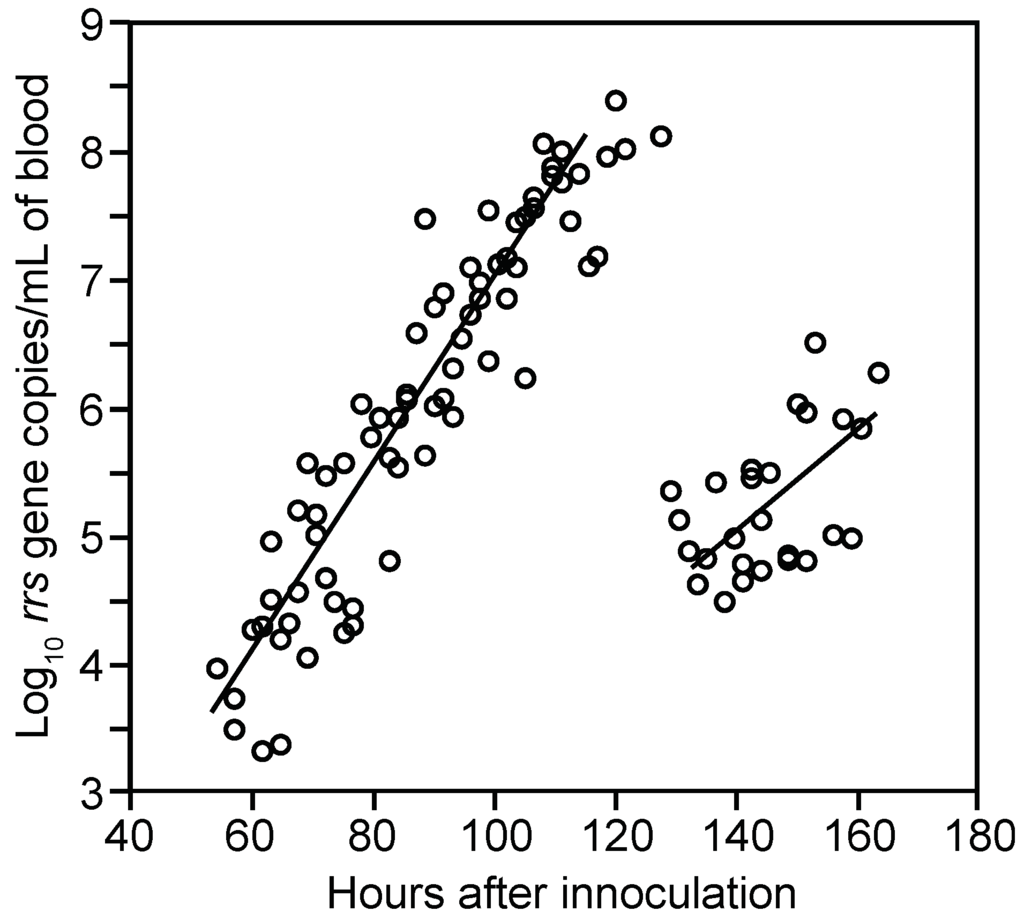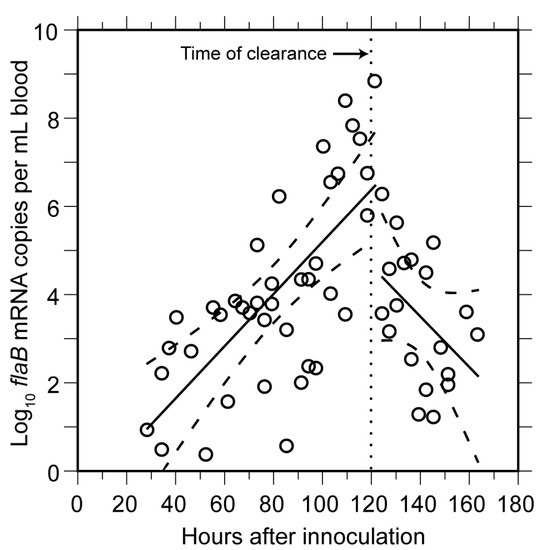 Figure 4.
Rise and decline in mRNA for FlaB flagellin of
B. hermsii
in blood of infected mice. The experiment and sampling protocol were the same as described for
Figure 3
. The
flaB
transcripts were estimated by qPCR of cDNA produced with random hexamers. Each data point is a sampling from a single mouse. Linear regression determinations (with 95% confidence intervals denoted by dashed lines) were made separately for time points up to hour 120 and after hour 120. The time of clearance indicated is the approximate time point that genome counts began to decline (
Figure 3
).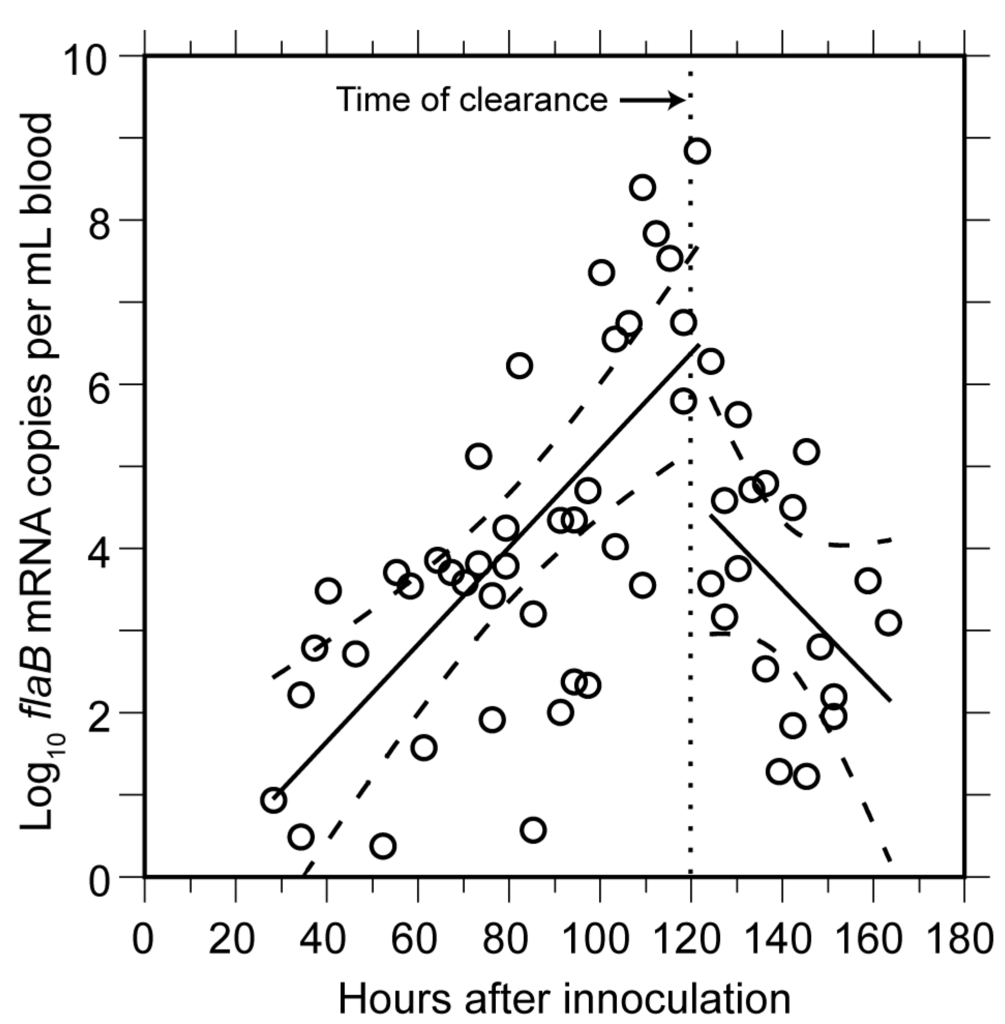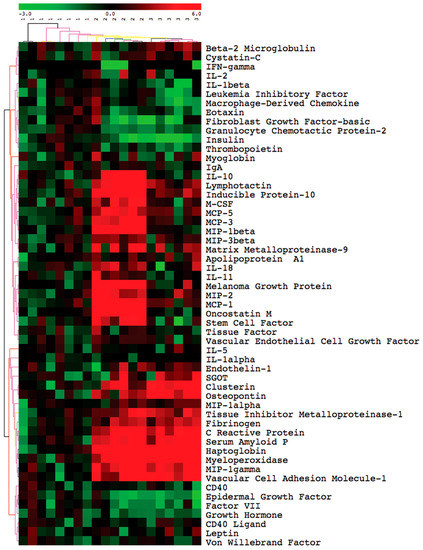 Figure 5.
Cytokines, chemokines, acute-phase reactant, and selected other serum proteins in plasma of BALB/c mice before (group 1), at the peak of spirochetemia (group 2), and after clearance (group 3) of infection with
B. hermsii
. The figure is a two-color display and gradient heat map of values (normalized across the individual assays by
Z
scores) ranging from −3 (green) to +6 (red) for 20 plasma samples and 68 analytes, which were assayed by bead-based immunoassays, as described in the text. The analytes and their abbreviations and alternative names are listed in
Table S1
. Differences in means between time points and conditions 1, 2, and 3 for 39 analytes are given in
Table 1
.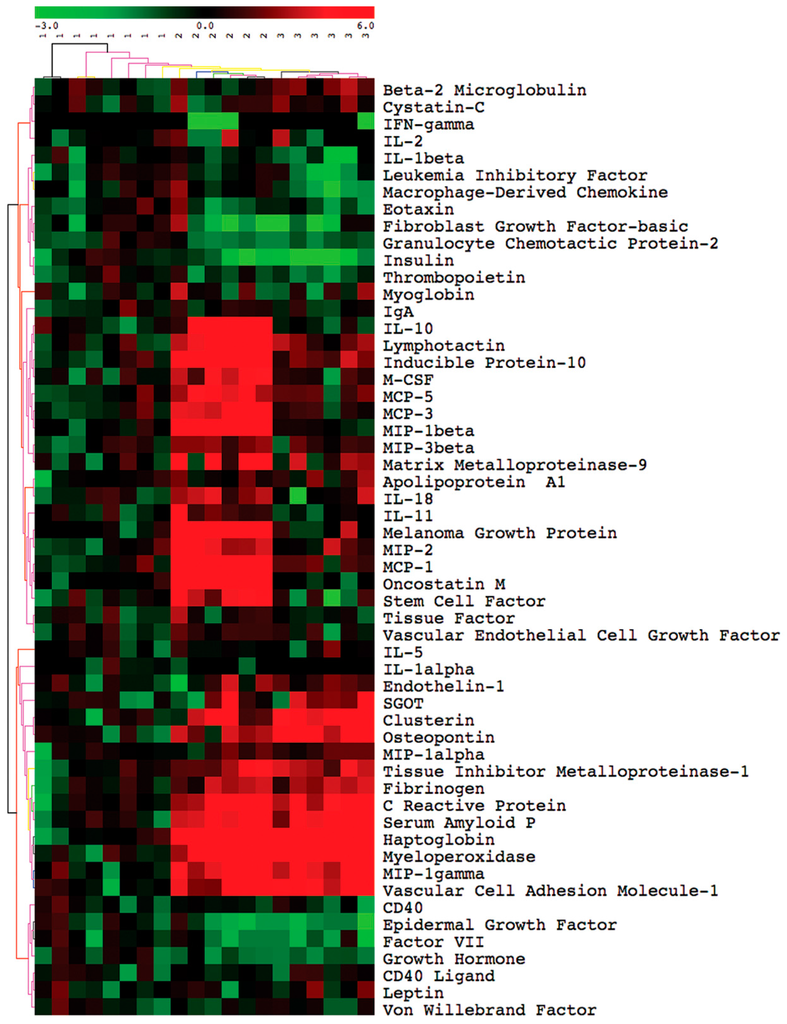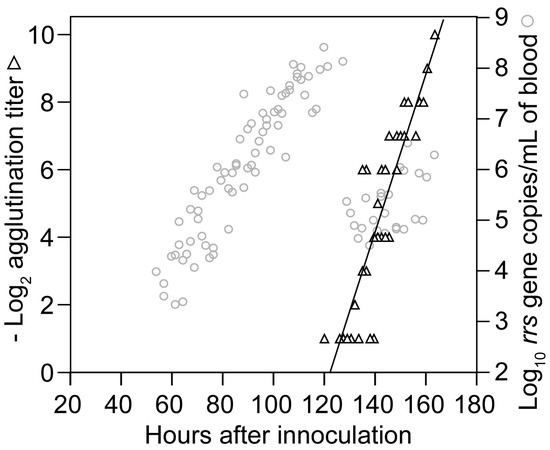 Figure 6.
Rise in agglutinating antibodies to
B. hermsii
during infection. The graph superimposes a scatter plot of log-transformed reciprocal titers of antibody to serotype 7 of
B. hermsii
by a macro-agglutination assay (black triangles) on to the values for
B. hermsii
growth in the blood (gray circles) of
Figure 3
. The samples were drawn from the same group of mice described for
Figure 3
and
Figure 4
(
Section 3.1.2
). Each data point is a sampling from a single mouse.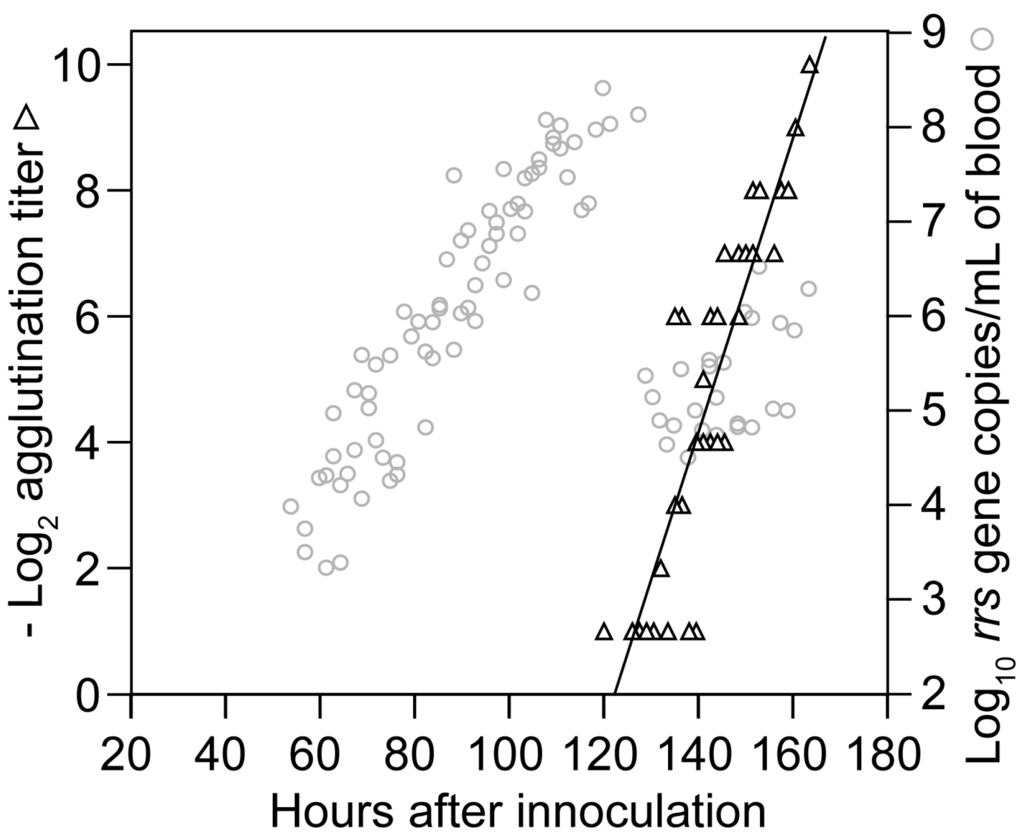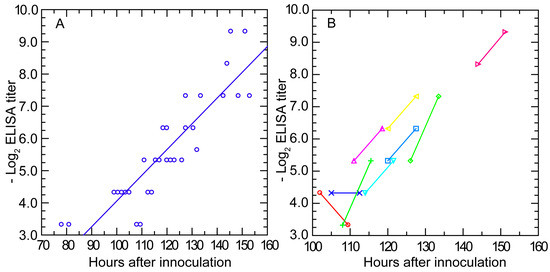 Figure 7.
Serum antibody to whole cells of
B. hermsii
by enzyme-linked immunosorbent assay (ELISA) over time in infected mice. The experiment and blood collection protocol are the same as described for
Figure 3
. Panel (
A
) is a scatter plot of log-transformed reciprocal titer values for individual mice against time in hours after inoculation; Panel (
B
) shows pairs of values for nine individual mice obtained 7.5 h apart and denoted by different colors and symbols as given in the figure.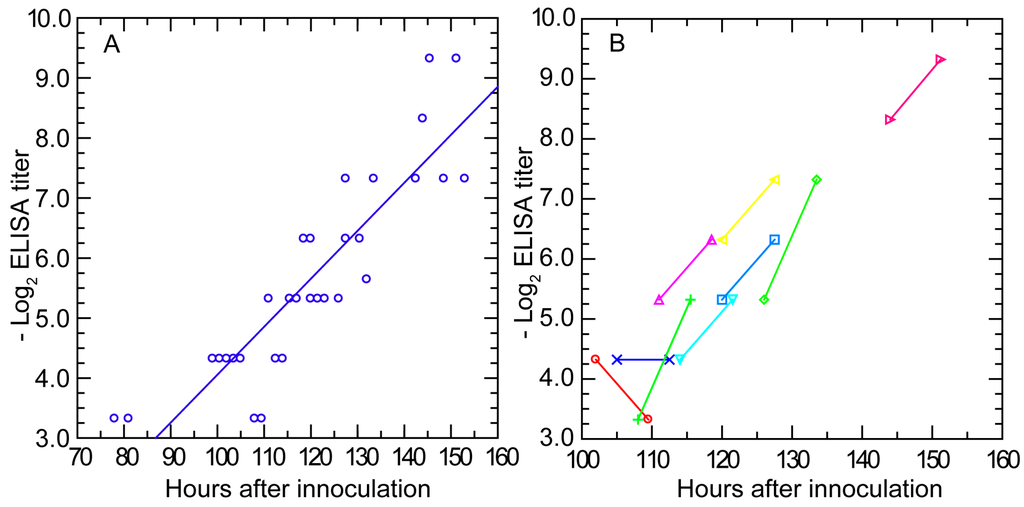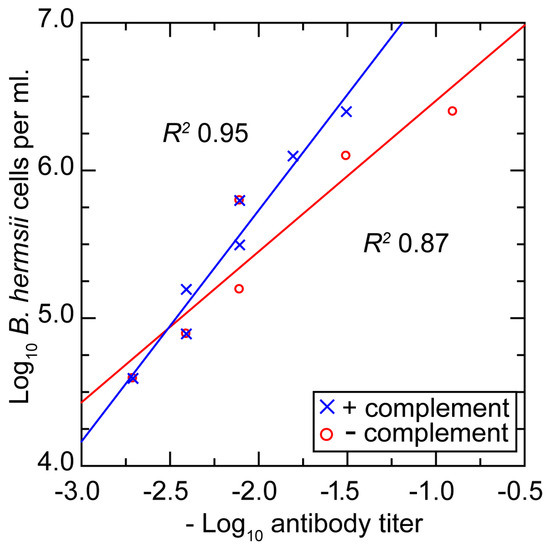 Figure 8.
Scatter plot of in vitro growth inhibition assay titers at different densities (log-transformed) of
B. hermsii
cells and different titers (log-transformed) of a monoclonal antibody to
B. hermsii
and in presence or absence of complement. Linear regression for each of the two conditions and corresponding coefficients of determination (
R2
) are shown.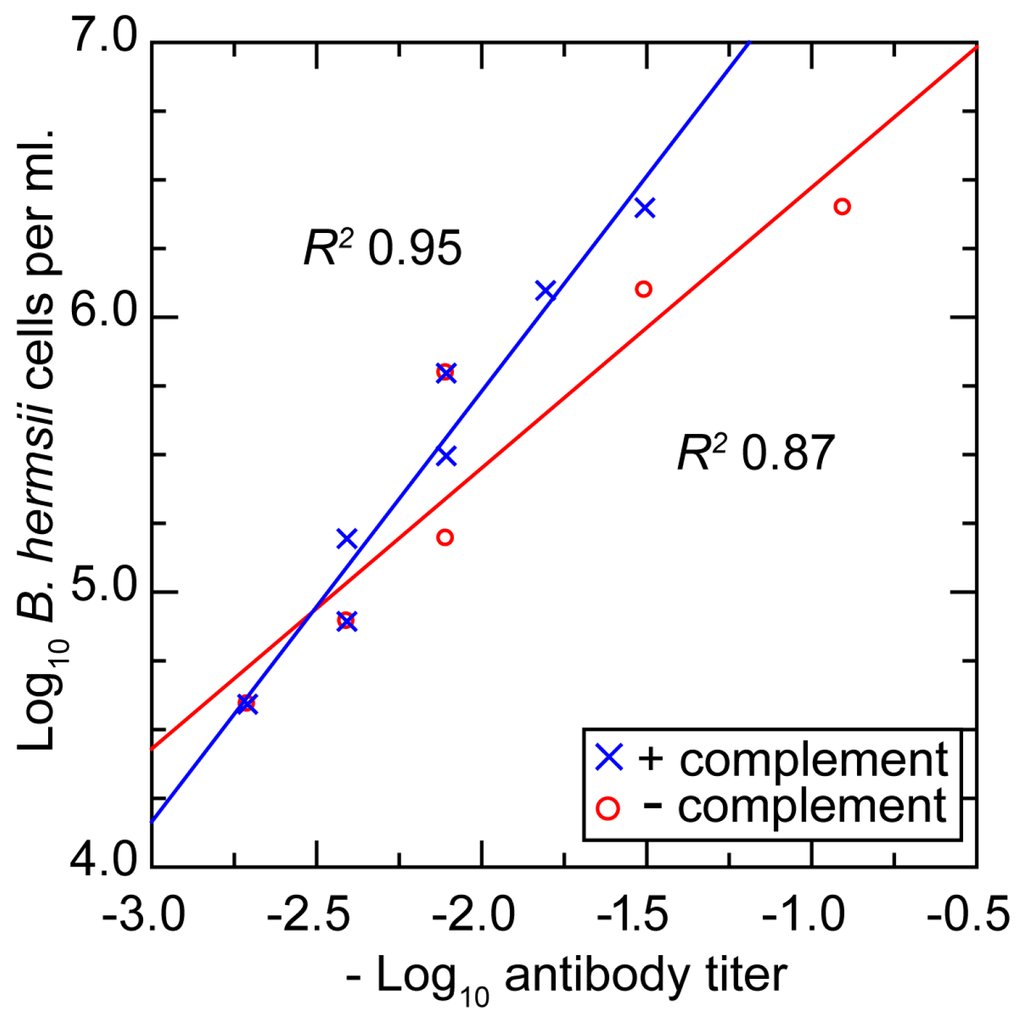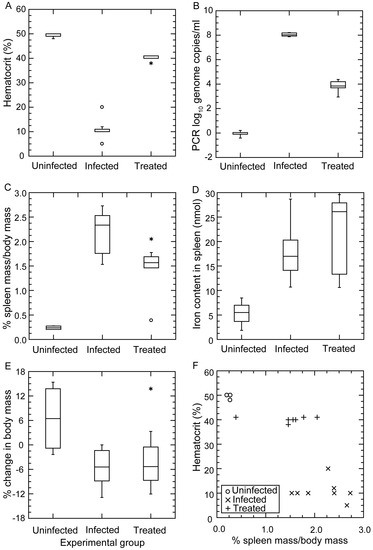 Figure 9.
Severe anemia in BALB/c mice with severe combined immunodeficiency (SCID) and infected with strain CC1 of
B. hermsii
. The experiment is described in the accompanying text. Panels (
A
–
E
) are box-whisker plots in which each horizontal box indicates the first and third quartiles, and the indentation inside the box is the median.
*
The 1.5× interquartile range is indicated by the horizontal line (whiskers) bisecting the box, and values outside this range are indicated by asterisks and circles. The three conditions were uninfected (
n
= 4 mice), infected without antibiotics (
n
= 8), and infected with antibiotics (
n
= 7). Panel (
A
) is of the hematocrit values for the whole blood from the mice. Panel (
B
) is of the spirochete burdens in the groups of mice as estimated by qPCR as described for
Figure 3
; Panel (
C
) displays the ratios in percentages of the spleen weight to total body weight after euthanasia; Panel (
D
) shows the iron content in the spleen in nmol per gram of spleen; Panel (
E
) shows the net change in body mass in percentage between initial measurement and measurement at time of euthanasia; Panel (
F
) is a scatter plot of hematocrit values against ratio of spleen weight to body weight for individual mice in each group.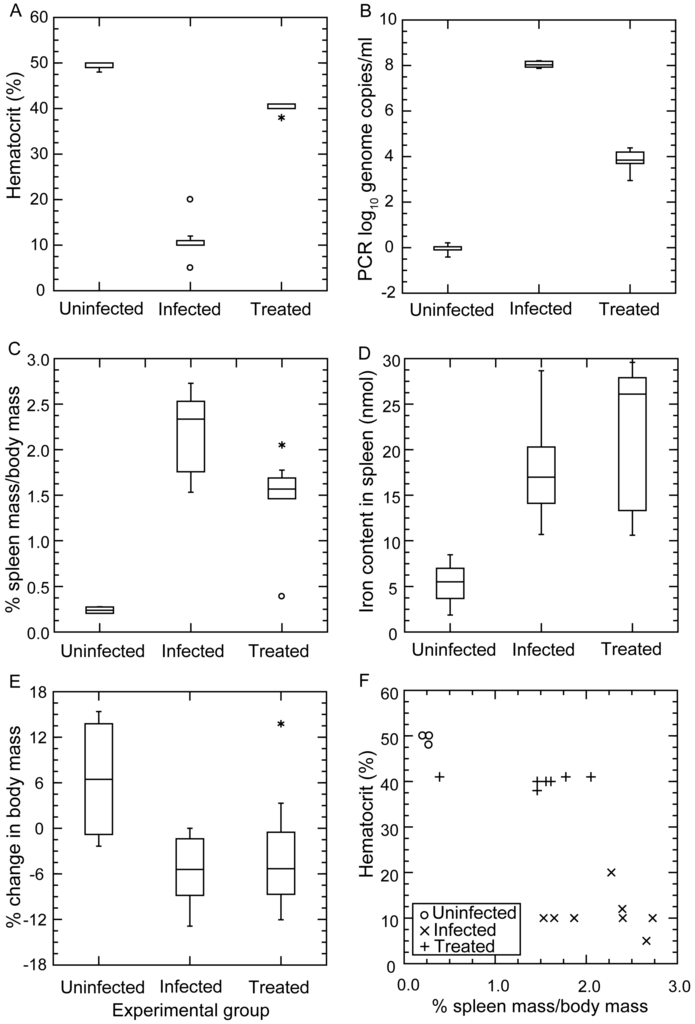 Figure 10.
Phase photomicrographs of uninfected mouse blood mixed with equal volumes of plasma from uninfected SCID mice (panel
A
); plasma from
B. hermsii
-infected BALB/c mice (panel
B
); and plasma from infected mice that had been centrifuged (panel
C
). In panel B numerous spirochetes are seen singly, in clumps, and adhered to the aggregate of blood cells. Panel C is an example of rouleaux formation. The size marker in each panel is 10 µm.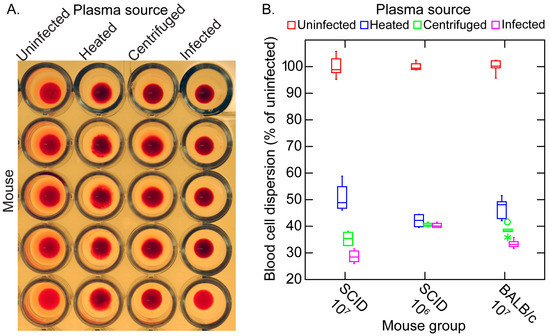 Figure 11. In vitro erythrocyte aggregation assay of uninfected blood mixed with plasma from uninfected mice and plasma from infected mice that was unaltered (infected), centrifuged, or centrifuged and heated. The assay method is described in the text. (A) Panel A shows a microtiter plate for which the source of plasma was from immunocompetent BALB/c mice (five uninfected or five infected); (B) Panel B is a box-whisker graph of the blood cell dispersion as estimated by image analysis and expressed as the percentage of each of four experimental conditions' values to the mean of the uninfected values. The 12 infected SCID mice were divided into a group of eight with a high spirochete burden (107 cells/mL) and a group of four with a moderate spirochete burden (106 cells/mL) in the plasma. There were five infected BALB/c mice.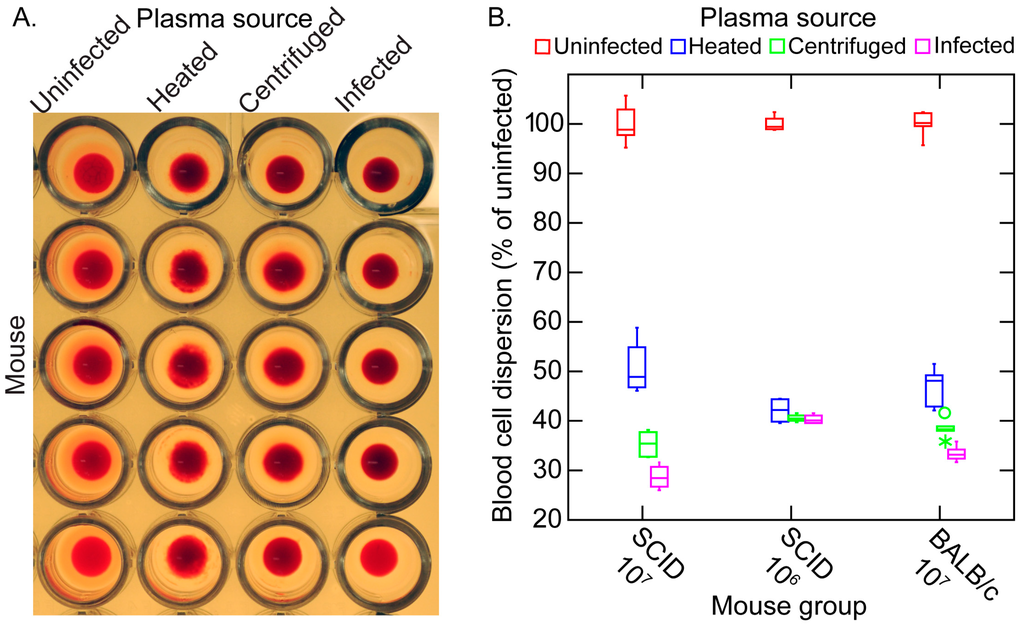 Table 1. Changes in selected proteins in blood of BALB/c mice during course of experimental relapsing fever.
Table 1. Changes in selected proteins in blood of BALB/c mice during course of experimental relapsing fever.
Analyte
Difference in Means (Lower, Upper 95% Confidence Limits)
Unit a
Peak vs. Uninfected
Clearance vs. Uninfected
Clearance vs. Peak
Change b
β-2 Microglobulin
µg
+0.1 (−0.2, +0.3)

+0.4 (+0.2, +0.6)

c
+0.3 (+0.1, +0.5)

C

Clusterin
µg

+62 (+19, +106)

+131 (+91, +171)

+69 (+7, +130)

P,C

C-reactive protein
µg

+3.8 (+2.5, +5.0)

+3.6 (+2.3, +4.8)

0.2 (−2.0, +1.6)

P,C

EGF d
pg
−3.6 (−8.0, +0.7)
−

6.5 (

−

10.8,

−

2.3)

−2.9 (−8.0, +2.2)
(P,

C

)
Endothelin-1
pg
+5.5 (−9.6, +20.5)
+11.2 (+3.3, +19.2)
+5.8 (−10.9, +22.4)
C
Fibrinogen
µg

+3421 (+1710, +5131)

+3703 (+2135, +5269)

+282 (−1643, +2207)

P,C

Growth hormone
ng
−15.8 (−28.2, −3.4)
−14.3 (−26.5, −2.0)
+1.5 (−3.2, +6.2)
(P,C)
Haptoglobin
µg

+88 (+70, +105)

+112 (+103, +121)

+25 (+1.7, +48)

P,C

IP-10 (CXCL10) e
pg

+151 (+108, +195)

+29 (+13, +45)

−122 (

−173,

−

71)

P

Interferon-γ
pg
+6.0 (-0.5, +12.6)
+1.3 (−1.1, +3.6)
−4.8 (−13.0, +3.5)
IL-1α
pg
−26 (−62, +9)
−28 (−64, +7.9)
1.4 (−4.2, +1.4)
IL-1β
pg
+120 (−670, +910)
−900 (−1810, +10)
−1020 (−1690, −350)
(C)
IL-2
pg
+7.0 (−8.6, +23)
+0.4 (−14.4, +15.2)
−6.7 (−27.9, +14.5)
IL-6
pg
+14.4 (+6.0, +22.9)
+1.3 (−0.2, +2.7)
−13.2 (−23.4, −3.0)
P
IL-7
pg

+60 (+40, +70)

+10 (0, +30)
−

50 (

−

70,

−

20)

P

IL-10
pg

+378 (+237, +520)

−38 (−103, +28)

−416 (

−581,

−251)

P

IL-11
pg
+64 (+2.0, +126)
6.5 (−25.0, +12.1)
71 (−143, +2.0)
P
IL-18
pg

+520 (+300, +740)

−50 (−520, +430)
−570 (−1130, −10)

P

Insulin
µIU
−0.7 (−1.1, −0.2)

−1.1 (

−1.5,

−

0.7)

−0.5 (−1.0, +0.1)
(P,

C

)
KC/GROα (CXCL1)
pg

+680 (+460, +890)

+40 (+40, +120)

−640 (

−900,

−370)

P

Lymphotactin (XCL1)
pg

+144 (+101, +188)

+41 (+15, +68)

−103 (

−154,

−51)

P

MCP-1 (CCL2)
pg

+700 (+563, +837)

+65 (+5.9, +124)

−635 (

−796,

−474)

P

MCP-3 (CCL7)
pg

+550 (+396, +703)

+78 (−45, +201)

−472 (

−635,

−310)

P

MCP-5 (CCL12)
pg

+145 (+190, +100)

+46 (+90, +2.8)

−99 (

−44,

−153)

P

M-CSF
pg

+1180 (+780, +1590)

+180 (−220, +580)

−1000 (

−1460,

−540)

P

MDC (CCL22)
pg
+29 (−44, +102)
−97 (−166, −28)

−126 (

−207,

−45)

(

C

)
MIP-1α (CCL3)
pg
+90 (+20, +200)

+120 (+30, +220)

+30 (−50, +110)
P,

C

MIP-1β (CCL4)
pg

+216 (+180, +253)

+15 (−13, +44)

−201 (

−240,

−163)

P

MIP-1γ (CCL9)
pg

+7420 (+4980, +9860)

+7230 (+4540, +10,010)

−180 (−4100, +3730)

P,C

MIP-2 (CXL1)
pg

+11.3 (+5.7, +16.9)

+2.3 (+0.7, +5.3)
+9.0 (+15.8, +2.2)

P

,C
MIP-3β (CCL19)
pg

+210 (+120, +310)

+80 (−40, +190)
−140 (−240, −40)

P

MMP-9
ng

+37 (+14, +60)

+12 (−1.3, +25)
−25 (−54, +4.1)

P

Myeloperoxidase
ng

+93 (+62, +123)

+118 (+102, +135)

+25 (−14, +65)

P,C

Oncostatin M
pg

+100 (+70, +150)

−10 (−20, +10)

−120 (

−160,

−70)

P

Osteopontin
pg

+22.9 (+8.8, +37.0)

+81 (+52, +109)

+58 (+23, +93)

P,C

Serum Amyloid P
µg

+15.4 (+10.1, +20.6)

+14.0 (+9.5, +18.5)

−1.4 (−8.5, +5.8)

P,C

SGOT
µg
+5.6 (−4.9, +16.1)
+13.7 (+2.8, +24.6)
+8.1 (−8.2, +24.4)
C
Stem Cell Factor
pg

+68 (+39, +97)

−6.3 (−32, +19.5)

−74 (

−115,

−34)

P

TIMP-1
pg

+940 (+480, +1,400)

+980 (+630, +1,330)

+50 (−460, +560)

P,C

TNF-α
pg
+20 (0, +40)
0 (−10, 0)
−20 (−50, 0)
P
VCAM-1
ng

+405 (+257, +552)

+540 (+395, +685)

+135 (−67, +337)

P,C

VEGF
pg
+49 (+8.5, +90)
+6.6 (−44, +57)
−43 (−88, +2.9)
P
a Measurement unit per milliliter of plasma; IU, International Unit; b P, increase during peak; C, increase during clearance; (P), decrease during peak; (C), decrease during clearance; c Italics,

p

< 0.01 by two-tailed T-test; d Abbreviations defined in Table S1; e (CXCL10), standardized chemokine designation.
© 2016 by the authors; licensee MDPI, Basel, Switzerland. This article is an open access article distributed under the terms and conditions of the Creative Commons Attribution (CC-BY) license (http://creativecommons.org/licenses/by/4.0/).