Insights into the Mechanism of Separation of Bisphosphonates by Zwitterionic Hydrophilic Interaction Liquid Chromatography: Application to the Quantitation of Risedronate in Pharmaceuticals
1
National and Kapodistrian University of Athens, School of Pharmacy, Division of Pharmaceutical Chemistry, Laboratory of Pharmaceutical Analysis, Panepistimiopolis, Zografou, 157 71 Athens, Greece
2
West Chester University, Department of Chemistry, West Chester, PA 19383, USA
3
Qatar Doping Analysis Laboratory, Sports City Road, Aspire Zone, PO Box 27775 Doha, Qatar
*
Author to whom correspondence should be addressed.
Received: 2 January 2019 / Revised: 14 January 2019 / Accepted: 17 January 2019 / Published: 22 January 2019
Abstract
Bisphosphonates are used to treat various skeletal disorders, as they modulate bone metabolism by inhibition of the osteoclast-mediated bone resorption. These compounds are both polar and ionic, and therefore, by using reversed phase liquid chromatography are eluted rapidly. Hydrophilic interaction liquid chromatography (HILIC) is an advantageous technique for the separation and analysis of polar molecules. As the elution order in HILIC is reversed to reversed phase liquid chromatography, a reasonable retention and selectivity for polar compounds is expected. In this work the retention mechanism of three bisphosponates, namely risedronate, tiludronate and zoledronate, was investigated under zwitterionic HILIC conditions. The key factors influencing the retention of the analytes on a zwitterionic ZIC®-pHILIC column (150.0 × 2.1 mm i.d., 200 Å, 3.5 μm) have been systematically investigated. It was found that apart from partition, electrostatic repulsions play an important role in the retention of bisphosphonates. Peak tailing of risedronate and zoledronate was improved by the addition of sodium pyrophosphate in the mobile phase. A zwitterionic hydrophilic interaction liquid chromatography-photodiode array (HILIC-PDA) method was further optimized and fully validated to quantitate risedronate in commercial film-coated tablets. The calibration curves for risedronate showed good linearity (r > 0.9991) within the calibration range tested. The intra- and inter-day coefficient of variation (CV) values was less than 0.6%, while the relative percentage error (%Er) was less than −2.3%. Accelerated stability studies of risedronate conducted under several degradation conditions including hydrolysis, oxidation and heat demonstrated the selectivity of the procedure. A short-run analysis of not more than 6 min allowed the analysis of large samples per day. The applicability of the method for the quantitation of risedronate was demonstrated via the analysis of commercial tablets containing this compound.
View Full-Text
►

▼

Figures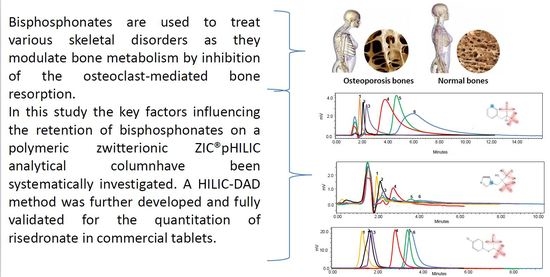 Graphical abstract
This is an open access article distributed under the
Creative Commons Attribution License
which permits unrestricted use, distribution, and reproduction in any medium, provided the original work is properly cited (CC BY 4.0).

Share & Cite This Article
MDPI and ACS Style
Panderi, I.; Taxiarchi, E.; Pistos, C.; Kalogria, E.; Vonaparti, A. Insights into the Mechanism of Separation of Bisphosphonates by Zwitterionic Hydrophilic Interaction Liquid Chromatography: Application to the Quantitation of Risedronate in Pharmaceuticals. Separations 2019, 6, 6.
Note that from the first issue of 2016, MDPI journals use article numbers instead of page numbers. See further details here.
Comments
[Return to top]