Open Access This article is
freely available
re-usable
Review
Enzymes and Metabolites in Carbohydrate Metabolism of Desiccation Tolerant Plants
Institute of Molecular Physiology and Biotechnology of Plants (IMBIO), University of Bonn, Kirschallee 1, 53115 Bonn, Germany
*
Author to whom correspondence should be addressed.
Academic Editors: M. Margarida Oliveira, Isabel A. Abreu and Jacek R. Wisniewski
Received: 6 September 2016 / Accepted: 7 December 2016 / Published: 15 December 2016
Abstract
:
Resurrection plants can tolerate extreme water loss. Substantial sugar accumulation is a phenomenon in resurrection plants during dehydration. Sugars have been identified as one important factor contributing to desiccation tolerance. Phylogenetic diversity of resurrection plants reflects the diversity of sugar metabolism in response to dehydration. Sugars, which accumulate during dehydration, have been shown to protect macromolecules and membranes and to scavenge reactive oxygen species. This review focuses on the performance of enzymes participating in sugar metabolism during dehydration stress. The relation between sugar metabolism and other biochemical activities is discussed and open questions as well as potential experimental approaches are proposed.
Keywords:
resurrection plants; sugar accumulation; enzymes catalyzing sugar metabolism; carbon distributions during dehydration; desiccation tolerance mechanism
1. Introduction
Water availability is one of the most important ecological factors and evolutionary constraints that determine terrestrial life [
1
]. Excessive water loss is lethal to most animals and annual plant species. However, some animals, plants, and microbes can tolerate complete desiccation [
2
]. The ability to tolerate moderate to extreme desiccation and then to revive upon rehydration is termed 'desiccation tolerance' or 'anhydrobiosis'. Desiccation tolerance is commonly found in reproductive organs of green plants (spores [
3
], seeds [
4
], and pollen [
5
]). For vegetative tissues, desiccation tolerance is common (though not universal) in bryophytes [
6
], rare in pteridophytes and angiosperms, and absent in gymnosperms [
2
,
7
,
8
]. Plants with vegetative desiccation tolerance are often termed 'resurrection plants'.
Desiccation tolerance in resurrection plants is a multi-genic and multi-factorial phenomenon and the mechanism of desiccation tolerance is associated with preventing oxidative damage and maintaining native structures of macromolecules and membranes [
9
,
10
,
11
]. In plants, sugars function as substrates for intermediary metabolism and as signaling molecules, thus linking the carbon nutrient status with plant growth and development [
12
]. Sugar metabolism and sugar signaling also function in an intricate network linked with phytohormones and the production of reactive oxygen species (ROS) which also act as signaling molecules. The synergistic interaction of sugars (or sugar-like compounds) may form part of an integrated redox system, quenching ROS and contributing to stress tolerance, especially in tissues or organelles with plenty of soluble sugars [
13
]. Sugars have been shown to play an important role in the mechanism of plant desiccation tolerance [
9
,
14
]. Various studies on sugars in resurrection plants have been conducted, including identification and expression analysis of genes, activity analysis of enzymes, and biophysical investigations [
15
,
16
,
17
,
18
].
Although a correlation of sugar accumulation and desiccation tolerance is accepted, the mechanism by which sugars function is not really understood. It is not known how individual compounds such as sugars and protective proteins interact spatially and temporally. The integration of the individual components required for desiccation tolerance into a coherent functional framework is difficult. Therefore, this review focuses on sugar metabolism in desiccation tolerant plants. The review describes the diversity of sugars accumulating in plants during dehydration, the performance of enzymes in sugar metabolism and sugar metabolism networks revealed by proteomics and metabolomics. An attempt is made to present an integrated and systematic understanding of sugar metabolism in plant desiccation tolerance.
2. Accumulation of Sugars in Response to Dehydration
Sugar accumulation is one of the principal phenomena in resurrection plants during dehydration. The changes of sugar metabolism reported for resurrection plants are summarized in
Table 1
. A general observation is that high amounts of sucrose accumulate when resurrection plants encounter dehydration. However, there is also a species-specific diversity of sugar metabolism in resurrection plants and often the metabolic pathway leading to sucrose varies in desiccation tolerant species. In some species, unusual sugars accumulate: e.g., octulose in
Craterostigma plantagineum
or trehalose in
Myrothamnus flabellifolia
are abundant. In some resurrection species—e.g.,
Xerophyta viscosa
—raffinose family oligosaccharides accumulate abundantly besides sucrose during dehydration.
3. Physiological Roles of Sugars Accumulating in Resurrection Plants
4. Studies on Enzymes Responsible for Sugar Accumulation in Resurrection Plants
Sugar metabolism is determined by biosynthesis enzymes and catabolizing enzymes. It is important to understand the performance of these enzymes in the context of plant adaption to desiccation.
5. Sugar Metabolism during Dehydration Studied by Proteomics
6. The Relationships among Sugar Accumulation, Energy Metabolism, and Other Metabolites
When sugars are accumulating during dehydration, various other changes occur simultaneously in resurrection plants, including cessation of photosynthesis, rearrangement of cellular structures, cell membrane remodeling, anthocyanin synthesis, ROS scavenging, and transition of protein metabolism from an active state to a stationary state. To respond to these changes, cellular energy will be redistributed and the corresponding metabolic pathways are rearranged.
7. Unanswered Questions
Studies on sugar accumulation and the performance of key enzymes in sugar metabolism during dehydration stress are not sufficient to fully understand the regulation of sugar metabolism and the redistribution of energy in resurrection plants. So some open questions are proposed to further elucidate sugar metabolism in the context of plant adaptation to dehydration stress.
Acknowledgements
X.S. acknowledges a scholarship by the Chinese Scholarship Council.
Author Contributions
Q.Z. wrote and revised the manuscript; X.S. participated in formatting and revising the manuscript; D.B. provided ideas for the manuscript and revised it.
Conflicts of Interest
The authors declare no conflict of interest.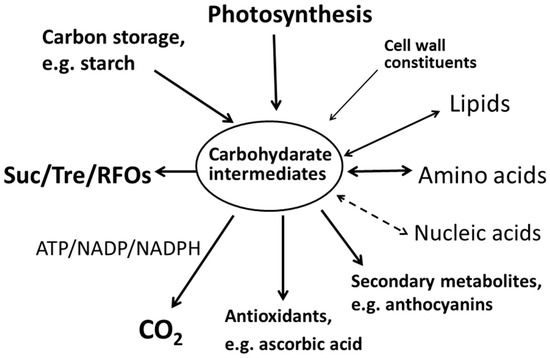 Figure 1. The cellular activities related to sugar accumulation in plant desiccation tolerance. The arrows represent the direction of reaction/transformation and the thickness of the line represents the strength of reaction/transformation. The dotted line indicates the transformation has not been demonstrated experimentally to date. "Suc", "Tre", and "RFOs" indicate sucrose, trehalose, and raffinose family oligosaccharides, respectively.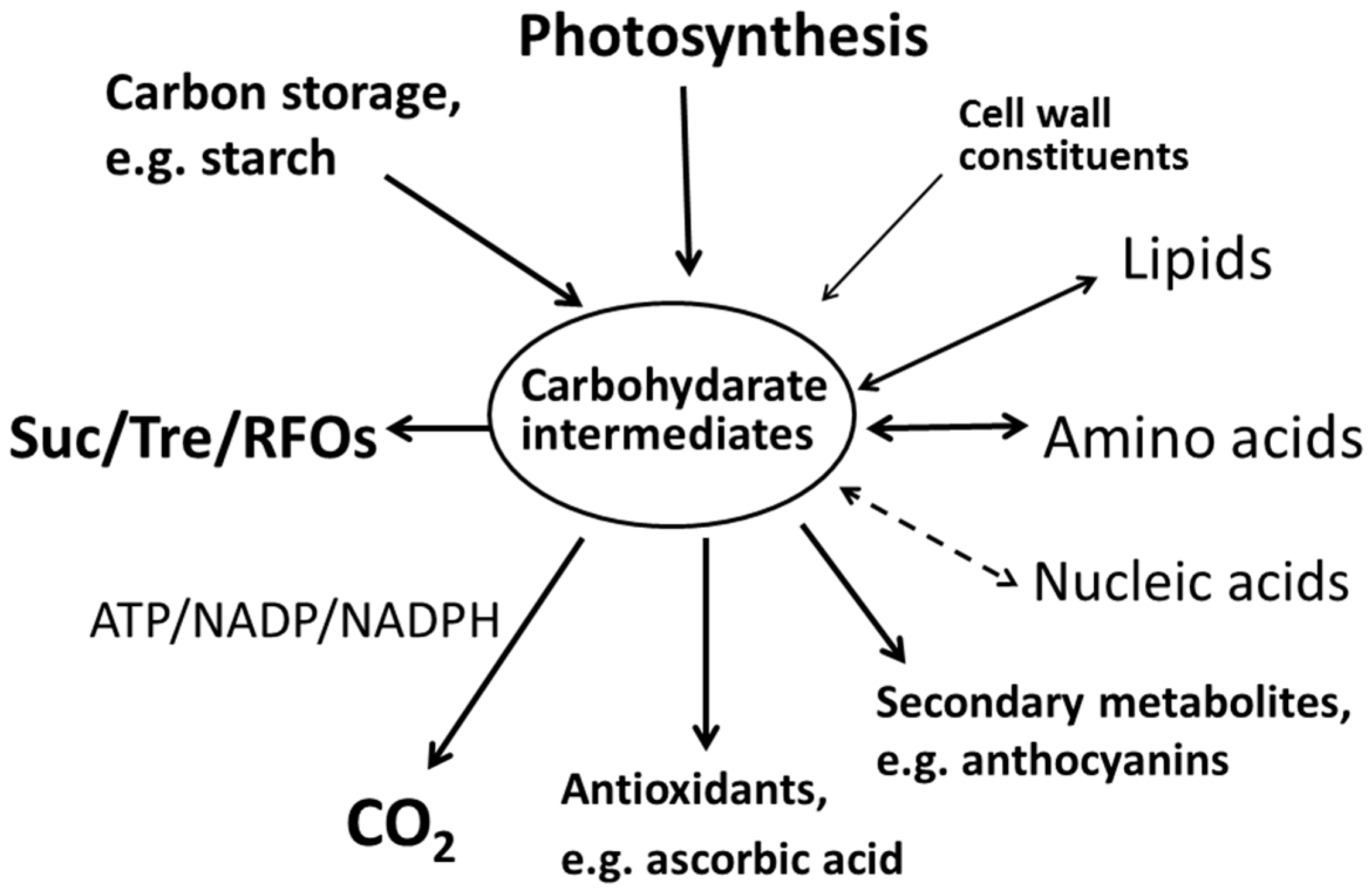 Table 1. Sugar composition in representative resurrection plants.
Species *
Sugar Composition in Percentage
References
Hydrated
Desiccated

Porella platyphylla

A
Glucose 0.9%
Glucose 2.6%
(Marschall et al., 1998) [19]
Fructose 0.7%
Fructose 2.3%
Sucrose 39.4%
Sucrose 44.6%
Fructan 59.0%
Fructan 50.6%

Selaginella lepidophylla

B
Fructose 0.1%
Fructose 0%
(Adams et al., 1990) [20]
Glucose 3.1%
Glucose 0.2%
Mannitol 0%
Mannitol 0.1%
myo-Inostitol 0.1%
myo-Inostitol 0.03%
Sucrose 6.9%
Sucrose 23.1%
Trehalose 89.8%
Trehalose 75.6%
Trisaccharides 0.1%
Trisaccharides 0.2%

Eragrostis nindensis

C
Sucrose 77.2%
Sucrose 68.6%
(Ghasempour et al., 1998) [21]
Glucose 13.0%
Glucose 6.5%
Fructose 4.5%
Fructose 9.0%
Trehalose 5.4
Trehalose 2.2%
Raffinose 0.0%
Raffinose 8.0 %
Stachyose 0.0%
Stachyose 5.7%

Sporobolus stapfianus

C
Sucrose 83.6%
Sucrose 99.7%
(Whittaker et al., 2001) [22]
Glucose 8.2%
Glucose 0.1%
Fructose 8.2%
Fructose 0.1%

Xerophyta viscosa

C
Fructose 11.1%
Fructose 2.2%
(Peters et al., 2007) [23]
Glucose 16.6%
Glucose 2.8%
Sucrose 13.8%
Sucrose 39.8%
Galactinol 31.0%
Galactinol 0.0%
myo-Inositol 4.4%
myo-Inositol 0.5%
Raffinose 15.2%
Raffinose 29.3%
Stachyose 7.5%
Stachyose 18.1%
Verbascose 0.4%
Verbascose 7.4%

Boea hygroscopica

D
Fructose 7.0%
Fructose 1.9%
(Albini et al., 1999) [24]
Glucose 9.2%
Glucose 3.0%
Alditols 1.8%
Alditols 0 %
myo-Inositol 2.3%
myo-Inositol 0%
Sucrose 13.4%
Sucrose 91.0%
Cellobiose 0.9%
Cellobiose 0%
Gentiobiose 0.9%
Gentiobiose 0%
Galactinol 21.1%
Galactinol 1.0%
Raffinose l8.l %
Raffinose 2.5%
Melezitose 1.4%
Melezitose 0%
Maltotriose 0.9%
Maltotriose 0%
Stachyose 10.0%
Stachyose (traces)
Pentasaccharide 10.1%
Pentasaccharide (traces)
Hexasaccharide 2.8%
Hexasaccharide 0%

Craterostigma plantagineum

D
Glucose 1%
Glucose 3%
(Bianchi et al., 1991) [25]
Fructose 2%
Fructose 2%
Sucrose 5%
Sucrose 90%
Octulose 89%
Octulose 4%
myo-Inositol 1%
myo-Inositol 1%

Craterostigma pumilum

D
Octulose 94.2%
Octulose 10.3%
(Egert et al., 2015) [26]
Sucrose 2.4%
Sucrose 80.3%
Galactinol 0.3%
Galactinol 2.1%
Raffinose 0.8%
Raffinose 1.5%
Stachyose 1.1%
Stachyose 2.6%
Verbascose 1.3%
Verbascose 3.1%

Myrothamnus flabellifolia

D
Trehalose 30.7%
Trehalose 38.1%
(Moore et al., 2007) [27]
Fructose 25.9%
Fructose 7.0%
Sucrose 20.6%
Sucrose 38.9%
Glucose 17.0%
Glucose 12.1%
Stachyose 5.6%
Stachyose 1.7%
Raffinose 0.2%
Raffinose 2.2%

Ramonda nathaliae

D
Glucose 3.6%
Glucose 2.1%
(Müller et al., 1997) [28]
Fructose 4.6%
Fructose 2.1%
myo-Inositol 1.0%
myo-Inositol 0.8%
Sucrose 40.3%
Sucrose 82.6%
Raffinose 34.3%
Raffinose 9.4%
Galactinol 16.1%
Galactinol 2.9%
* According to the systematic classification, plants are grouped into four groups: A liverworts; B ferns; C monocot angiosperms, and D dicot angiosperms.
© 2016 by the authors; licensee MDPI, Basel, Switzerland. This article is an open access article distributed under the terms and conditions of the Creative Commons Attribution (CC-BY) license (http://creativecommons.org/licenses/by/4.0/).