Acylcarnitine Profiles in Acetaminophen Toxicity in the Mouse: Comparison to Toxicity, Metabolism and Hepatocyte Regeneration
1
Departments of Pediatrics, University of Arkansas for Medical Sciences, Little Rock, AR 72202, USA
2
Arkansas Children's Hospital Research Institute, Little Rock, AR 72202 , USA
3
Division of Systems Biology, National Center for Toxicological Research, Jefferson, AR 72079, USA
4
Medical College of Wisconsin, Milwaukee, WI 53226, USA
5
Departments of Pathology, University of Arkansas for Medical Sciences, Little Rock, AR 72205, USA
6
Departments of Pharmacology and Toxicology, University of Arkansas for Medical Sciences, Little Rock, AR 72205, USA
*
Author to whom correspondence should be addressed.
Received: 16 April 2013 / Revised: 7 June 2013 / Accepted: 22 July 2013 / Published: 2 August 2013
Abstract
High doses of acetaminophen (APAP) result in hepatotoxicity that involves metabolic activation of the parent compound, covalent binding of the reactive intermediate
N
-acetyl-p-benzoquinone imine (NAPQI) to liver proteins, and depletion of hepatic glutathione. Impaired fatty acid β-oxidation has been implicated in previous studies of APAP-induced hepatotoxicity. To better understand relationships between toxicity and fatty acid β-oxidation in the liver in APAP toxicity, metabolomic assays for long chain acylcarnitines were examined in relationship to established markers of liver toxicity, oxidative metabolism, and liver regeneration in a time course study in mice. Male B6C3F1 mice were treated with APAP (200 mg/kg IP) or saline and sacrificed at 1, 2, 4, 8, 24 or 48 h after APAP. At 1 h, hepatic glutathione was depleted and APAP protein adducts were markedly increased. Alanine aminotransferase (ALT) levels were elevated at 4 and 8 h, while proliferating cell nuclear antigen (PCNA) expression, indicative of hepatocyte regeneration, was apparent at 24 h and 48 h. Elevations of palmitoyl, oleoyl and myristoyl carnitine were apparent by 2–4 h, concurrent with the onset of Oil Red O staining in liver sections. By 8 h, acylcarnitine levels were below baseline levels and remained low at 24 and 48 h. A partial least squares (PLS) model suggested a direct association of acylcarnitine accumulation in serum to APAP protein adduct and hepatic glutathione levels in mice. Overall, the kinetics of serum acylcarnitines in APAP toxicity in mice followed a biphasic pattern involving early elevation after the metabolism phases of toxicity and later depletion of acylcarnitines.
View Full-Text
►

▼

Figures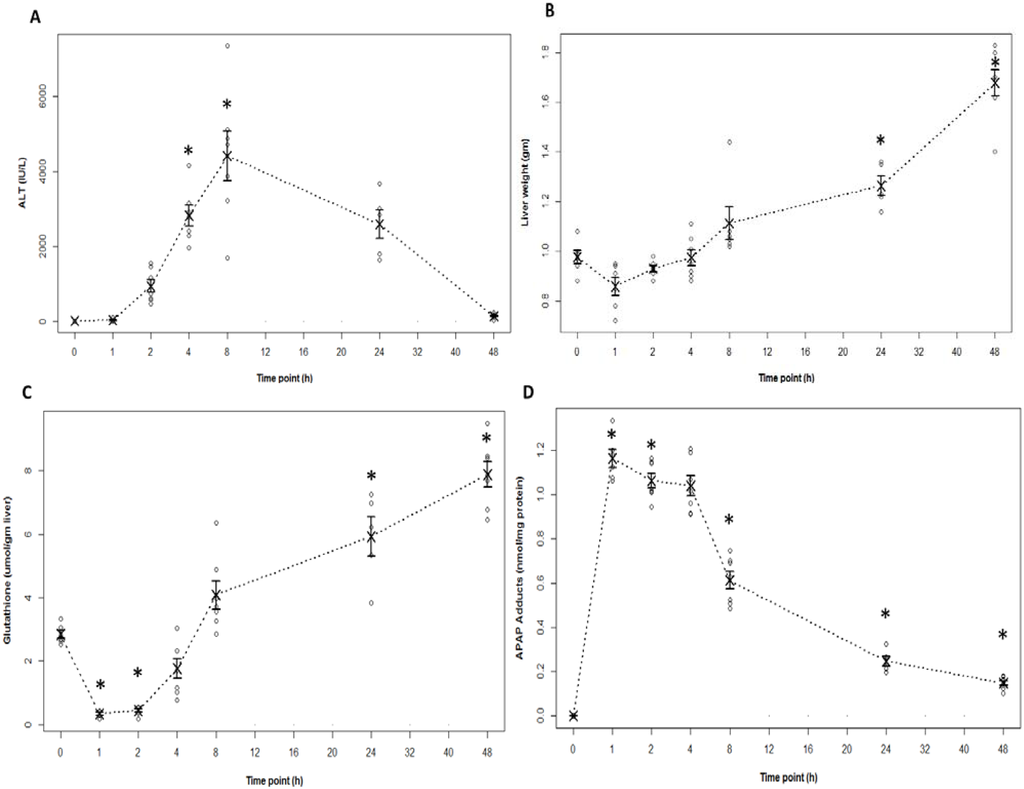 Figure 1

Share & Cite This Article
MDPI and ACS Style
Bhattacharyya, S.; Pence, L.; Beger, R.; Chaudhuri, S.; McCullough, S.; Yan, K.; Simpson, P.; Hennings, L.; Hinson, J.; James, L. Acylcarnitine Profiles in Acetaminophen Toxicity in the Mouse: Comparison to Toxicity, Metabolism and Hepatocyte Regeneration. Metabolites 2013, 3, 606-622.
Related Articles
Comments
[Return to top]