Open Access This article is
freely available
re-usable
Article
Discovering the Landscape by Cycling: A Geo-Touristic Experience through Italian Badlands
1
ISPRA Istituto Superiore Protezione e Ricerca Ambientale, Via V. Brancati 48, 00144 Roma, Italy
2
University of Camerino, School of Sciences and Technologies, 62032 Camerino, Italy
*
Authors to whom correspondence should be addressed.
Received: 18 June 2018 / Accepted: 2 August 2018 / Published: 4 August 2018
Abstract
:
Today, more than ever, it is necessary to adopt an innovative approach to studying and educating the public about territorial sciences. The complex link connecting Earth and society has to be rediscovered, by raising awareness about environmental balances, resources, and risks. The best way, scientifically and culturally, to tackle the problem of sustainable development, is to adopt a methodological approach that includes the fundamental elements of communication, public education and training. Geotourism is a modern and powerful way of informing the general public about geological sciences. Landscape ecology offers new approaches in the field of scientific research, while on the socio-political front, the European Landscape Convention ratifies its essential functions on the cultural, ecological, environmental and social levels. Geographical information system (GIS) technology provides us with powerful communicative tools, suitable for creative and flexible use. We will examine the geo-touristic potential of the "Calanchi" (Badlands) areas in Basilicata region, particularly significant since it is representative of the socio-environmental balance of the territory. An original integration between the landscape, cycling and tourism offers new perspectives on the local economy.
Keywords:
landscape; society; cycling; communication; geotourism
Author Contributions
Conceptualisation, F.R.L. and P.F.; Data curation, F.R.L. and P.F.; Investigation, F.R.L. and P.F.; Methodology, F.R.L. and P.F.; Writing—review & editing, F.R.L. and P.F.
Funding
This research received no external funding.
Acknowledgments
The authors are grateful to the three anonymous reviewers for their useful suggestions as well as to Nicola Lugeri for the critical reading of the manuscript and Sarah Morgan for reviewing the English text.
Conflicts of Interest
The authors declare no conflict of interest.
References
Council of Europe.

European Landscape Convention

; European Treaty Series, No. 176; Council of Europe: Strasbourg, France, 2000; pp. 2–4. [Google Scholar]
Boenzi, F.; Radina, B.; Ricchetti, G.; Valduga, A.

Note Illustrative Della Carta Geologica d'Italia

; Foglio 201 Matera; Servizio Geologico d'Italia: Roma, Italy, 1971. [Google Scholar]
Festa, V.; Sabato, L.; Tropeano, M. 1:5,000 geological map of the Upper Cretaceous intraplatform-basin succession in the "Gravina di Matera" canyon (Apulia Carbonate Platform, Basilicata, southern Italy.

Ital. J. Geosci.

2018,

137

, 3–15. [Google Scholar] [CrossRef]
Bentivenga, M.; Fascetti, S. Le aree calanchive della Basilicata: Aspetti geomorfologici e geobotanici.

Biol. Ital.

1999,

29

, 16–24. [Google Scholar]
Azzi, G. I fenomeni dell'erosione nelle Argille Azzurre nel Pliocene nel bacino di Santerno (Emilia Romagna).

Bollettino della Società Geogafica Italiana

1912. [Google Scholar]
Passerini, G. La Degradazione Idrometeorica dei Terreni Argillosi Italiani. In

Atti I Simposio It

; Agrochimica: Pisa, Italy, 1957. [Google Scholar]
Alexander, D.E. Difference between calanchi and biancane badlands in Italy. In

Badland Geomorphology and Piping

; Bryan, R., Yair, A., Eds.; Geo books: Norwhich, UK, 1982; pp. 71–88. [Google Scholar]
Vittorini, S. Ruscellamento, deflusso ipodermico ed erosione nelle argille plastiche.

Riv. Geogr. Ital.

1979,

86

, 338–436. [Google Scholar]
Del Prete, M.; Valentini, G. Le caratteristiche geotecniche delle Argille Azzurre dell'Italia sud-orientale in relazione alle differenti situazioni stratigrafiche e tettoniche.

Bari Geol. Appl. Idrogeol.

1971,

6

, 197–215. [Google Scholar]
Dramis, F.; Gentili, B.; Coltorti, M.; Cherubini, C. Piano di Gestione. Riserva dei Calanchi di Montalbano Provincia di Matera 60. Osservazioni geomorfologiche sui calanchi.

Geogr. Fis. Din. Quat.

1982,

5

, 38–45. [Google Scholar]
Levi, C.

Cristo si è fermato a Eboli

; Einaudi: Turin, Italy, 1945. [Google Scholar]
Canale, A. Il fascino e il segreto della Basilicata. Available online: http://www.ilportaledelsud.org/basilicata.htm/ (accessed on 4 August 2018).
Panizza, M.; Reynard, E. Géomorphosites: Définition, évaluation et cartographie.

Géomorphol. Relief Process. Environ.

2005,

3

, 177–180. [Google Scholar]
Panizza, M.; Piacente, S. Geomorphosites: A bridge between scientific research, cultural integration and artistic suggestion Geomorphological sites and geodiversity.

Il Quat. Ital. J. Q. Sci.

2005,

18

, 3–10. [Google Scholar]
Lugeri, F.R.; Amadio, V.; Cardillo, A.; Bagnaia, R.; Lugeri, N. Landscapes and Wine Production Areas: A Geomorphological Heritage.

Geoheritage

2011,

3

, 221–232. [Google Scholar] [CrossRef]
Gray, M. Geodiversity: Developing the paradigm.

Proc. Geol. Assoc.

2008,

119

, 287–298. [Google Scholar] [CrossRef]
Ruban, D.A. Quantification of geodiversity and its loss.

Proc. Geol. Assoc.

2010,

121

, 326–333. [Google Scholar] [CrossRef]
Pereira, D.I.; Pereira, P.; Brilha, J.; Santos, L. Geodiversity assessment of Parana State (Brazil): An innovative approach.

Environ. Manag.

2013,

52

, 541–552. [Google Scholar] [CrossRef] [PubMed]
Brilha, J. Geoconservation and protected areas.

Environ. Conserv.

2002,

29

, 273–276. [Google Scholar] [CrossRef]
Wimbledon, W.A.P. Geosites—A new conservation initiative.

Episodes

1996,

19

, 87–88. [Google Scholar]
Legge Quadro Sulle Aree Protette. Available online: http://www.gazzettaufficiale.it/eli/id/1991/12/13/091G0441/sg (accessed on 4 May 2018).
Institute for Environmental Protection and Research (ISPRA). Available online: http://www.isprambiente.gov.it/it/progetti/suolo-e-territorio-1/tutela-del-patrimonio-geologico-parchi-geominerari-geoparchi-e-geositi/il-censimento-nazionale-dei-geositi (accessed on 4 April 2018).
Dowling, R.; Newsome, D.

Geotourism

; Elsevier Butterworth Heinemann: Oxford, UK, 2006. [Google Scholar]
Dowling, R.K.; Newsome, D. (Eds.)

Geotourism: The Tourism of Geology and Landscape

; Edith Cowan University; Murdoch University: Perth, Australia, 2010. [Google Scholar]
Allan, M.

Geotourism: Toward a Better Understanding of Motivations for a Geotourism Experience: A Self-Determination Theory Perspective

; LAP Lambert Academic Publishing: Saarbrucken, Germany, 2012. [Google Scholar]
Ruban, A. Geotourism—A geographical review of the literature.

Tour. Manag. Perspect.

2015,

15

, 1–15. [Google Scholar] [CrossRef]
Naveh, Z.; Lieberman, A.S.

Landscape Ecology Theory and Application

; Series on Environmental Management; Springer: New York, NY, USA, 1994. [Google Scholar]
Forman, R.T.T.; Godron, M.

Landscape Ecology

; Wiley: New York, NY, USA, 1986; p. 620. [Google Scholar]
Amadio, V.

Analisi di Sistemi e Progetti di Paesaggio

; Angeli: Milano, Italy, 2003; p. 23. [Google Scholar]

Carta Della Natura Alla Scala 1:250.000: Metodologie di Realizzazione

; Manuali e Linee Guida 17/2003; Agenzia per la protezione dell'ambiente e per i servizi tecnici (APAT): Roma, Italy, 2003.
Gray, M. Geodiversity: The origin and evolution of a paradigm. In

The History of Geoconservation

; Burek, C.D., Prosser, C.D., Eds.; Special Publication 300; Geological Society: London, UK, 2008; pp. 31–36. [Google Scholar]
Kozlowski, S. Geodiversity: The concept and scope of geodiversity.

Prz. Geol.

2004,

52

, 833–837. [Google Scholar]
Prosser, C.; Díaz-Martínez, E.; Larwood, J. The Conservation of Geosites Principles and Practice. In

Geoheritage

; Elsevier: New York, NY, USA, 2018; Chapter 11. [Google Scholar]
Piacente, S. Geosites and Geodiversity for a cultural approach to Geology.

II Quat. Ital. J. Quat. Sci.

2005,

18

, 11–14. [Google Scholar]
Brilha, J. Inventory and Quantitative Assessment of Geosites and Geodiversity Sites: A Review.

Geoheritage

2016,

8

, 119–134. [Google Scholar] [CrossRef]
Gray, M.

Geodiversity: Valuing and Conserving Abiotic Nature

; John Wiley & Sons: Chichester, UK, 2004. [Google Scholar]
Amadio, V.; Amadei, M.; Bagnaia, R.; Di Bucci, D.; Laureti, L.; Lisi, A.; Lugeri, F.R.; Lugeri, N. The role of Geomorphology in Landscape Ecology: The Landscape Unit Map of Italy, Scale 1:250,000 ("Carta della Natura" Project). In

Applied Geomorphology: Theory and Practice

; Allison, R.J., Ed.; Wiley: London, UK, 2002; pp. 265–282. [Google Scholar]
GeoViewer. Available online: http://www.geoviewer.isprambiente.it (accessed on 11 February 2018).
McKinster, J.; Trautmann, N.; Barnett, M.

Teaching Science and Investigating Environmental Issues with Geospatial Technology: Designing Effective Professional Development for Teachers

; Springer Science & Business Media: Berlin, Germany, 2013; p. 353. [Google Scholar]
Sieber, R. Public Participation Geographic Information Systems: A Literature Review and Framework.

Ann. Assoc. Am. Geogr.

2006,

96

, 491–507. [Google Scholar] [CrossRef]
Ciaranfi, N.; Gallicchio, S.; Girone, A.; Maiorano, P.; Marino, M. Proposta di un percorso geologico culturale tra i calanchi del geosito di Montalbano Jonico (Basilicata).

Geol. dell'Ambiente

2010, (Suppl. 2/201), 214–226. [Google Scholar]
Farabollini, P.; Miccadei, E. The geomorpho-touristic landscapes of Marche-Abruzzi region: Perspective for geo-excursionism between geomorphological emergency, geomorphosites and geoparks.

Geoital. Rimini

2009,

3

, 9–11. [Google Scholar]
Farabollini, P.; Scalella, G. Geotouristic routes in Monte Ascensione and badlands district.

Mem. Descr. Carta Geol. d'It.

2014,

102

, 57–72. [Google Scholar]
Lugeri, F.R.; Farabollini, P.; Amadio, V.; Greco, R. Unconventional Approach for Prevention of Environmental and Related Social Risks: A Geoethic Mission.

Geosciences

2018,

8

, 54. [Google Scholar] [CrossRef]
Lugeri, F.R.; Farabollini, P.; Greco, R.; Amadio, V. The Geological Characterization of Landscape in Major TV Series: A Suggested Approach to Involve the Public in the Geological Heritage Promotion.

Sustainability

2015,

7

, 4100–4119. [Google Scholar] [CrossRef]
Lugeri, F.R.; Farabollini, P.; Graziano, G.; Amadio, V. GEOHERITAGE: Nature and culture in a landscape approach.

Eur. Geol.

2012,

34

, 23–28. [Google Scholar]
Ghazia, J.M.; Ólafsdóttir, R.; Tongkul, F.; Ghazi, J.M. Geological Features for Geotourism in the Western Part of Sahand Volcano; NW Iran.

Geoheritage

2013,

5

, 23–34. [Google Scholar] [CrossRef]
Gregori, L. "I Paesaggi del Vino" di Goethe. Winescapes e Geositi in Umbria. In

I Paesaggi del vino 5. Il Paesaggio tra Reale e Virtuale

; Università di Perugia: Perugia, Italy, 2009; pp. 29–30. [Google Scholar]
Ólafsdóttir, R.; Runnström, M.C. A GIS Approach to Evaluating Ecological Sensitivity for Tourism Development in Fragile Environments. A case study from SE Iceland.

Scand. J. Hosp. Tour.

2009,

9

, 1–17. [Google Scholar] [CrossRef]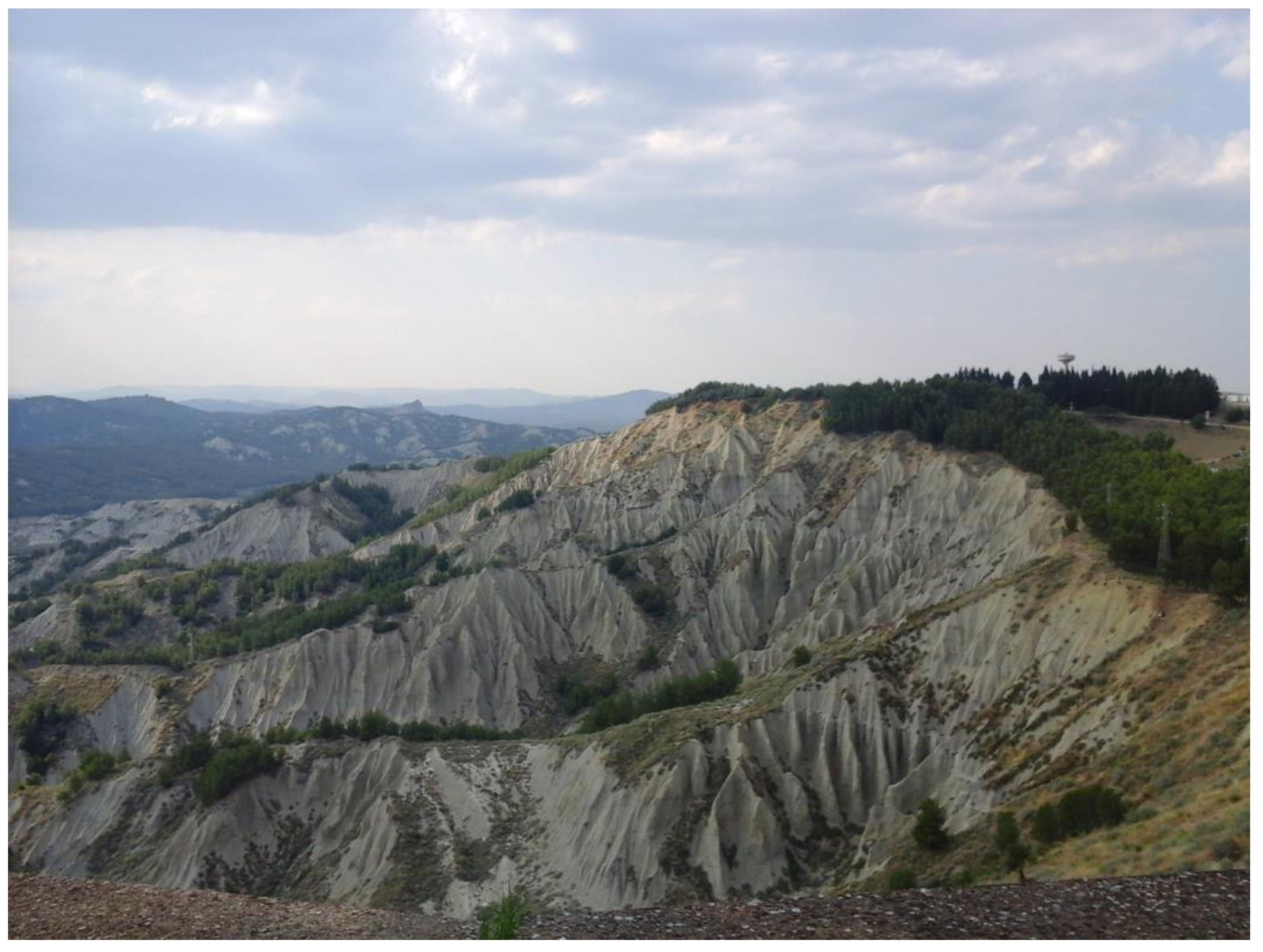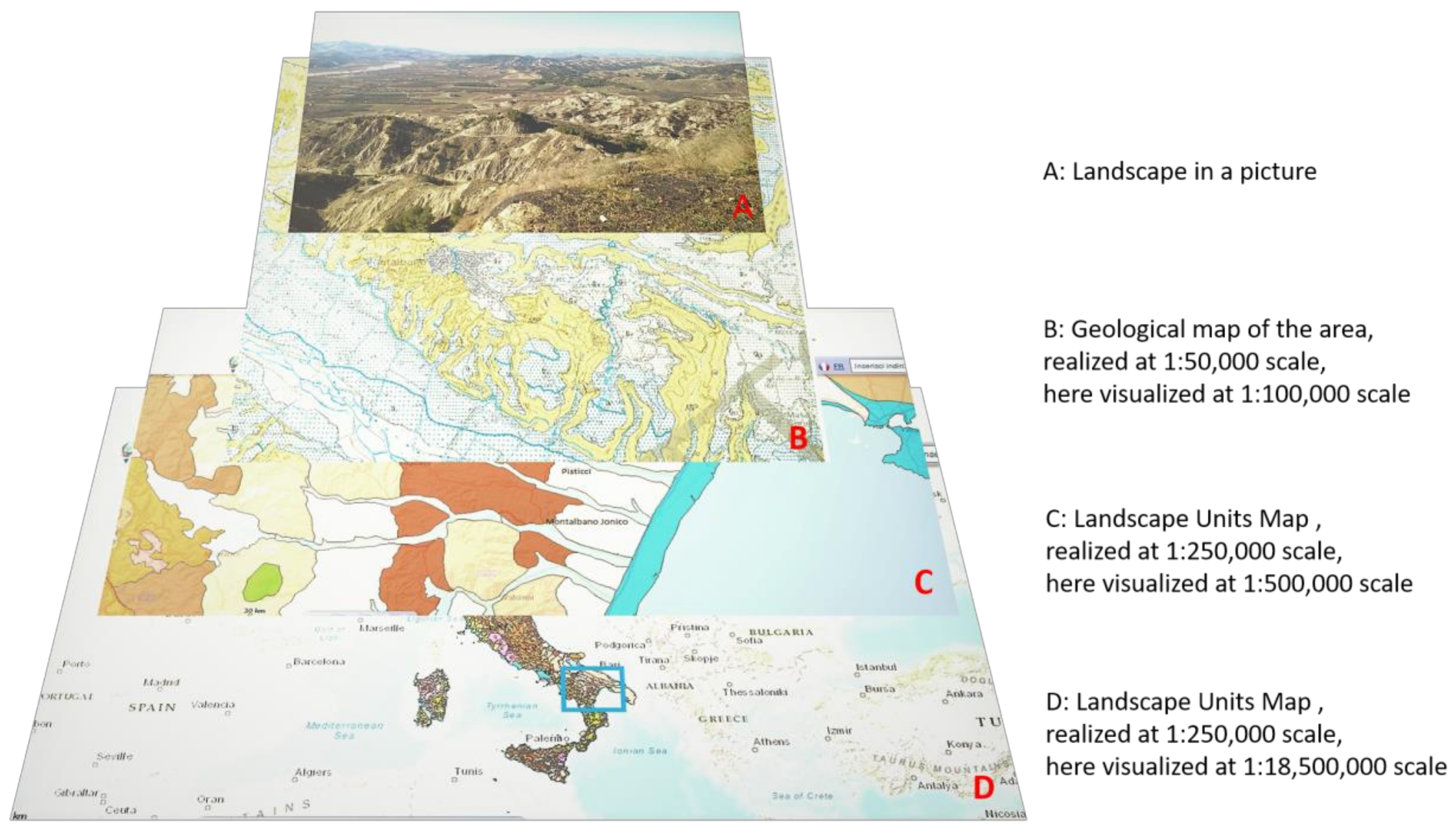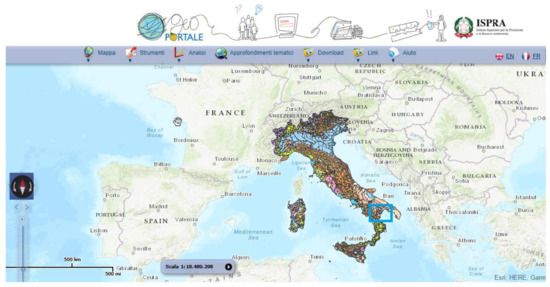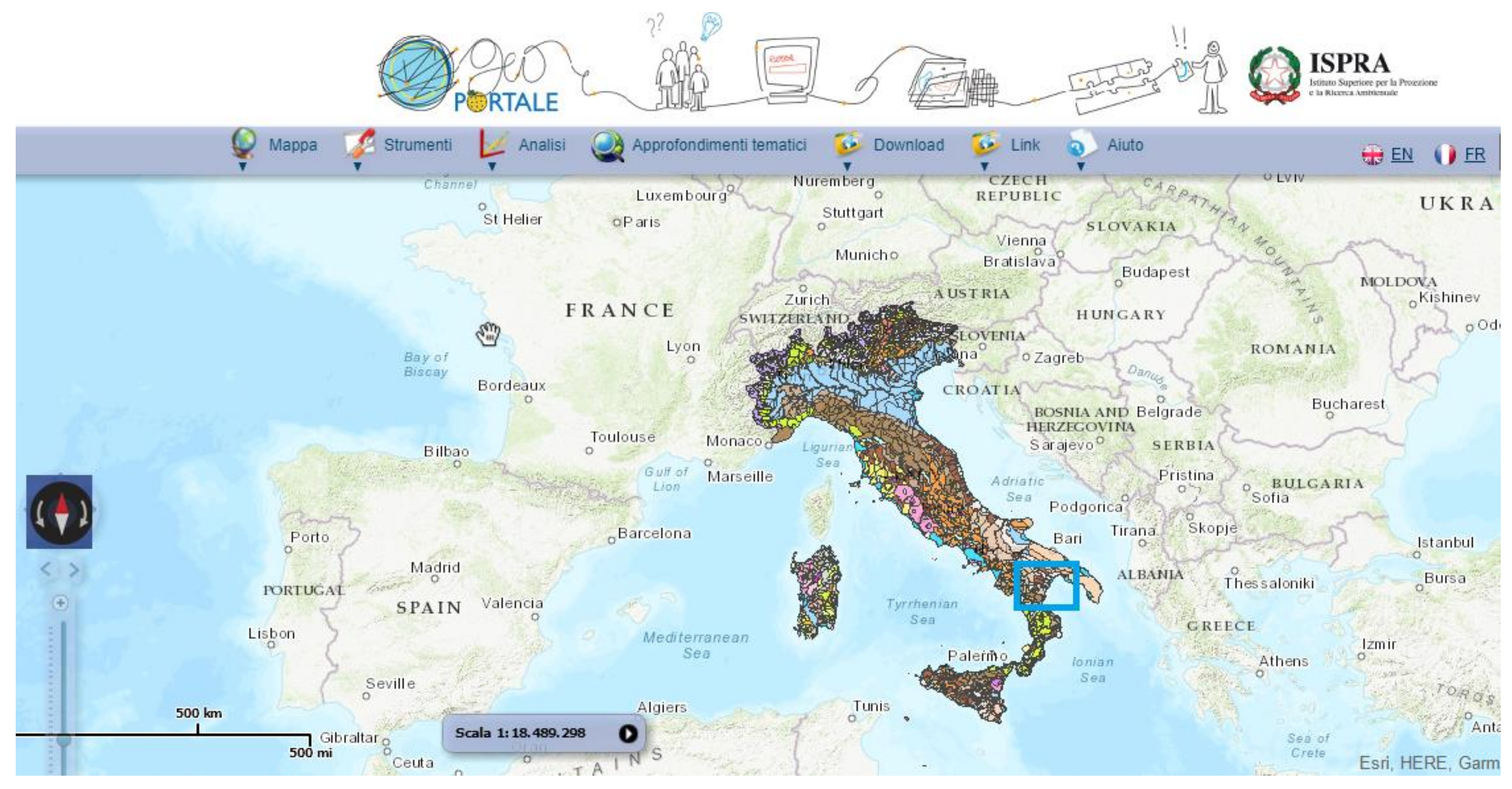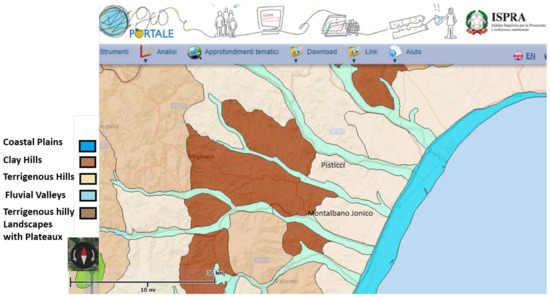 Figure 4. Landscape units of the case study, where are located the calanchive areas, between Montalbano Jonico and Pisticci.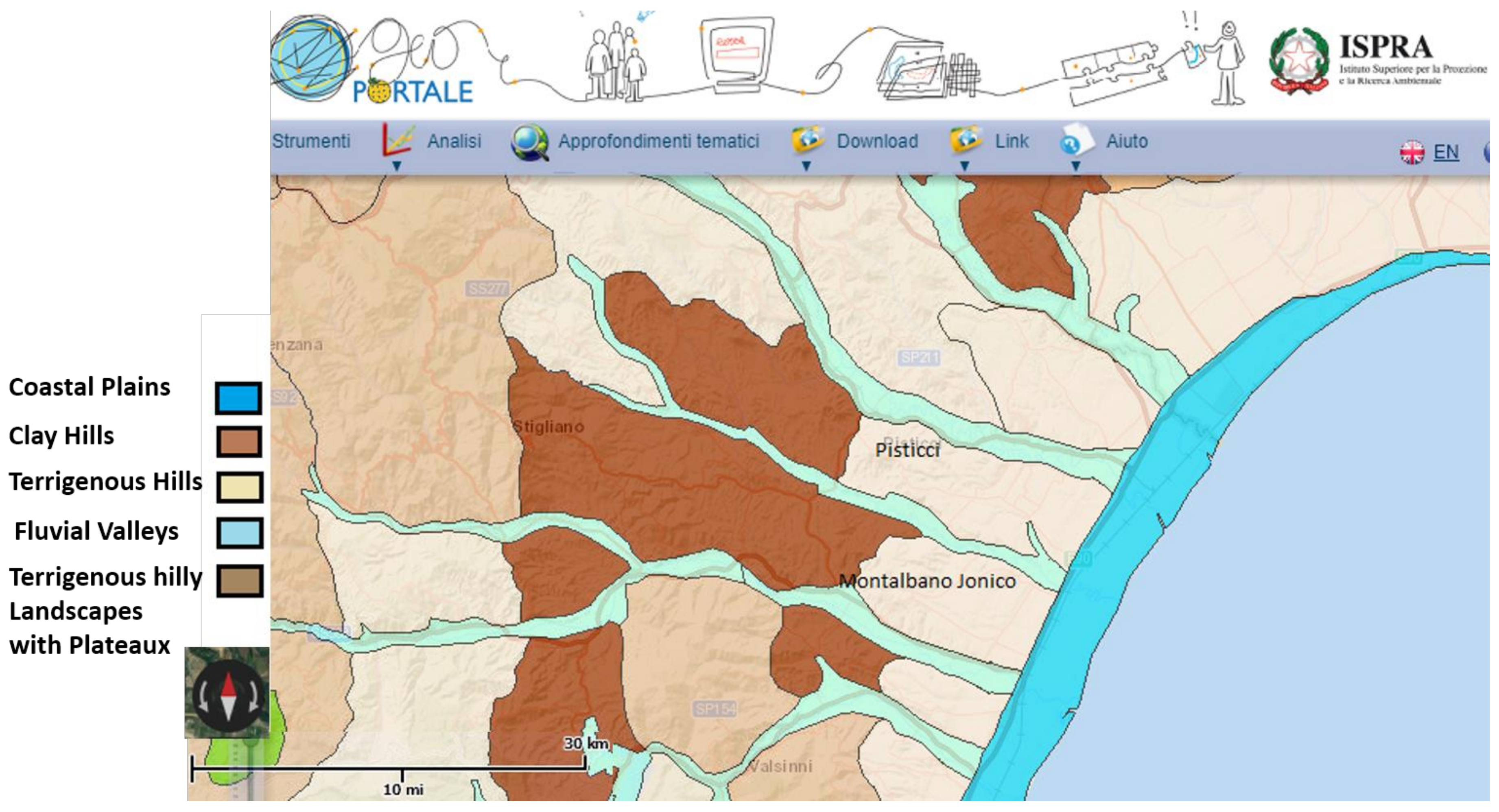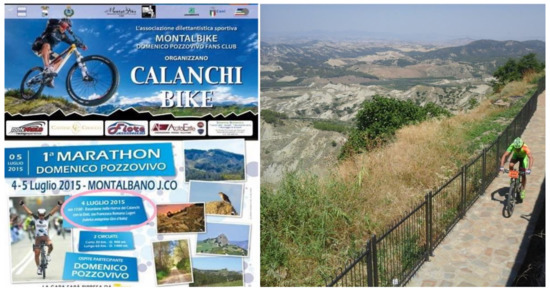 Figure 6. The Calanchi bike marathon. The program included the presence of the geologist (circled in pink).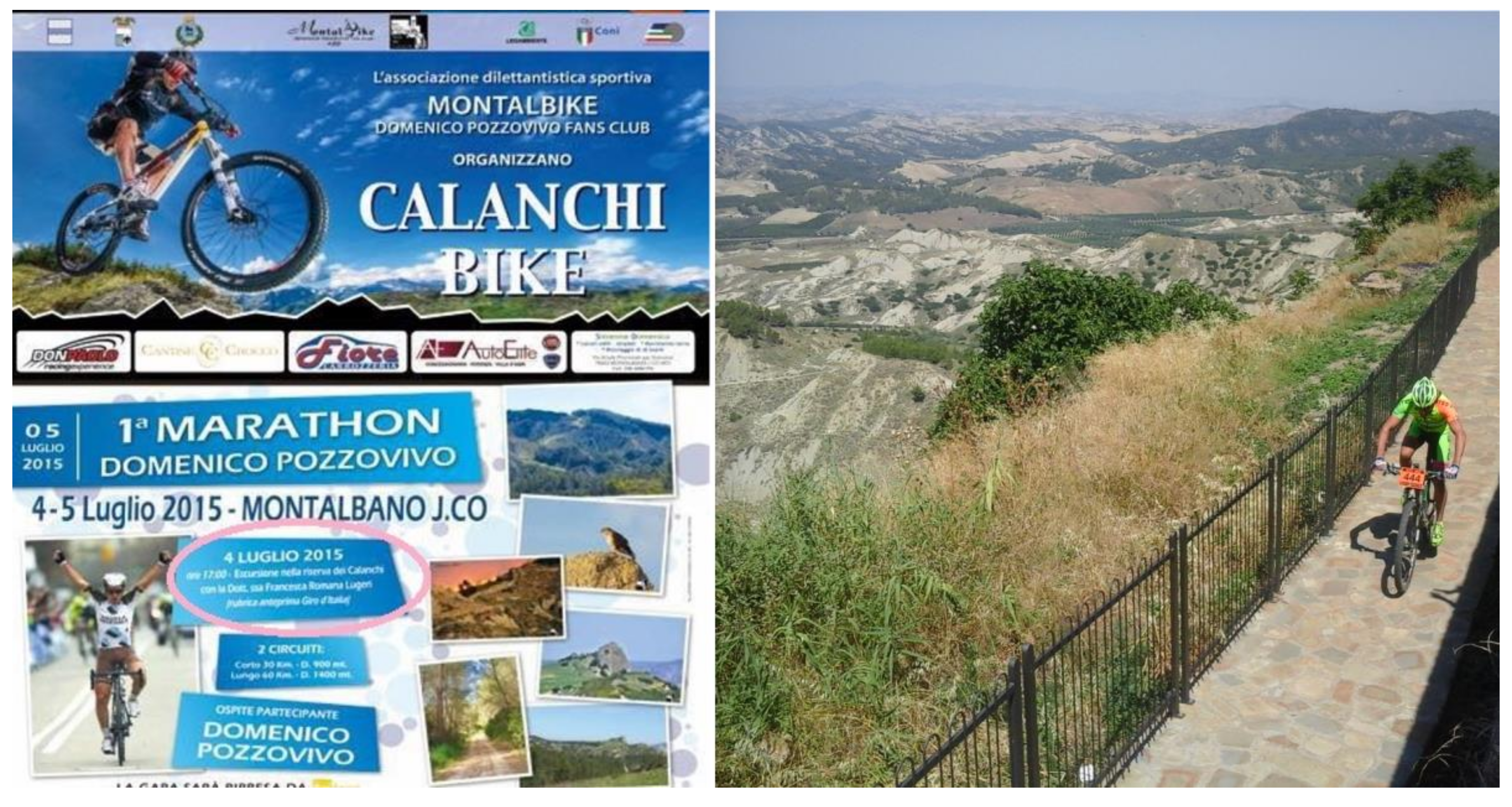 Figure 8. Audience data of the "Repubblica delle Biciclette" social media channel, referring to the geology and cycling events' followers, at the Calanchi bike marathon (May 6) and at the Giro d'Italia special interviews on the geological settings of the stages.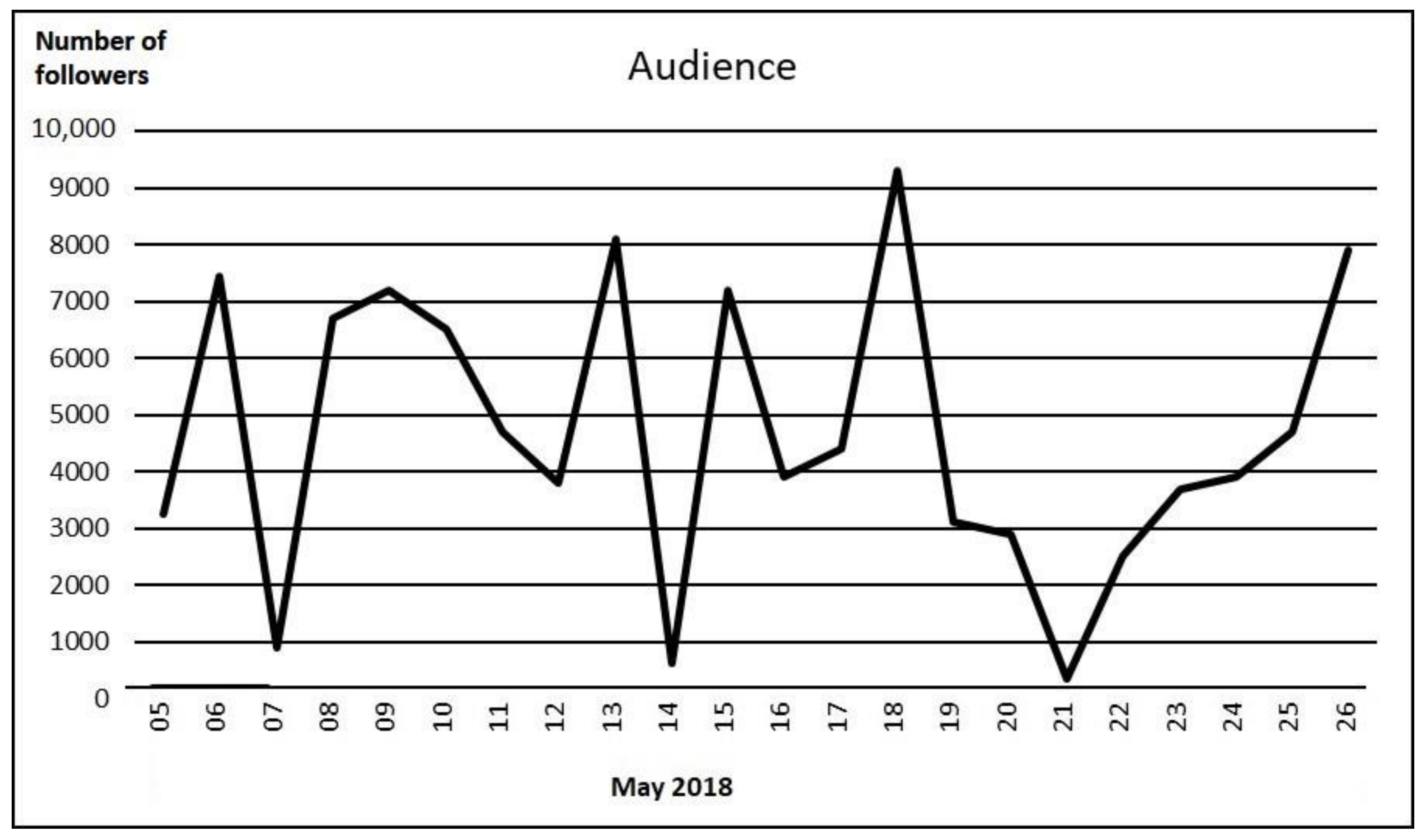 | | |
| --- | --- |
| Clayey Hills Synthetic Description | hilly reliefs, mainly clayey, with rounded tabular peaks—occasionally crests—and with slopes with generally low to medium acclivity |
| Altitude | 600–700 m |
| Roughness | Low to medium |
| Lithology | Clay, silt, sand, conglomerates. Secondarily gravel, vulcanites, travertines |
| Hydrography | Dendritical and sub-dendritical, parallel, trellis. |
| Morphological Components | Morphological: Rounded peaks, tubular and/or crested, slopes with a generally low to medium acclivity, "V" shaped or flat-bottomed valleys, widespread phenomena of slope instability and accelerated erosion, "calanchi", "biancane", ridges. Secondarily: Peaked plateaus, travertine plateaus, sandstone or conglomerate, terraces, plains and alluvial conoids. |
| Land Cover | Agricultural land, shrub and/or grass vegetation |

© 2018 by the authors. Licensee MDPI, Basel, Switzerland. This article is an open access article distributed under the terms and conditions of the Creative Commons Attribution (CC BY) license (http://creativecommons.org/licenses/by/4.0/).