Open Access This article is
freely available
re-usable
Review
Strategies to Improve the Energy Performance of Buildings: A Review of Their Life Cycle Impact
1
Faculty of Engineering Science, Department of Architecture, KU Leuven, Kasteelpark Arenberg 1 Box 2431, 3001 Leuven, Belgium
2
Working Group Sustainable Construction, Institute of Technology and Testing of Construction Materials, Graz University of Technology, Waagner-Biro-Straße 100/XI, 8020 Graz, Austria
3
Department of Architecture and Construction, School of Civil Engineering, Architecture and Urbanism, University of Campinas, Albert Einstein Avenue, 951, 13083-852 Campinas, Brazil
4
Unit Smart Energy and Built Environment, VITO NV|Boeretang 200, 2400 Mol, Belgium
5
Sustainable Construction Manager, European Insulation Manufacturers Association (EURIMA)
*
Author to whom correspondence should be addressed.
Received: 30 June 2018 / Accepted: 4 August 2018 / Published: 12 August 2018
Abstract
:
Globally, the building sector is responsible for more than 40% of energy use and it contributes approximately 30% of the global Greenhouse Gas (GHG) emissions. This high contribution stimulates research and policies to reduce the operational energy use and related GHG emissions of buildings. However, the environmental impacts of buildings can extend wide beyond the operational phase, and the portion of impacts related to the embodied energy of the building becomes relatively more important in low energy buildings. Therefore, the goal of the research is gaining insights into the environmental impacts of various building strategies for energy efficiency requirements compared to the life cycle environmental impacts of the whole building. The goal is to detect and investigate existing trade-offs in current approaches and solutions proposed by the research community. A literature review is driven by six fundamental and specific research questions (RQs), and performed based on two main tasks: (i) selection of literature studies, and (ii) critical analysis of the selected studies in line with the RQs. A final sample of 59 papers and 178 case studies has been collected, and key criteria are systematically analysed in a matrix. The study reveals that the high heterogeneity of the case studies makes it difficult to compare these in a straightforward way, but it allows to provide an overview of current methodological challenges and research gaps. Furthermore, the most complete studies provide valuable insights in the environmental benefits of the identified energy performance strategies over the building life cycle, but also shows the risk of burden shifting if only operational energy use is focused on, or when a limited number of environmental impact categories are assessed.
Keywords:
Life Cycle Assessment (LCA); building life cycle; energy efficiency; embodied energy; embodied carbon; insulation materials; renewable energy systems
Supplementary Materials
The following are available online at
https://www.mdpi.com/2075-5309/8/8/105/s1
, and include additional details in sections S1 Methodology, S2 Results, and S3 Additional studies reviewed. Supporting information include the following figures and tables. Figure S1: Number and types of papers reviewed; Figure S2: Number of countries covered by the case studies; Figure S3: Types of energy performance levels covered by the case studies; Figure S4: Division of new built – renovation case studies; Figure S5: Types of system boundaries covered by the case studies. Table S1: Life cycle impact assessment of three stone wool insulation thicknesses: 40, 80 and 120 mm (functional unit of 1 m
2
of living area over a period of 50 years). (Rodrigues and Freire, 2014, p. 213); Table S2: Illustrative examples of the weight of each stage of conventional cases; Table S3: Illustrative example of the weight of each stage of a NZEB case; Table S4: Illustrative examples of the weight of each stage of passive house cases; Table S5: Illustrative examples of the weight of each stage of energy positive cases; Table S6: Illustrative examples of the weight of each stage of low energy cases.
Author Contributions
All Authors of this paper were part of the project team who reviewed the studies, established the matrix and made the analysis of its results. For the present paper N.M. did most of the writing in close collaboration with M.S. The initial setup of the matrix as well as analysis of studies and results was supported by M.R., C.S. and M.B. The research project as well as the paper presented have been supervised by K.A. and A.P. All authors provided remarks and direct inputs to the paper.
Funding
The results presented were obtained as part of a review study commissioned by the European Insulation Manufacturers Association (EURIMA).
Acknowledgments
The Authors would like to thank EURIMA for the support provided for this research. We thank the project team for their collaboration, especially Wai Chung Lam of the Flemish Institute for Technological Research (VITO). Additionally, the authors would like to thank the two reviewers for their insightful comments to improve this manuscript.
Conflicts of Interest
The authors declare no conflicts of interest.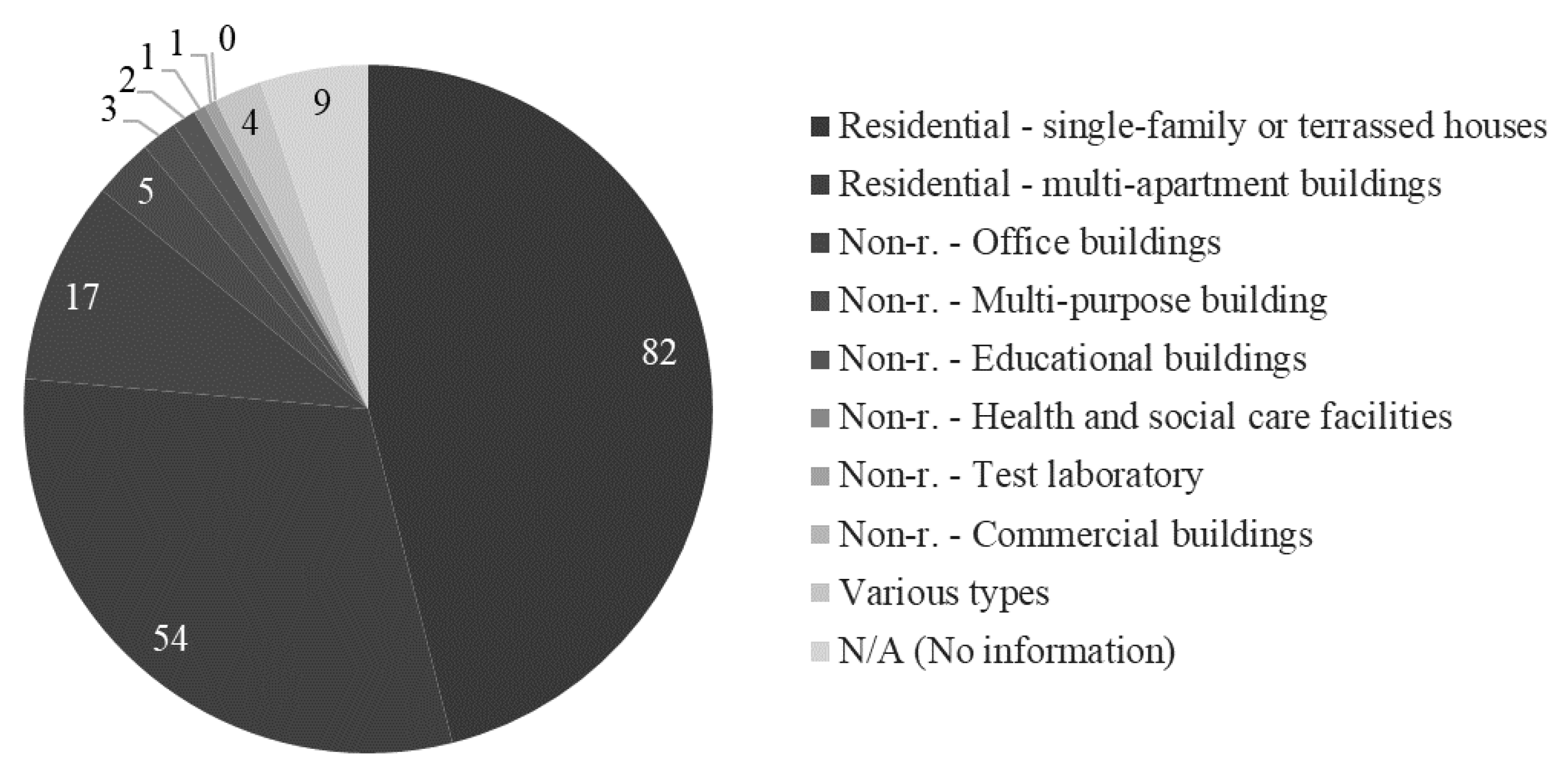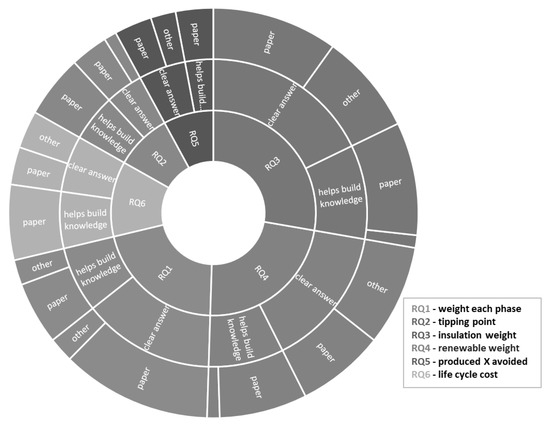 Figure 3. Overview of studies assessed and the amount and type of studies answering the research questions.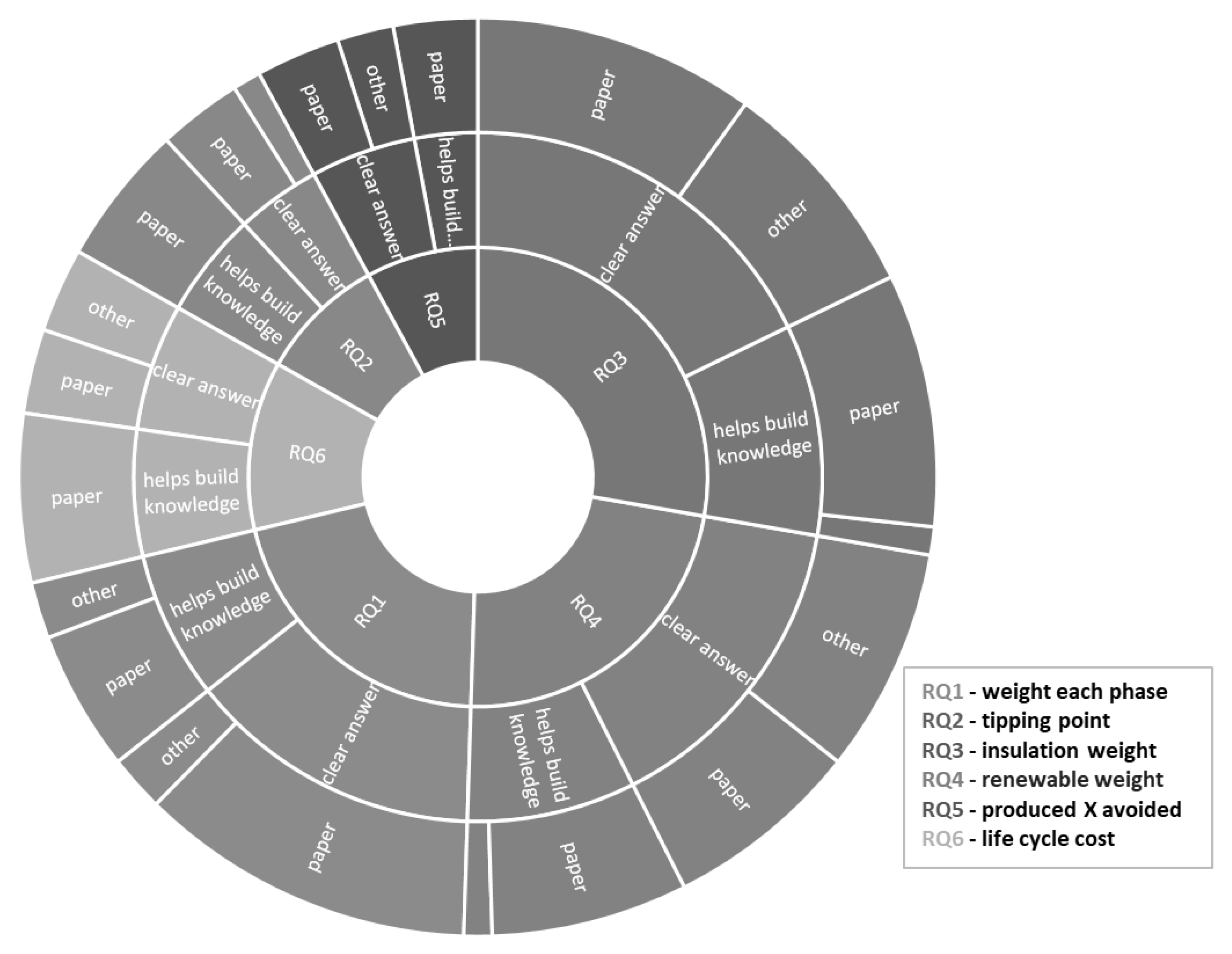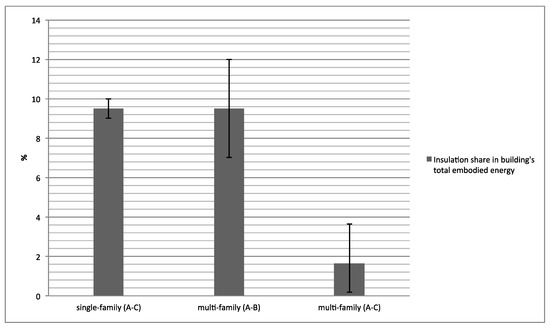 Figure 4.
Share of the insulation in the building life cycle energy use considering single-family and multi-family residential buildings. The error bars are related to variation in contribution percentages. Acronyms A, B and C refer to the building's life cycle stages according to EN 15978, namely products manufacturing stage, use stage and end-of-life stage, respectively. The first column shows results range extrapolated from [
27
,
29
]. The second column shows the contribution range found by [
12
] considering a standard and a well-insulated building, excluding the building end-of-life phase (C). The third column indicates contribution extrapolated from [
31
] considering an existing building with no refurbishment, with medium refurbishment and with advanced refurbishment.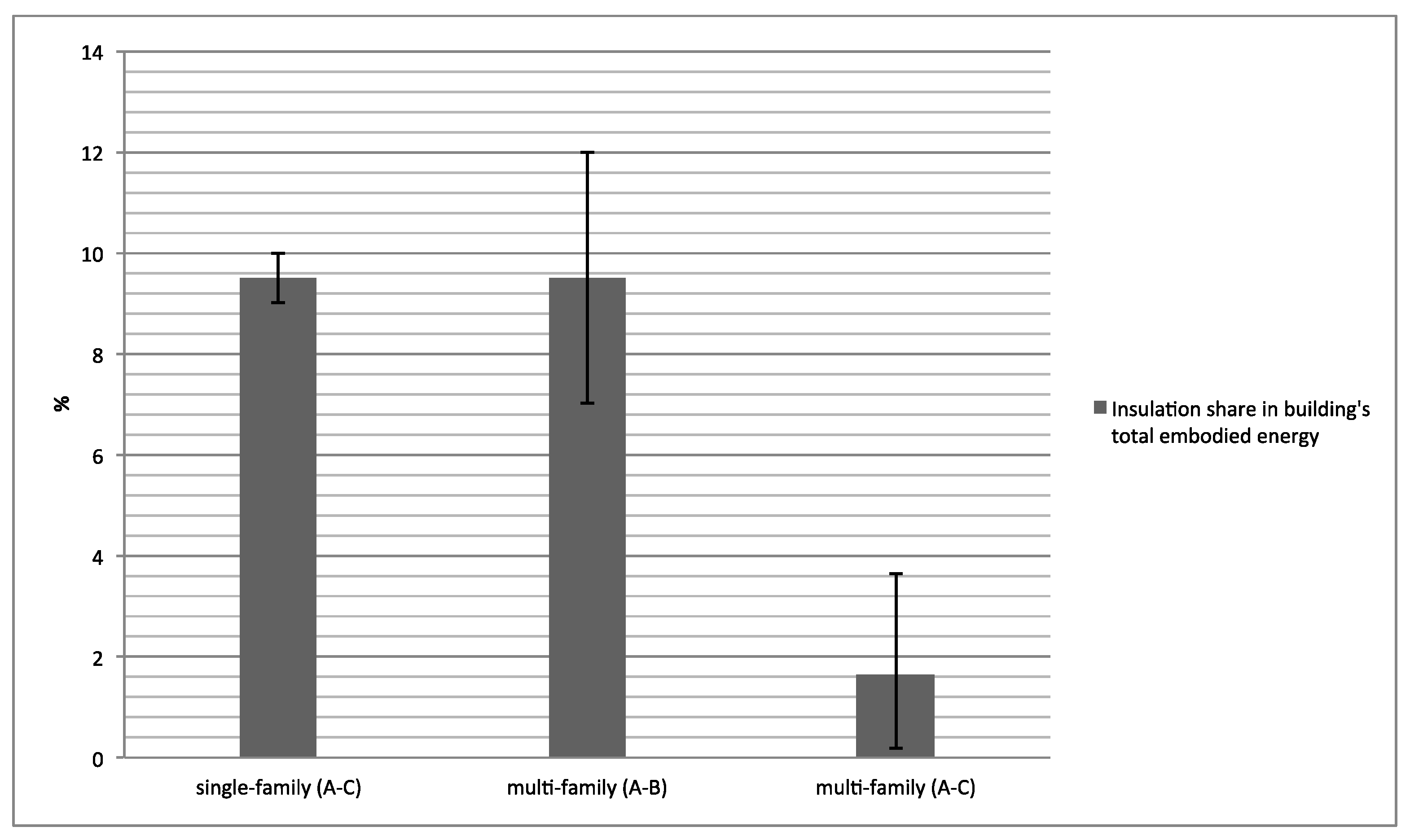 Table 1. Overview of analysis criteria used in the scope of the review to address the research questions (RQ). Supporting criteria and information (SC), necessary to compare the reviewed studies, are also addressed.
Analysis Criteria
SC
RQ1
RQ2
RQ3
RQ4
RQ5
RQ6
Building information
x
Qualitative or quantitative study
x
Efficiency strategy proposed
(i.e., insulation, automation, etc.)
x
x
x
x
x
x
Description of the strategy
x
x
x
x
x
x
Building typology
x
x
New construction or refurbishment
x
x
x
x
x
x
Energy performance
x
x
x
x
Building parts included
x
x
Gross floor area [m2]
x
Net floor area [m2]
x
Reference area for EE/EC [m2]
x
Final operational energy demand [kWh/m2a]
x
x
x
x
Final energy demand for electricity, cooling and hot water [kWh/m2a]
x
x
x
x
LCA modelling
Reference study period
x
System boundaries
x
x
x
x
Database for LCA
x
Assumptions for LCA
x
Additional comments for LCA
x
Insulation materials
x
x
x
x
LCA software
x
Indicators assessed
x
x
Environmental impacts and/or performances covered (according to EN 15978, 15 Modules A to D)
Climate change
x
x
Primary Energy
x
x
x
x
x
Abiotic Depletion Potential
x
x
Hazardous waste generation
x
x
Single environmental score
x
x
Contribution Analysis
LC stage contribution to the total load (for 15 modules)
x
Insulation contribution over the total load (for 15 modules)
x
Insulation vs. Energy savings
x
x
x
Renewable Energy contribution over the total load (for 15 modules)
x
Renewable Energy, tipping point
x
x
Financial costs
x
x

© 2018 by the authors. Licensee MDPI, Basel, Switzerland. This article is an open access article distributed under the terms and conditions of the Creative Commons Attribution (CC BY) license (http://creativecommons.org/licenses/by/4.0/).