Open Access This article is
freely available
re-usable
Review
Odonata: Who They Are and What They Have Done for Us Lately: Classification and Ecosystem Services of Dragonflies
Department of Entomology, Rutgers University, New Brunswick, NJ 08901, USA
Received: 26 January 2019 / Accepted: 22 February 2019 / Published: 28 February 2019
Abstract
:
Odonata (dragonflies and damselflies) are well-known but often poorly understood insects. Their phylogeny and classification have proved difficult to understand but, through use of modern morphological and molecular techniques, is becoming better understood and is discussed here. Although not considered to be of high economic importance, they do provide esthetic/spiritual benefits to humans, and may have some impact as predators of disease vectors and agricultural pests. In addition, their larvae are very important as intermediate or top predators in many aquatic ecosystems. More recently, they have been the objects of study that have yielded new information on the mechanics and control of insect flight.
Keywords:
damselfly; dragonfly; biomimetic technology; climate warming; ecological indicators; mosquito control; myth and art; phylogeny; predation
1. Introduction
Dragonflies are insects that people notice. As adults they are large, diurnal, often colorful, and are swift, acrobatic fliers. They are sufficiently noticeable that they have received numerous folk names, for example, in North America, mosquito hawk, horse stinger, snake doctor, adderbolt, darning needle, among many others [
1
]. They have become embedded in folklore and mythology in many cultures (see below) and are the subjects of beautiful art and depressingly tacky shlock (whoever started the idea that odonates have curly antennae?!).
2. Classification
Despite being so well known as a group, distinctions among species and even higher taxa often seem to be overlooked by the public. More than once, while I was collecting or observing Odonata in the field, I have encountered interested non-entomologists. Most people were bemused (rarely alarmed) by what I was doing and not infrequently asked about dragonflies. Many asked specifically about how many species occur in New Jersey (where I did most of my research). When I would say about 180 species, they were invariably flabbergasted—the usual first guess was about five or 10 species. It is a stark example of the fact that most of us see only a narrow slice of reality.
Now, having finally disposed of the dramatis personae, we should proceed to at least a small part of the drama itself.
3. Ecosystem Services
From my shoulder
To the Buddha's shoulder—
The dragonfly
So, we have taken the "services" of dragonflies from the sublime to the—astonishing. At least, I hope it is clear that Odonata have long had and continue to have a role in and influence on human welfare, as we undoubtedly have on theirs.
Supplementary Materials
The following are available online at
https://www.mdpi.com/2075-4450/10/3/62/s1
, Figure S1: The most recent extensive phylogeny of suborder Zygoptera; Figure S2: The most recent extensive phylogeny of the suborder Anisoptera.
Funding
This research received no external funding.
Conflicts of Interest
The author declares no conflict of interest.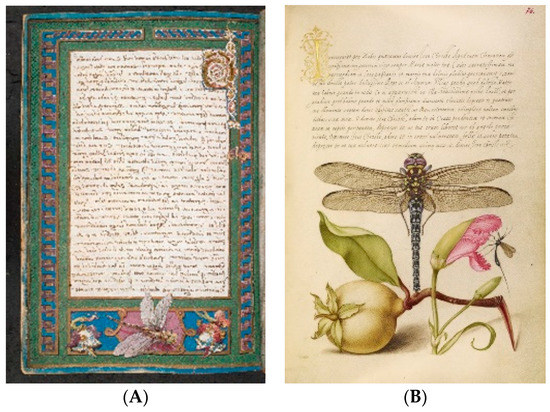 Figure 2.
(
A
) Page from Caesar's
De bello Gallico
with added border incorporating a dragonfly and emblems of the Visconti family [
74
]; (
B
) Dragonfly, Pear, Carnation, and Insect in
Mira Calligraphiae Monumenta
, 1561–1562, illumination added 1591–1596 by Joris Hoefnagel; J. Paul Getty Museum, Ms. 20, fol. 76 [
75
].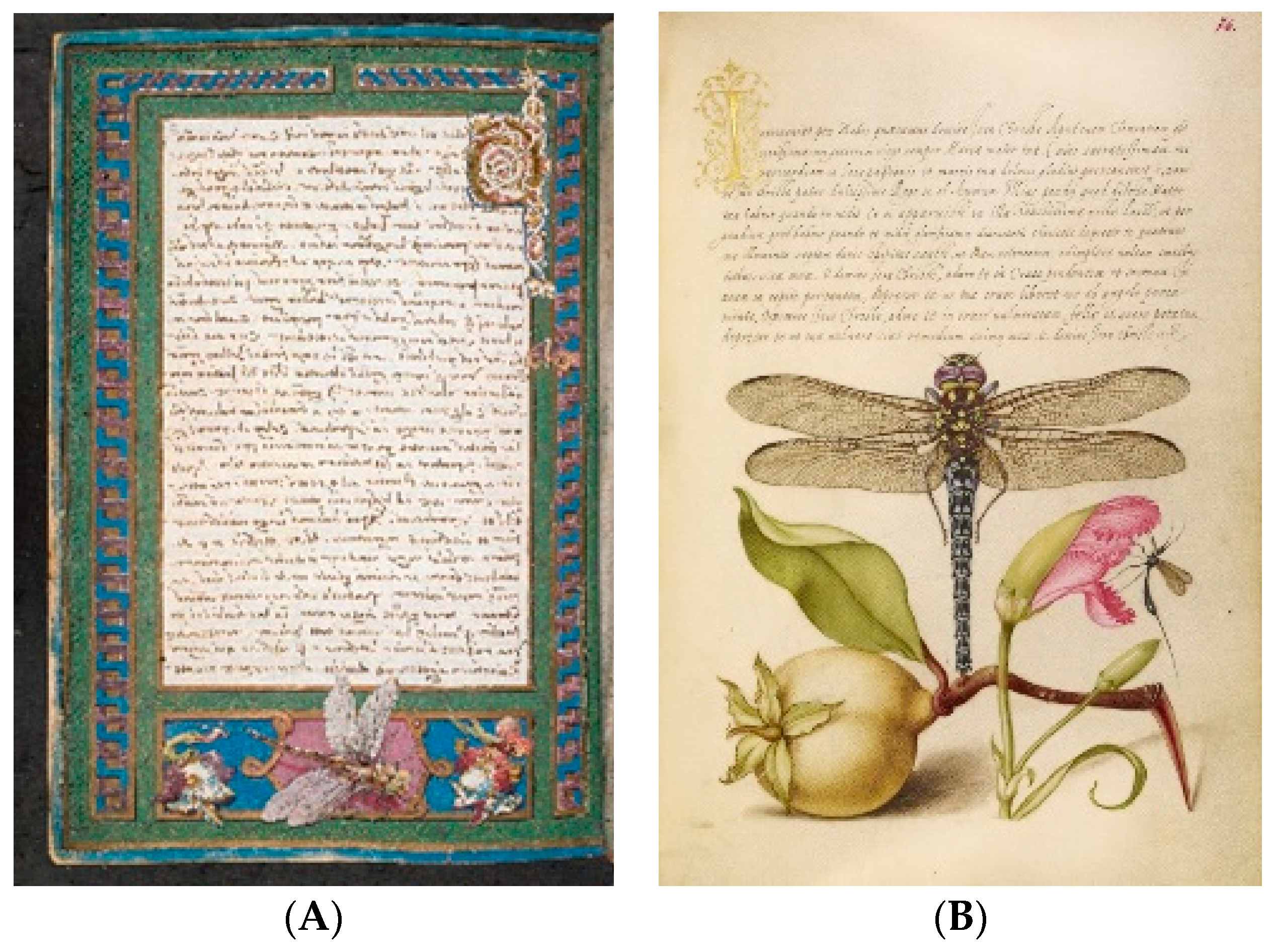 © 2019 by the author. Licensee MDPI, Basel, Switzerland. This article is an open access article distributed under the terms and conditions of the Creative Commons Attribution (CC BY) license (http://creativecommons.org/licenses/by/4.0/).