Open Access This article is
freely available
re-usable
Article
A New Statistical Approach to the Optical Spectral Variability in Blazars
1
Instituto de Astrofisica de Canarias-Spain, La Laguna E38205, Spain
2
Dpto de Astrofisica, University La Laguna-Spain, La Laguna E38206, Spain
3
INAF-Osservatorio Astrofisico di Torino, Pino Torinese (TO) 10025, Italy
*
Author to whom correspondence should be addressed.
Academic Editors: Jose L. Gómez, Alan P. Marscher and Svetlana G. Jorstad
Received: 29 September 2016 / Accepted: 15 December 2016 / Published: 28 December 2016
Abstract
:
We present a spectral variability study of a sample of about 25 bright blazars, based on optical spectroscopy. Observations cover the period from the end of 2008 to mid 2015, with an approximately monthly cadence. Emission lines have been identified and measured in the spectra, which permits us to classify the sources into BL Lac-type or FSRQs, according to the commonly used EW limit. We have obtained synthetic photometry and produced colour-magnitude diagrams which show different trends associated with the object classes: generally, BL Lacs tend to become bluer when brighter and FSRQs become redder when brighter, although several objects exhibit both trends, depending on brightness. We have also applied a pattern recognition algorithm to obtain the minimum number of physical components which can explain the variability of the optical spectrum. We have used NMF (Non-Negative Matrix Factorization) instead of PCA (Principal Component Analysis) to avoid un-realistic negative components. For most targets we found that 2 or 3 meta-components are enough to explain the observed spectral variability.
Keywords:
emission lines; optical spectroscopy; light curves
Acknowledgments
Data from the Steward Observatory spectropolarimetric monitoring project were used. This program is supported by Fermi Guest Investigator grants NNX08AW56G, NNX09AU10G, NNX12AO93G, and NNX15AU81G.
Author Contributions
All authors contributed actively to the paper.
Conflicts of Interest
The authors declare no conflicts of interest.
1.

Spectra are scaled to match the V-band magnitude determined using synthetic photometry from the spectra of the blazar and a comparison star.

Figure 1. Median spectra computed for two FSRQ type objects: 3C 454.3 and PKS 1510-08. The median spectrum is shown as the dark blue line, red and green lines represent the spectra at the maximum and minimum levels of activity. The light blue area indicates the spectral shape variation within the first and third quartiles. The features observed around 6900 Å and 7200 Å are due to uncorrected telluric absorption. There is also clear fringing at wavelengths redder than 6900 Å, due to the use of a thinned CCD.


Figure 2.
Median spectra computed for two BL Lac type objects: OJ 287 and BL Lac. Curves represent the same as in
Figure 1
.


Figure 3.
Median spectra computed for two objects dominated by the stellar population emission. Curves represent the same as in
Figure 1
.


Figure 4.
Left panel: A sample spectrum to show the spectral range, overlaid with the transmission curves of the Sloan filters
g'
and
r'
. Right panel: Average colour
g-r
of the objects in our sample.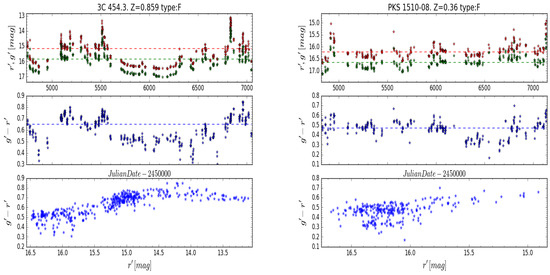 Figure 5. Colour light curves for two FSRQ type objects, built with the synthetic photometry data obtained from the Steward Observatory spectra. The bottom panel is a colour-magnitude diagram containing all data points.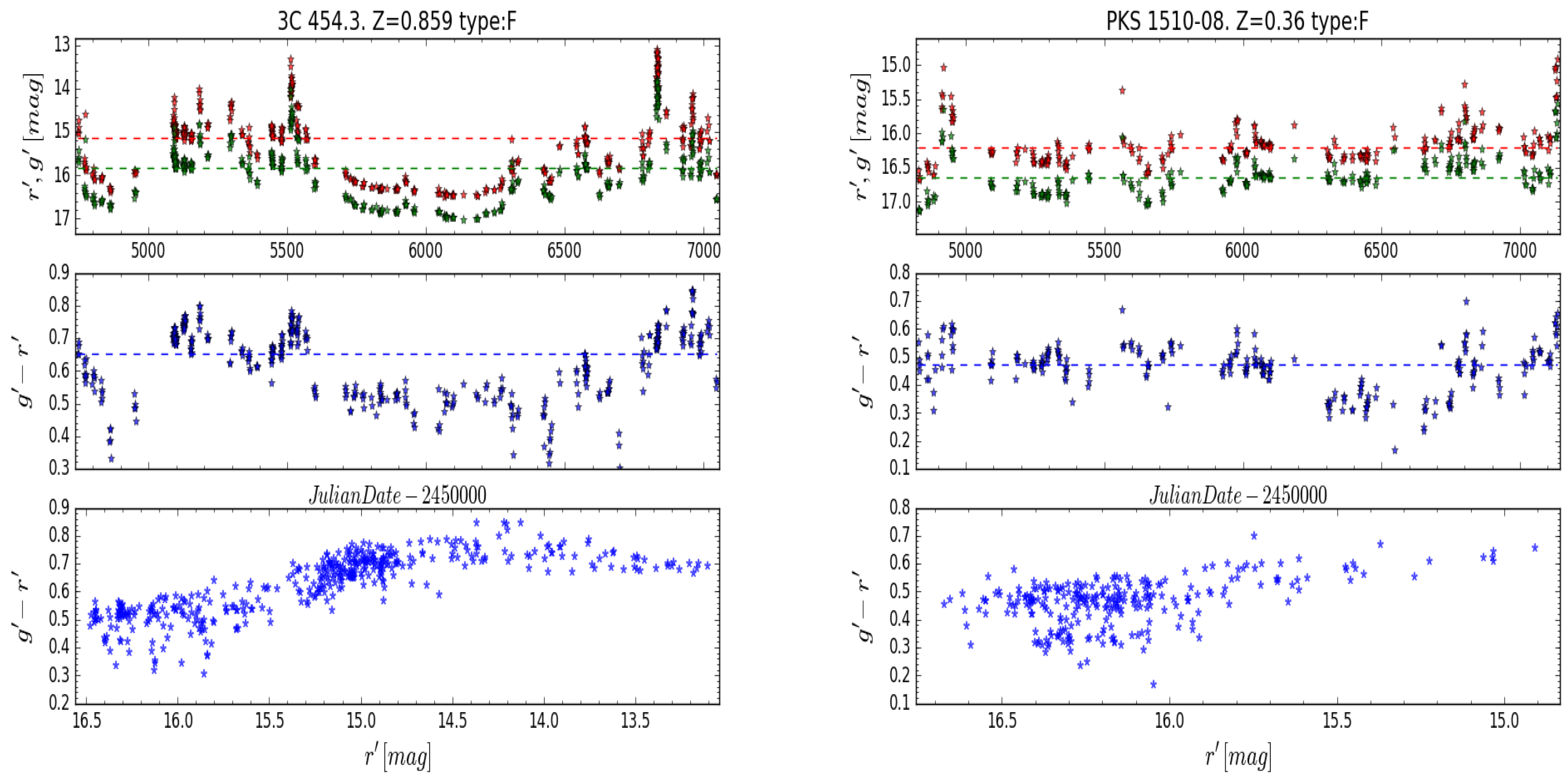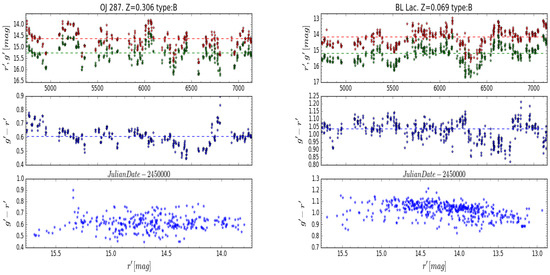 Figure 6.
Colour light curves for two BL Lac type objects, similar to
Figure 5
.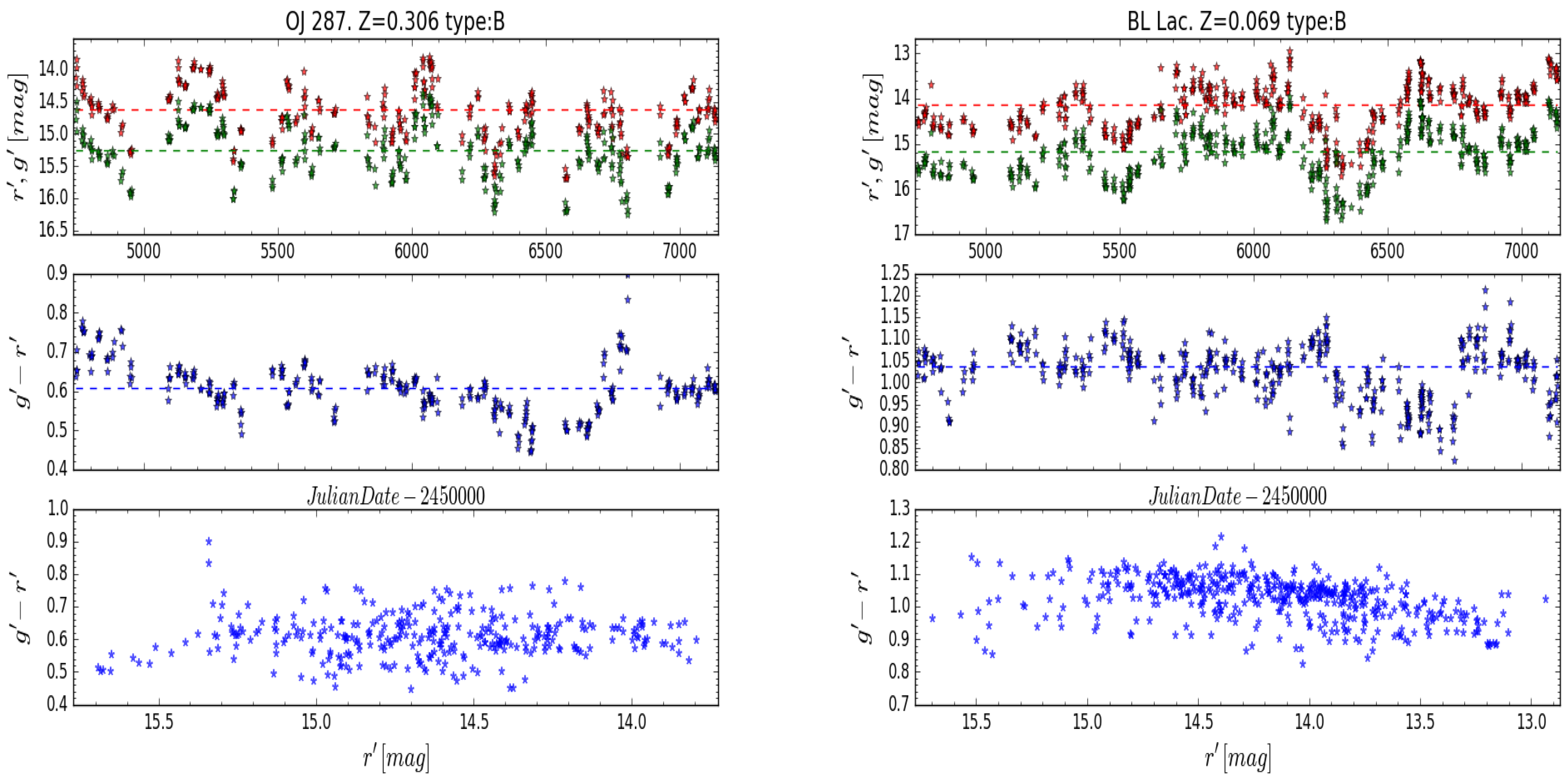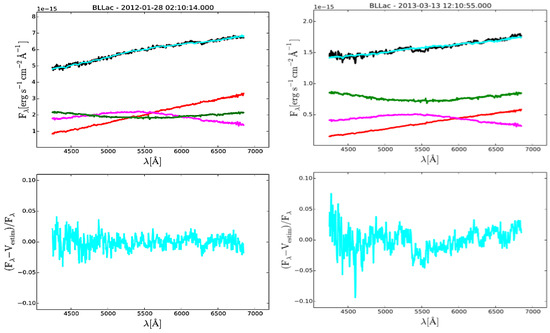 Figure 7. Non-Negative Matrix Factorization (NMF) decomposition of BL Lac spectra. Top panels show the decomposition of an observed spectrum (black), as the sum (cyan) of several components, shown with its corresponding scaling factor (red, magenta and green). Bottom panels show residuals. Right and left panels correspond to low and high flux states, respectively.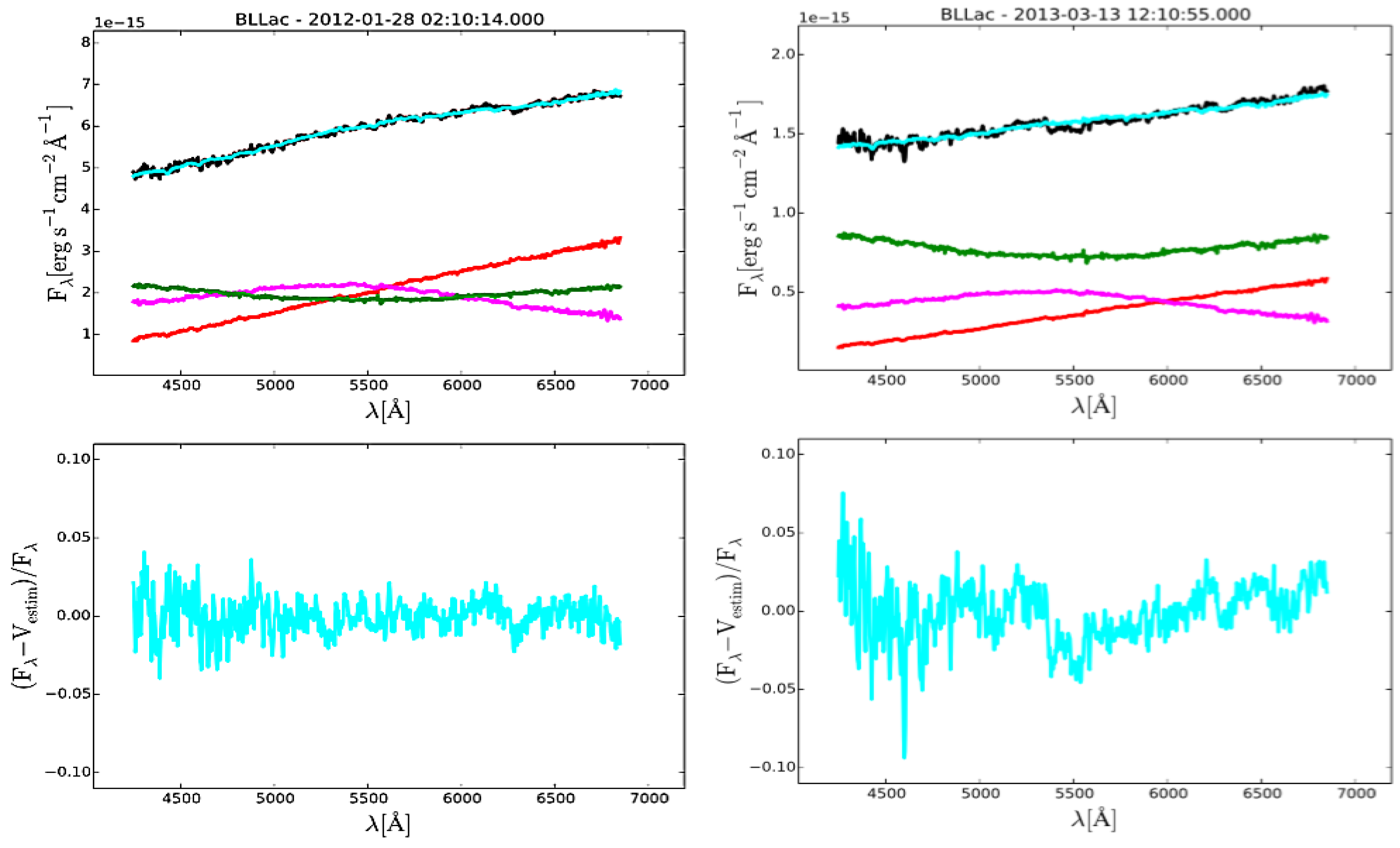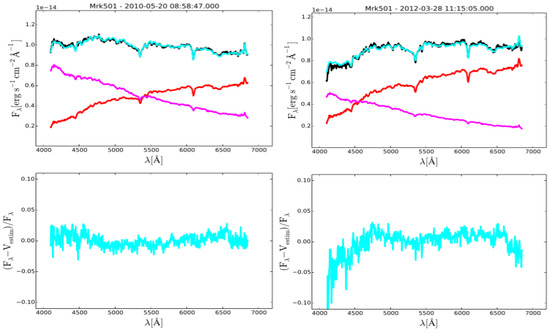 Figure 8.
NMF decomposition of Mrk 501 spectra. Same representation as in
Figure 7
.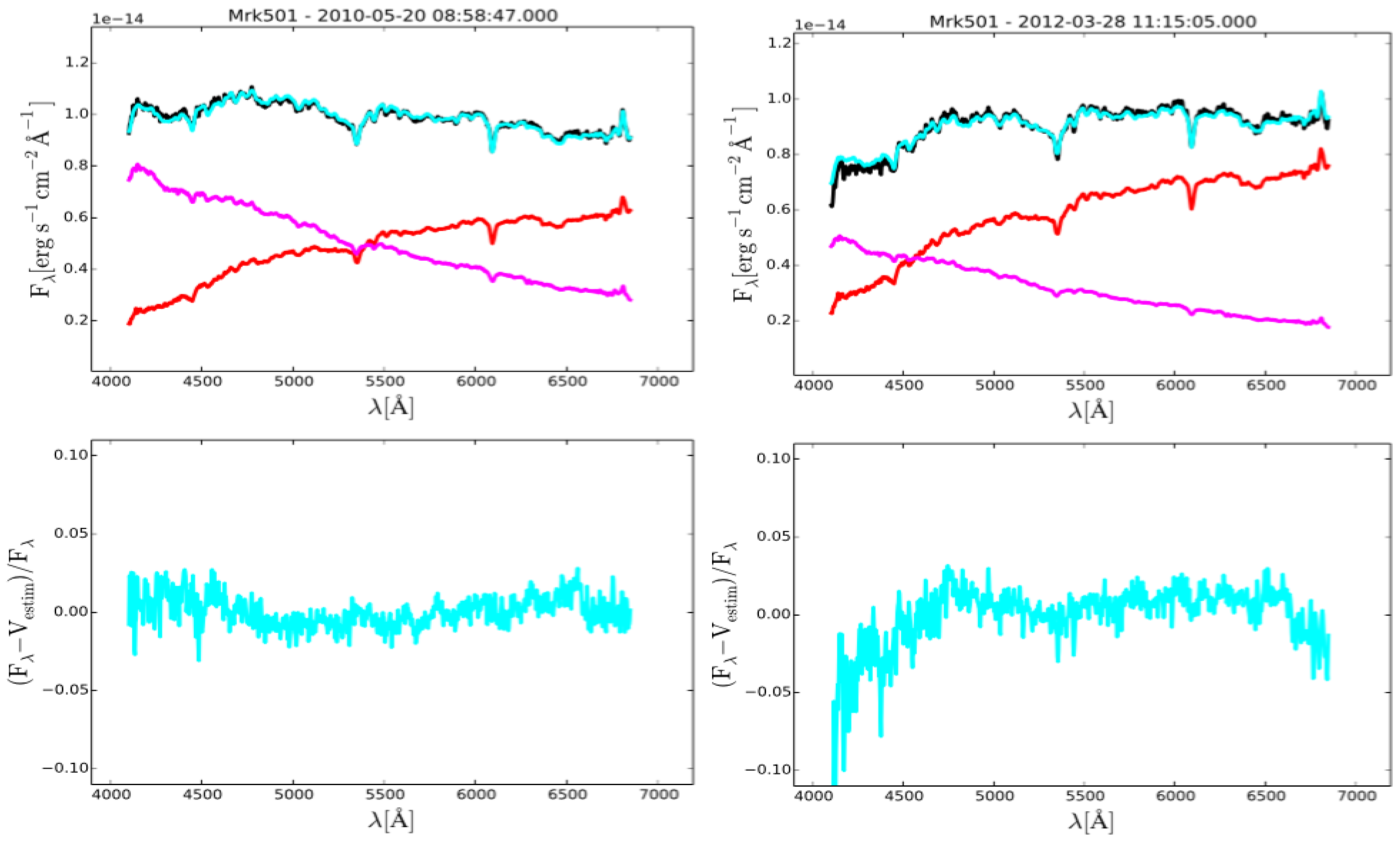 © 2016 by the authors. Licensee MDPI, Basel, Switzerland. This article is an open access article distributed under the terms and conditions of the Creative Commons Attribution (CC BY) license ( http://creativecommons.org/licenses/by/4.0/).