Open Access This article is
freely available
re-usable
Article
The IDO Metabolic Trap Hypothesis for the Etiology of ME/CFS
1
Stanford Genome Technology Center, Stanford University, Palo Alto, CA 94304, USA
2
Departments of Biochemistry and Genetics, Stanford University, Stanford, CA 94305, USA
3
Integrative Bioinformatics Inc., Mountain View, CA 94041, USA
*
Author to whom correspondence should be addressed.
Received: 24 May 2019 / Accepted: 24 July 2019 / Published: 26 July 2019
Abstract
:
Myalgic encephalomyelitis/chronic fatigue syndrome (ME/CFS) is a debilitating noncommunicable disease brandishing an enormous worldwide disease burden with some evidence of inherited genetic risk. Absence of measurable changes in patients' standard blood work has necessitated ad hoc symptom-driven therapies and a dearth of mechanistic hypotheses regarding its etiology and possible cure. A new hypothesis, the indolamine-2,3-dioxygenase (IDO) metabolic trap, was developed and formulated as a mathematical model. The historical occurrence of ME/CFS outbreaks is a singular feature of the disease and implies that any predisposing genetic mutation must be common. A database search for common damaging mutations in human enzymes produces 208 hits, including IDO2 with four such mutations. Non-functional IDO2, combined with well-established substrate inhibition of IDO1 and kinetic asymmetry of the large neutral amino acid transporter, LAT1, yielded a mathematical model of tryptophan metabolism that displays both physiological and pathological steady-states. Escape from the pathological one requires an exogenous perturbation. This model also identifies a critical point in cytosolic tryptophan abundance beyond which descent into the pathological steady-state is inevitable. If, however, means can be discovered to return cytosolic tryptophan below the critical point, return to the normal physiological steady-state is assured. Testing this hypothesis for any cell type requires only labelled tryptophan, a means to measure cytosolic tryptophan and kynurenine, and the standard tools of tracer kinetics.
Keywords:
tryptophan metabolism; indoleamine-2,3-dioxygenase; bistability; kynurenine pathway; substrate inhibition; myalgic encephalomyelitis; chronic fatigue syndrome; mathematical model; critical point
Author Contributions
Conceptualization, R.D.P.; methodology, R.D.P.; software, A.A.K.; validation, R.W.D. and A.A.K.; formal analysis, R.D.P. and A.A.K.; investigation, R.D.P. and A.A.K.; resources, R.W.D. and R.D.P.; data curation, A.A.K.; writing—original draft preparation, R.D.P.; writing—review and editing, A.A.K., R.W.D., and R.D.P.; visualization, R.D.P.; supervision, R.D.P. and R.W.D.; project administration, R.D.P.; funding acquisition, R.D.P.
Funding
This research was funded by Open Medicine Foundation, Agoura Hills, CA, USA (EIN# 26-4712664), research grant numbers IDOMT-IB-1 and IDOMT-IB-2, to R.D.P. and Integrative Bioinformatics, Inc. The APC was funded in part by Integrative Bioinformatics, Inc., Mountain View, CA, USA.
Acknowledgments
Genome sequencing data used for bioinformatic analyses described in this publication were contributed by Investigators of the OMF END ME/CFS Project, and are available at
http://endmecfs.stanford.edu/
. The authors thank ME/CFS patients around the world, notably Paolo Maccallini, Mateusz (Matt) Kaczmarek, Jenny TipsforME, Cort Johnson, and other members of Phoenix Rising and S4ME for their insightful blog posts, thoughtful critiques, and public discussion of the IDO metabolic trap. We also thank Whitney Dafoe, Nina Khosla, and Moritz Ernst for their courage, for the inspiration they offer to all of us, and for their parents whose extraordinary generosity has made this work possible. Portions of this work were presented at the March 2019 eMErge International Research Symposium on ME/CFS, in Geelong, VIC, Australia. That presentation won the Day 2 MDPI-sponsored best presentation award.
Conflicts of Interest
The authors declare no conflict of interest. The funders had no role in the design of the study; in the collection, analyses, or interpretation of data; in the writing of the manuscript, or in the decision to publish the results. Disclosure: R.W.D. is on the Scientific Advisory Board of Open Medicine Foundation.
Figure 1. Differences in IDO1 (red) and IDO2 (blue) enzyme kinetics as functions of Trp concentration. Total IDO flux (green) is the sum of the IDO1 and IDO2 fluxes. (a) Wild type situation with IDO1 and IDO2 having comparable Vmax values; (b) Fluxes when IDO2 flux is 90% reduced, for example, by the homozygous common damaging mutation, R248W.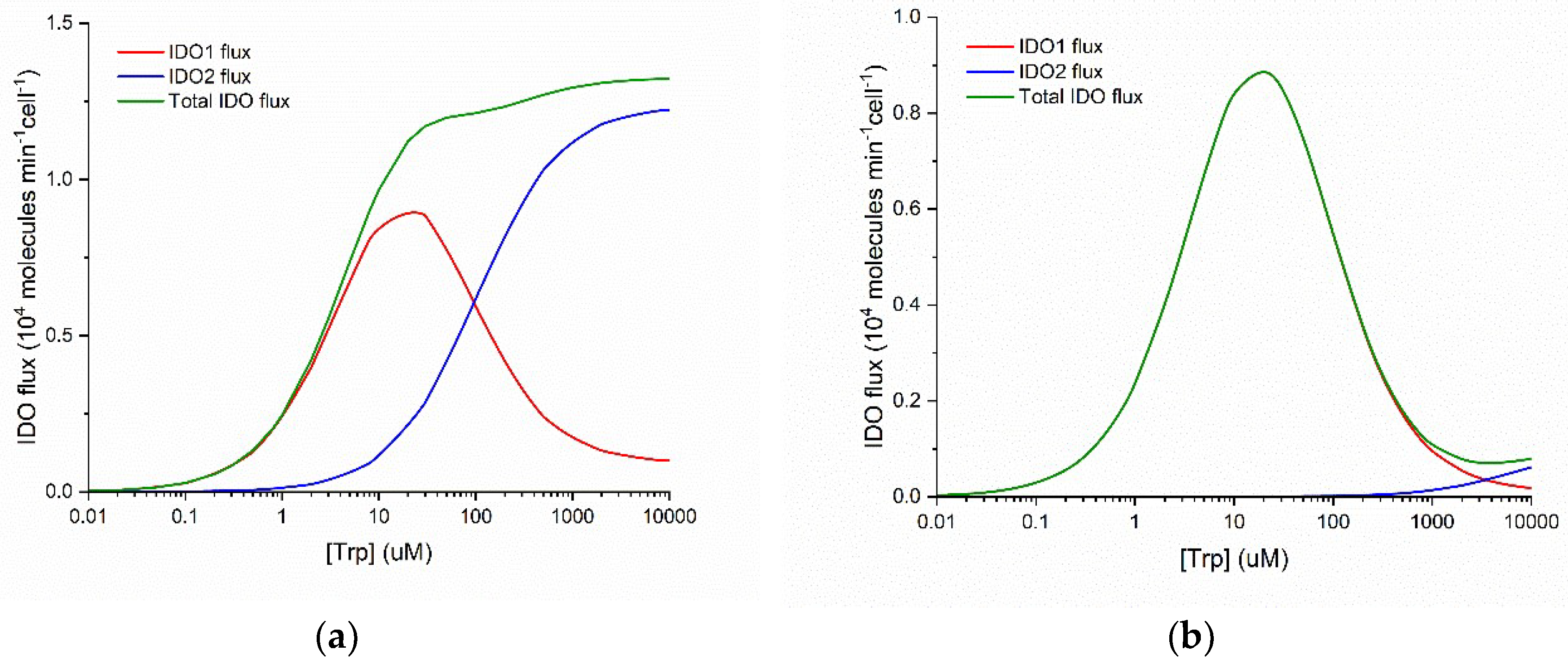 Figure 2. Diagram of the kinetic model of the IDO metabolic trap. Colored rectangles represent molecules in either extracellular space or serotonergic neuron cytosol. Arrows represent processes including transport and biochemical reactions. LAT1 = large neutral amino acid transporter (SLC7A5:SLC3A2), IDO = indoleamine-2,3-dioxygenase, AFMID = arylforamidase, TPH = tryptophan hydroxylase, AADC = aromatic amino acid decarboxylase.
Figure 3. Multiple steady-states in the simplest model of LAT1 tryptophan (Trp) transport and IDO1-mediated Trp oxidation. Horizontal axis: cytosolic Trp abundance. Vertical axis: Fluxes (molecules·min−1·cell−1) cellular Trp influx (blue) carried by the LAT1 membrane transporter, and Trp removal (red) catalyzed by IDO1. Three possible steady-states are defined by the three points (A, B, and C) where the two fluxes are equal. Numerical parameter values are: = 84 molecules·min−1 IDO1·molecule−1, = 208 IDO1 molecules/cell, = 3.4 × 107 molecules/cell, = 2.5 × 108 molecules/cell, = 1.2 × 108 molecules·min−1·cell−1, = 1.5 × 109 molecules/cell, = 3.43, = 2.2 × 1010 molecules/cell, = 2 × 109 molecules/cell, = 5 × 106 molecules/cell, and = 4.3 × 103 molecules/cell.
| Row Label | R248W | Y359STOP | I140V | S252T | N257K |
| --- | --- | --- | --- | --- | --- |
| dbSNP ID | rs10109853 | rs4503083 | rs4736794 | rs35212142 | rs774492001 |
| Allele ref > alt | C > T | T > A | A > G | T > A | C > G |
| exon | 9 | 11 | 5 | 9 | 10 |
| Min pop AF 1 | 0.418 | 0.220 | 0.0746 | 0.0100 | 0.000017 |
| Max pop AF 2 | 0.487 | 0.230 | 0.160 | 0.0390 | 0.000020 |
| SIFT | damaging | nonsense | damaging | damaging | damaging |
| PROVEAN | deleterious | nonsense | neutral | deleterious | deleterious |
| POLYPHEN | probably damaging | nonsense | possibly damaging | probably damaging | probably damaging |
1 minimum alternate allele frequency (expressed as a fraction) reported [28] for any sampled population, 2 maximum alternate allele frequency reported for any sampled population, 3 'damaging" means the enzyme encoded by the mutant protein is either known or predicted to be catalytically impaired.

© 2019 by the authors. Licensee MDPI, Basel, Switzerland. This article is an open access article distributed under the terms and conditions of the Creative Commons Attribution (CC BY) license (http://creativecommons.org/licenses/by/4.0/).