Multilinear EigenECGs and FisherECGs for Individual Identification from Information Obtained by an Electrocardiogram Sensor
Department of Control and Instrumentation Engineering, Chosun University, Gwangju 61452, Korea
*
Author to whom correspondence should be addressed.
Received: 11 September 2018 / Revised: 28 September 2018 / Accepted: 10 October 2018 / Published: 12 October 2018
Abstract
In this study, we present a third-order tensor-based multilinear eigenECG (MEECG) and multilinear Fisher ECG (MFECG) for individual identification based on the information obtained by an electrocardiogram (ECG) sensor. MEECG and MFECG are based on multilinear principal component analysis (MPCA) and multilinear linear discriminant analysis (MLDA) in the field of multilinear subspace learning (MSL), respectively. MSL directly extracts features without the vectorization of input data, while MSL extracts features without vectorizing the input data while maintaining most of the correlations shown in the original structure. In contrast with unsupervised linear subspace learning (LSL) techniques such as PCA (Principal Component Analysis) and LDA (Linear Discriminant Analysis), it is less susceptible to small-data problems because it learns more compact and potentially useful representations, and it can efficiently handle large tensors. Here, the third-order tensor is formed by reordering the one-dimensional ECG signal into a two-dimensional matrix, considering the time frame. The MSL consists of four steps. The first step is preprocessing, in which input samples are centered. The second step is initialization, in which eigen decomposition is performed and the most significant eigenvectors are selected. The third step is local optimization, in which input data is applied by eigenvectors from the second step, and new eigenvectors are calculated using the applied input data. The final step is projection, in which the resultant feature tensors after projection are obtained. The experiments are performed on two databases for performance evaluation. The Physikalisch-Technische Bundesanstalt (PTB)-ECG is a well-known database, and Chosun University (CU)-ECG is directly built for this study using the developed ECG sensor. The experimental results revealed that the tensor-based MEECG and MFECG showed good identification performance in comparison to PCA and LDA of LSL.
View Full-Text
►

▼

Figures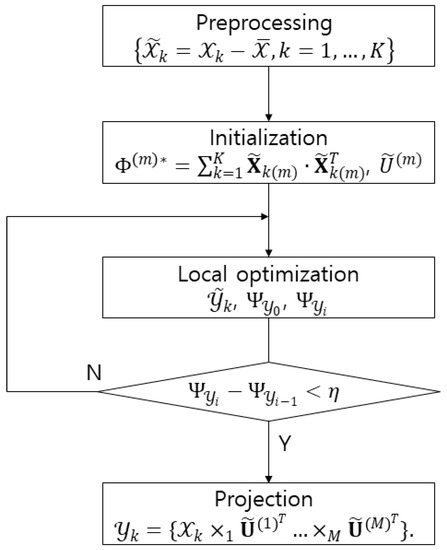 Figure 1
This is an open access article distributed under the
Creative Commons Attribution License
which permits unrestricted use, distribution, and reproduction in any medium, provided the original work is properly cited (CC BY 4.0).

Share & Cite This Article
MDPI and ACS Style
Byeon, Y.-H.; Lee, J.-N.; Pan, S.-B.; Kwak, K.-C. Multilinear EigenECGs and FisherECGs for Individual Identification from Information Obtained by an Electrocardiogram Sensor. Symmetry 2018, 10, 487.
Note that from the first issue of 2016, MDPI journals use article numbers instead of page numbers. See further details here.
Related Articles
Comments
[Return to top]