Open Access This article is
freely available
re-usable
Review
Human Specific Regulation of the Telomerase Reverse Transcriptase Gene
Department of Pharmaceutical Sciences, Washington State University College of Pharmacy, PO Box 1495, Spokane, WA 99210, USA
*
Author to whom correspondence should be addressed.
Academic Editor: Gabriele Saretzki
Received: 17 May 2016 / Accepted: 17 June 2016 / Published: 28 June 2016
Abstract
:
Telomerase, regulated primarily by the transcription of its catalytic subunit telomerase reverse transcriptase (TERT), is critical for controlling cell proliferation and tissue homeostasis by maintaining telomere length. Although there is a high conservation between human and mouse TERT genes, the regulation of their transcription is significantly different in these two species. Whereas mTERT expression is widely detected in adult mice, hTERT is expressed at extremely low levels in most adult human tissues and cells. As a result, mice do not exhibit telomere-mediated replicative aging, but telomere shortening is a critical factor of human aging and its stabilization is essential for cancer development in humans. The chromatin environment and epigenetic modifications of the hTERT locus, the binding of transcriptional factors to its promoter, and recruitment of nucleosome modifying complexes all play essential roles in restricting its transcription in different cell types. In this review, we will discuss recent progress in understanding the molecular mechanisms of TERT regulation in human and mouse tissues and cells, and during cancer development.
Keywords:
telomerase; TERT; transcriptional regulator; chromatin; cancer
2. Regulation of TERT Genes
hTERT is a limiting subunit of telomerase in most human tissues. Whereas TERC RNA and other telomerase-associated proteins are expressed in most cell types, hTERT expression is highly regulated and its expression correlated with telomerase activity in many cell types. Studies have indicated that hTERT transcription is the primary step of telomerase regulation [
14
]. hTERT transcriptional regulation is a complex process that involves both binding of transcription factors, such as Sp1 and c-Myc, to the promoter [
15
,
16
,
17
] and epigenetic mechanisms that regulate chromatin environment of the hTERT locus [
17
].
hTERT expression is stringently regulated in most adult somatic tissues. It was previously shown that the hTERT gene was embedded in a condensed chromatin domain in many somatic cells [
18
]. This result was correlated well with more recent data from genome-wide chromatin immunoprecipation (ChIP) and high through-put DNA sequencing published at the UCSC genome browser, which shows that this entire region is enriched for repressive histone markers, including H3K9me3 and H3K27me3, but extremely low for H3K36me3, which is correlated with active transcription, in many cells. Consistently, most tissues and organs express no or very low levels of hTERT mRNA (
Figure 1
). However, there are several exceptions [
6
,
7
]. For example, thymus contains the highest level of hTERT mRNA among all human adult tissues, indicating that the hTERT gene is highly expressed in immature T cells. hTERT mRNA is also detectable in ovary, testis, bone marrow, and skin, all of which contain multipotent adult stem cells and/or germline cells. On the other hand, moderate to high levels of mTERT mRNA were found in all tissues and organs, with the exception of heart and skeletal muscle.
One of the bottlenecks in the study of hTERT gene regulation is that the transiently transfected hTERT promoter reporters often do not recapitulate the regulation of endogenous promoter in host cells. For example, transient reporters of the hTERT promoter were similarly active in both telomerase-positive and negative cells [
19
,
20
]. This technical issue was overcome by using a chromosomally integrated BAC reporter, which contained a 160-kb human genomic sequence encompassing three consecutive loci, CRR9 (also known as CLPTM1L), hTERT, and Xtrp2 (SLC6A18) (
Figure 2
A) [
21
]. The hTERT promoter in this chromosomal reporter was highly active in pluripotent stem cells and silenced upon differentiation into osteogenic cells [
21
]. A transgenic mouse line Tg (hTERT-Rluc) was created using this BAC reporter (117B23-tR) [
7
]. In the mouse lines, the level of reporter luciferase mRNA, transcribed from the transgenic hTERT promoter, was the highest in thymus and detectable in testis, ovary, and skin, but negligible in other mouse tissues. This expression profile was identical to that of hTERT mRNA in human tissues, but significantly different from endogenous mTERT expression, which was readily detected in most tissues. Together, these data demonstrated that mouse cells contained the trans-acting factors and epigenetic machineries required for the developmental regulation of hTERT gene.
3. Genomic Sequences Underlining the Differential Regulation of hTERT and mTERT Genes
The lack of somatic hTERT expression, compared to those of mTERT, are most likely resulted from its much stronger repression—in human cells, owing to the genomic sequences of the hTERT locus. Indeed, while ectopic hTERT expression is sufficient for the immortalization of many human cell types [
22
], spontaneous immortalization of human cells occurs extremely rarely, indicating that the repression of hTERT gene is remarkably stringent and stable. On the other hand, it has been known for decades that mouse cells undergo spontaneous immortalization in culture at much higher frequencies than normal human cells. Consequently, mouse cells are much easier to immortalize and transform due to their longer telomere and telomerase expression [
9
]. Yet, the molecular mechanisms and genomic sequences that underline this stringent repression in human cells remain to be elucidated.
The order of TERT and its neighboring loci, upstream gene CRR9 and downstream Xtrp gene, is the same in human and mice (
Figure 2
A). The intergenic sequence between CRR9 and hTERT is 23 kb and 6 kb in human and mice, respectively. There are multiple Alu elements and other human-specific repetitive sequences within the 5′ intergenic region and introns of the hTERT locus [
23
]. In most cells examined, the chromatin of entire hTERT genomic region, from 5′ intergenic region to the downstream Xtrp2 locus, were highly resistant to nuclease-digestion, compared to the corresponding regions of the mTERT locus, indicating that the hTERT gene was embedded in a condensed chromatin domain [
18
]. There data were consistent with the more recent data of ChIP and high through-put DNA sequencing. hTERT gene region is enriched for repressive histone marker H3K27me3, but extremely low for active marker H3K9ac in K562 cells (
Figure 2
A) (data from UCSC genome bioinformatics, genome.ucsc.edu). Unlike hTERT promoter, mTERT promoter activity is less dependent on its surrounding chromatin structure. Transfected mTERT promoter was downregulated during cell differentiation [
23
]. Furthermore, the expression profile of transgenic BAC reporter 117B23-tR, recapitulated the endogenous hTERT gene in human tissues [
7
], indicating the cis-acting regulatory elements mediated hTERT repression in normal cells. Wilson et al. also demonstrated that the genetic sequence of hTERT locus played a more important role in regulating hTERT expression than the transcription factors and epigenetic modifications [
24
]. The interspecies differences of genetic sequences and genomic environments around hTERT and mTERT loci are likely critical to the regulatory modes of hTERT and mTERT genes.
Taken together, the interspecies difference of TERT regulation resulting from divergent chromatin environment of hTERT and mTERT loci likely contributes to different telomere length regulation in human and mice. Although primary functions of the TERT protein are evolutionarily conserved, the differential telomerase regulation and telomere length between human and mice have profound impact on the uses of laboratory mice as models of human aging and diseases.
4. Transcriptional Regulation of hTERT Promoter
While chromatin environment and epigenetic regulation control hTERT regulation during development and cell differentiation, hTERT transcription is also regulated by binding of transcription factors (TFs) to its promoter. The hTERT promoter contains abundant potential TF binding sites and these sites may play important roles in hTERT transcription in response to changes of physiological conditions and during tumorigenesis. Several sequence-specific transcriptional factors have been identified to bind directly to the hTERT promoter, like c-Myc, USFs, Sp1, Ets, E2F1, AP-1 and ER (
Figure 2
B) [
2
,
25
]. Most of TF binding motifs are conserved between human and mouse TERT core promoters (
Figure 2
B).
5. Single Nucleotide Polymorphisms (SNPs) at the hTERT Locus
Genome-wide association studies revealed that SNP sites at the chromosomal region 5p15.33, where hTERT gene located, were associated with increasing cancer risks [
68
]. SNPs within the hTERT locus have been found to associate with increased risks of a variety of cancer types. One SNP, rs2736098, which locates in the exon 2 of hTERT, increased the risk for lung cancer in Asian people [
69
,
70
,
71
]. Another SNP in intron 2, rs2736100, was associated with various types of cancer, like colorectal cancer and glioma [
72
,
73
,
74
]. rs2736100 was also found to associate with longer telomeres in peripheral white blood cells in lung cancer patients [
75
]. Fine mapping on 5p15.33 revealed four independent sites in this locus suspiciously leading to prostate cancer [
76
]. One variant rs2853669 within a DNase I hypersensitivity region of hTERT promoter linked to multiple cancers [
77
,
78
]. This SNP decreased E2F1 binding to its consensus motifs and increased recurrence risks of liver cancer [
33
]. In addition, SNP rs2736108 in the promoter was predicted to be associated with longer telomeres by analyzing about 480 SNPs at the TERT locus in ovary and breast cancer cell [
68
].
6. Chromosomal Rearrangement at the hTERT Locus
In addition to point mutations, chromosomal rearrangement and amplification involving the hTERT locus have been discovered in immortal cells and cancer cells. In our studies, the chromosomal breakage points have been mapped to the upstream regions of hTERT promoter in telomerase positive immortal cells but not in the telomerase negative cells and their parent cells [
89
]. The levels of hTERT mRNA were found to be correlated inversely with the distance between the breakage points and the promoter, but not with copy numbers of the hTERT gene. This result suggested that disruption of chromatin environment of the hTERT promoter was a primary cause of hTERT activation. Another study indicated that hTERT, but not its neighboring genes SLC6A18 and SLC6A19, was affected during chromosomal relocalization in neuroblastomas [
90
]. hTERT rearrangement may be a critical step in cancer development. Thirty-one percent, 12 out of 39 cases, of the high-risk neuroblastoma group contained chromosomal rearrangements at 5p15.33, where hTERT located [
91
]. These chromosomal rearrangements were associated with upregulated hTERT transcription in neuroblastoma [
90
]. The ChIP data revealed that active epigenetic marks H3K4me3 and H3K27ac at hTERT promoter were elevated in the hTERT-rearranged tumors comparing to those with no rearrangements [
91
].
7. Conclusions
hTERT expression strictly limits telomerase activation in most of somatic cells, whereas mTERT expression is detectable in most of mouse tissue cells. The interspecies differences between human and mice suggest an improved mouse line, in which both telomerase regulation and telomere length controls are humanized, would considerably benefit the studies of human aging and cancer using mouse models.
Acknowledgments
The work in our laboratory was supported by NIH Grant R01GM071725 to Jiyue Zhu.
Conflicts of interest
None of the authors have professional or financial affiliations that could be perceived to bias the presentation of this manuscript.
Figure 1.
TERT mRNA expression in adult tissues in Tg (hTERT-Rluc) transgenic mice and normal human tissues. mTERT and Rluc (
Renilla
luciferase) mRNA levels in (
left
) and (
middle
) are expressed as percentage of those in pluripotent stem cells. (
right
) shows relative levels of hTERT mRNA. The data were normalized to 18S rRNA. * ND, not determined. The data was originally published in [
7
].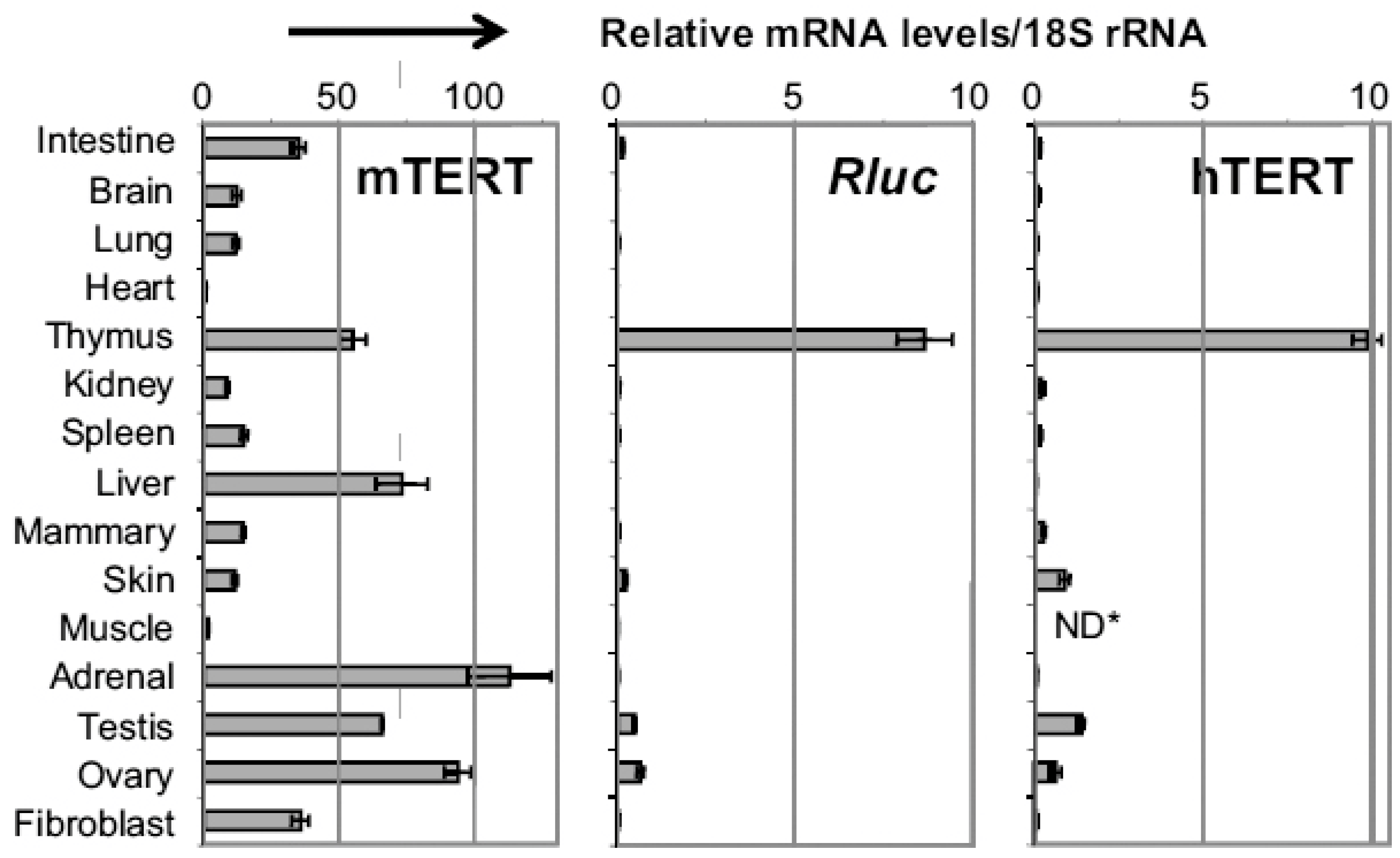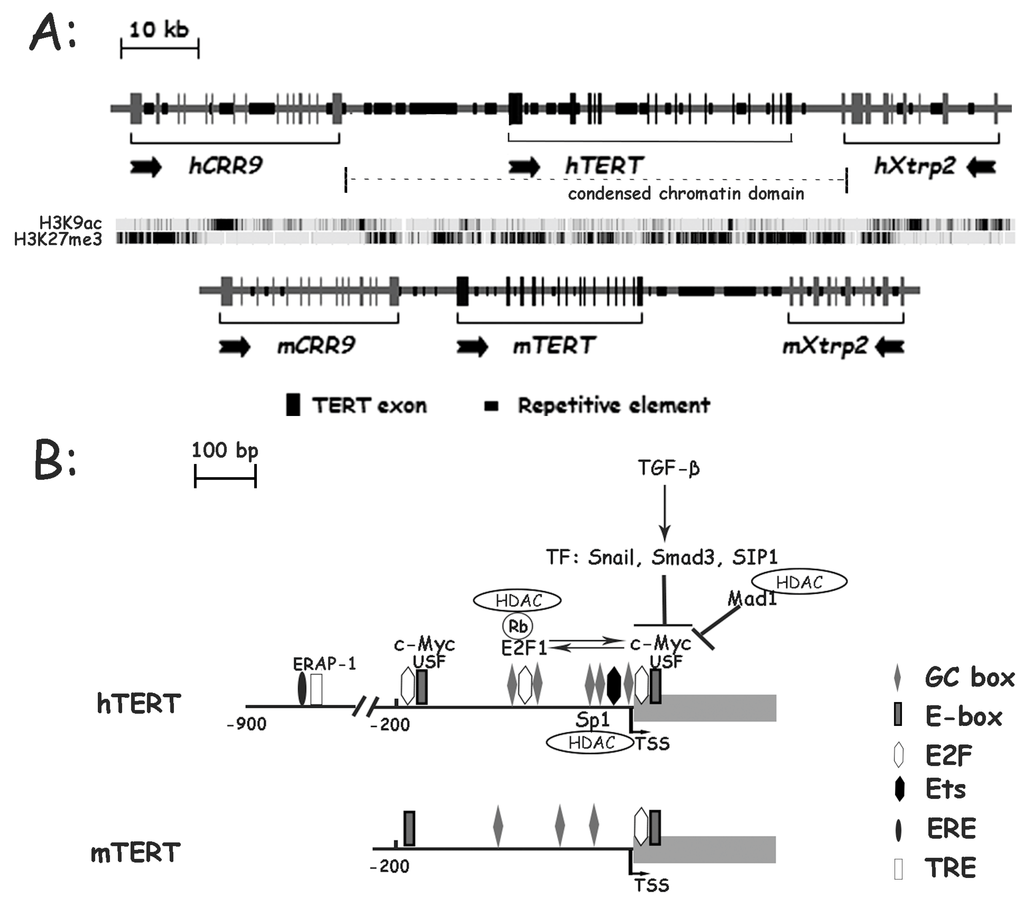 Figure 2. Genomic structures of human and mouse TERT loci. (A) Comparison of genomic region containing TERT and neighboring genes in human and mice. The arrows indicate the transcriptional direction of genes. Multiple Alu elements and other human-specific repetitive sequences locate within the 5′ intergenic region and introns of the hTERT locus. hTERT gene region is enriched with repressive histone marker H3K27me3, but extremely low with active marker H3K9ac in K562 cells (date from UCSC website). The dash line indicates a condensed chromatin domain over the hTERT locus. (B) Protein factors involved in the regulation of hTERT and mTERT core promoters. The arrows indicate the transcriptional start site (TSS) of TERT gene. ERE: estrogen receptor element; TRE: TPA response element.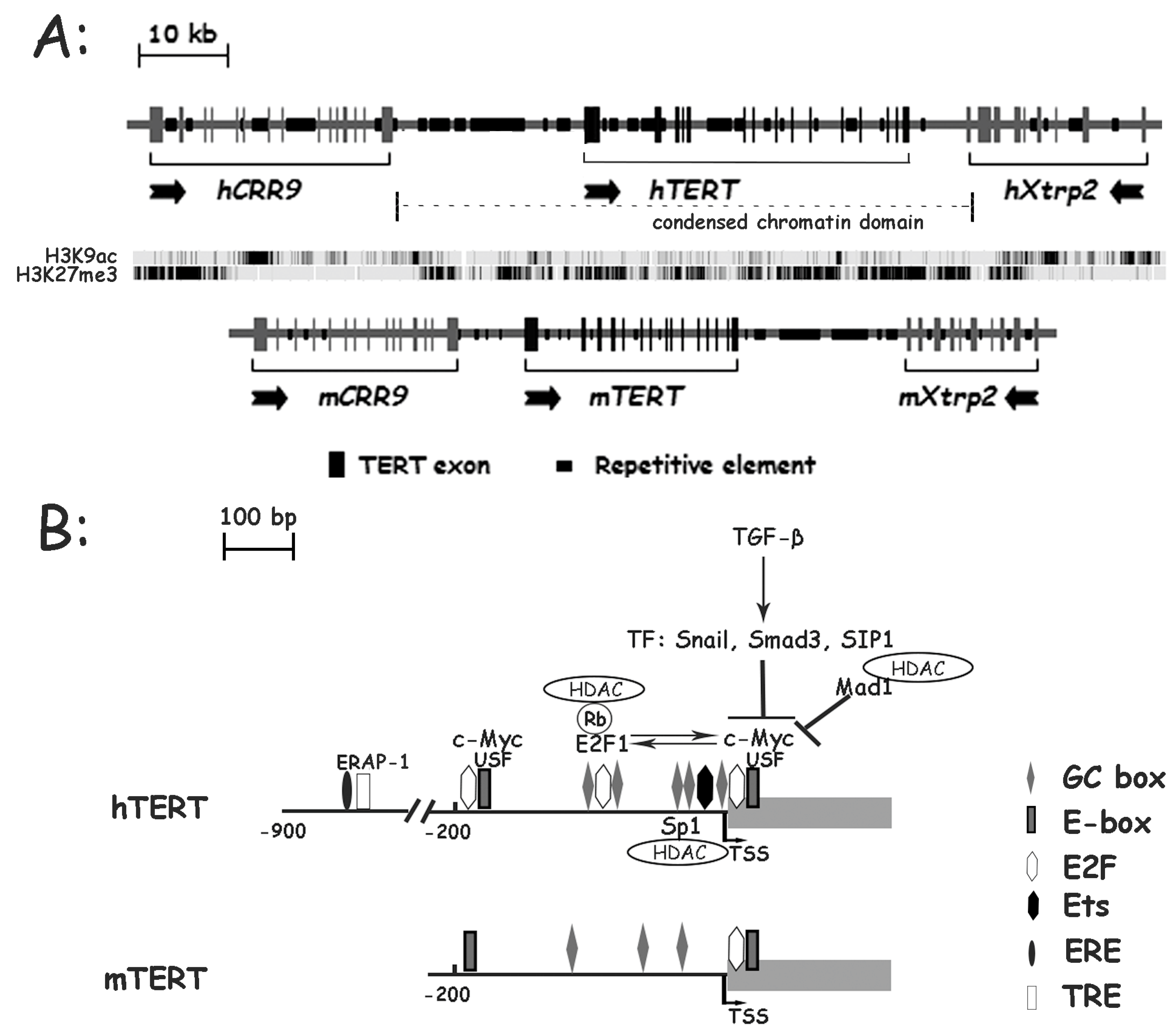 Table 1. Cancer associated mutations and SNPs at the hTERT promoter.
Site
Position (GRCh37)
A1/A2
Cancer risk
References
124(C/T)
1,295,228
C/T
multiple tumors, like melanoma glioblastomas
[59,79,80,81]
146(C/T)
1,295,250
C/T(CC/TT)
rs2853669
1,295,349
T/C
glioblastomas
[77,82,83]
thyroid cancer
[61]
bladder cancer
[78]
clear cell renal cell carcinoma
[84]
hepatocellular carcinoma
[33]
rs2735940
1,296,486
T/C
lung cancer
[85]
childhood acute lymphoblastic leukemia
[86]
rs2736108
1,297,488
C/T
longer telomere
[68]
rs13174814
1,299,859
G/C
endometrial cancer
[87]
rs421629
1,320,136
C/T
lung cancer
[88]
© 2016 by the authors; licensee MDPI, Basel, Switzerland. This article is an open access article distributed under the terms and conditions of the Creative Commons Attribution (CC-BY) license (http://creativecommons.org/licenses/by/4.0/).