Open Access This article is
freely available
re-usable
Article
miR2Diabetes: A Literature-Curated Database of microRNA Expression Patterns, in Diabetic Microvascular Complications
1
College of Medicine, Gachon University, Incheon 21565, Korea
2
Gachon Institute of Genome Medicine and Science, Gachon University Gil Medical Center, Incheon 21565, Korea
3
Department of Health Sciences and Technology, Gachon Advanced Institute for Health Sciences and Technology, Gachon University, Incheon 21565, Korea
4
Department of Internal Medicine, Gachon University Gil Medical Center, Incheon 21565, Korea
5
Department of Internal Medicine, Gachon University School of Medicine, Incheon 21565, Korea
6
Department of Life Sciences, Gachon University, Seongnam 13120, Korea
*
Authors to whom correspondence should be addressed.
Received: 2 September 2019 / Accepted: 3 October 2019 / Published: 9 October 2019
Abstract
:
microRNAs (miRNAs) have been established as critical regulators of the pathogenesis of diabetes mellitus (DM), and diabetes microvascular complications (DMCs). However, manually curated databases for miRNAs, and DM (including DMCs) association studies, have yet to be established. Here, we constructed a user-friendly database, "miR2Diabetes," equipped with a graphical web interface for simple browsing or searching manually curated annotations. The annotations in our database cover 14 DM and DMC phenotypes, involving 156 miRNAs, by browsing diverse sample origins (e.g., blood, kidney, liver, and other tissues). Additionally, we provide miRNA annotations for disease-model organisms (including rats and mice), of DM and DMCs, for the purpose of improving knowledge of the biological complexity of these pathologies. We assert that our database will be a comprehensive resource for miRNA biomarker studies, as well as for prioritizing miRNAs for functional validation, in DM and DMCs, with likely extension to other diseases.
Keywords:
miRNA; diabetes mellitus; diabetic microvascular complications; databases
Author Contributions
Conceptualization, D.H.L. and S.N.; Data curation, S.P.; Formal analysis, S.P.; Funding acquisition, D.H.L. and S.N.; Investigation, S.M., K.L. and I.B.P.; Methodology, S.P.; Resources, S.P.; Software, S.P.; Supervision, D.H.L. and S.N.; Validation, S.M., K.L. and I.B.P.; Visualization, S.P.; Writing–original draft, S.P.; Writing–review & editing, D.H.L. and S.N.
Funding
This study was supported by funding by the Korean Health Technology R&D Project, through the Korean Health Industry Development Institute (KHIDI), funded by the Ministry of Health & Welfare, Korea (HI16C1997) (to D.H.L., and S.N.).
Acknowledgments
The authors thank Curt Balch for editing the manuscript, and SN's lab technician, Jinju Song, for constructing the web interface.
Conflicts of Interest
The authors declare no conflict of interest.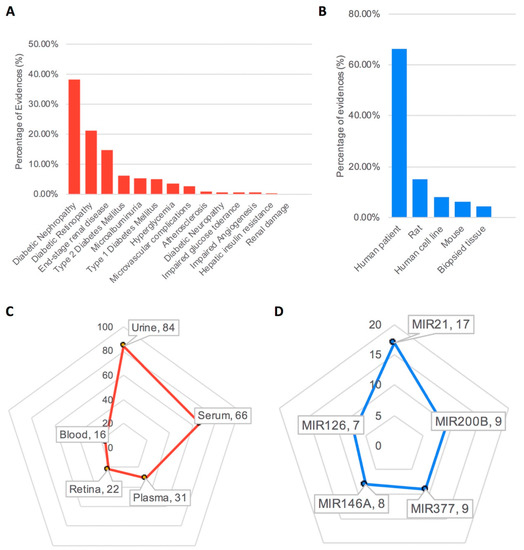 Figure 1. miR2Diabetes statistics. (A) Percentages of publication evidence contained in miR2Diabetes related to certain diabetic microvascular complications. (B) Percentages of miR2Diabetes publications related to specific organisms/tissues. (C) A pie chart of the top 5 experimental samples connected to miRNA dysregulation observations. (D) A pie chart of the top 5 miRNAs contained in our database.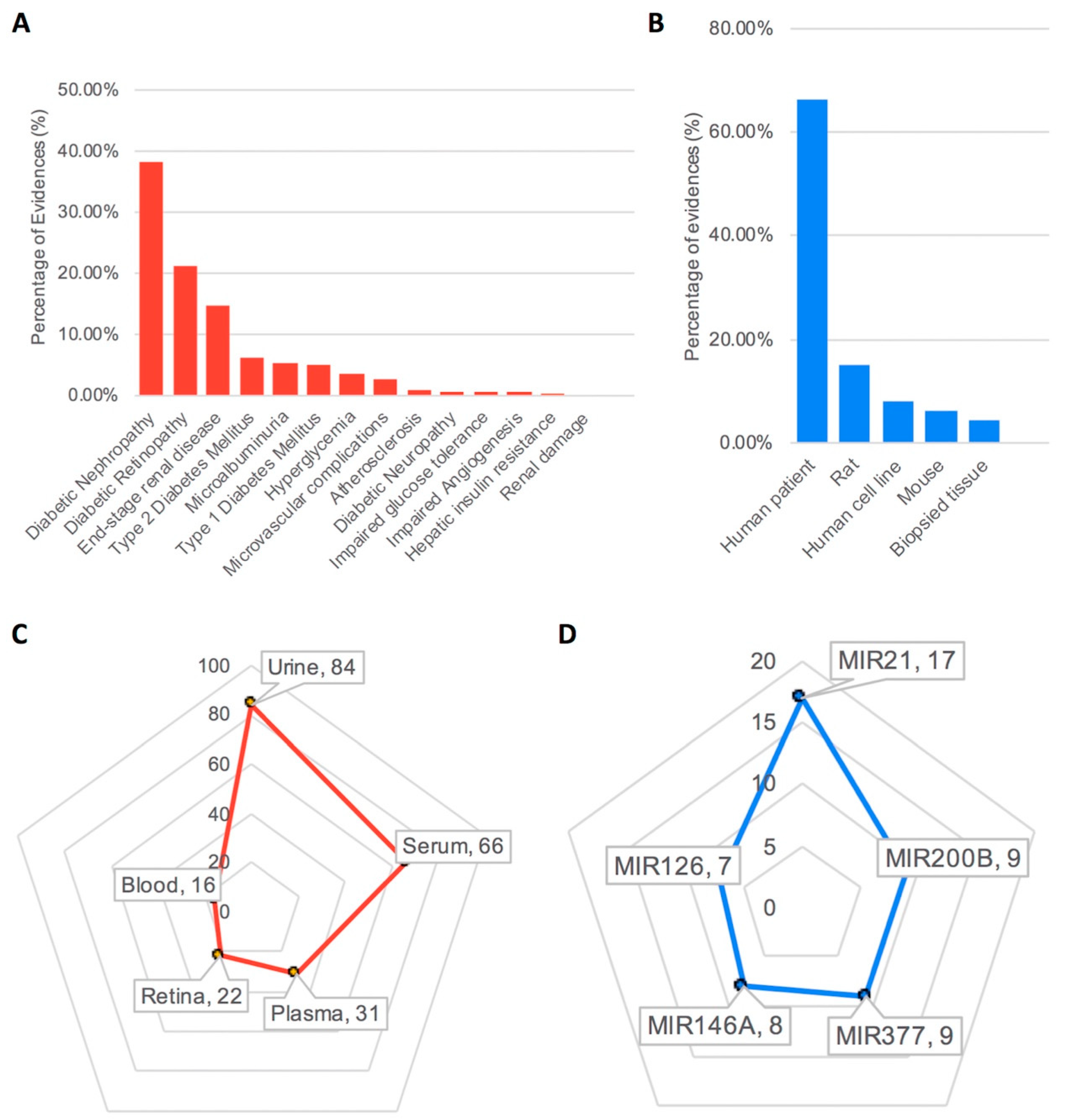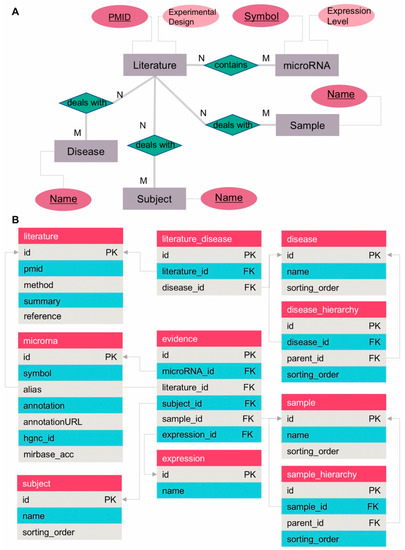 Figure 2.
Our database model diagrams. (
A
) An entity relationship (ER) model diagram of miR2Diabetes, using the notation of Chen [
23
]. Gray squares represent entities and dark green diamond shapes are relationships. An ellipse shape is an attribute, divided such that a dark pink ellipse shape is a key attribute, and a pink ellipse shape is an important attribute to handle. (
B
) A table-like model diagram of miR2Diabetes. A dark pink square represents a table name. Gray and cyan squares are fields of a table. PK means a primary key of its table and FK means a foreign key to another table (indicated by arrows). Detailed definitions of our table-like model are downloadable from the miR2Diabetes website [
22
].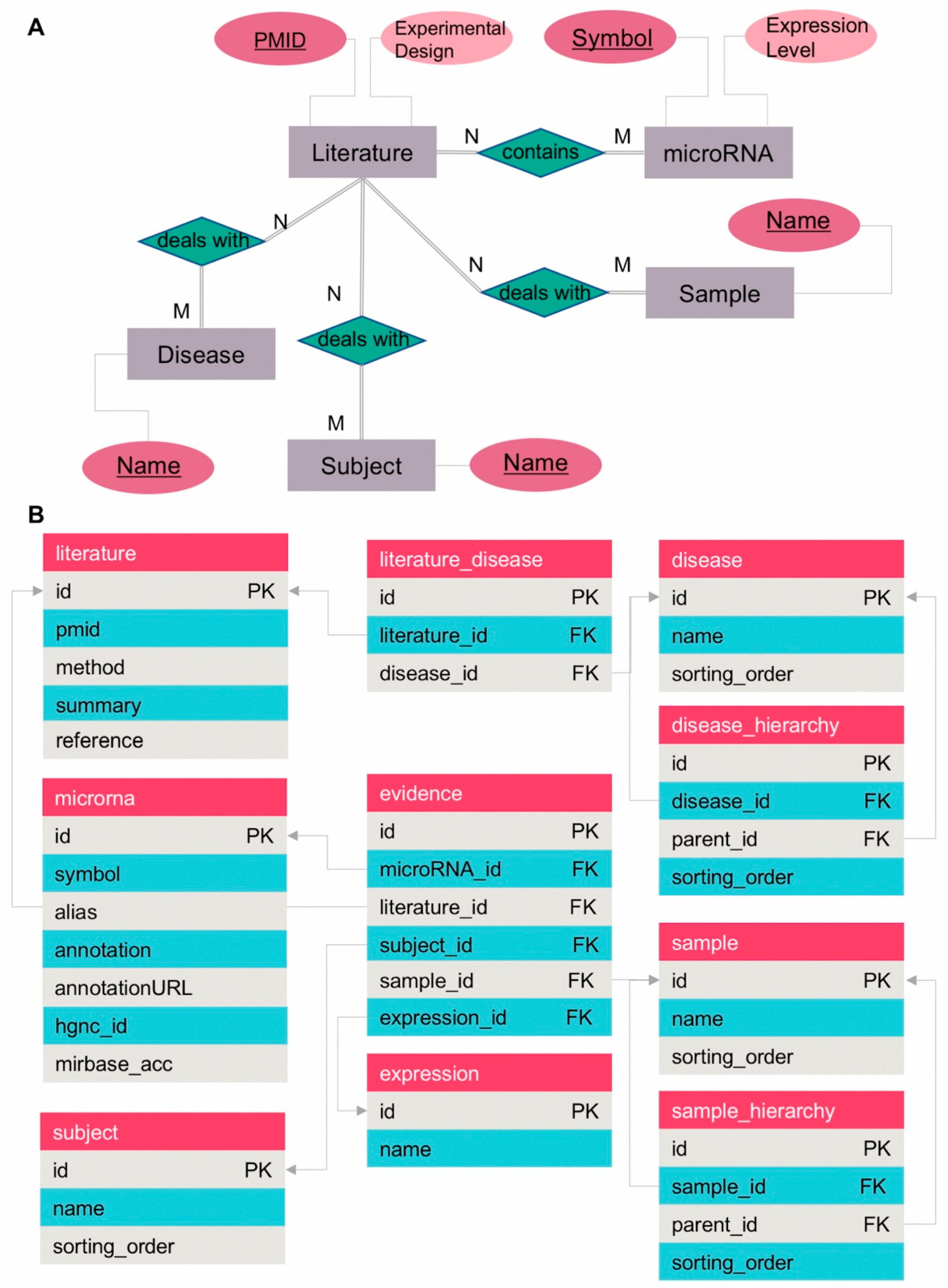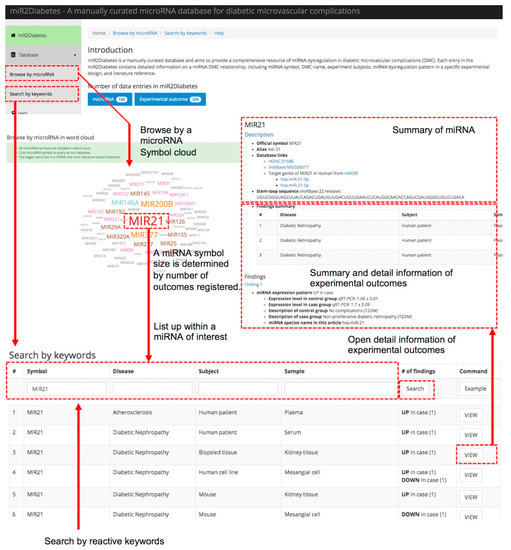 Figure 3. Schematic workflow of the miR2Diabetes database. As shown, the user may browse by microRNA names or by keywords. Selection of specific microRNAs (with word sizes based on publication occurrences) provides a summary of specific study outcomes and other detailed information. Filters provided include miRNA, disease, subject, type of tissue sample, and up- vs. down-regulation.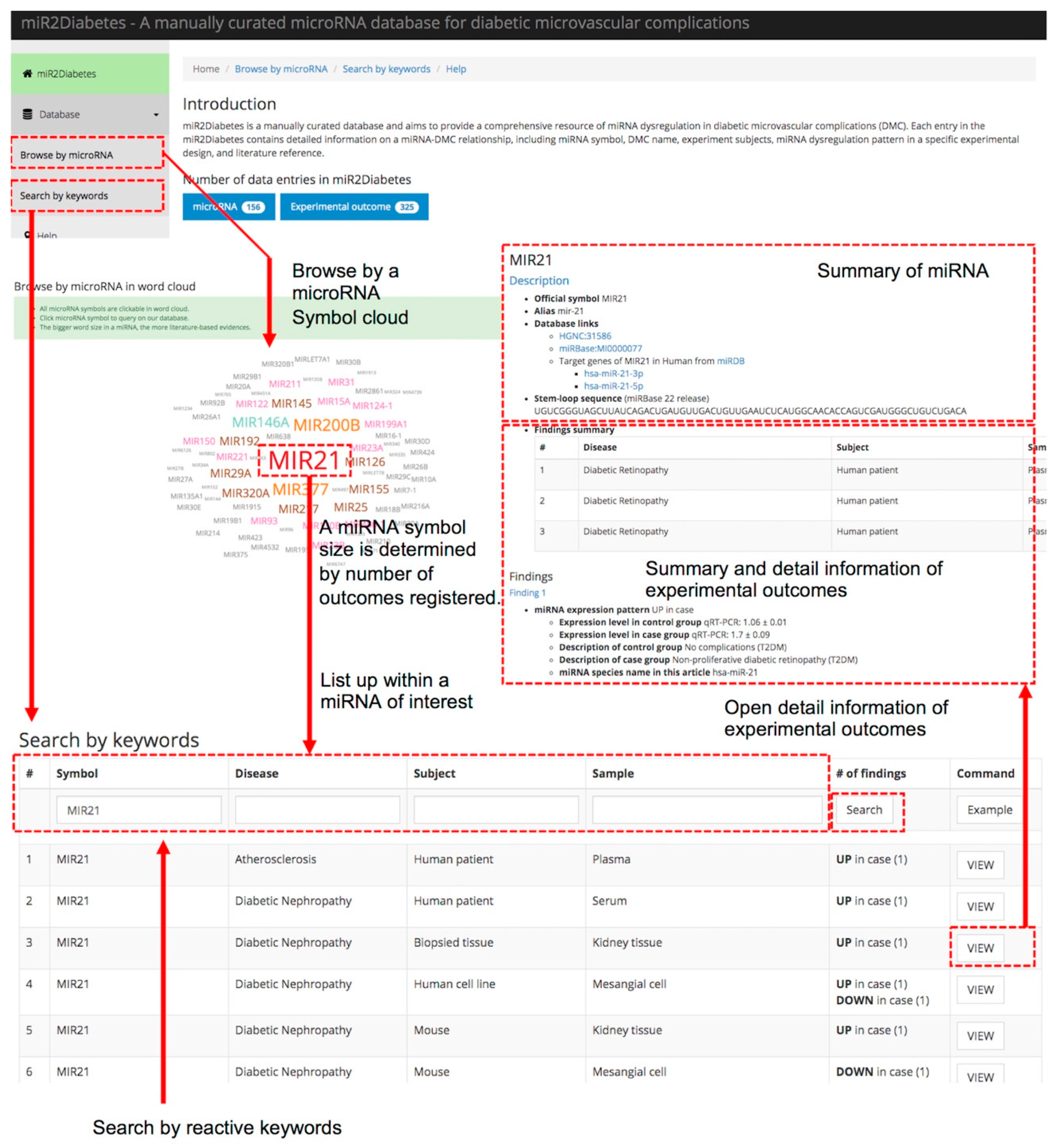 © 2019 by the authors. Licensee MDPI, Basel, Switzerland. This article is an open access article distributed under the terms and conditions of the Creative Commons Attribution (CC BY) license (http://creativecommons.org/licenses/by/4.0/).