Open Access This article is
freely available
re-usable
Review
Plant Desiccation Tolerance and its Regulation in the Foliage of Resurrection "Flowering-Plant" Species
1
School of Biological Sciences, Monash University, Clayton, Victoria 3800, Australia
2
Plant Science, Rothamsted Research, Harpenden, Hertfordshire AL5 2JQ, UK
3
Centre for Regional and Rural Futures, Faculty of Science Engineering & Built Environment, Deakin University, Geelong, Victoria 3217, Australia
*
Author to whom correspondence should be addressed.
Received: 29 June 2018 / Accepted: 9 August 2018 / Published: 14 August 2018
Abstract
:
The majority of flowering-plant species can survive complete air-dryness in their seed and/or pollen. Relatively few species ('resurrection plants') express this desiccation tolerance in their foliage. Knowledge of the regulation of desiccation tolerance in resurrection plant foliage is reviewed. Elucidation of the regulatory mechanism in resurrection grasses may lead to identification of genes that can improve stress tolerance and yield of major crop species. Well-hydrated leaves of resurrection plants are desiccation-sensitive and the leaves become desiccation tolerant as they are drying. Such drought-induction of desiccation tolerance involves changes in gene-expression causing extensive changes in the complement of proteins and the transition to a highly-stable quiescent state lasting months to years. These changes in gene-expression are regulated by several interacting phytohormones, of which drought-induced abscisic acid (ABA) is particularly important in some species. Treatment with only ABA induces desiccation tolerance in vegetative tissue of
Borya constricta
Churchill. and
Craterostigma plantagineum
Hochstetter. but not in the resurrection grass
Sporobolus stapfianus
Gandoger. Suppression of drought-induced senescence is also important for survival of drying. Further research is needed on the triggering of the induction of desiccation tolerance, on the transition between phases of protein synthesis and on the role of the phytohormone, strigolactone and other potential xylem-messengers during drying and rehydration.
Keywords:
abscisic acid (ABA); acetate; CLAVATA3/Embryo-surrounding region-related 25 (CLE25) peptide; desiccation-tolerant foliage; gene expression; phytohormones; protein complement; resurrection grass;
Sporobolus stapfianus
; strigolactone
1. Introduction
The ability of leaves to survive dehydration below 5% relative water content is found in a very small proportion of angiosperm species. In most such 'resurrection' species, desiccation tolerance is induced in them in the early stage of drying by the drought stress itself [
1
]. The occurrence of desiccation tolerance in the foliage of 39 species of grasses (
Table 1
) is of particular interest in view of the importance of the family Poaceae for agriculture and grazing. (See
https://www.youtube.com/watch?v=tGg-_tOiUvA
for a summary, including time-lapse video, of resurrection plants reviving).
The mechanisms for implementing desiccation tolerance (constitutive stability, protection, and repair) have often been reviewed [
10
,
11
,
12
,
13
,
14
,
15
]. In addition, stability of extraplastidic lipids is achieved in the resurrection gesneriad
Paraisometrum mileense
W.T. Wang by maintaining low levels of phospholipase D throughout drying and rehydration [
16
]. This review focuses on the regulation of drought-induced desiccation tolerance, with particular focus on the resurrection grass
S. stapfianus
.
Angiosperm species with desiccation-tolerant foliage emerged in largely unrelated families and they do not form a sequence from early-evolved families to late-evolved families. Desiccation-tolerant foliage has not been observed in the large early-evolved angiosperm families, such as Ranunculaceae and Proteaceae, nor in the earlier groups, the cycads and other gymnosperms. Desiccation-tolerant foliage in the angiosperms did not begin in the foliage of early spermatophytes and then progress through continuous lines of related angiosperm families. In the large grass genera
Eragrostis
and
Sporobolus
only a small proportion of the species are resurrection grasses. Desiccation-tolerant foliage appears to have originated late in the evolution of these genera and in the family [
10
].
2. Single Basic Mechanism of Desiccation Tolerance in Seed, Pollen and Resurrection Foliage
The small proportion of species with desiccation-tolerant foliage in the angiosperms contrasts markedly with the 95% of angiosperm species that have desiccation-tolerant seed and the 87% of spermatophyte species that possess desiccation-tolerant pollen [
10
]. Every angiosperm species in which both seed and pollen have been examined has either desiccation-tolerant seed or desiccation-tolerant pollen. It appears that almost all angiosperm species contain the genetic information for desiccation tolerance, even though it is expressed in the foliage of only a few species. The properties associated with desiccation tolerance are similar in foliage, embryos and pollen [
10
,
17
]. This supports the simplest working hypothesis that a single functional module for the mechanism of desiccation tolerance is expressed in the seed and pollen of most angiosperms, and in the foliage of only resurrection species. That is, the appropriate genes are commonly expressed in the reproductive tissues that in each generation are exposed to drying during aerial dispersal-whereas in most angiosperm species, well-developed mechanisms of drought avoidance protect foliage from dehydrating, largely obviating selective pressure for expression in foliage of the seed/pollen mechanism of desiccation tolerance.
3. Predisposing Factors for Evolution of Angiosperm Resurrection Species
Particular angiosperm families appear to have a predisposition for the evolution of foliage-desiccation tolerance. Most resurrection species, for example, occur in the Gesneriaceae, Scrophulariaceae, Velloziaceae and the Poaceae. Some predisposing factors (A–D below) may stem from the importance of shallow soils (often on rock outcrops) in the ecology and evolution of desiccation-tolerant plants. (A) Small seed size (found in all the numerous resurrection angiosperm species inspected by the authors) improves long distance dispersal between rock outcrops. Small assimilate seed-reserves limit the initial depth of root systems, and so plants on shallow soils are liable to drought stress, promoting evolution of desiccation tolerance. (B) Plants have sufficient drought avoidance to colonize shallow soils and to allow sufficient time during drying for drought-induction of desiccation tolerance. (C) For plants with short-stature (linked with small seed size), evolving desiccation tolerance mechanisms may protect them from competition from tall desiccation-sensitive species that succumb to drought on shallow soils. (D) High plasticity in genetic-expression increases scope for drought-driven selection of genes regulating seed/pollen desiccation tolerance to be expressed in the foliage. There is evidence from desiccation-tolerant rotifers that desiccation-prone habitats increase inter-chromosomal transfer of DNA (intra- and inter-species) [
18
]. Intraspecies proliferation of dehydration-inducible retroelements, such as
CDT-1
transcripts in
C. plantagineum
[
19
], and conceivably, viral transfer of transposons between species might increase genetic plasticity.
4. Desiccation Tolerance in Plant Taxa That Preceded the Angiosperms
Desiccation tolerance is found in all the extant plant taxa that reflect steps in the evolution of the angiosperms. Although no gymnosperm species is known to have desiccation-tolerant leaves, desiccation-tolerant seed and/or pollen have been reported e.g., in the 'orthodox seed' of the early evolved gymnosperm taxa (cycads,
Ginkgo
), and in the conifers,
Gnetum
,
Ephedra
and
Welwitschia
[
20
]. The pollen of several conifer species in
Pinus
and
Picea
are also desiccation-tolerant [
21
,
22
]. The earlier-evolved taxa, lycopods, ferns, bryophytes and green-algae, all have numerous species with vegetative cells and/or spores that are desiccation-tolerant [
10
].
This distribution pattern suggests that desiccation tolerance was widespread in terrestrial cryptogams with little or no drought avoidance. As survival became less dependent on desiccation tolerance, more complex plant structures and reproductive mechanisms evolved. As further evolution produced stomata, leaf cuticle, water-conducting xylem, cambium and root systems, the effectiveness of drought-avoidance mechanisms increased and desiccation tolerance was needed mainly in the aerially-spread reproductive structures. Thus, the genes producing desiccation tolerance in seed and pollen were carried forward to the angiosperms, but were expressed in the foliage of only the few resurrection plants [
10
]. In many resurrection angiosperm species, leaf desiccation tolerance is confined to immature leaves and the meristematic base of monocot leaves (
Table 2
). Evolution of desiccation tolerant leaves appears to commence in young leaves and progresses with further evolution to mature leaves (but, in the authors' experience, never to senescent leaf tissue), i.e., the expression of genes involved in the regulation of desiccation tolerance is dependent on the developmental stage of the plant.
The main organelles of plant cells are considered to derive from the 'capture' of endosymbiotic organisms into the host cell. It is thought that chloroplasts are derived from cyanobacteria [
24
], mitochondria from bacteria, and that the eukaryote nucleus has origins in the early archaea, with some inflow from bacteria [
25
,
26
]. Each of these endosymbionts may have contributed via the derivative organelles to the desiccation tolerance of plants, since desiccation-tolerant species occur in extant archaea (e.g.,
Methanosarcina barkeri
, [
27
]), bacteria [
28
,
29
] and cyanobacteria (see [
10
]).
5. Regulation of the Induction of Desiccation Tolerance in Angiosperms
Several phytohormones are implicated in the regulation of terrestrial-plant desiccation tolerance (specific hormones are discussed in later sections below). Drought-induction alters transport of some hormones, which are carried in the xylem from the roots to the shoot and may act to signal that the soil is losing moisture content [
30
]. In detached leaves of eight desiccation-tolerant angiosperm species tested, drought stress did not induce desiccation tolerance suggesting that transported hormone signals may be acting in tolerance-induction in intact plants [
31
]. Desiccation tolerance, however, appeared to be constitutive in
Myrothamnus flabellifolia
Welw [
31
]. Xylem transport is disrupted relatively early during drought stress when the xylem sap cavitates (at water potentials of −0.7 to −3 MPa; [
32
,
33
]). Cavitation would curtail xylem-traffic of phytohormones, which are synthesized in the roots-ABA, acetate, CLAVATA3/EMBRYO-surrounding region-related 25 (CLE25) peptide, cytokinins, auxin, strigolactone, and gibberellins. Recent experiments utilizing
Arabidopsis
suggest that soil water stress elicits a rapid hydraulic response in the shoot that stimulates ABA biosynthesis in the leaves. Hence, the shoot ABA response does not require translocation of ABA from the water stressed roots [
34
]. Droughted leaves of the resurrection grass
S. stapfianus
synthesize ABA when they are detached, but ABA contents are higher in leaves that remain attached to droughted plants [
35
]. Wall associated kinases (WAKs) are transmembrane serine-threonine protein kinases, that have been proposed to act as mechanoreceptors which may link hydraulic signals to physiological responses. Induction of desiccation tolerance first becomes evident at ~60% RWC in
S. stapfianus
(
Table 3
), a water content sufficiently low to produce large changes in the hydraulic pressure on the cell contents. A glycine rich protein (GRP) that may interact with WAK kinase is specifically expressed in desiccation tolerant tissue of
S. stapfianus
[
36
]. A similar GRP from
C. plantagineum
has been shown to interact with CpWAK1 [
37
]. These proteins may be a mechanism for linking hydraulic signals to the desiccation tolerance program. Further water loss decreases transport in the phloem [
38
], compromising bipolar mass-flow transport of phytohormones in the phloem, including of ABA, azelaic acid, jasmonate, and salicylate [
39
]. Beyond that point, reactive oxygen species (ROS) movement in the phloem apoplast is feasible, as are also electrical pulses along the phloem cell membrane pathways [
39
]. Later in drying, vapours of ethylene and of jasmonate may, in theory, still exert effects away from the organs which synthesize them.
The complexity of phytohormones and their transportation raises a potential for development of phased regulation of desiccation tolerance during algal-to-angiosperm evolution. The presence of phases in induction of desiccation tolerance is evidenced by the changes in the complement of leaf proteins observed during drought-induced desiccation tolerance in the resurrection grass
S. stapfianus
[
40
]. The proteome is influenced by alterations in synthesis of phytohormones, especially ABA, as drought stress intensifies. Ismail et al. [
41
] emphasised the importance of the timing of successive phases of the induction of plant stress-tolerance. A phase immediately preceding the quiescent desiccated state has been distinguished from the desiccated state by differences in molecular responses in angiosperms [
42
].
5.1. ABA Induction Pathway for Desiccation Tolerance
5.2. Transcription Factors and the ABA Induction Pathway for Desiccation Tolerance
6. Potential Regulators of Desiccation Tolerance Other Than ABA
In the following sections the information on drought stress is complemented with data on other stresses. There is considerable overlap in tolerances to drying, salinity, low temperature and heat (e.g., [
71
]), an overlap corroborated by recent studies of the responses of gene expression to both abiotic and biotic stresses, e.g., [
55
,
72
,
73
,
74
]. Desiccation tolerance was induced in
Brassica napus
L. microspore-derived embryos by stress other than drought, for example heat shock (10 min) and cold shock for 2 days to the point where desiccated embryos survived 3 weeks in the dry state, before rehydration allowed renewed growth [
75
].
6.1. Brassinosteroids (BR), Jasmonates (JA) and Strigolactones (SL)
The first evidence that the brassinosteroid, brassinolide (BR), and methyl jasmonate (MeJa) participate in the induction of desiccation tolerance in angiosperm foliage showed that, out of 11 phytohormones and growth substances tested, exogenous BR and MeJa each gave the greatest enhancement of the protoplasmic drought tolerance of
S. stapfianus
mesophyll cells [
46
]. Electophoretic partitions (2D-PAGE) of soluble proteins from BR- or MeJa-treated plants registered 10–14 proteins with increased abundance and 3–4 with decreases. Two proteins were both BR- and MeJa-responsive. Evidence of BR synthesis was reported for drying foliage of the resurrection grass
S. stapfianus
[
76
]. Rice plants transgenically modified to synthesize elevated cytokinins under drought stress augmented the expression of brassinosteroid-related genes but diminished the expression of jasmonate-related genes [
77
].
Genes encoding enzymes involved in jasmonate (JA)-biosynthesis were upregulated in droughted non-resurrection plants in the Solanaceae and in salt-stressed barley plants [
72
,
78
]. In barley, JA-inducible genes were also upregulated by salinity, suggesting action of endogenous JA formed during salt-stress [
78
]. Pre-treatment with JA lessened salt-induced inhibition of photosynthesis in barley plants [
78
]. In rice (
Oryza sativa
L.), BR induces ABA synthesis and the BR pathway interacts with ABA, with strigolactone and with gibberellins in relation to plant stress reactions, growth and development [
79
]. As levels of BR increase, a maximum effect is attained but the effect declines with higher BR levels.
Whilst there have been no comprehensive studies on the involvement of strigolactones (SL) in induction of desiccation tolerance, recent reports indicate SL play important roles in responses to drought [
80
,
81
,
82
,
83
,
84
]. Analyses of impaired SL biosynthesis and signalling mutants in
Arabidopsis
suggest that SL has a role in the positive regulation of dehydration stress via both ABA-dependent and ABA-independent mechanisms [
80
]. The SL mutants exhibited hypersensitivity to drought and salt stress and slower ABA-induced stomatal closure. Strigolactone biosynthetic genes
AtMAX3
and
AtMAX4
are induced by both ABA and dehydration in wildtype (WT) plants, and the drought tolerance of both mutant and WT plants is enhanced by application exogenous SL. While SL biosynthesis genes are upregulated by drought in
Arabidopsis
leaves they are repressed in the drought-stressed roots of
Lotus japonicus
L. and tomato [
82
,
84
]. A comparative transcriptome analysis between WT and the
Atmax2
SL-signalling mutant under both water-stress and well-hydrated conditions found several interesting differences in the expression profiles of ABA regulatory and transporter proteins, cytokinin-catabolizing CKX genes, as well as genes associated with flavonoid biosynthesis and photosynthetic activity [
80
]. Somewhat similar results utilizing
max2
SL-signalling mutant were reported by Bu et al. [
81
], although they hypothesized that the drought-sensitivity of the mutant may result from the
max2
F-box mutation interacting with other hormonal pathways. The direct role of the SL compound in drought resistance of
Arabidopsis
as reported by Ha et al. [
80
] was confirmed in
L. japonicus
by Lui et al. [
82
] who found that SL was down-regulated in roots early during osmotic stress and that the SL decrease may be required to allow ABA production. Visentin et al. [
83
] suggested that a reduction in SL production and its acropetal transport from tomato roots may trigger a stress response in the shoots that does not rely on ABA transport from the roots, but may lead to increased localized SL production in the shoot which could induce stomatal closure and suppress shoot branching.
6.2. Reactive Oxygen Species (ROS)
7. Sucrose and Induction of Desiccation Tolerance
8. The Role of Trehalose-6-Phospate in Desiccation Tolerance
9. Protein-Synthesis in Resurrection Plants under Drought Stress
Processes in Seed and Pollen during Desiccation
There have been many studies of seed- and pollen-specific gene expression relating to the process establishing desiccation tolerance as either the seed or pollen matures [
137
], but it has been difficult to untangle the expression of genes directly involved in desiccation tolerance from those related to other aspects of seed and pollen development. Molecular studies in
Arabidopsis
have shown that mutations in the transcription factors ABSCISIC ACID INSENSITIVE 3 (ABI3), LEAFY COTYLEDON2 (LEC2) and FUSCA3 (FUS3) are lethal at the late stages of seed maturity. These transcription factors contain the B3 domain, a highly conserved DNA binding region specific to higher plants [
138
]. FUSCA3 for example, has a role in regulating ABA and gibberellic acid (GA) levels and is involved in controlling seed dormancy and preventing germination under adverse conditions [
138
]. Additional transcription factors identified which may have a role, such as DREBs (dehydration responsive element binding) and TaNAC69, are stress-related and expressed in pollen/anthers during development [
139
].
Costa et al. [
59
] compared published transcriptomes of plant species following induction of desiccation tolerance (leaves of the resurrection plants
C. plantagineum
and
S. stapfianus
, germinating seeds of
M.
treated with ABA or osmoticum, and the lichen
Cladonia rangiferina
(L.) Weber ex F.H.Wigg). Of 12 changes in specific transcript abundance with induction of desiccation that were consistent across all five species, only two showed elevated abundance. These, include the gene transcripts for the genes
LEA-14
(AT1G01470) and NAD (P)-linked oxidoreductase superfamily protein (AT5G01670) that have putative roles in protein-protection and counter-oxidation, respectively. Comparison of transcripts for all datasets with the genome sequence data for
Arabidopsis
, yielded a core of 260
Arabidopsis
orthologs, of which "77 increased and 184 decreased in abundance". The categories of those that accumulated were broad in coverage, and included, lipid storage, multicellular organismal processes, seed development, reproduction and response to temperature, whilst those decreasing in abundance related to carbohydrate metabolism and biosynthesis of phenylpropanoids. Data on regulatory motifs in the
cis
-acting promoter elements in the "77-increased-abundance" core genes highlighted genes responsive to ABA (ABRE binding site motif), light regulation, stress (DRE core motif), circadian rhythm (EveningElement promoter motif) and gibberellin (GADOWNAT), whilst promoter motifs for the "184-declined-abundance" core genes also included the ABA related ABRE binding site. Once again an important role of ABA
inter alia
is evident.
Studies of mutant lines by Costa et al. [
59
] apply to the full period of induction of desiccation tolerance. Analysis of T-DNA mutant
Arabidopsis
lines for 13 genes chosen from the 260 DT set, revealed mutations in three genes (
LEA 5-1
,
PCK1
, and
RCI2H
) which resulted in reduced seedling ability to re-induce desiccation tolerance. In further studies of the T-DNA mutant lines, dormancy was increased by disruption in 5 genes (AT3G10020,
LEA7
,
PCK1
,
RCI2H
and
SAG29
) and seed longevity was lowered in the
PCK1
line.
10. Identification of Genes Involved in Desiccation Tolerance
11. Direct DNA Manipulation of Desiccation-Related Genes
Effective gene transfer procedures in many plant species have enabled DNA disruption, RNAi-mediated or viral-induced gene silencing protocols to be developed for researchers wishing to study the role of any given gene in a developmental or biochemical process (e.g., [
166
] and references therein). Transformation procedures have been reported for some resurrection species, such as the well-studied dicotyledenous species
C. plantagineum
[
167
] and also
L. brevidens
[
168
]. The latter species is a more recently described resurrection plant, also from within the family Linderniaceae, and interestingly is found naturally in the montane rainforests of Tanzania and Kenya [
106
]. However, reliable DNA transformation protocols for other desiccation-tolerant plants have not been reported and development of such methods would be extremely beneficial to the subject area, particularly involving desiccation-tolerant monocotyledonous species. Such procedures may also allow CRISPR/cas9-mediated genome editing technology to be employed in direct functional genomics studies to investigate the role of particular genes in conferring desiccation tolerance in such species, as has recently been demonstrated with other genes in monocotyledonous crops [
169
,
170
]. Another powerful functional genetics methodology, which does not necessitate the development of DNA transformation technology, involves targeting induced local lesions in genomes (TILLING) [
171
,
172
]. This approach has been successfully used to identify mutants in monocotyledonous crops that possess disruptions in specific genes [
172
,
173
,
174
]. An alternative approach which has proven valuable and which may be of direct interest to agricultural crops, is the ectopic expression of genes from resurrection plants in otherwise desiccation-sensitive species where reproducible transformation protocols do exist.
One of the first reports of successful ectopic expression of drought activated genes from the resurrection plant
C. plantagineum
involved transgenic tobacco [
175
]. Here three genes, encoding a serine and lysine-rich repeat motifs protein, a LEA-type protein and a novel sequence, were introduced under control of a modified version of the powerful
Cauliflower mosaic virus 35S
(CaMV35S) promoter. Although the introduced proteins were detected, these transgenic plants did not appear to show enhanced tolerance to drought stress [
175
]. However, ectopic expression of
LEA-4
group genes from the resurrection plant
B. hygrometrica
did confer elevated dehydration tolerance in transgenic tobacco [
176
]. In separate studies, ectopic expression of the dehydration inducible
XvSAP1
gene from
Xerophyta viscosa
Baker in tobacco increased osmotic-, salinity- and high-temperature-stress tolerance in transgenic plants compared to controls. The
XvSAP1
gene encodes a highly hydrophobic and likely membrane-bound protein with significant identity to a cold-induced dehydrin-like gene from wheat [
145
,
146
]. Also using
X. viscosa
as a source of stress-related genetic information, it was observed that ectopic expression of aldose reductase (
ALDRXV4
) conferred enhanced drought and also salinity tolerance on transgenic tobacco plants [
177
], most likely due to enhanced scavenging of methylglyoxal and reduction in the level of abiotic stress-induced membrane damage. Over expression of a MYB-type transcription factor gene (
CpMYB10
) from
C. plantagineum
in
Arabidopis
increased drought (and salt) tolerance of transgenic plants, apparently via elevated sensitivity to endogenous ABA levels [
164
]. Constitutive expression of the dehydration-induced family 1 uridine diphosphate (UDP)-glycosyltransferse (UGT) gene
SDG8i
, from
S. stapfianus
in
Arabidopsis
led to altered growth characteristics in transgenic plants, which possessed significantly enhanced drought tolerance compared to non-transgenic plants [
73
]. The underlying reasons for the increased drought tolerance here may be related to altered hormonal metabolism in transformants, which, in turn, may have activated or enhanced endogenous protection mechanisms dealing with abiotic stress in general [
73
]. Interestingly here, overexpression of a related
Arabidopsis
family 1 UDP-glycosyltransferase gene
UGT87A2
, in
Arabidopsis
, yielded transgenic plants also exhibiting enhanced tolerance to drought and other abiotic stresses. Analysis of these transgenic plants showed increased expression of a number of stress-related genes compared to control
Arabidopsis
plants [
178
]. Focussing on crop species of direct relevance to global food security, ectopic expression of a drought induced mRNA Splicing-Activated Endoplasmic Reticulum Stress Regulator gene (
BhbZIP60
) from
B. hygrometrica
in rice [
160
] and over-expression of an osmotin gene (
TIOsm
) from the resurrection grass
Tripogon loliiformis
F. Muell, also in rice, produced transgenic plants which displayed improved tolerance to drought compared to their non-transgenic counterparts [
179
].
As the 21st century unfolds, plant breeders, farmers and the wider public will need to consider the role of biotechnological approaches to combat deleterious effects of drought stress which are predicted to steadily increase in the face of ongoing climatic change, diminishing available arable land and increasing global population pressures [
180
,
181
,
182
]. The few examples noted above, albeit largely laboratory based and obviously quite limited in scope, are encouraging for future applications of resurrection plant molecular genetics and genomic studies to agricultural production and environmental sustainability.
12. Stress-Induction of Senescence in Mature and Premature Leaves
13. Epigenetic Modifications
14. Conclusions
We suggest the following tentative hypothesis for the regulation of desiccation tolerance in the flowering-plants, the group that provides the great majority of our food. Since the information on responses to drought-stress by species with desiccation tolerant-foliage is sparse compared to the complex situation, findings from non-resurrection species and for other environmental stresses have also been considered to fill gaps in our information.
There is a dearth of information on the regulation of the ordered recovery that takes place in Phase 6 and Phase 7.
The extensive alterations in the proteome during the phases 1–5 and the progression from a growth-based state to a quiescent/survival state lead us to the view that changes in epigenetic regulation are involved in the control of some inductive gene expression in most phases. Further studies into epigenetic mechanisms and the genes involved may lead to a greater understanding of extreme desiccation tolerance and allow manipulation of important crop plants to improve yield under adverse environmental conditions.
Author Contributions
The authors have all contributed equally to the discussion, the literature searches and the writing of this review.
Acknowledgments
The authors thank Janet L. Gaff for corrections to the text of the manuscript.
Conflicts of Interest
The authors declare no conflict of interest.
Figure 1.
Summary and flow chart detailing the hypothesis for the regulation of desiccation tolerance in flowering-plants, with a focus on
S. stapfianus
.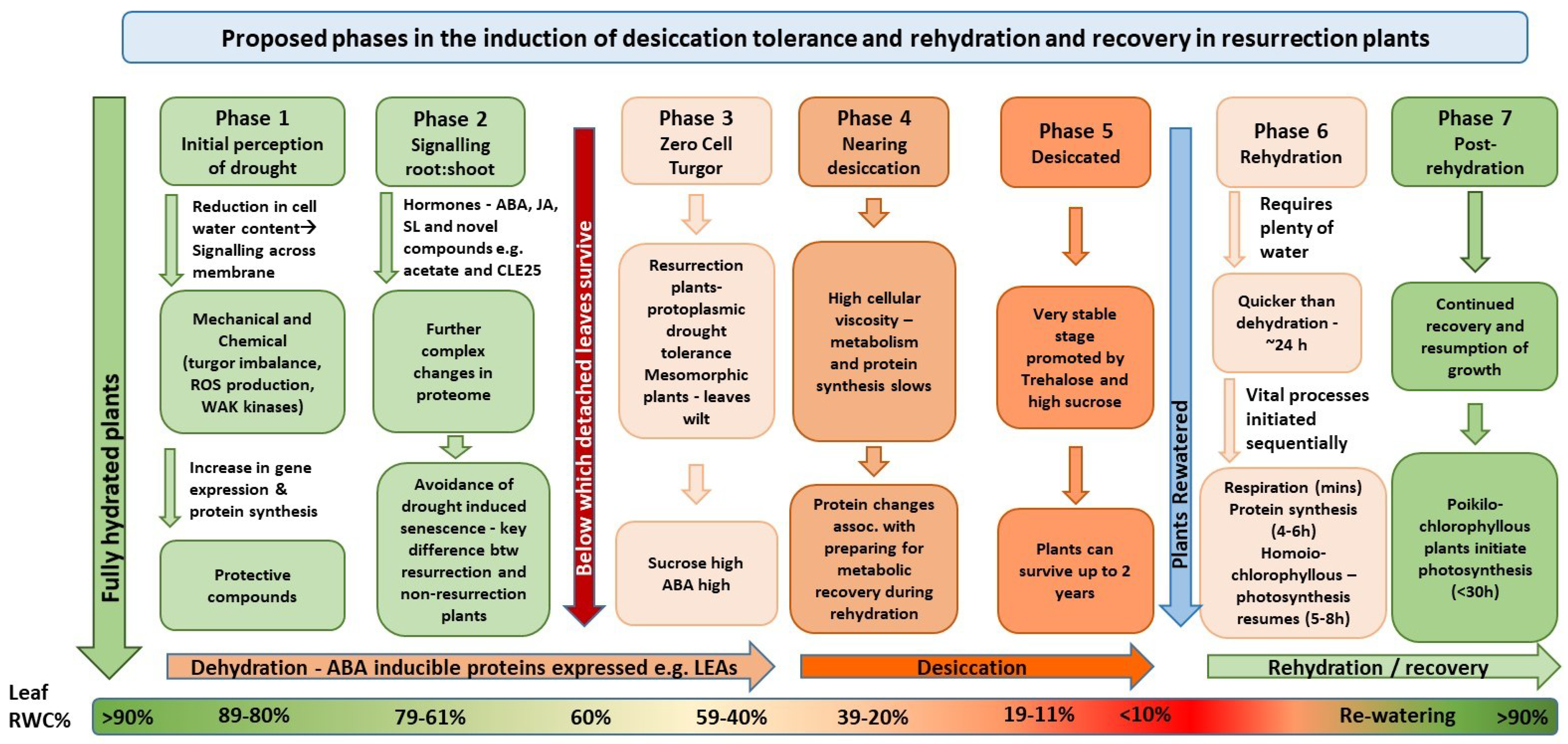 Genus & Species No. of Desiccation Tolerant Species/of Total spp. in Genus
Notes on Tolerance Limits
Genus & Species No. of Desiccation Tolerant Species/of Total spp. in Genus
Notes on Tolerance Limits

Brachyachne 1/10

Oropetium 3/4

B. patentifolia

0% RH
>15 cm

O. capense

0% RH

Eragrostiella 3/5

O. roxburghianum

0% RH

E. bifaria

var.

bifaria

15% RH
G

O. thomaeum

0% RH

E. brachyphylla

0% RH,

Poa 1/~500

E. nardoides

11% RH

Poa bulbosa

5% RH
Bs V

Eragrostis 4/350

Sporobolus 7/160

Er. hispida

0–5% RH
Bs, >15 cm

S. atrovirens

<4% RWC

Er. invalida

0% RH
Bs, >30 cm

S. blakei

0% RH
Bs

Er. nindensis

0–2% RH
G, >15 cm

S. elongatus

<10% RWC
Bs > 30 cm

Er. paradoxa

0% RH
>15 cm

S. festivus

0% RH
>15 cm

Micraira 7/14

S. lampranthus

0% RH
Bs

M. adamsii

0–2% RH

S. pellucidus

0–5% RH
>15 cm

M. lazaridis

-

S. stapfianus

2% RH
>15 cm

M. multinervia

>5% RH

Tripogon 10/30

M. spinifera

<7.5% RWC

T. capillatus

0% RH
>15 cm

M. subulifolia

5% RH

T. curvatus

0% RH

M. tenuis

<8% RWC

T. filiformis

2% RH
>25 cm

M. viscidula

<7.5% RWC

T. jaquemontii

0% RH
G

Microchloa 3/4

T. lisboae

0% RH
>25 cm

Mi. caffra

0–5% RH
>15 cm

T. loliiformis

0% RH
G

Mi. indica

0% RH

T. major

0% RH
Bs

Mi. kunthii

0% RH

T. minimus

0–2% RH

T. polyanthus

2% RH
>15 cm

T. spicatus

0% RH
Abbreviations: 'PDT' is leaf Protoplasmic Drought Tolerance = 'RH' the lowest relative humidity of air survived at equilibrium or 'RWC' the lowest relative water content survived; '>numerical value' e.g., >15 = vegetative foliage 15 cm or more tall; 'Bs' = only the basal 1cm of leaf is desiccation tolerant; 'G' = plants recorded as grazed by animals; V = vivaporous bulbils are desiccation-tolerant.

DICOTYLEDONS
Tissue Type
Gesneriaceae

Conandron ramondioides

Young leaf to 1 cm size

Opithandra primuloides

To 2nd youngest leaf (1 cm long)
Stylidiaceae

Stylidium

sp.
Buds only
MONOCOTYLEDONS
Anthericaceae

Borya scirpioides

High in 3 youngest leaves
Cyperaceae

Carex physodes

Bs = ~1 cm at base of the leaf lamina, including the leaf meristem

Carex pachystilis

Bs

Cyperus bellis

Bs

Fimbristylis dichotoma

Bs

Kyllinga alba

Nees
Bs

Kyllinga alata

Bs

Kyllinga nervosa

Bs

Mariscus capensis

Bs
Poaceae: see Table 1

Table 3.
Beginning of induction of desiccation tolerance in leaves on drying
S. stapfianus
plants. Leaves, detached from plants at different stages of drying, were equilibrated to air of 76% Relative Humidity, then rehydrated 24 h in water and their survival scored as the % of their leaf area that survived. Data based on [
35
].
| | | | | | | | | |
| --- | --- | --- | --- | --- | --- | --- | --- | --- |
| Leaf RWC (%) | 94 | 82 | 66 | 61 | 58 | 49 | 48 | 46 |
| Survival % of total leaf area | 6 | 2 | 0 | 48 | 67 | 59 | 85 | 85 |

Table 4.
Protein synthesis indicated by polyribosome content in leaves of the resurrection plant
Xerophyta villosa
on intact plants drying to a viable airdry condition. Data based on [
132
].
| | | | | | | | |
| --- | --- | --- | --- | --- | --- | --- | --- |
| RWC (%) | 96 | 90–75 | 75–60 | 45–40 | 30 | 20 | 4 |
| % RNA as Polysomes | ~30 | ~25 | ~45 | ~55 | ~32 | ~1 | 0 |

© 2018 by the authors. Licensee MDPI, Basel, Switzerland. This article is an open access article distributed under the terms and conditions of the Creative Commons Attribution (CC BY) license (http://creativecommons.org/licenses/by/4.0/).