Predicting 90-Day Mortality in Locoregionally Advanced Head and Neck Squamous Cell Carcinoma after Curative Surgery
1
School of Statistics, University of International Business and Economics, Beijing 100029, China
2
Department of Otorhinolaryngology, Shuang-Ho Hospital, Taipei Medical University, New Taipei City 23561, Taiwan
3
Graduate Institute of Business Administration, Fu Jen Catholic University, Taipei 116, Taiwan
4
Department of Oral and Maxillofacial Surgery, Wanfang Hospital, Taipei Medical University, Taipei 116, Taiwan
5
Department of Otorhinolaryngology, Wanfang Hospital, Taipei Medical University, Taipei 116, Taiwan
6
Ph.D. Program for Translational Medicine, Taipei Medical University, Taipei 116, Taiwan
7
College of Management, Taipei Medical University, Taipei 106, Taiwan
8
Department of Radiation Oncology, Wanfang Hospital, Taipei Medical University, Taipei 116, Taiwan
9
Department of Internal Medicine, School of Medicine, College of Medicine, Taipei Medical University, Taipei 110, Taiwan
*
Authors to whom correspondence should be addressed.
†
These authors have contributed equally to this study (joint primary authors).
Received: 4 September 2018 / Revised: 13 October 2018 / Accepted: 18 October 2018 / Published: 22 October 2018
Abstract
Purpose:
To propose a risk classification scheme for locoregionally advanced (Stages III and IV) head and neck squamous cell carcinoma (LA-HNSCC) by using the Wu comorbidity score (WCS) to quantify the risk of curative surgeries, including tumor resection and radical neck dissection.
Methods:
This study included 55,080 patients with LA-HNSCC receiving curative surgery between 2006 and 2015 who were identified from the Taiwan Cancer Registry database; the patients were classified into two groups, mortality (
n
= 1287, mortality rate = 2.34%) and survival (
n
= 53,793, survival rate = 97.66%), according to the event of mortality within 90 days of surgery. Significant risk factors for mortality were identified using a stepwise multivariate Cox proportional hazards model. The WCS was calculated using the relative risk of each risk factor. The accuracy of the WCS was assessed using mortality rates in different risk strata.
Results:
Fifteen comorbidities significantly increased mortality risk after curative surgery. The patients were divided into low-risk (WCS, 0–6; 90-day mortality rate, 0–1.57%), intermediate-risk (7–11; 2.71–9.99%), high-risk (12–16; 17.30–20.00%), and very-high-risk (17–18 and >18; 46.15–50.00%) strata. The 90-day survival rates were 98.97, 95.85, 81.20, and 53.13% in the low-, intermediate-, high-, and very-high-risk patients, respectively (log-rank
p
< 0.0001). The five-year overall survival rates after surgery were 70.86, 48.62, 22.99, and 18.75% in the low-, intermediate-, high-, and very-high-risk patients, respectively (log-rank
p
< 0.0001).
Conclusion:
The WCS is an accurate tool for assessing curative-surgery-related 90-day mortality risk and overall survival in patients with LA-HNSCC.
View Full-Text
►

▼

Figures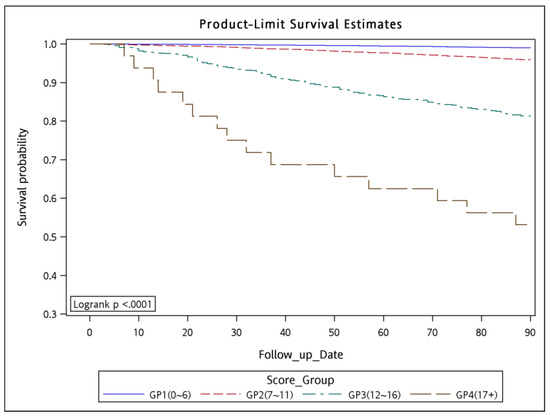 Figure 1
This is an open access article distributed under the
Creative Commons Attribution License
which permits unrestricted use, distribution, and reproduction in any medium, provided the original work is properly cited (CC BY 4.0).

Share & Cite This Article
MDPI and ACS Style
Qin, L.; Chen, T.-M.; Kao, Y.-W.; Lin, K.-C.; Yuan, K.S.-P.; Wu, A.T.H.; Shia, B.-C.; Wu, S.-Y. Predicting 90-Day Mortality in Locoregionally Advanced Head and Neck Squamous Cell Carcinoma after Curative Surgery. Cancers 2018, 10, 392.
Note that from the first issue of 2016, MDPI journals use article numbers instead of page numbers. See further details here.
Related Articles
Comments
[Return to top]