Low PD-L1 Expression Strongly Correlates with Local Recurrence in Epstein-Barr Virus-Positive Nasopharyngeal Carcinoma after Radiation-Based Therapy
1
Department of Pathology, Chang Gung Memorial Hospital and Chang Gung University, 5 Fusing Street, Gueishan, Taoyuan 333, Taiwan
2
Department of Radiation Oncology, Chang Gung Memorial Hospital and Chang Gung University, 5 Fusing Street, Gueishan, Taoyuan 333, Taiwan
3
Chang Gung Molecular Medicine Research Center, Chang Gung University, 259 Wenhua First Road, Gueishan, Taoyuan 333, Taiwan
4
Tissue Bank, Chang Gung Memorial Hospital, 5 Fusing Street, Gueishan, Taoyuan 333, Taiwan
5
Center for Vascularized Composite Allotransplantation, Chang Gung Memorial Hospital, 5 Fusing Street, Gueishan, Taoyuan 333, Taiwan
*
Author to whom correspondence should be addressed.
Received: 11 September 2018 / Revised: 5 October 2018 / Accepted: 8 October 2018 / Published: 9 October 2018
Abstract
The prognostic value of programmed death-ligand 1 (PD-L1) expression in nasopharyngeal carcinoma (NPC) is controversial, with previous studies showing conflicting results. Most NPCs in endemic areas are Epstein-Barr virus (EBV)-positive. Our aim was to evaluate the clinical significance of PD-L1 expression in EBV-positive NPC. We retrospectively analyzed PD-L1 expression on tumor cells (TCs) and immune cells (ICs) by immunohistochemistry in 208 EBV-positive NPC patients who underwent radiotherapy (203 with concurrent chemotherapy). The percentages of TCs and ICs expressing PD-L1 were evaluated respectively. There was a strong correlation between local recurrence and low PD-L1 expression on ICs (
p
= 0.0012), TCs (
p
= 0.013) or both (
p
= 0.000044), whereas all clinical parameters had no influence on local recurrence. Using multivariate analysis, low PD-L1 expression on ICs was an independent adverse prognostic factor (
p
= 0.0080; HR = 1.88; 95% CI = 1.18–3.00) for disease-free survival. High PD-L1 expression on both ICs and TCs was an independent favorable prognostic factor (
p
= 0.022; HR = 0.46; 95% CI = 0.24–0.89) for overall survival. We show for the first time that low PD-L1 expression on ICs and TCs strongly correlates with local recurrence in EBV-positive NPC patients after radiation-based therapy. A simple immunohistochemical study for PD-L1 can identify patients prone to local recurrence, and such patients might benefit from more aggressive treatment in future clinical trials.
View Full-Text
►

▼

Figures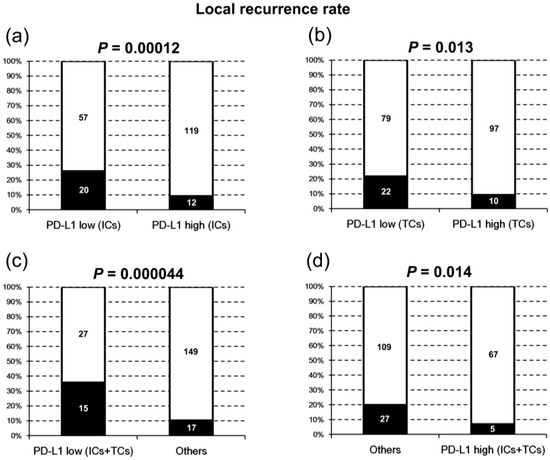 Figure 1
This is an open access article distributed under the
Creative Commons Attribution License
which permits unrestricted use, distribution, and reproduction in any medium, provided the original work is properly cited (CC BY 4.0).

Share & Cite This Article
MDPI and ACS Style
Liu, Y.-J.; Tsang, N.-M.; Hsueh, C.; Yeh, C.-J.; Ueng, S.-H.; Wang, T.-H.; Chuang, W.-Y. Low PD-L1 Expression Strongly Correlates with Local Recurrence in Epstein-Barr Virus-Positive Nasopharyngeal Carcinoma after Radiation-Based Therapy. Cancers 2018, 10, 374.
Note that from the first issue of 2016, MDPI journals use article numbers instead of page numbers. See further details here.
Related Articles
Comments
[Return to top]