Open Access This article is
freely available
re-usable
Review
Bipolar Tumor-Associated Macrophages in Ovarian Cancer as Targets for Therapy
1
Division of Gynecologic Oncology, Department of Obstetrics and Gynecology, University of Kansas Medical Center, Kansas City, KS 66160, USA
2
Department of Pharmacology, Vanderbilt University, Nashville, TN 37232, USA
3
Vanderbilt-Ingram Cancer Center, Nashville, TN 37232, USA
4
The University of Kansas Cancer Center, Kansas City, KS 66160, USA
*
Author to whom correspondence should be addressed.
Received: 22 August 2018 / Accepted: 23 September 2018 / Published: 29 September 2018
Abstract
:
Ovarian cancer, a rare but fatal disease, has been a challenging area in the field of gynecological cancer. Ovarian cancer is characterized by peritoneal metastasis, which is facilitated by a cross-talk between tumor cells and other cells in the tumor microenvironment (TME). In epithelial ovarian cancer, tumor-associated macrophages (TAMs) constitute over 50% of cells in the peritoneal TME and malignant ascites, and are potential targets for therapy. Here, we review the bipolar nature of TAMs and the evolving strategies to target TAMs in ovarian cancer.
Keywords:
ovarian cancer; tumor-associated macrophages; peritoneal metastasis; tumor microenvironment
Author Contributions
Conceptualization, F.Y. and D.K.; Writing-Original Draft Preparation, V.G.; Writing-Review & Editing, V.G., F.Y. and D.K.; Supervision, F.Y. and D.K.; Funding Acquisition, F.Y. and D.K.
Funding
This research was funded by 5R01CA214043-02, F.Y., D.K., 2P30CA168524-06, D.K. and 5P30CA068485-21, F.Y.
Conflicts of Interest
The authors declare no conflicts of interest.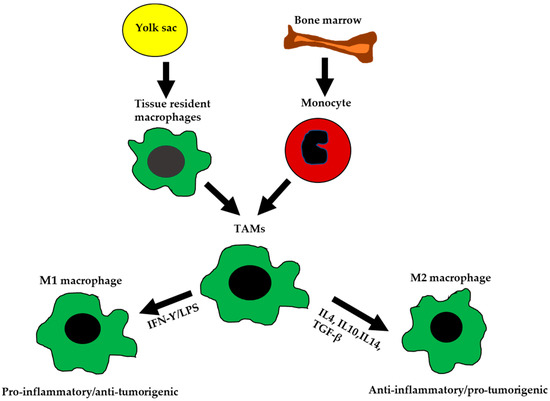 Figure 1. The ontogeny and polarization of M1 and M2 macrophages. Tissue-resident macrophages are mainly derived from yolk sac during development. Tumor-associated macrophages (TAMs) are derived from tissue-resident macrophages, or by differentiation of monocytes from the bone marrow. TAMs are polarized into M1-like or M2-like phenotypes based on signals received from the microenvironment (TME).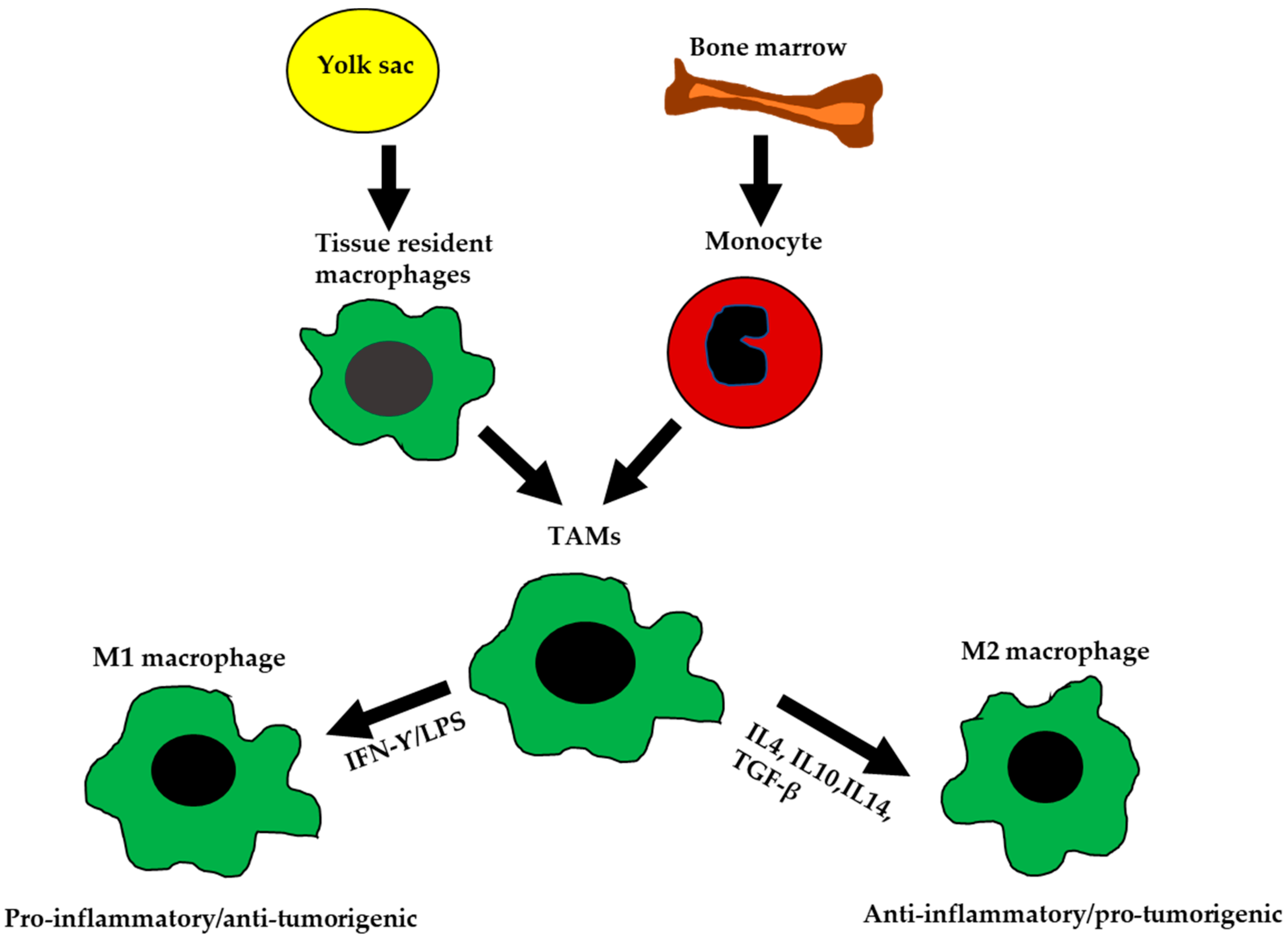 Figure 2. Strategies for targeting TAMs in ovarian cancer. (A) Block monocyte recruitment to the tumor niche. (B) Chemical intervention to increase M1/M2 ratio by inhibiting M2 polarization, increasing M1 polarization by using Interferon gamma (IFN-ƴ, Lipopolysaccharide (LPS)) or by repolarizing M2 to M1 by adding IFN-ƴ or regulating the Notch, NF-κB. (C) Inhibit immune signaling pathways on macrophages, for e.g., CSF-1, VEGFR, which promotes angiogenesis, and PD-L1, which inhibits T cell activity.


| Characteristics | M1 Macrophage | M2 Macrophage |
| --- | --- | --- |
| Activation pathway | Th1 (Classical) | Th2 (Alternative) |
| Tumor relation | Anti-tumorigenic | Pro-tumorigenic |
| Inducers | LPS, IFN-gamma, IL-12 | IL4, IL10, IL13, TGF-β, CCL2, CXCL4 |
| Chemokines | CXCL9, CXCL10, CCL4, CCL10, CCL11 | CCL17, CCL22, CCL24 |
| Markers | CD86, CD80, iNOS, TLR2, TLR4, IL-1R, MHC-II | CD163, CD206, CCl18, IL-1RII, TGM2 |
| Antigen processing/presentation | Yes–Increased MHCII, STAT1, NO production | No-Decreased MHCII, STAT-1, NO production |
| Function | Pro-inflammatory/Tissue damage/Pathogenic clearance/Anti-angiogenic | Anti-inflammatory/Tissue repair and remodeling/Fibrosis/Pro-angiogenic |
Abbreviations: Major histocompatibility complex (MHC); signal transducer and activator or transcription 1 (STAT1); Nitric oxide (NO).

© 2018 by the authors. Licensee MDPI, Basel, Switzerland. This article is an open access article distributed under the terms and conditions of the Creative Commons Attribution (CC BY) license (http://creativecommons.org/licenses/by/4.0/).