Open Access This article is
freely available
re-usable
Review
Genetic Engineering and Sustainable Crop Disease Management: Opportunities for Case-by-Case Decision-Making
Department of Plant Pathology, 207 Plant Science Building, College of Agriculture, Food and Environment, University of Kentucky, Lexington, KY 40546, USA
Academic Editor: Sean Clark
Received: 22 March 2016 / Accepted: 13 May 2016 / Published: 20 May 2016
Abstract
: Genetic engineering (GE) offers an expanding array of strategies for enhancing disease resistance of crop plants in sustainable ways, including the potential for reduced pesticide usage. Certain GE applications involve transgenesis, in some cases creating a metabolic pathway novel to the GE crop. In other cases, only cisgenessis is employed. In yet other cases, engineered genetic changes can be so minimal as to be indistinguishable from natural mutations. Thus, GE crops vary substantially and should be evaluated for risks, benefits, and social considerations on a case-by-case basis. Deployment of GE traits should be with an eye towards long-term sustainability; several options are discussed. Selected risks and concerns of GE are also considered, along with genome editing, a technology that greatly expands the capacity of molecular biologists to make more precise and targeted genetic edits. While GE is merely a suite of tools to supplement other breeding techniques, if wisely used, certain GE tools and applications can contribute to sustainability goals.
Keywords:
biotechnology; GMO (genetically modified organism)
1. Introduction and Background
2. Strategies for Engineering Resistance
There is a wide variety of published GE strategies for engineering disease resistance, and ongoing research and expanding genetic resources [
40
] are likely to lead to additional strategies. Furthermore, within most of those strategies, diverse applications are conceivable. Taken together, these suggest that GE presents a vast pool of genetic possibilities for future generations. This will allow breeding for disease resistance to remain highly dynamic in the face of pathogen adaptation towards virulence on resistant cultivars.
In contrast to typical pesticides, GE mechanisms are often designed to have selective efficacy against particular target pathogens. High target selectivity is advantageous, in that it minimizes health concerns for consumers as well as risks to non-target biota in and around agroecosystems. However, the drawback is that one GE trait is unlikely to protect against the full spectrum of damaging pathogens on a given crop—which is also true of many conventional genes for disease resistance.
While it is difficult to foretell which GE strategies will have the greatest impact on crop disease control in the coming decades, all those described below hold promise and, in the author's opinion, merit continued research attention. Some have demonstrated proof-of-concept, while others have been evaluated in the field and, in certain cases, introgressed into commercially viable varieties. All strategies described below take advantage of—and in most cases, mimic—processes that occur in Nature.
2.1. Boosting Plant Recognition of Infection
Plants have evolved to trigger basal defenses upon recognition of certain conserved molecules of an invading pathogen. These molecules, which are highly conserved evolutionarily and are metabolically important for the pathogen, are referred to as pathogen-associated molecular patterns (PAMPs) [
41
,
42
,
43
]. Receptor molecules in the host membrane recognize PAMPs and elicit a natural defense response called PAMP-tiggered immunity (PTI). PAMP receptor molecules differ among plant species. Thus, genes encoding PAMP receptors from crops and other plants can be transformed into other crops, expanding the range of pathogen molecules that trigger PTI in the latter [
43
]. A gene encoding a PAMP receptor does not introduce a novel defense mechanism into the plant. The transferred PAMP receptor merely allows the receiving plant to recognize infection, so it can respond with its own, natural immune system. Increased resistance has been obtained using this strategy against a range of bacterial diseases in both monocots and dicots [
44
,
45
,
46
,
47
].
An important question is whether the transfer of PAMP receptors among plant species would increase the risk of selection towards wider pathogen host ranges. Since PAMPs are highly conserved molecules that are metabolically important for the pathogen [
44
], rapid evolution of these molecules is unlikely. Rational deployment strategies, such as those described in
Section 3
, can also reduce this risk.
2.2. Mining R Genes
PTI places strong selection pressure on pathogens to restore a virulent host-parasite interaction. According to the prevailing model of disease resistance, pathogens produce one or more effector molecules which enhance virulence, resulting in effector-triggered susceptibility (ETS) [
42
,
48
,
49
]. Over evolutionary time scales, plants respond to ETS by producing an intracellular receptor (
R
protein) which detects the presence or activity of particular pathogen effectors, restoring a resistance response called effector-triggered immunity or effector-triggered defense [
41
,
42
,
48
,
50
]. In the face of a renewed defense response in the host, a pathogen may eventually evolve to produce a new effector to restore compatibility. In turn, the plant may evolve a new
R
protein. This coevolutionary, gene-for-gene, "molecular arms race" [
48
,
50
] between pathogen effectors and their corresponding
R
proteins has yielded pools of
R
genes (resistance genes) useful in breeding crops for disease resistance [
42
].
One way GE can contribute to resistance breeding is through cisgenics
:
engineering only with genetics obtained from a crop's sexually compatible gene pool [
51
]. Conventional breeding techniques are often suitable for introgressing cisgenes into new varieties, in which case GE is unnecessary. However, in some crops, such as potato, grape, banana, apple, and strawberry, conventional breeding is exceptionally difficult or time-consuming. For crops such as these, cisgenes can be transferred via GE [
43
,
51
,
52
], resulting in a genetic outcome that would be conceivable—although perhaps impractical—by conventional means. A major advantage of cisgenics over conventional breeding is that it circumvents linkage drag [
43
,
51
].
For some plants, hybridization is difficult or impossible using current techniques. In such cases, GE offers an alternative for introgressing
R
genes, even from plants that are not part of a crop's normal breeding pool. For example, in tomato, bacterial leaf spot, a highly destructive disease, was controlled in the field with a single
R
gene obtained from pepper [
53
,
54
]. Indeed, the level of control obtained was higher than that obtained by any conventional breeding approach. This
R
gene is expected to provide an alternative to the repeated use of foliar copper applications, benefiting both field workers and the environment [
54
]. Other examples of "mining" of
R
genes from related as well as unrelated plant species have been published for both monocots and dicots [
47
,
55
,
56
]. Recent research has also shown that it is possible to enhance disease resistance by modifying the target of a pathogen effector so that it recognizes other pathogen effectors [
57
]. For example, the target molecule of pathogen effector "A" can be modified (with modest edits) so that its product is activated (and thereby triggers a defense reaction) by another pathogen's effector "B." This creative approach provides new disease resistance traits while avoiding any transfer of genetic material. Durability of
R
genes could be enhanced by engineering resistance based on recognition of effectors critical to pathogenicity [
57
].
It is worth recalling that
R
genes do not code for new biochemical pathways; they merely code for receptor molecules. This allows the plant to recognize the presence of an invading pathogen, thereby taking advantage of their native, natural mechanisms of disease resistance.
Resistance conferred by individual
R
genes is often not durable, because widespread deployment of an
R
genes selects for pathogen strains capable of overcoming it [
42
,
58
,
59
,
60
]. The ability to "mine"
R
genes from plants outside of a crop's breeding pool may be especially important for sustainability, in that it opens a vast pool of
R
genes potentially useful for breeding.
2.3. Upregulating Defense Pathways
Molecules involved in defense signaling, defense regulation, or other processes can be upregulated, boosting general defense responses. Such defenses include generation of reactive oxygen species, callose deposition, synthesis of pathogenesis-related (PR) proteins, and increased activation of systemic acquired resistance (SAR) [
23
,
61
]. As with the previously described strategies, this strategy takes advantage of the plant's own natural immune system and does not introduce new metabolic pathways. This approach has been successful against bacterial pathogens attacking several host species [
62
,
63
,
64
], and it offers promising results for enhancing resistance to citrus greening [
23
], a disease of urgency for the citrus industry. Upregulation of defense pathways was also successful against destructive fungal pathogens, including
Rhizoctonia solani
(the cause of many diseases) and
Magnaporthe oryzae
(the cause of rice blast) [
61
,
65
]. In both cases, resistance was achieved by expressing a native rice gene under the control of a constitutive promotor from maize, introducing neither a novel pathway nor a non-crop gene. It may eventually be possible to upregulate defense responses using native cisgenic promotors, avoiding the use of any DNA outside of the crop's breeding pool.
2.4. Disarming Host Susceptibility Genes
Plants possess genes whose products are important in its normal physiology, but in some way also function to facilitate pathogen infection and colonization. These can be considered susceptibility genes [
66
]. (See the Supplemental Table 1 in [
66
] for a long list of examples.) Changes in such genes by natural means can result in increased disease resistance [
47
,
67
]. The same is true for GE-induced changes [
66
,
68
,
69
,
70
]. While we must remain aware that susceptibility genes may have pleiotropic effects, disarming susceptibility genes may hold promise for durable resistance for two reasons: first, in some pathosystems, many host factors contribute to host-parasite compatibility, offering many potential targets to disarm through very modest changes in DNA sequence; and second, overcoming a disarmed susceptibility gene requires the pathogen to gain a new function to replace the lost host factor it was exploiting. Gaining a new function is not likely to be easily accomplished [
66
]. Disarming susceptibility genes can be achieved without introducing a novel metabolic pathway or leaving exogenous DNA in the final product.
2.5. Producing Antimicrobial Compounds
2.6. Silencing Essential Pathogen Genes
2.7. Modifying Host Targets of Pathogenicity/Virulence Factors
Certain plant pathogens produce molecules (virulence factors) that play a role in virulence by binding to host target molecules [
98
]. The molecular targets of these in the crop can be engineered so as to result in reduced binding, thereby increasing disease resistance [
99
]. Genetic modification of targets of pathogen virulence factors increases host resistance without introducing an exogenous biochemical pathway into the plant, and also can be achieved without transgene insertion.
2.8. Detoxifying Pathogen Toxins
Pathogen-produced toxins can disrupt important biochemical processes of their hosts, thereby facilitating disease development [
100
]. In turn, plant resistance may be conferred by a host enzyme that inactivates a pathogen toxin, whether that enzyme is native [
101
] or the result of GE. As an example of the latter, the phytotoxin oxalic acid is central to pathogenicity of
Cryphonectria parasitica
, the cause of catastrophic epidemics of chestnut blight [
102
]. Significantly less disease development was observed in American chestnut trees transformed with a wheat gene coding for the production of the degradative enzyme, oxalate oxidase [
103
]. As another example, a toxin-degrading enzyme encoded by a barley gene was transformed into wheat, resulting in resistance in the wheat to the highly destructive disease, Fusarium head blight [
104
]. In both examples, the gene constructs used included a viral promotor and a bacterial selectable marker, so in their present configuration, these GE crops clearly qualify as transgenic. However, these potential concerns may be addressed by employing native promotors derived from the engineered crop and marker-free transformation [
85
].
2.9. Engineering CRISPR/Cas Immune System
CRISPR (Clustered Regularly Interspaced Short Palindromic Repeats) is a prokaryotic defense system that targets the DNA of invading viruses and plasmids [
105
,
106
]. In this system, an endonuclease (commonly CRISPR associated protein 9, abbreviated Cas9) is directed to cut the invading DNA at a particular target, where the DNA sequence matches the sequence of an RNA guide strand (gRNA) associated with Cas9. Plants can be transformed to produce both Cas9 and a target-specific gRNA, in order to cleave a specified target of invading DNA. For example, a Cas9/gRNA complex can be engineered to target the replicating DNA of Geminiviruses, which are highly destructive to crops in tropical and subtropical climates [
106
,
107
,
108
,
109
]. Such an engineered Cas9/gRNA complex produces a sequence-specific, targeted immune response which can result in significant host resistance against a DNA virus. These laboratory-based results are exciting if they are reproduced in the field, since conventional breeding has not been universally successful against Geminiviruses [
108
,
110
]. A variety of viral genetic elements can be successfully targeted [
106
,
108
], which would confer long-term utility to this strategy. Crops engineered to express a CRISPR/Cas immune system are transgenic, containing DNA sequences which are bacterial and viral in origin (coding for Cas9 and gRNA, respectively), which may hamper public acceptance.
2.10. Reducing Infection Courts
Transgenic crops expressing δ-endotoxins (Cry proteins) from
Bacillus thuringiensis
(Bt) have been used successfully to control certain insects. Another benefit from the use of Bt corn has been the well-documented reductions in mycotoxin contamination that sometimes occur. Reductions in both fumonisins and aflatoxins have been reported in field studies on several continents [
111
,
112
,
113
,
114
,
115
]. These reductions have been associated with reduced insect wounding on kernels expressing a Cry endotoxin, resulting in fewer openings for infection by mycotoxin-producing fungi [
114
,
116
]. The Bt trait is not a "silver bullet", eliminating all mycotoxin risk. However, reductions occur often enough that the Bt trait is commonly thought to contribute to food safety and livestock health. It is interesting to note that the application of synthetic insecticides to control kernel-feeding insects on non-Bt plants also sometimes reduces insect feeding and fumonisin contamination. However, to this observer, genetic approaches to reducing mycotoxin contamination are preferred for considerations of both environmental protection and consumer health.
3. Deployment of GE Traits
Just as pathogen populations adapt to conventionally bred resistance, prudence dictates that we anticipate the same in response to the deployment of engineered resistance mechanisms. Reducing disease pressure through integrated disease management remains an essential strategy for reducing selection pressure towards overcoming resistance traits [
117
]. Thus, GE traits should be deployed in conjunction with appropriate management practices for disease control. This will help to promote sustainability by extending the useful life of resistance traits. In addition, GE traits must be deployed with attention to genetic diversity. Widespread deployment of a single gene conferring high levels of disease resistance imposes substantial selection pressure for virulence, often resulting in pathogen strains highly virulent on plants possessing that resistance gene [
59
,
118
,
119
]. Thus, the widespread deployment of solo resistance genes—whether conventional or GE-derived—should not be expected to provide sustainable disease control.
One way to introduce genetic diversity is via "stacking" multiple, distinct resistance traits. Creating
in planta
diversity by gene stacking would be expected to increase the durability of resistance traits, since the target pathogen must overcome all genes in the stack to be fully virulent [
37
,
43
,
52
,
58
,
62
,
66
,
120
,
121
,
122
]. Stacking conventional
R
genes with diverse biological effects on the pathogen has been shown to increase resistance durability [
58
]. This suggests that traits based on distinct GE strategies could also be stacked in order to disrupt the evolution of virulence. Depending on the crop, stacking via GE may often be more practical than by other breeding techniques [
43
]. Molecular tools also permit us to identify
R
genes that correspond to "core," conserved pathogen effectors [
47
], which may impose a high fitness cost on virulent pathogen strains. High-throughput techniques for cloning R-genes [
123
,
124
] are expected to greatly expand the libraries of
R
genes available to breeders. Plant artificial chromosomes [
125
] will likely facilitate stacking of numerous genes performing diverse functions, thus increasing the durability of deployed genes. Rotation of
R
genes may also contribute to durability [
126
]. A long-term, sustainable approach to disease management may involve coordination of breeding programs to systematically substitute or rotate stacked genes at periodic intervals. Deploying diverse genetics through time in this way would further disrupt pathogen adaptation.
4. Selected Concerns
A variety of concerns are raised with respect to GE crops. In-depth consideration of all of these lies beyond the scope of this paper. However, several selected concerns are discussed below.
5. Genome Editing: More Precise, Dynamic Tools for GE
Biology is being revolutionized by genome editing based on CRISPR/Cas9 technologies. These technologies not only provide powerful tools for research and therapeutics; they provide new methods for engineering crops to address genuine human needs and environmental impacts of crop production. Until recently, most applications of GE in crops involved insertion of DNA from an evolutionarily distant organism via either the bacterium
Agrobacterium tumefaciens
(a "natural genetic engineer") or the "gene gun." In contrast to plant transformation, genome editing can produce defined genetic changes in targeted genes much like a word processor, and with high efficiency and limited off-target changes [
69
,
218
,
219
,
220
]. Furthermore, it can be done in ways that leave no trace in the plant of foreign DNA (such as antibiotic resistance genes, plasmid fragments,
etc.
) [
221
,
222
]. Several examples were cited in
Section 2
of the successful application of CRISPR/Cas9 technologies in developing crop disease resistance [
69
,
70
,
106
,
107
,
108
,
109
], and many others are expected. Indeed, CRISPR/Cas9 technologies may facilitate the development of entirely novel GE strategies not presented in this review.
Genome editing permits a more dynamic range of possibilities for genetic changes beyond those provided by plant transformation. It has commonly used for targeted mutagenesis and targeted modification: making very modest changes in existing genes in live cells [
69
,
105
,
219
,
223
,
224
]. Genetic changes can be as limited as a single nucleotide change, with no trace of introduced DNA. Thus, through targeted mutagenesis via CRISPR-Cas9, it is possible to create a nontransgenic gene edit that cannot be distinguished from a mutation that was naturally occurring or that was introgressed by conventional breeding [
221
]. Many experts consider such gene edits as excludable from GMO regulation [
225
] and argue that they should be clearly distinguished from GMOs, referring to them as "genetically edited crops" (GECs) [
224
]. Through homology-directed repair (HDR), genome editing can be used to edit a crop's genome so as to contain a novel functional DNA string identical to that of any source organism, including unrelated ones [
223
,
226
,
227
]. One application of HDR-based genome editing could be to edit a gene so as to match a gene from a crop's natural gene pool (=cisgenesis). Genome editing may thus be able to expedite genetic outcomes achievable through conventional breeding. For example, cisgenic applications of genome editing may present a particularly important path to increased disease resistance in crops that are difficult to hybridize [
43
,
51
]. Alternatively, HDR-based genome editing could conceivably be used to add a gene sequence from some evolutionarily distant organism, which is the equivalent of transgenesis [
223
,
227
] and therefore warranting regulatory scrutiny similar to that of transgenic crops [
225
].
Experienced molecular biologists commonly report that implementing CRISPR/Cas9 techniques is relatively straightforward, efficient, and low-cost, as compared to other techniques of genome editing. Depending on the regulatory environment, some applications of genome editing could help to "democratize" GE making it more accessible to small seed companies, nonprofit organizations, and governments in developing countries. In addition, it may facilitate beneficial applications of GE beyond large-scale agronomic crops (corn, soy, cotton,
etc.
), which currently dominate GE acreage globally.
6. Conclusions
The sustainability of food systems is a unifying interest that lies beyond particular crop production approaches or philosophies. The critical question is not, "Do certain GE strategies fit within a given production philosophy?" but rather, "Can a given practice or technology take us further down the path towards sustainability?" With respect to disease control, GE technologies, used wisely, certainly will permit the expeditious introduction into crops of targeted, diverse resistance mechanisms that mimic natural processes. While recognizing the important benefits GE technologies offer, larger considerations merit attention, especially questions of public acceptability and of whether there are any long-term ecological risks different from those posed by conventional breeding. In considering such issues, it is important to remember that, not only do diverse GE strategies exist, but diverse GE manipulations are possible, ranging from very modest, targeted mutagenesis, through cisgenics and intragenics, to insertion of transgenes from other crops, from other (non-crop) plants, and from evolutionarily distant organisms. Thus, in considering socioeconomic and cultural perspectives of GE, it is important to bear in mind this diversity of strategies and applications: GE crops can differ markedly from one another.
All of the varied conventional breeding techniques in existence today will remain the keystone of sustainable crop improvement, for several reasons. First, GE is commonly not the best breeding approach. If conventional breeding techniques permit breeders to meet their breeding goals, then these will often be preferred. Second, even when a useful GE trait has been created, conventional breeding remains necessary in order to introgress the trait into elite breeding lines. Finally, in any given crop, a useful GE construct may target one or a few pathogens of particular importance, but other breeding techniques still may be important for tackling disease problems not targeted by available GE traits. Thus, GE should be understood, not as the best approach to addressing sustainability challenges, but merely as a suite of tools that capitalizes on the knowledge that biologists gain through our ongoing study of Nature. GE simply expands the breeding "toolbox," providing options to consider on a case-by-case basis for enhancing the sustainability of crop disease management.
Acknowledgments
Thanks to Aardra Kachroo (University of Kentucky), Wayne Parrott (University of Georgia), and the anonymous reviewers for providing helpful suggestions on a previous draft of this paper.
Conflicts of Interest
The author declares no conflict of interest in the topic of genetic engineering. For a detailed disclosure statement, see "Disclosure Statement on Industry Relations" at
http://out-of-the-box-vincelli.blogspot.com/2015/11/disclosure-statement-on-industry.html
. All costs relating to the development of this review—routine academic expenses such as professorial salary, internet access, library services,
etc.
—were paid by the University of Kentucky. No external funding was solicited nor received for this project. Publication costs were waived by the journal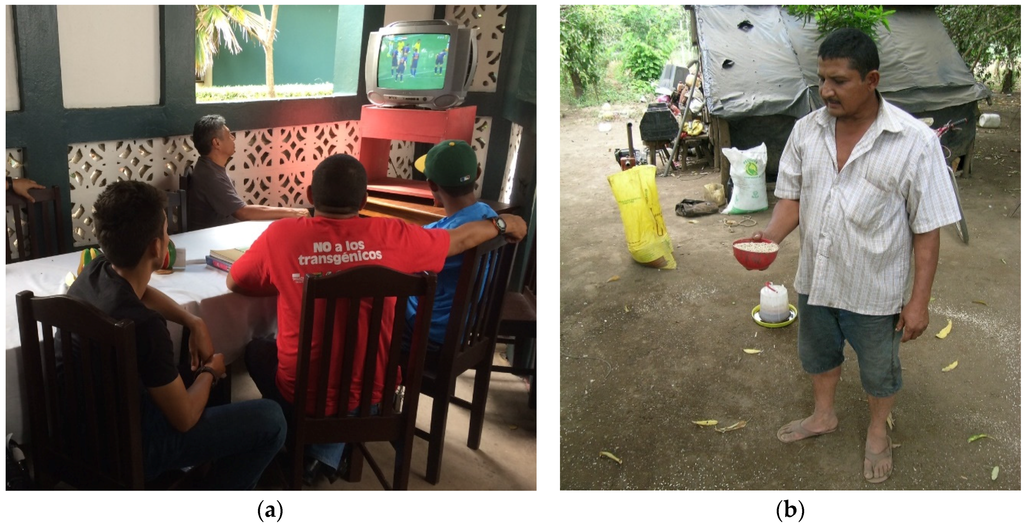 Figure 1. Selected perspectives on genetically engineered (GE) crops. (a) Some consider transgenic crops to be in conflict with their local culture; note the red t-shirt: "NO to transgenics." It is worth noting that some applications of GE do not employ transgenesis and therefore may be more widely acceptable. (b) Many smallholders are understandably concerned about the restrictions patents place on seed saving and sharing. In developing economies, GE traits in the public domain are likely to be the most accepted.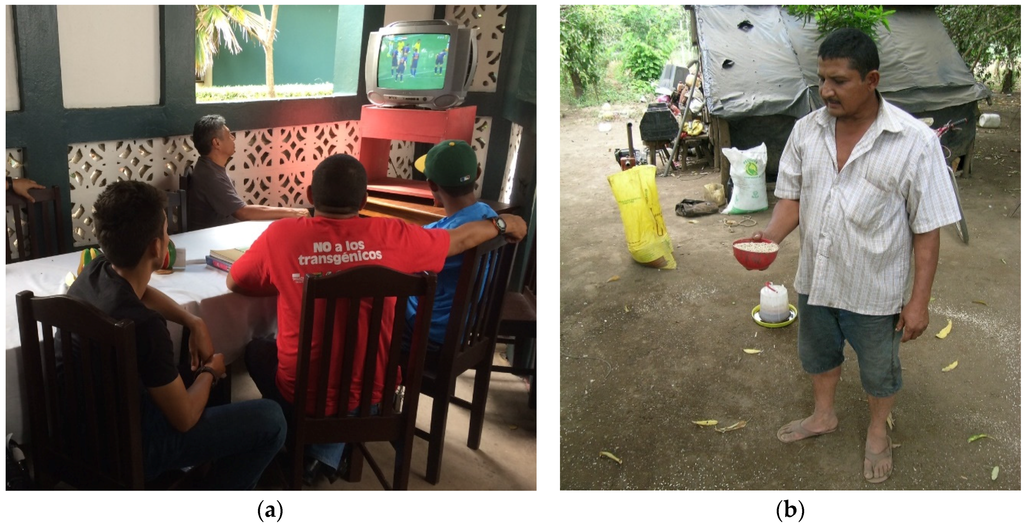 © 2016 by the author; licensee MDPI, Basel, Switzerland. This article is an open access article distributed under the terms and conditions of the Creative Commons Attribution (CC-BY) license (http://creativecommons.org/licenses/by/4.0/).