Open Access This article is
freely available
re-usable
Article
Evaluation of Predation Capability of Periodontopathogens Bacteria by Bdellovibrio Bacteriovorus HD100. An in Vitro Study
1
Fondazione Policlinico Universitario A. Gemelli IRCCS, Institute of Dentistry and Maxillofacial Surgery, Università Cattolica del Sacro Cuore, 00168 Roma, Italy
2
Fondazione Policlinico Universitario A. Gemelli IRCCS, Institute of Microbiology and Virology, Università Cattolica del Sacro Cuore, 00168 Roma, Italy
3
Department of General Surgery and Surgical-Medical Specialties, Via Plebiscito 628, University of Catania, 95124 Catania, Italy
*
Author to whom correspondence should be addressed.
Received: 9 June 2019 / Accepted: 21 June 2019 / Published: 23 June 2019
Abstract
:
Treatment options against periodontitis attempt to completely remove oral microbiota even if several species in dental plaque demonstrate protective features. Predatory bacteria that selectively predate solely on Gram-negative bacteria might be a viable therapeutic alternative. Therefore, the aim of this study is to in vitro evaluate the susceptibility of some oral pathogens to predation by
B. bacteriovorus
HD100 in liquid suspension. Cultures of prey cell were prepared in brain heart infusion broth (BHI) broth incubating overnight at the appropriate conditions for each organism to reach log phase of growth. Predatory activity was assessed by measuring optical density at 600 nm after 12, 24, 48 and 72 hours. Statistical analysis was performed using the Mann–Whitney U test and p values less than 0.05 were considered statistically significant. The study demonstrated that
B. bacteriovorus
is able to predate on aerobic species and on microaerophilic ones (p < 0.05) but also that its predatory capacity is strongly compromised by the conditions of anaerobiosis.
B. bacteriovorus
, in fact, was unable to predate the anaerobic species involved in the present study (
F. nucleatum
and
P. gingivalis
). The findings of the study suggest that
B. bacteriovorus
is able to tolerate microaerophilic conditions and that in anaerobiosis it cannot exert its predatory capacity. Such evidence could lead to its use as an agent to prevent recolonization of the periodontal pocket following therapy. Further studies are needed to investigate the activity of
B. bacteriovorus
against recently recognized periodontopathogens, alone or organized in biofilms of multi-species communities.
Keywords:
Local antimicrobial therapy; microbiology; periodontal medicine; periodontitis; plaque control
Author Contributions
Conceptualization, R.P. and P.C.; methodology, G.Q.; validation, R.P., P.C. and P.G.; investigation, G.Q.; data curation, S.M.; writing—original draft preparation, G.I.; writing—review and editing, P.G.; visualization, G.I.; supervision, P.G.
Funding
This research received no external funding.
Conflicts of Interest
The authors declare no conflicts of interest.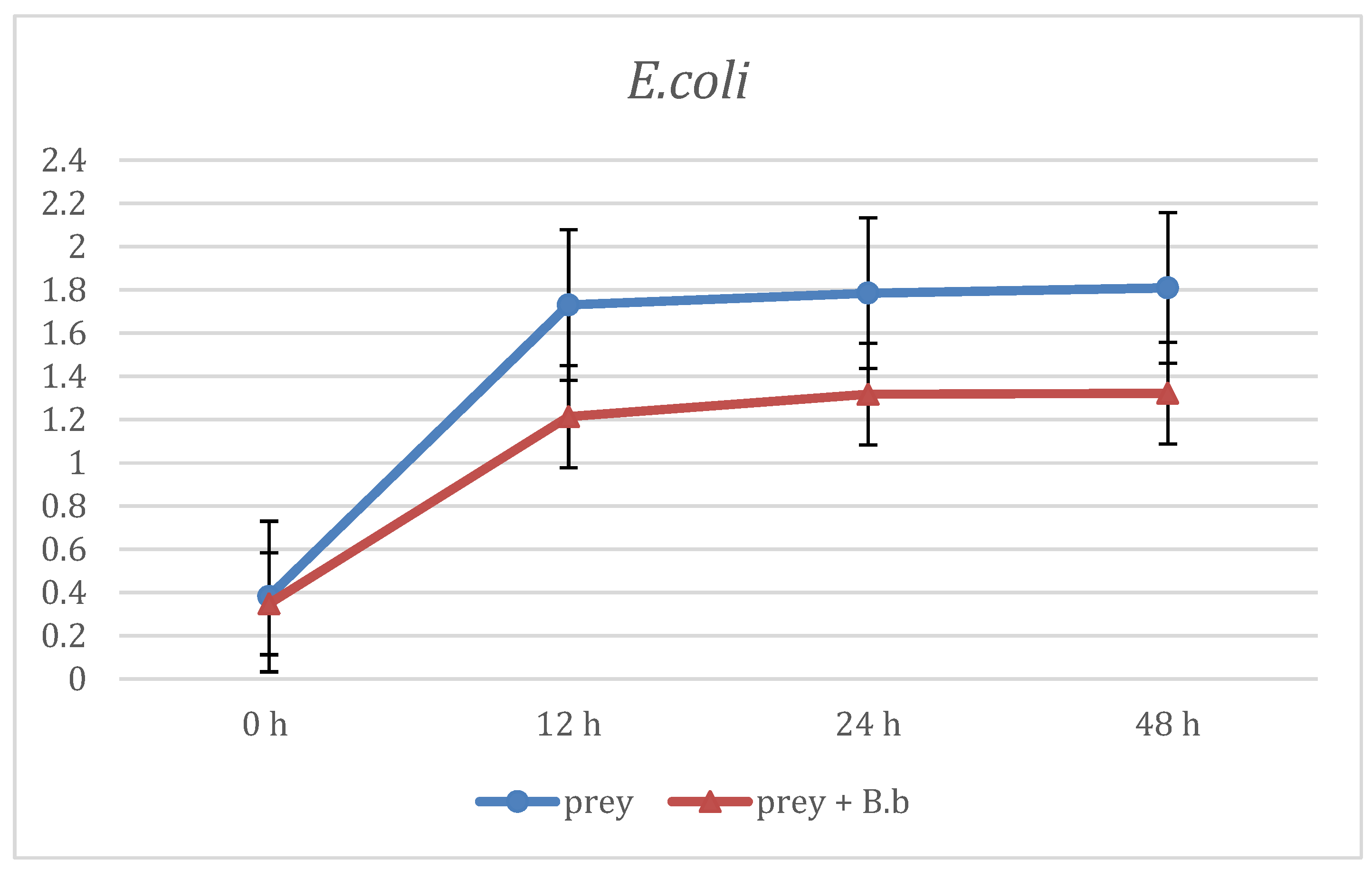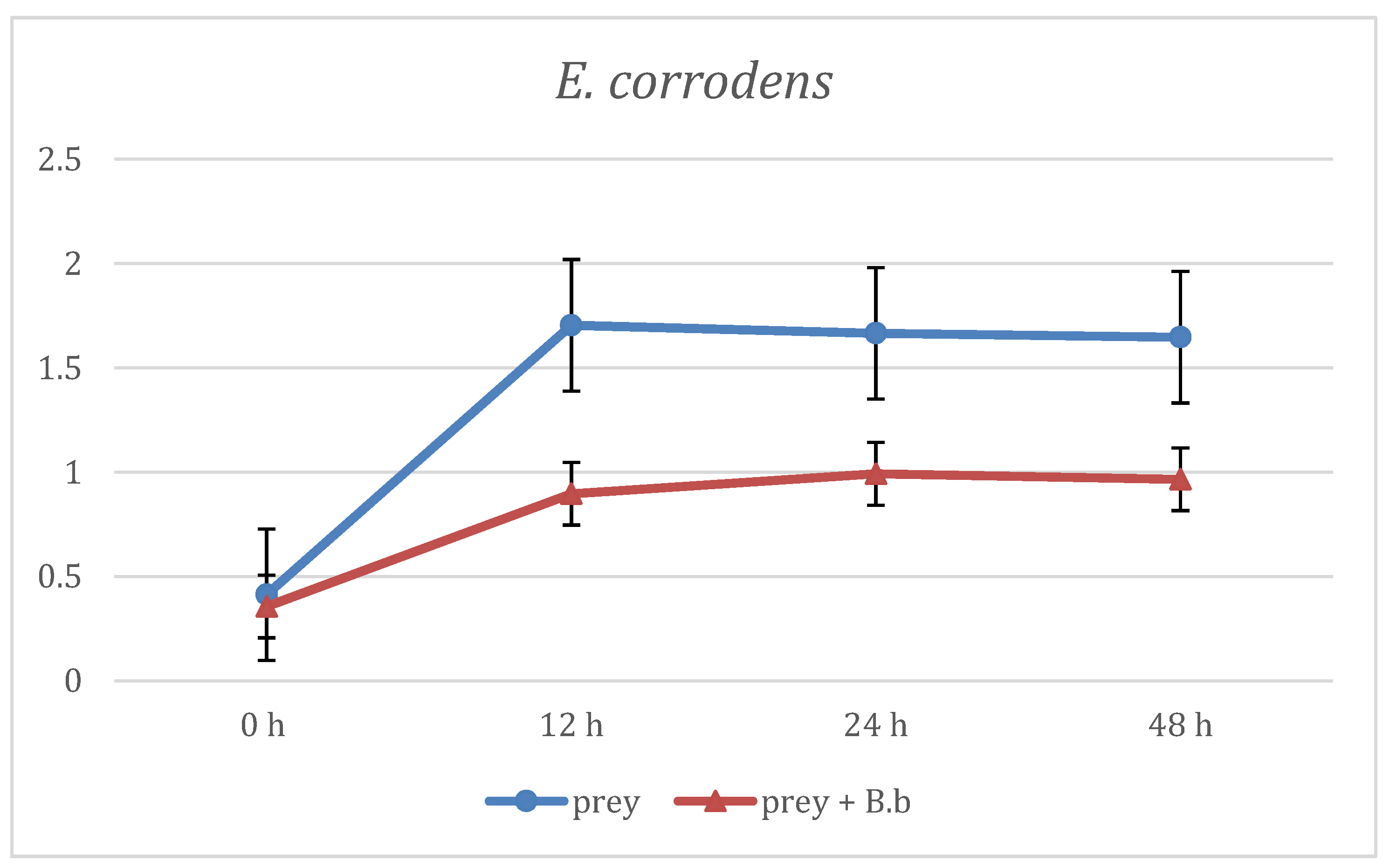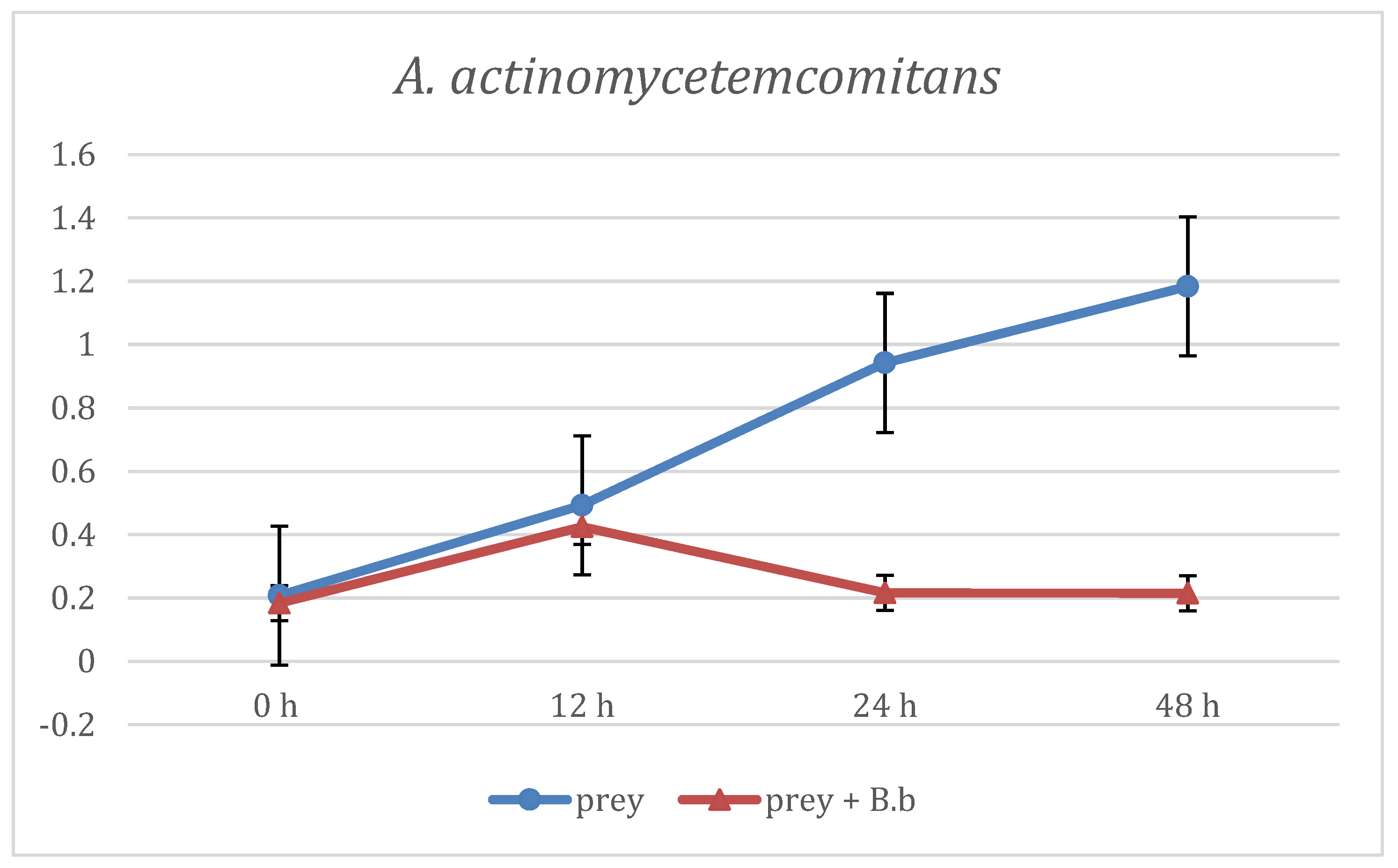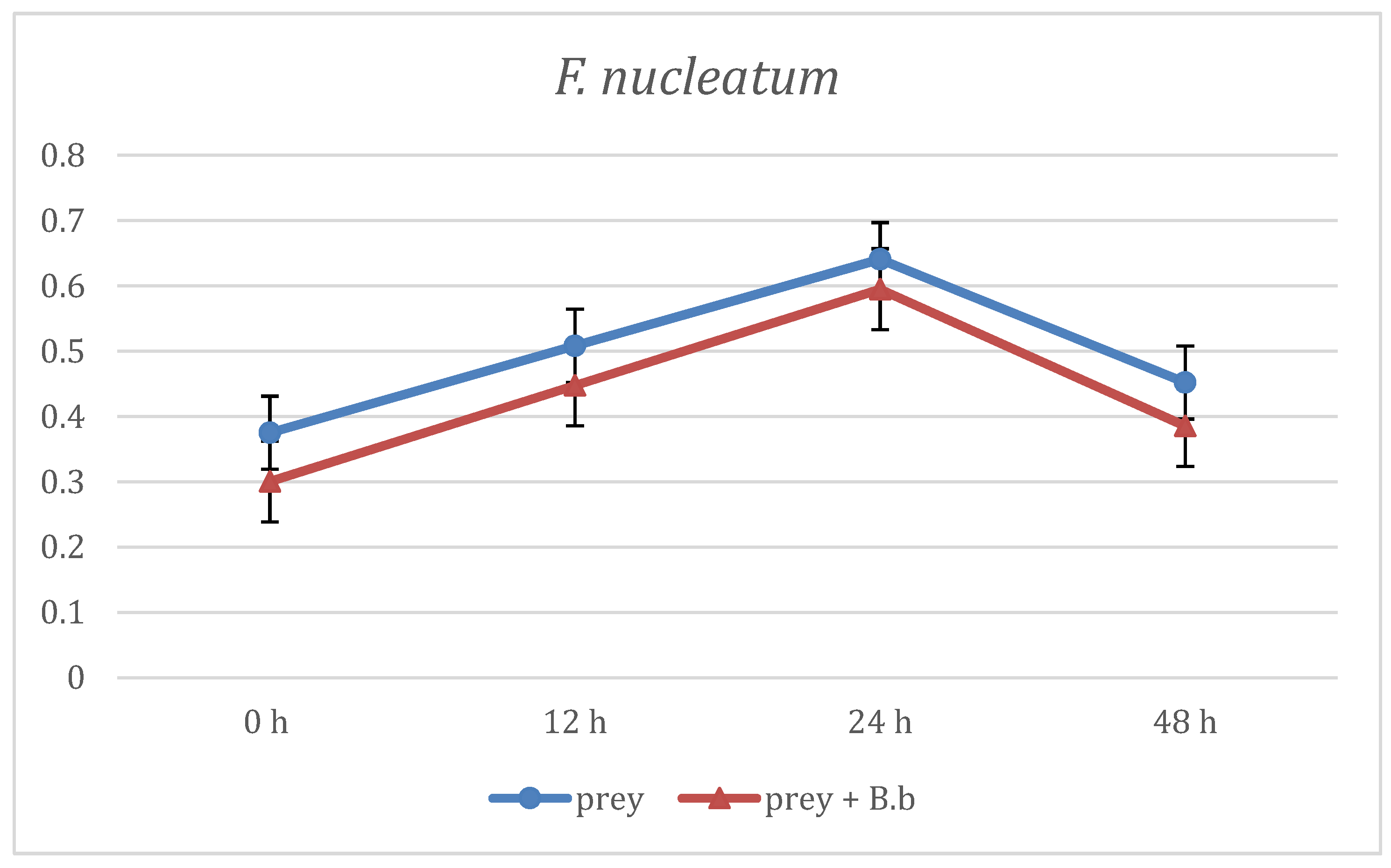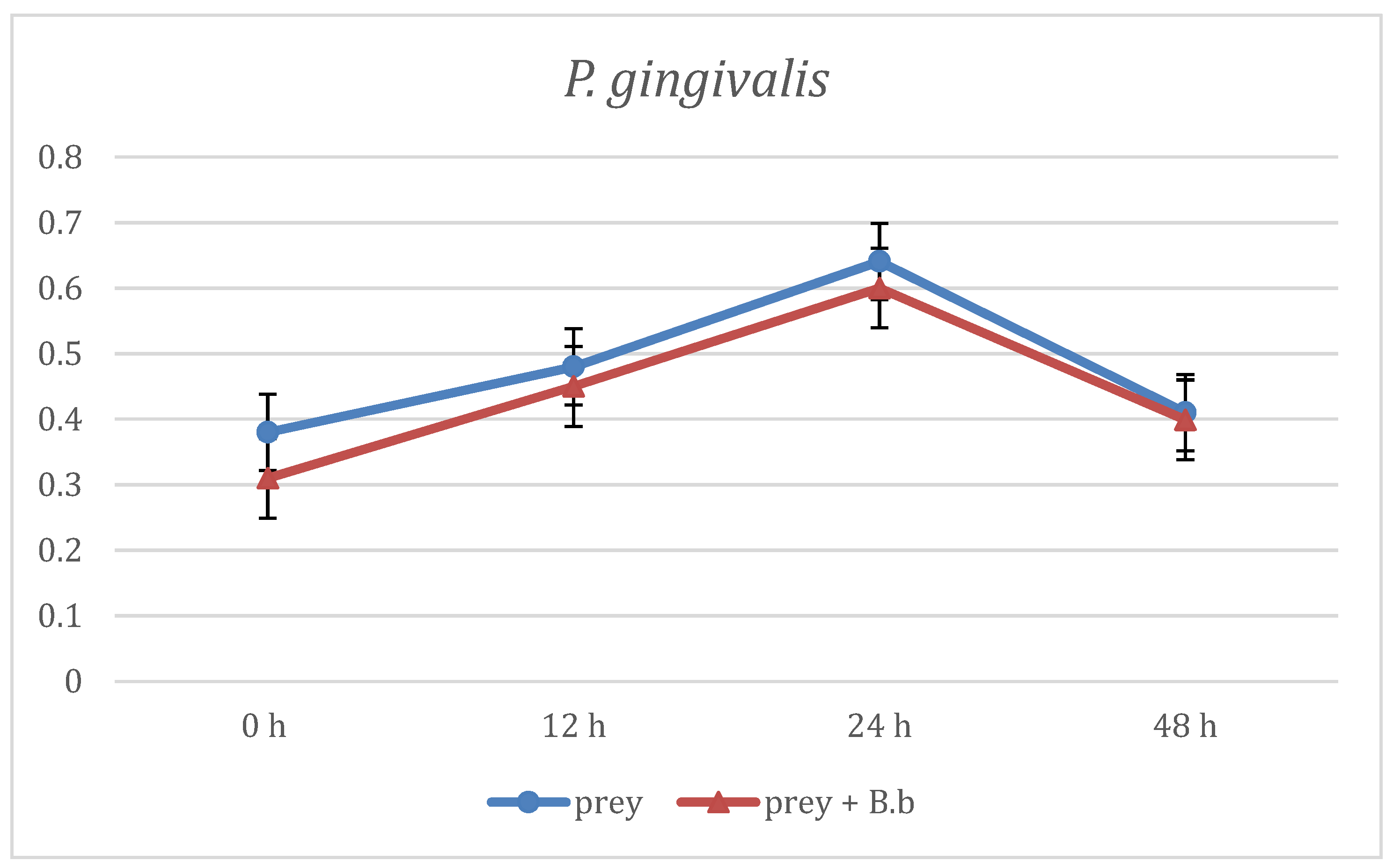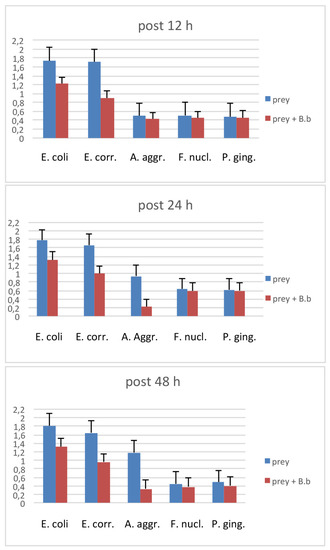 Figure 6. Difference of bacterial growth rate between positive controls and co-cultures at 12 h, 24 h and 48 h.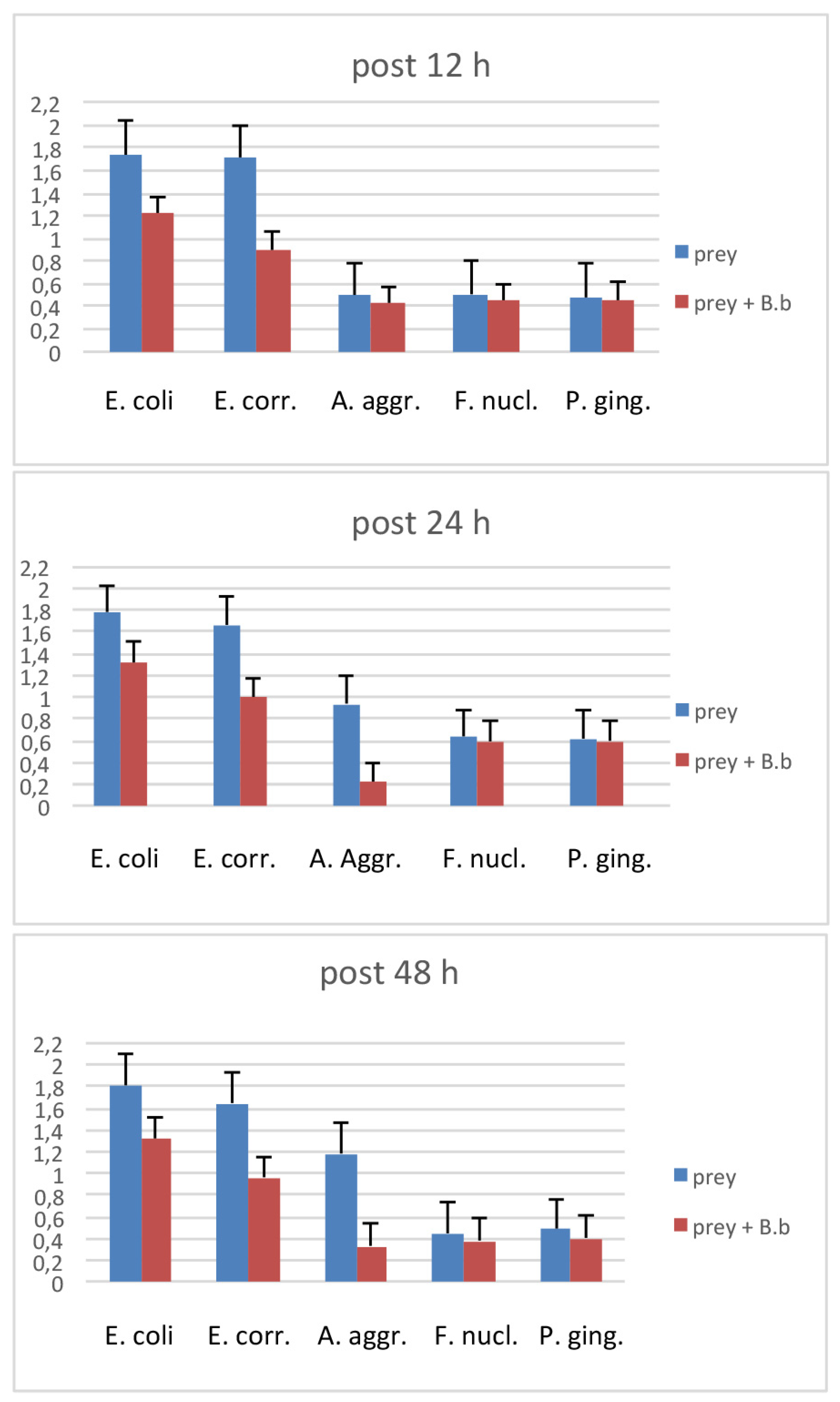 © 2019 by the authors. Licensee MDPI, Basel, Switzerland. This article is an open access article distributed under the terms and conditions of the Creative Commons Attribution (CC BY) license (http://creativecommons.org/licenses/by/4.0/).