Open Access This article is
freely available
re-usable
Review
Aspects of Solvent Chemistry for Calcium Hydroxide Medicaments
1
Private dental practice, Annerley, QLD 4013, Australia
2
School of Dentistry, University of Queensland, Herston, Brisbane, QLD 4004, Australia
*
Author to whom correspondence should be addressed.
Received: 13 September 2017 / Accepted: 17 October 2017 / Published: 23 October 2017
Abstract
:
Calcium hydroxide pastes have been used in endodontics since 1947. Most current calcium hydroxide endodontic pastes use water as the vehicle, which limits the dissolution of calcium hydroxide that can be achieved and, thereby, the maximum pH that can be achieved within the root canal system. Using polyethylene glycol as a solvent, rather than water, can achieve an increase in hydroxyl ions release compared to water or saline. By adopting non-aqueous solvents such as the polyethylene glycols (PEG), greater dissolution and faster hydroxyl ion release can be achieved, leading to enhanced antimicrobial actions, and other improvements in performance and biocompatibility.
Keywords:
endodontics; medicaments; calcium hydroxide; polyethylene glycol; alkalinity; disinfection
2. Solvents and Their Effects on Solubility
3. Measurements of pH of Calcium Hydroxide Preparations and Their Interpretation
At 25 °C, the pH range in water is from 0 to 14. Each pH unit corresponds to a 59.16 mV change in electrode potential. When the temperature is higher than 25 °C, the sum of pH + pOH is slightly less than 14 due to a higher degree of ionization of water. Conversely, at low temperatures, pH + pOH is larger than 14 due to a lesser degree of ionization.
Freshly prepared solutions of calcium hydroxide in water show a typical pH of 12.4–12.7 [
21
,
41
]. If left to stand over time, the pH falls, as conversion to calcium carbonate occurs due to the presence of dissolved carbon dioxide gas and, thus, carbonic acid.
Just as with water, pH scales may also be defined in non-aqueous liquids at a particular temperature [
45
,
46
,
47
] (
Table 2
). It is possible to consider pH in non-aqueous fluids because the proton activity term is applicable to organic solvents as well as to water. While pH scales in non-aqueous fluids are equally valid as a measure of acidity and dissociation constants, a separate pH scale is required for each solvent, as the scale varies according to the solvent. This is particularly important for alkaline preparations. When strong bases are added, at room temperature, the upper pH limit of water is pH 14, while the upper pH limit in PEG 400 is 15.8, which is almost 2 pH units greater than water. This explains why a pH value of over 14 can be recorded for a PEG-based calcium hydroxide product, and how pH rises as more calcium hydroxide is added into PEG 400 (
Figure 1
). When measured with a KCl electrode (model, company, city, country), the pH of a 10% solution of calcium hydroxide in PEG 400 is 14.75 [
31
], which is two pH units above the maximum pH of 12.7 for freshly prepared solutions of calcium hydroxide in water [
21
,
41
].
Other upper pH limits that can be reached when strong bases are added include ethylene glycol pH 15.8, ammonia pH 32.5, and dimethyl sulphoxide pH 35.0 [
49
,
50
,
51
]. Likewise, the pH measurement scales in non-aqueous solutions will also show changes in lower limits when compared to water, and this will also occur when water is mixed with organic solvents [
52
]. The pH scale for an ethanol solvent is −4 to +16 pH, while for an acetone solvent it is −5 to +20 pH [
52
]. The reason for this change in the scale is that ethanol can act as both a proton donor and proton acceptor, which moderates changes in proton activity. In the case of acetone, it is neither a proton donor nor a proton acceptor, and so does not influence proton activity. This allows the upper and lower limits of the pH scale to be much further apart than is the case for water [
53
]. This concept, which is well known in the field of electrochemistry [
49
,
50
,
51
,
52
,
53
], has direct relevance to the discussion of pH measurements of calcium hydroxide in various solvents. Like acetone and many other hydrocarbons, the pH scale for a PEG solvent has an extended upper pH limit. This higher alkaline limit is one reason why PEG is a suitable material to use as solvent for calcium hydroxide products.
Finally, a range of technical issues arise when measuring the properties of highly alkaline materials with pH sensors. The most important of these is that traditional pH sensors are built with wetted materials designed for aqueous applications. Thus, when using non-aqueous solvents with water-free materials, a special electrode designed for non-aqueous pH measurement should be used. Electrodes designed specifically for non-aqueous solvents use 2% lithium chloride in ethanol as the reference electrolyte. When testing highly alkaline materials, the electrode solution used is tetraethylammonium bromide (TEABr) 0.4 mol/L in ethylene glycol. The same solutions are used to store the electrodes when not in use. Because of the slow speed of response of these electrodes, when PEG-based medicaments (such as Calmix or Odontocide) are assessed, up to 140 min is required before a stable recording is reached. Typical data from an evaluation of these products is shown in
Table 3
.
Data show the mean and standard deviation from five independent experiments. In this series, the ranking of medicaments from most alkaline to least alkaline was Calmix, Odontocide, Pulpdent and then Calasept Plus, regardless of which of the two electrodes was used. With the KCl electrode, all measured pH differences between materials were statistically significant (
p
< 0.001), except for Pulpdent versus Calasept Plus. In contrast, with the TEABr electrode, all differences between Calmix and other materials were statistically significant (
p
< 0.001), but there was no significant difference between the other three pastes. Differences in the readings between the two electrodes vary from 0.05 to 0.16 pH units.
There is an extensive literature on the choice of electrodes for measuring non-aqueous fluids [
54
,
55
,
56
,
57
,
58
,
59
]. Methods have been developed to use semiconductor pH sensors for non-aqueous fluids. Ta
2
O
5
– and Si
3
N
4
–type pH–sensitive ion-sensitive field-effect transistors (ISFETs) have been used to measure pH in non-aqueous solutions, and were found to respond much faster than the conventional glass electrodes [
54
].
4. Conclusions
Calcium hydroxide is a widely used antimicrobial agent in endodontics. The solvent used for this agent influences both the physical and chemical properties of the material, including its viscosity and ion release pattern. A range of water-based materials have traditionally been used for calcium hydroxide medicament pastes, but there has also been interest in the use of alternative vehicles including glycerin and PEG, since these are better solvents and can enhance ion release. The concepts of ionic equilibria and pH in non-aqueous solvents that have been well documented in the electrochemistry literature can help explain how water-free solvents influence the properties of calcium hydroxide when dissolved into glycerin or PEG. Water-free medicaments may be used to achieve enhanced alkaline effects for inactivating microorganisms in the root canal.
Author Contributions
Basil Athanassiadis and Laurence J. Walsh both undertook the literature search and contributed to writing the paper.
Conflicts of Interest
Basil Athanassiadis and Laurence J. Walsh both jointly hold a patent on Calmix endodontic paste.
Figure 1.
pH measurements using a KCl electrode (Ionode) (blue bars) and a tetraethylammonium bromide (TEABr) electrode (Metrohm Solvotrode)(model, company, city, country) (red bars) according to the percentage weight loading of calcium hydroxide in different solvents, comprising (from the left to the right) PEG 400, PEG 400 + PEG 3350 copolymer, water with carboxymethylcellulose (CMC), saline, and a mix of 5% water and PEG 400. Two commercial pastes are water based (Pulpdent, Calasept Plus), and two use PEG 400 (Odontocide, Calmix). The typical pH achieved for calcium hydroxide in water is shown by the horizontal black line. Data from Reference [
31
].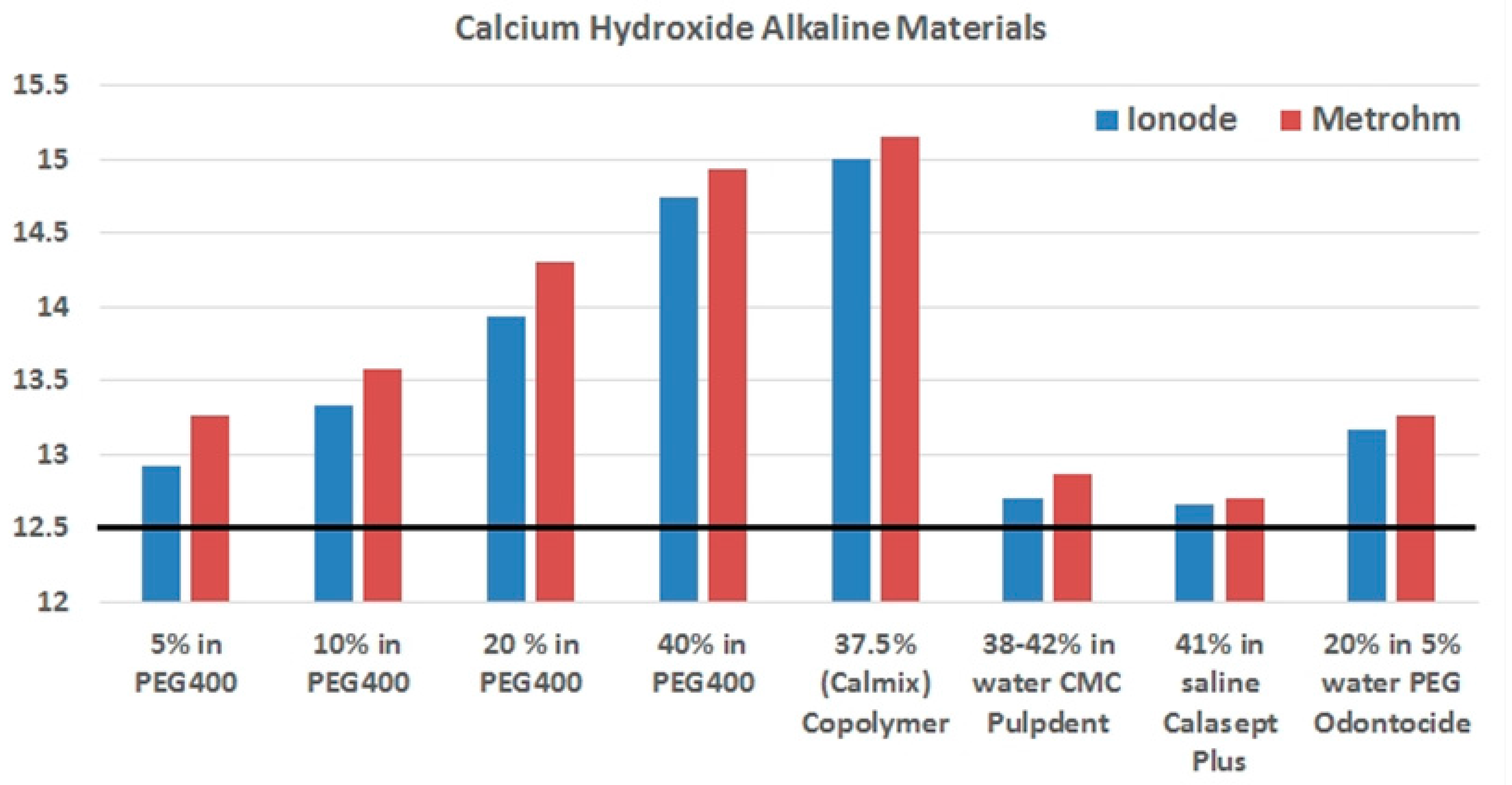 | Name | Ca(OH)2 Content and Vehicle | Measured pH |
| --- | --- | --- |
| ApexCalTM | 29% in water + PEG + glycerin | 12.4 |
| CalenTM | 49.8% in PEG 400 | N/A |
| Calasept PlusTM | 41.1% in saline (water) | 12.6 |
| CalcipulpeTM | 20% in water | 11.8 |
| CalmixTM | 37.5% in PEG 400 + PEG 3350 | 15.0 |
| DT TempTM | 50% in water | 12.6 |
| OdontocideTM | 20% in PEG 400 + water | 13.2 |
| PulpdentTM | 42% in water | 12.7 |
| Ultracal XSTM | 35% in water | 12.5 |
| Solvent | Lower Limit | Upper Limit |
| --- | --- | --- |
| Water | 0 | 14 |
| Sulfolane | −10 | 31 |
| Methanol | 1.8 | 17.2 |
| Ammonia | 18 | 32.5 |
| Ethanol | −4 | 16 |
| Acetone | −5 | 20 |
| Product | KCl Electrode | TEABr Electrode |
| --- | --- | --- |
| Pulpdent | 12.706 (0.006) | 12.862 (0.008) |
| Calasept Plus | 12.662 (0.017) | 12.710 (0.012) |
| Odontocide | 13.170 (0.025) | 13.062 (0.450) |
| Calmix | 14.996 (0.010) | 15.162 (0.108) |

© 2017 by the authors. Licensee MDPI, Basel, Switzerland. This article is an open access article distributed under the terms and conditions of the Creative Commons Attribution (CC BY) license (http://creativecommons.org/licenses/by/4.0/).