High Lipid Induction in Microalgae for Biodiesel Production
Algae Biotechnology Laboratory, School of Agriculture and Food Sciences, The University of Queensland, Brisbane, Queensland 4072, Australia
*
Author to whom correspondence should be addressed.
Received: 30 March 2012 / Revised: 3 May 2012 / Accepted: 8 May 2012 / Published: 18 May 2012
(This article belongs to the Special Issue
Algae Fuel
)
Abstract
Oil-accumulating microalgae have the potential to enable large-scale biodiesel production without competing for arable land or biodiverse natural landscapes. High lipid productivity of dominant, fast-growing algae is a major prerequisite for commercial production of microalgal oil-derived biodiesel. However, under optimal growth conditions, large amounts of algal biomass are produced, but with relatively low lipid contents, while species with high lipid contents are typically slow growing. Major advances in this area can be made through the induction of lipid biosynthesis, e.g., by environmental stresses. Lipids, in the form of triacylglycerides typically provide a storage function in the cell that enables microalgae to endure adverse environmental conditions. Essentially algal biomass and triacylglycerides compete for photosynthetic assimilate and a reprogramming of physiological pathways is required to stimulate lipid biosynthesis. There has been a wide range of studies carried out to identify and develop efficient lipid induction techniques in microalgae such as nutrients stress (e.g., nitrogen and/or phosphorus starvation), osmotic stress, radiation, pH, temperature, heavy metals and other chemicals. In addition, several genetic strategies for increased triacylglycerides production and inducibility are currently being developed. In this review, we discuss the potential of lipid induction techniques in microalgae and also their application at commercial scale for the production of biodiesel.
View Full-Text
►

▼

Figures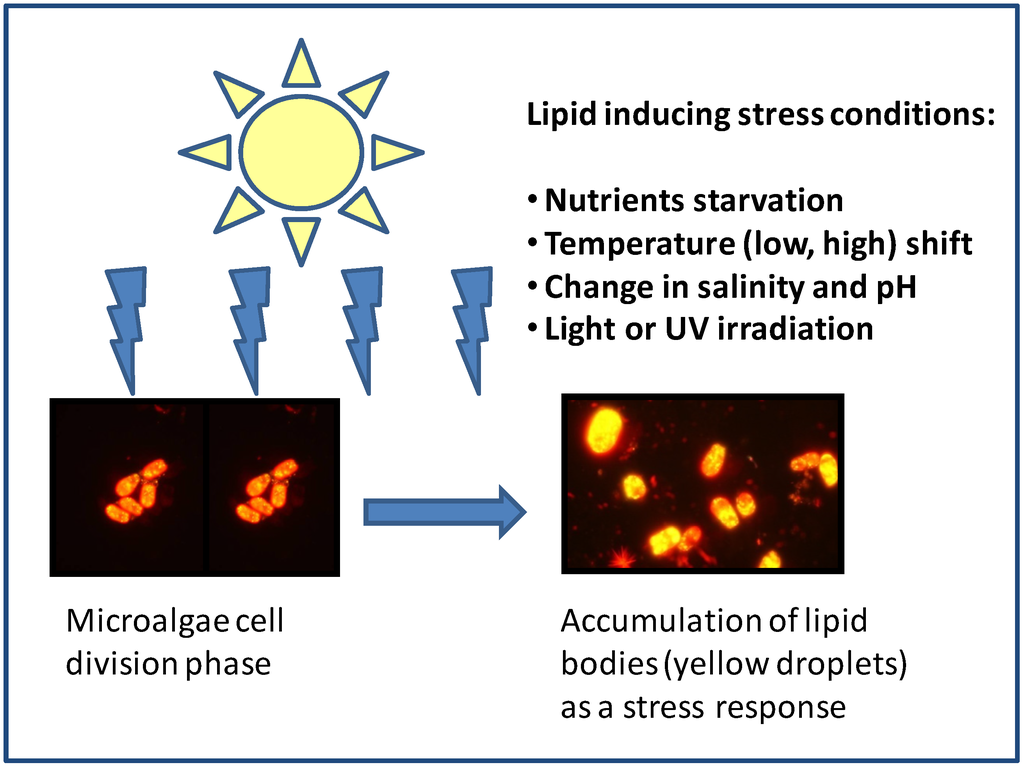 Figure 1

Share & Cite This Article
MDPI and ACS Style
Sharma, K.K.; Schuhmann, H.; Schenk, P.M. High Lipid Induction in Microalgae for Biodiesel Production. Energies 2012, 5, 1532-1553.
Related Articles
Comments
[Return to top]