The Implication of the Brain Insulin Receptor in Late Onset Alzheimer's Disease Dementia
1
Departament de Bioquímica i Biotecnologia, Facultat de Medicina i Ciències de la Salut, Universitat Rovira i Virgili, 43201 Reus, Spain
2
Biomedical Research Networking Centre in Neurodegenerative Diseases (CIBERNED), 28031 Madrid, Spain
3
Departament de Farmacologia, Toxicologia i Química Terapèutica, Facultat de Farmàcia i Ciències de l'Alimentació, Universitat de Barcelona, Av. Joan XXIII 27/31, E-08028 Barcelona, Spain
4
Institut de Neurociències, Universitat de Barcelona, E-08028 Barcelona, Spain
5
Unitat de Farmàcia, Tecnologia Farmacèutica i Fisico-química, Facultat de Farmàcia i Ciències de l'Alimentació, Universitat de Barcelona, E-08028 Barcelona, Spain
6
Institute of Nanoscience and Nanotechnology (IN2UB), University of Barcelona, Barcelona E-08028, Spain
7
Departament de Biologia Cel·lular, Fisiologia i Immunologia, Facultat de Biologia, Universitat de Barcelona, E-08028 Barcelona, Spain
8
Laboratorio de Regeneración y Desarrollo Neural, Instituto de Neurobiología, Departamento de Biología Celular y Molecular, Centro Universitario de Ciencias Biológicas y Agropecuarias, Universidad de Guadalajara, Zapopan 44600, Mexico
9
Department of Gerontology, Federal University of São Carlos (UFSCar), São Carlos 13565-905, Brazil
10
Instituto de Ciencias Biomédicas, Facultad de Ciencias de la Salud, Universidad Autónoma de Chile, Talca 3460000, Chile
*
Author to whom correspondence should be addressed.
Received: 29 December 2017 / Revised: 24 January 2018 / Accepted: 25 January 2018 / Published: 29 January 2018
Abstract
Alzheimer's disease (AD) is progressive neurodegenerative disorder characterized by brain accumulation of the amyloid β peptide (Aβ), which form senile plaques, neurofibrillary tangles (NFT) and, eventually, neurodegeneration and cognitive impairment. Interestingly, epidemiological studies have described a relationship between type 2 diabetes mellitus (T2DM) and this pathology, being one of the risk factors for the development of AD pathogenesis. Information as it is, it would point out that, impairment in insulin signalling and glucose metabolism, in central as well as peripheral systems, would be one of the reasons for the cognitive decline. Brain insulin resistance, also known as Type 3 diabetes, leads to the increase of Aβ production and TAU phosphorylation, mitochondrial dysfunction, oxidative stress, protein misfolding, and cognitive impairment, which are all hallmarks of AD. Moreover, given the complexity of interlocking mechanisms found in late onset AD (LOAD) pathogenesis, more data is being obtained. Recent evidence showed that Aβ42 generated in the brain would impact negatively on the hypothalamus, accelerating the "peripheral" symptomatology of AD. In this situation, Aβ42 production would induce hypothalamic dysfunction that would favour peripheral hyperglycaemia due to down regulation of the liver insulin receptor. The objective of this review is to discuss the existing evidence supporting the concept that brain insulin resistance and altered glucose metabolism play an important role in pathogenesis of LOAD. Furthermore, we discuss AD treatment approaches targeting insulin signalling using anti-diabetic drugs and mTOR inhibitors.
View Full-Text
►

▼

Figures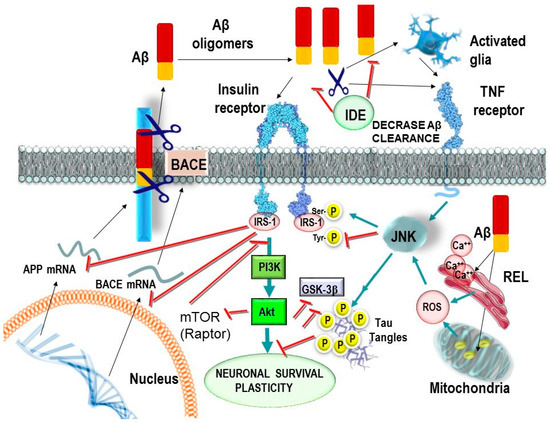 Figure 1
This is an open access article distributed under the
Creative Commons Attribution License
which permits unrestricted use, distribution, and reproduction in any medium, provided the original work is properly cited (CC BY 4.0).

Share & Cite This Article
MDPI and ACS Style
Folch, J.; Ettcheto, M.; Busquets, O.; Sánchez-López, E.; Castro-Torres, R.D.; Verdaguer, E.; Manzine, P.R.; Poor, S.R.; García, M.L.; Olloquequi, J.; Beas-Zarate, C.; Auladell, C.; Camins, A. The Implication of the Brain Insulin Receptor in Late Onset Alzheimer's Disease Dementia. Pharmaceuticals 2018, 11, 11.
Note that from the first issue of 2016, MDPI journals use article numbers instead of page numbers. See further details here.
Related Articles
Comments
[Return to top]