Open Access This article is
freely available
re-usable
Review
Current Understanding of Autophagy in Pregnancy
1
Department of Obstetrics and Gynecology, University of Toyama, Toyama 930-0194, Japan
2
Departments of Pediatrics, Women and Infants Hospital of Rhode Island, Warren Alpert Medical School of Brown University, Providence, RI 02905, USA
*
Author to whom correspondence should be addressed.
Received: 12 April 2019 / Accepted: 10 May 2019 / Published: 11 May 2019
Abstract
:
Autophagy is an evolutionarily conserved process in eukaryotes to maintain cellular homeostasis under environmental stress. Intracellular control is exerted to produce energy or maintain intracellular protein quality controls. Autophagy plays an important role in embryogenesis, implantation, and maintenance of pregnancy. This role includes supporting extravillous trophoblasts (EVTs) that invade the decidua (endometrium) until the first third of uterine myometrium and migrate along the lumina of spiral arterioles under hypoxic and low-nutrient conditions in early pregnancy. In addition, autophagy inhibition has been linked to poor placentation—a feature of preeclamptic placentas—in a placenta-specific autophagy knockout mouse model. Studies of autophagy in human placentas have revealed controversial results, especially with regard to preeclampsia and gestational diabetes mellitus (GDM). Without precise estimation of autophagy flux, wrong interpretation would lead to fixed tissues. This paper presents a review of the role of autophagy in pregnancy and elaborates on the interpretation of autophagy in human placental tissues.
Keywords:
Atg7; autophagy; lysosomes; placenta; preeclampsia; protein aggregation; p62/SQSTM1
Funding
The series of this study was supported by AMED-CREST from the Japan Agency for Medical Research and Development, AMED 16gk0110018h0001, grants from the Kanzawa Medical Research Foundation, Tamura Science and Technology Foundation, Yamaguchi Endocrine Research Foundation, First Bank of Toyama, Toyama University Hospital Grant, 040200-59200003502, and JSPS KAKENHI Grant Numbers JP17K11221 and JP19K09750.
Conflicts of Interest
The authors declare no conflict of interests. The funders had no role in the design of the study; in the collection, analyses, or interpretation of data; in the writing of the manuscript, or in the decision to publish the results.
Abbreviations
| | |
| --- | --- |
| Atg | Autophagy-related |
| BECN1 | Beclin 1 |
| CMA | Chaperone-mediated autophagy |
| DOHaD | Developmental origins of health and disease |
| ER | Endoplasmic reticulum |
| E2 | 17β-estradiol |
| EVTs | Extravillous trophoblasts |
| FIP200 | FAK family kinase-interacting protein of 200 kDa |
| FGR | Fetal growth restriction |
| GABARAP | Gamma-aminobutyric acid receptor-associated protein |
| GATA4 | GATA binding protein 4Gestational diabetes mellitus |
| GDM | Gestational diabetes mellitus |
| HIF1α | Hypoxia inducible factor-1α |
| HOPS | Homotypic fusion and vacuole protein sorting |
| LAMP1 | Lysosomal-associated membrane protein 1 |
| LPS | Lipopolysaccharide |
| MAP1LC3 | Microtubule associated protein 1 light chain 3 |
| mTOR | Mammalian target of rapamycin |
| NLRP3 | NLR family pyrin domain containing 3 |
| PIK3C3 | Phosphatidylinositol 3-kinase catalytic subunit type 3 |
| PI3K | Class III phosphatidylinositol 3-kinase complex |
| PlGF | Placental growth factor |
| PRKAA2 | Protein kinase AMP-activated catalytic subunit alpha 2 |
| RPS6KB1 | Ribosomal protein S6 kinase B1 |
| Rubicon | RUN and cysteine-rich domain containing beclin1 interacting protein |
| SASP | Senescence-associated secretory phenotype |
| TGF-β | Transforming growth factor-β |
| TRIF | TIR-domain-containing adapter-inducing interferon-β |
| sENG | Soluble endoglin |
| sFlt1 | Soluble Fms-like tyrosine kinase |
| SNAREs | Soluble N-ethylmaleimidesensitive factor attachment protein receptors |
| TLR | Toll-like receptor |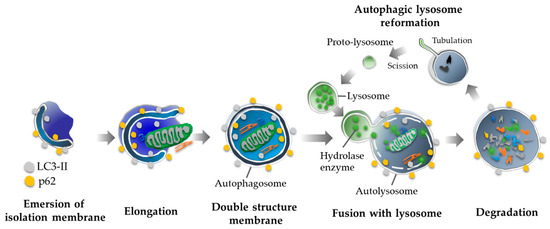 Figure 1. Autophagy cascade. An isolation membrane is merging in cytoplasm via PI3K complex. After elongation of the membrane, the isolation membrane closes and completes the autophagosome, which is formed with double membranes. Finally, the autophagosome forms the autolysosome by fusing with the lysosome and digests the contents the inner membrane. Following with the degradation, autophagy provides matured lysosomes by a recycling of proto-lysosomal membrane components.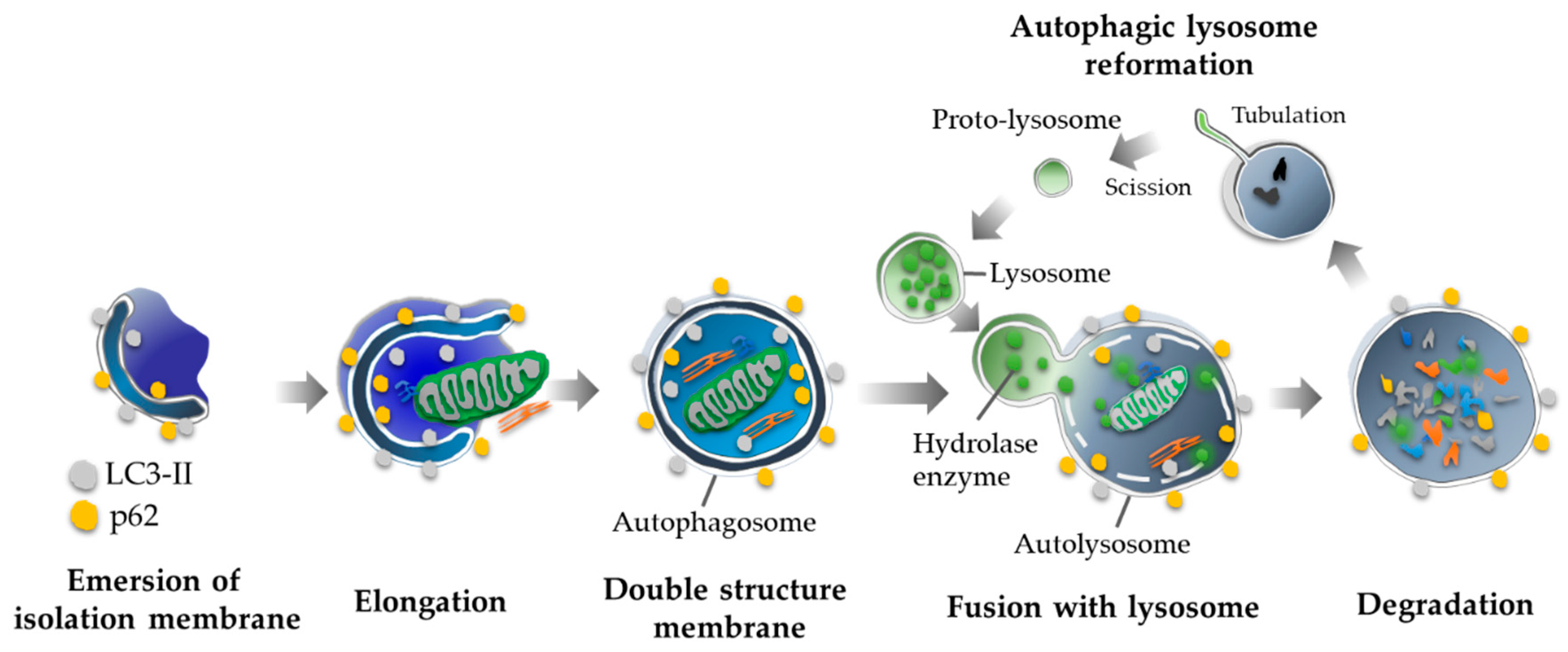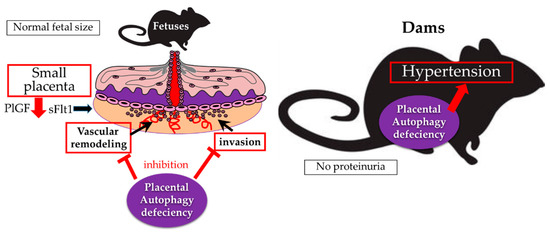 Figure 2. Placental autophagy inhibition inducing gestational hypertension and poor placentation. (Left figure) Trophoblast-invasion and vascular remodeling are fundamental for normal placentation (the black arrows indicate the place of invasion and vascular remodeling). Autophagy deficiency impairs the functions of trophoblasts in the trophoblast-specific Atg7 knockout mouse model, resulting in poor placentation (the red "T" bars indicate the inhibition). PlGF mRNA levels, but not sFlt1 mRNA levels, are decreased in the knockout placentas (the red arrow indicates the decrease, and the black arrow indicates the stable). (Right figure) Also, the dams bearing the knockout placentas showed hypertension, but not proteinuria (the red arrow indicates the induction of hypertension by the placenta).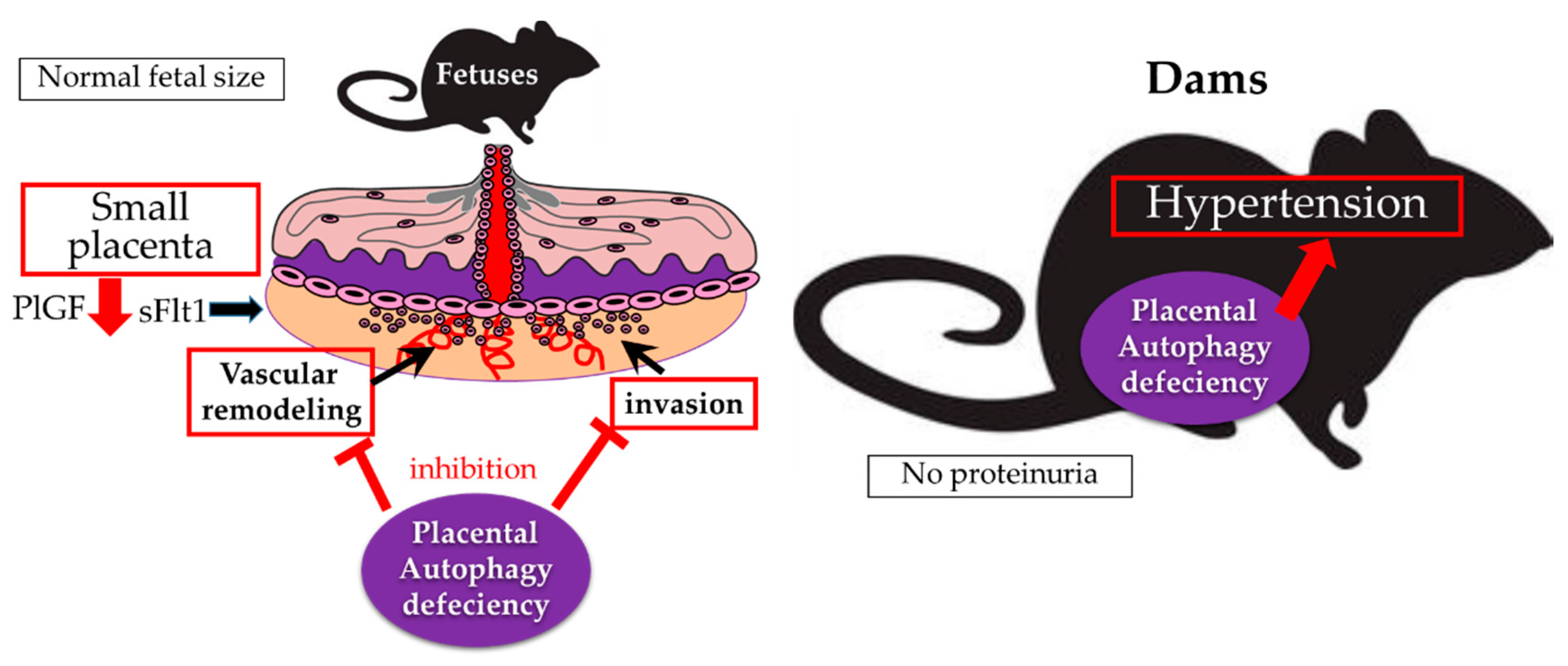 © 2019 by the authors. Licensee MDPI, Basel, Switzerland. This article is an open access article distributed under the terms and conditions of the Creative Commons Attribution (CC BY) license (http://creativecommons.org/licenses/by/4.0/).