Open Access This article is
freely available
re-usable
Review
Combination Radioimmunotherapy Strategies for Solid Tumors
1
Division of RI application, Korea Institute of Radiological and Medical Sciences, (KIRAMS), 75 Nowon-ro, Nowon-gu, Seoul 01812, Korea
2
Radiological and Medico-Oncological Sciences, University of Science and Technology (UST), 75 Nowon-ro, Nowon-gu, Seoul 01812, Korea
†
These authors contributed equally to this work.

Received: 12 October 2019 / Accepted: 6 November 2019 / Published: 8 November 2019
Abstract
:
Combination radioimmunotherapy is an emerging approach for the treatment of solid tumors where radio immunotherapy alone has proven to be reasonably ineffective. Radioimmunotherapy (RIT) using monoclonal antibodies (mAbs) labeled with radionuclides is an attractive approach for cancer treatment because tumor-associated mAbs with cytotoxic radionuclides can selectively bind to tumor antigens. However, due to various limitations, mAbs cannot reach solid tumors, consequently reducing RIT efficacy. Combination RIT is a pragmatic approach through which the addition of drugs or other agents not only help mAbs to reach the targeted site but also improves its efficacy. Thus, the combination of drugs or moieties with RIT can be applied to overcome the barriers that RIT faces for solid tumors. This review covers the RIT approach, along with the mechanism of action of mAb used in RIT, limitations of solid tumors, and strategies that can be used in combination RIT to enhance the treatment regimen for solid tumors.
Keywords:
radioimmunotherapy; solid tumors; monoclonal antibody; extracellular matrix; cell-to-cell junctions; interstitial pressure; immune suppressive environment
1. Introduction
Radioimmunotherapy (RIT) in nuclear medicine involves the injection of a radioisotope-labeled monoclonal antibody (mAb), using intravenous or intratumoral injection [
1
], to treat cancer [
2
,
3
,
4
]. With RIT, radionuclides are carried directly toward the tumor and emit radiation-induced double strand DNA breaks, finally inducing cell death [
5
,
6
]. RIT such as
131
I-tositumomab (Bexxar, GlaxoSmithKline, Philadelphia, PA 19112, USA) [
7
],
131
I-rituximab (Rituxan; Genentech, CA, USA) [
8
], and
90
Y-ibritumomabtiuxetan (Zevalin; Biogen Idec, Cambridge, MA, USA) [
9
,
10
] were administered for treatment of hematological tumors. However, RIT for solid tumor has been less applied in clinics, due to barriers created by tumor microenvironments, such as tumor heterogeneity, abnormal structures of the tumor vessels, highly fibrotic or desmoplastic tumors, absence of functional lymphatics, and high interstitial fluid pressure (IFP) within the tumor [
11
]. Thus, combination strategies of RIT were investigated for solid tumors. A number of solutions, such as fractionated doses [
12
], mAb pre-targeting [
13
,
14
,
15
,
16
], and affibody [
17
], were investigated to improve the efficacy of RIT. Fractionated RIT using
90
Y-clivatuzumab was performed to treat patients with stage III/IV pancreatic ductal carcinoma [
12
]. Regarding mAb pre-targeted strategy, CD38 pre-targeted RIT was performed for B-cell tumors [
14
]. Another approach to enhance the penetration of mAb was the use of small target protein and then an antibody such as an affibody [
17
].
In this paper, we review the basic mechanism, limitations, and combination strategies of RIT used to enhance its therapeutic efficacy for solid tumors.
2. Isotopes for RIT
Various radioisotopes have been used for RIT. For example, bulky tumors can be treated with radionuclides that emit long-ranged β-rays, such as
131
I or
90
Y, whereas small clusters of cells or tumors can be effectively targeted by α-particles [
18
] or short range β-rays [
4
]. A schematic of RIT is shown in
Figure 1
. Characteristics of radionuclides for RIT are shown in
Table 1
. Examples of commercialized mAbs used in RIT are listed in
Table 2
.
3. Mechanism of Therapeutic Monoclonal Antibodies
Therapeutic mAbs work by targeting specific cell-surface receptors and destroying cancer cells via various mechanisms [
19
]. Cancer cells use oncogene protein signaling, such as EGFR and HER-2, for survival and proliferation. Therapeutic mAbs are designed to bind with the tumor-specific antigen or oncogene proteins, such as EGFR, Her2, or CD20. For example, Trastuzumab binds to HER2 receptor directly [
20
] and inhibits the tyrosine kinase signal. This mechanism reduces tumor growth, proliferation, and cell survival signal. Rituximab binds to the CD20 membrane, thereby inducing cellular apoptosis signaling [
21
].
The mechanism of therapeutic mAb originates from its various functions. A mAb neutralizes the pathophysiological function of the target moiety by binding to the surface-expressed receptor, facilitating antibody-dependent cellular cytotoxicity (ADCC), antibody-dependent phagocytosis (ADCP), and complement-dependent cytotoxicity (CDC) [
22
].
Figure 2
depicts the mechanism of action of mAb. The mAb binds to the target antigen by its Fv domain, which inhibits the cellular signaling of target cells. Thus, the targeted tumor cell becomes resensitized to cytotoxic agents. Triggering the cytotoxic immune effector cells, like dendritic cells and macrophages, is followed by the process of immune-effector cell lysis of the target cell, as in ADCC or by phagocytosis (ADCP). Similarly, C1 of the CDC process binds to the antibody–antigen complex and initiates a complex process to target cell lysis [
23
].
3.1. Antibody-Dependent Cellular Cytotoxicity (ADCC)
The ADCC and ADCP response is elicited when the immune cell binds to the Fc region of the antibody, while the antibody is targeted to the antigen. In this way, mAb mediates the ADCC response by collaboration with cytotoxic cells like natural killer cells (NK) [
24
] and macrophages [
25
]. NK cells bear Fc gamma receptors on their surfaces and release cytotoxic agents, like perforin and granzymes, upon activation. Perforin binds to the target cell's plasma membrane and creates a pore [
26
], and granzymes induce apoptosis and fragmentation of cellular DNA [
27
]. NK cells are activated by binding with the Fc region of immunoglobulins. Apart from releasing the cytotoxic mediator that is responsible for lysis of the tumor cells, NK cells secrete interferon-γ, thus playing a role in the recruitment of adaptive immune cells [
28
].
3.2. Complement-Dependent Cytotoxicity (CDC)
The mAb binds antigens via the Fv region, where the Fc domain may bind to soluble protein complex C1q, leading to the activation of complement cascade that eventually causes cell death. The antigen-targeted mAb and complement complex, such as C5b to C9, are deposited at the target cell′s membrane, forming a cylindriacal membrane attack complex (MAC). MAC disrupts the cell membrane of target cells and is responsible for lysis of tumor cells [
28
].
4. Mechanism of Currently Commercialized mAb for Radioimmunotherapy
5. Limitation of RIT for Solid Tumors and Combination RIT Strategies
Theoretically, RIT could be a good candidate for antitumor therapy. However, clinical application of RIT for solid tumors has been limited due to the presence of external and internal barriers during RIT for solid tumors. External barriers include high interstitial pressure [
36
,
43
], extracellular matrix (ECM) [
44
], tight junctions [
45
], and an immunosuppressive environment [
46
]. Internal barriers include the modulation of the tumor signal pathways by drugs or medicine targeting the hallmarks of cancer [
47
]. In this review, we focused on the external barriers to RIT.
Figure 3
depicts a schematic of the factors limiting RIT application for solid tumors.
Various preclinical data about overcoming the limitations to RIT delivery show promise for future clinical trials. In all instances of overcoming the limitations of RIT in solid tumors, RIT demonstrates a promising therapeutic strategy for cancer treatment [
48
,
49
]. Herein, we also reviewed the possible strategies for enhancing the effect of RIT for solid tumors.
Figure 4
shows existing and potential strategies for RIT.
6. Conclusions
RIT for solid tumors may be efficacious after modulation of barriers. Therefore, strategies and approaches should be implemented to achieve RIT application in clinical studies. Evidence from both animal and clinical studies have highlighted the importance of combination RIT, as it can overcome various internal and external barriers and clear the pathway for mAb penetration into solid tumors, thus improving the efficacy of conventional RIT.
Author Contributions
Conceptualization, J.S.K.; writing—original draft preparation, J.Z. and H.K.; writing—review and editing, J.S.K.; funding acquisition, Y.-J.L. and S.M.L.; proofreading, Y.-J.L. and S.M.L.
Funding
This study was supported by a grant from the Korea Institute of Radiological and Medical Sciences (KIRAMS), funded by the Ministry of Science and ICT (MSIT), Republic of Korea (No. 50461-2019, PI: Kyo Chul Lee; 50536-2019, PI: Yong Jin Lee).
Conflicts of Interest
The authors declare no conflict of interest. The funders had no role in the design of the study; in the collection, analyses, or interpretation of data; in the writing of the manuscript; or in the decision to publish the results.
Abbreviations
| | |
| --- | --- |
| RIT | Radioimmunotherapy |
| mAb | Monoclonal Antibody |
| ADCC | Antibody-dependent cellular cytotoxicity |
| ADCP | Antibody-dependent cellular phagocytosis |
| MAC | Membrane attack complex |
| CDC | Complement-dependent cytotoxicity |
| PI3K | Phosphatidylinositol 3-kinase |
| PLCv | Phospholipase v |
| PKC | Protein kinase C |
| MAPK | Mitogen activated protein kinase |
| KRAS | Kristen rat sarcoma |
| CMC | Cell-mediated cytotoxicity |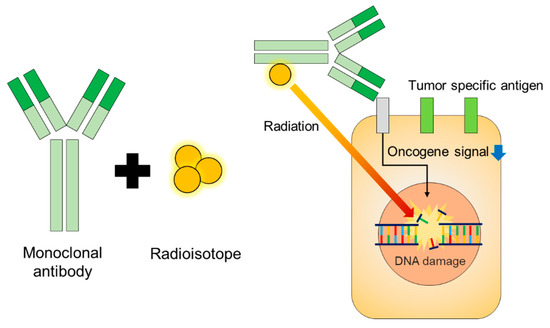 Figure 1. Schematic of radioimmunotherapy (RIT). RIT delivers radiation directly to the tumor-specific antigen of a specific cancer type. The downward blue arrow shows downregulated oncogene signals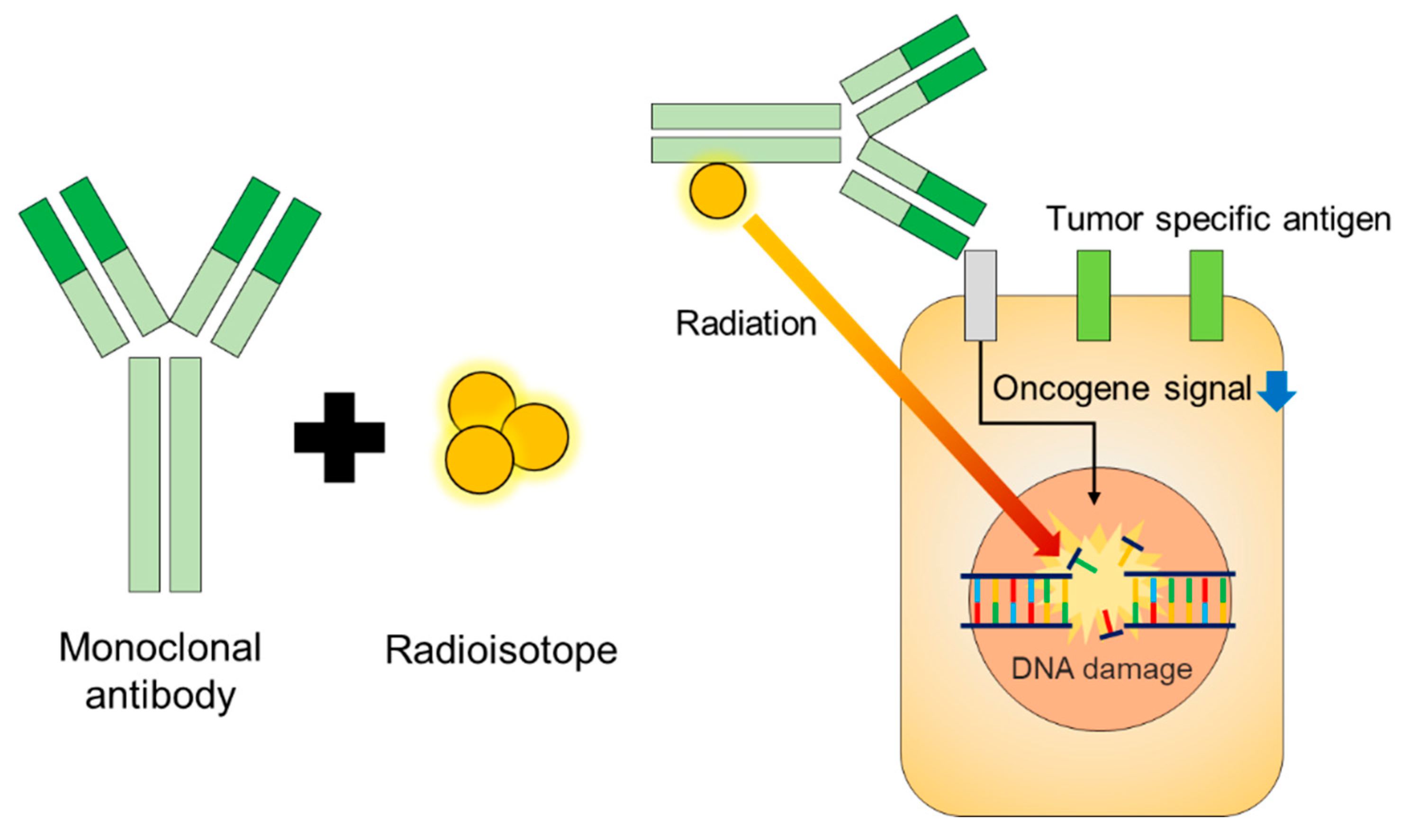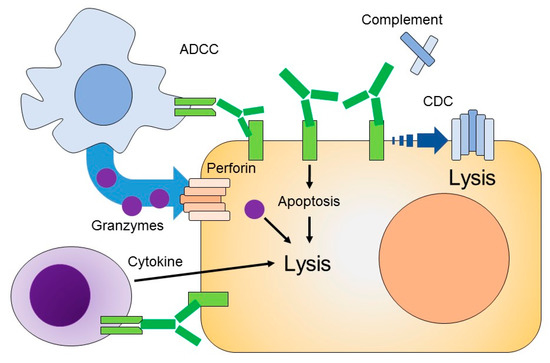 Figure 2. Mechanism of action of an mAb. The mAb binds to its targeted antigen and provokes antibody-dependent cellular cytotoxicity (ADCC) and a complement-dependent cytotoxicity (CDC) response. ADCC includes (natural killer) NK cells, which release granzymes and cytotoxic agents that are responsible for cell lysis. The Fc region of mAb may also bind to soluble protein C1q to promote a cascade reaction that eventually forms a membrane attack complex, as in the CDC-mediated response. Membrane attack complex (MAC) is responsible for disrupting cell membrane and inducing cell lysis.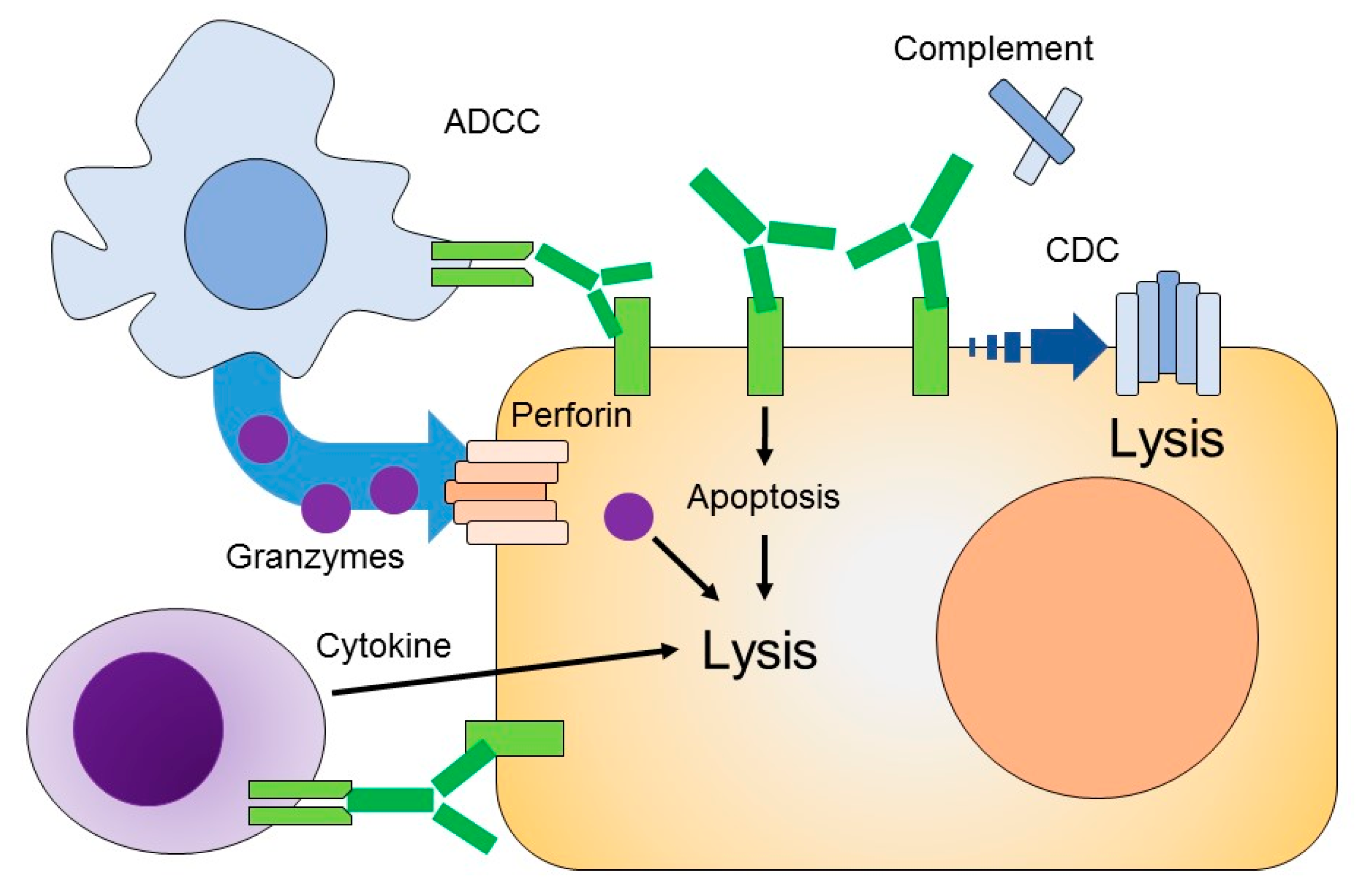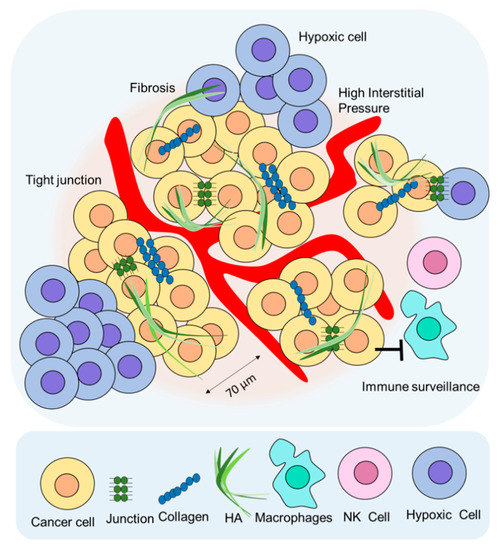 Figure 3. Limitations of RIT in terms of drug delivery. The extracellular matrix (ECM) is composed of collagen, hyaluronic acid (HA), and fibroblasts that hinder drug delivery. Tight junctions and high interstitial pressure are some of the restrictions to RIT delivery in solid tumors.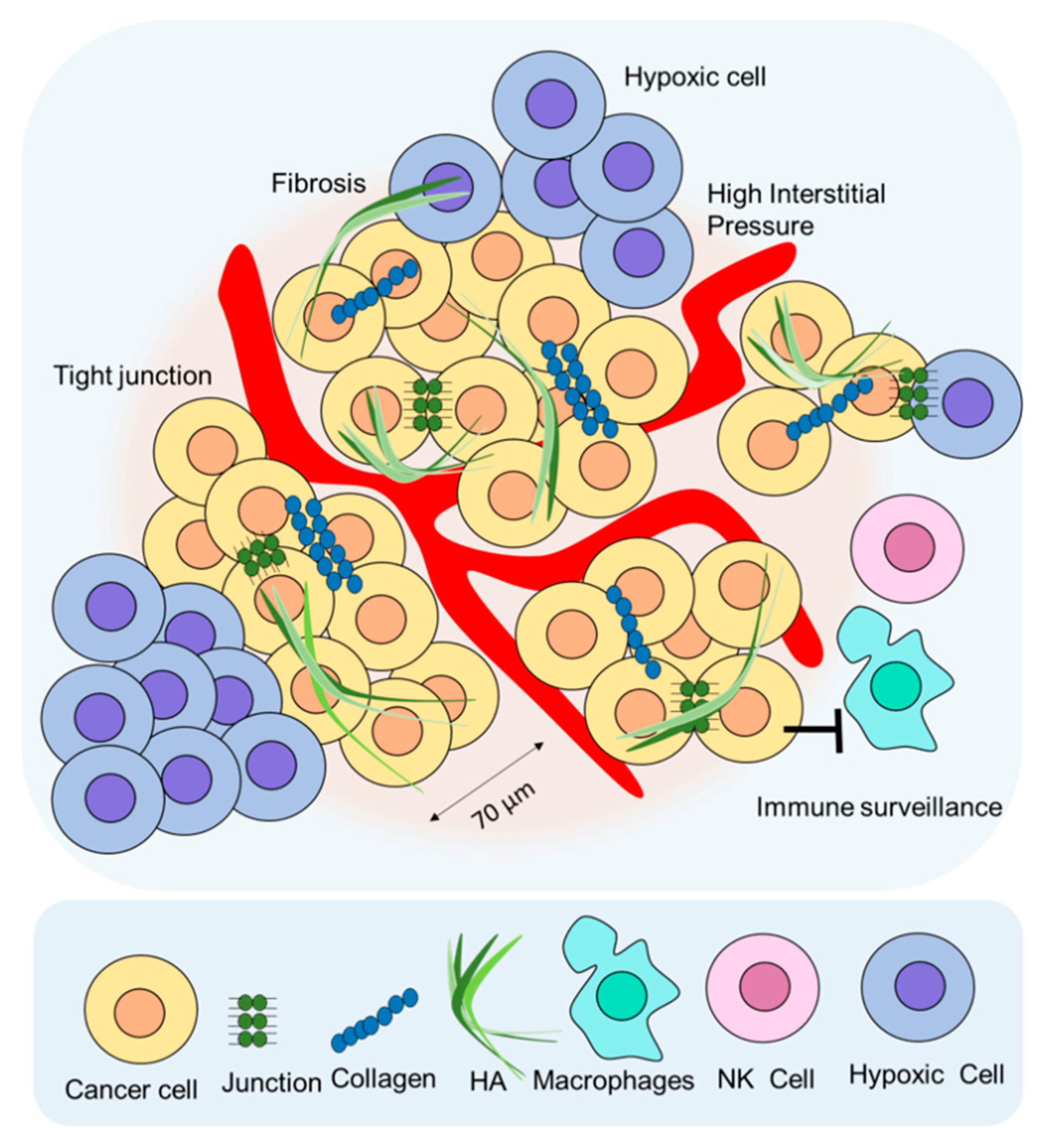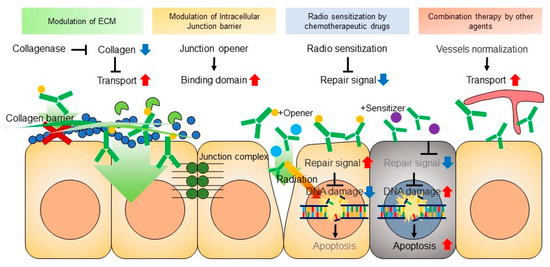 Figure 4. Strategies for combination RIT. The ECM was found to present a considerable barrier to mAb penetration; therefore, ECM-degrading elements are crucial when designing a combinational RIT strategy. Another approach involves liberating tight cell–cell junctions by using drugs that target junctional proteins. Chemotherapeutic agents are cytotoxic agents that are commonly applied in combination RIT. Cell damage reduces the solid stress, which eventually reduces the interstitial pressure and improves RIT efficacy. The combination of RIT with other agents enhances drug transport by vessel normalization or by agents increasing antitumor immunity. The downward blue arrow shows decreased collagen and downregulated oncogene signaling. The upward red arrow shows improve transport and upregulated oncogene signaling.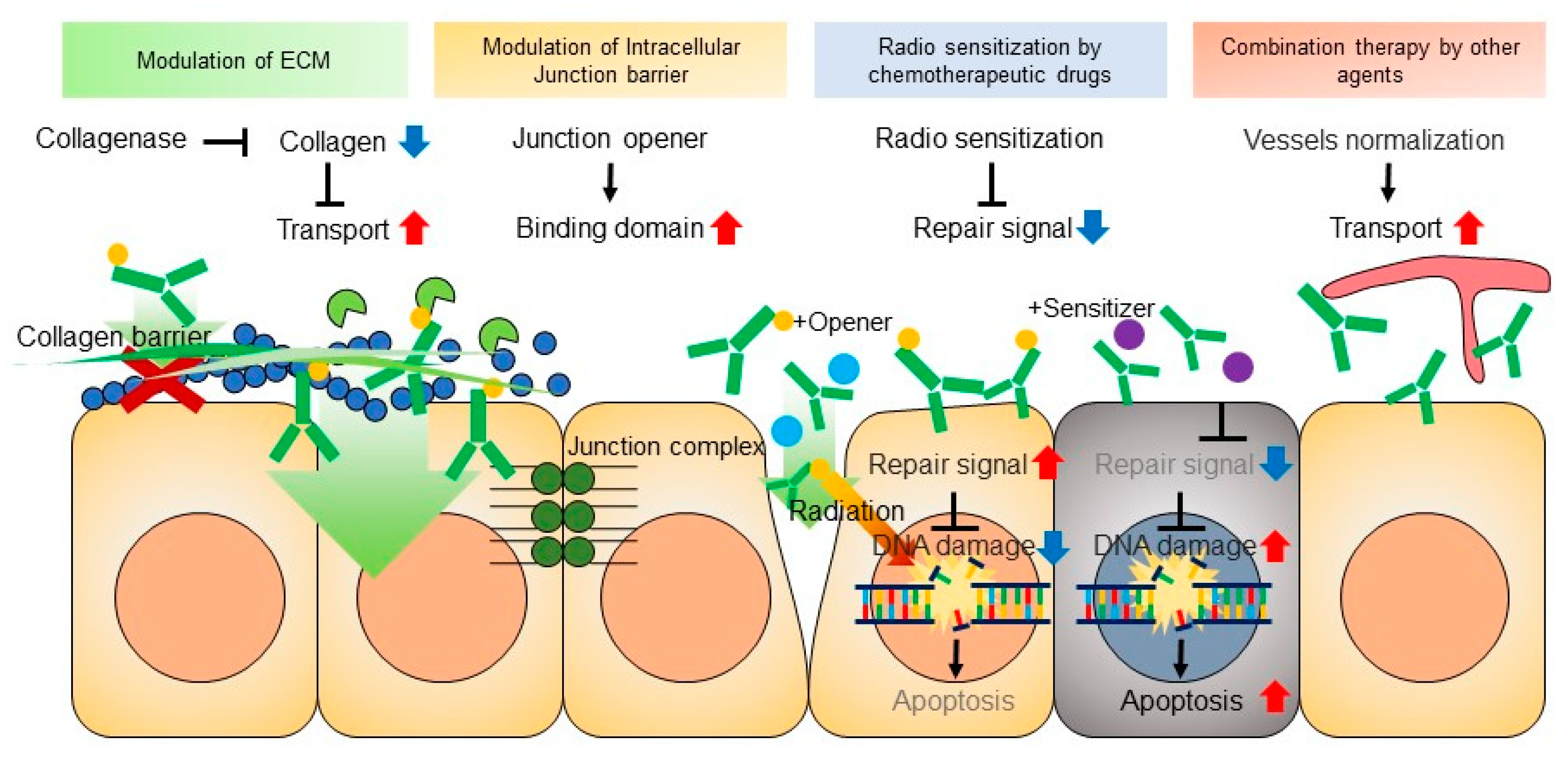 Radioisotopes
Max Range (in Water)
Half-Life
Max Energy (keV)

β

-emitter
67Cu
2.1 mm
61.9 h
575
90Y
11.3 mm
64.1 h
2284
131I
2.3 mm
8.0 days
606
177Lu
1.8 mm
6.7 days
497

α

-emitter
211At
<50 μm
7.2 h
586
213Bi
<50 μm
45.6 min
5870
225Ac
<50 μm
240 h
5830
223Ra
<100 μm
11.4 days
5979
| Monoclonal Antibody | Targeted Site |
| --- | --- |
| Trastuzumab (Herceptin, Roche, Basel, Switzerland) | HER2 |
| Bevacizumab (Avastin, Genentech, CA, USA) | VEGF-A |
| Cetuximab (Erbitux, Kenilworth, NJ, USA) | EGFR |
| Rituximab (Rituxan, Genentech, CA, USA) | CD20 |
| Tositumomab (Bexxar, Genentech, CA, USA) | CD20 |
| Ibritumomab tiuxetan (Zevalin, Biogen Idec, Cambridge, MA, USA) | CD20 |

Table 3. Examples of studies of pre-targeting RIT alone and in combination therapy with pre-targeted RIT studies.
| Aim | Radionuclide | Cancer Type | Targeted Antigen | Subject | Combination | Reference |
| --- | --- | --- | --- | --- | --- | --- |
| To determine maximum tolerated dose and antitumor efficacy of three-step pre-targeting method | 90Y | Glioma | Tenascin | Human | No | [92] |
| Safe and effective with negligible toxicity pre-targeting RIT | 90Y | LS-180, human carcinoma | Ep-CAM | BALB/c nude mice | No | [93] |
| Response to combination pre-targeted with less toxicity | 90Y | LS174T, human colon adenocarcinoma | Tag-72 (CC49) | BALB/c nude mice | Gemcitabine | [94] |

© 2019 by the authors. Licensee MDPI, Basel, Switzerland. This article is an open access article distributed under the terms and conditions of the Creative Commons Attribution (CC BY) license (http://creativecommons.org/licenses/by/4.0/).