The Predictive Role of the Biomarker Kidney Molecule-1 (KIM-1) in Acute Kidney Injury (AKI) Cisplatin-Induced Nephrotoxicity
1
Department of Internal Medicine, "Grigore T. Popa" University of Medicine and Pharmacy, 700111 Iasi, Romania
2
Internal Medicine Clinic, "Sf. Spiridon" County Clinical Emergency Hospital Iasi, 700115 Iasi, Romania
3
Department of Cardiology, "Grigore T. Popa" University of Medicine and Pharmacy, 700111 Iasi, Romania
4
Cardiology Clinic, "Prof. Dr. George I.M. Georgescu" Institute of Cardiovascular Diseases, 700503 Iasi, Romania
5
Department of Ophthalmology, "Grigore T. Popa" University of Medicine and Pharmacy, 700115 Iasi, Romania
6
2nd Ophthalmology Clinic, "Prof. Dr. Nicolae Oblu" Emergency Clinical Hospital, 700115 Iași, Romania
7
Department of Pathophysiology, Faculty of Medicine, "Grigore T. Popa" University of Medicine and Pharmacy, 700115 Iasi, Romania
8
Department of Obstetrics and Gynecology, "Grigore T. Popa" University of Medicine and Pharmacy, 700111 Iasi, Romania
9
Unit of Diabetes, Nutrition and Metabolic Diseases, "Grigore T. Popa" University of Medicine and Pharmacy, 700115 Iasi, Romania
10
Clinical Center of Diabetes, Nutrition and Metabolic Diseases, "Sf. Spiridon" County Clinical Emergency Hospital, 700111 Iasi, Romania
11
Department of Physiology, "Grigore T. Popa" University of Medicine and Pharmacy, 700111 Iasi, Romania
*
Authors to whom correspondence should be addressed.
Received: 19 September 2019 / Revised: 9 October 2019 / Accepted: 17 October 2019 / Published: 22 October 2019
Acute kidney injury (AKI) following platinum-based chemotherapeutics is a frequently reported serious side-effect. However, there are no approved biomarkers that can properly identify proximal tubular injury while routine assessments such as serum creatinine lack sensitivity. Kidney-injury-molecule 1 (KIM-1) is showing promise in identifying cisplatin-induced renal injury both in vitro and in vivo studies. In this review, we focus on describing the mechanisms of renal tubular cells cisplatin-induced apoptosis, the associated inflammatory response and oxidative stress and the role of KIM-1 as a possible biomarker used to predict cisplatin associated AKI.
1. Introduction
As neoplasia is a global issue, the numerous side-effects (neurotoxicity, ototoxicity, and nephrotoxicity) limiting the use of chemotherapy raises concerns.
In this review, we discuss the mechanisms behind cisplatin-induced nephrotoxicity and the implications of kidney injury molecule-1 (KIM-1) as a biomarker in its early detection, as well as future research perspectives related to the topic.
2. Kidney Injury Molecule-1 and AKI
2.1. What Is KIM-1?
After extensive research in the field, The Food and Drug Administration FDA and European Medicines Agency (EMEA) approved seven new biomarkers used for nephrotoxicity detection that may influence clinical decision making: KIM-1, albumin, B2-microglobulin, cystatin C, total protein clusterin, and trefoil factor-3 [
25
,
26
,
27
]. Of these, urinary KIM-1 has been approved for drug induced proximal tubular injury identification and monitoring in both animal and clinical studies [
3
]. KIM-1 is a proximal tubule apical transmembrane protein. Its extracellular component includes O-glycosylated mucin and 6-cysteine domains (the latter with a structure resembling immunoglobulins) [
28
]. KIM-1 was initially identified using a polymerase chain reaction (PCR). In humans, this molecular family (KIM/TIM) includes three such glycoproteins, as opposed to eight in rodents [
29
,
30
] and its levels are very low under normal conditions. However, 48 h after ischemia–reperfusion injury occurs, KIM-1 may be identified in the undifferentiated proliferating proximal tubule epithelial cells [
31
]. Elevated KIM-1 levels have correlated with inflammation and fibrosis in histological studies [
32
].
In ischemic/toxic renal injury, its extracellular domain is separated from the membrane in a process dependent of a matrix-metalloproteinase (MMP), thus accounting for the increased urinary levels. In AKI patients, the ectodomain shedding leads to a 100-fold increase in urinary KIM-1 levels [
23
]. However, further research is needed to explore the full pathophysiological implications of KIM-1 extracellular domain shedding [
33
,
34
].
Interestingly, KIM-1 has a phosphatidylserine receptor which enhances apoptotic bodies and necrotic debris phagocytosis. This molecule is, therefore, unique for giving epithelial cells a function characteristic of phagocytes [
35
,
36
] (
Figure 1
). It seems that KIM-1 downregulates proximal tubular cell PTC cytokine secretion, modulates translational changes through nuclear factor kappa-light-chain-enhancer of activated B cells (NF-κB) pathway and interaction with phosphatidylinositol3 PI3 kinase subunit p85 [
37
,
38
]. Experimentally, KIM-1 gene expression reflects ongoing damage in various tubulointerstitial segments and in the renal cortex [
22
]. For these reasons, authors began considering KIM-1 a biomarker capable of identifying early AKI and may even hold a possible predictive role [
39
].
2.2. Kidney Molecule-1 in AKI
3. Cisplatin-Induced Nephrotoxicity
Of the total cardiac output, 25% is directed to the kidneys. As most drugs are renally cleared, they are the main site for drug-induced renal injury [
57
]. Unfortunately, despite nearly one quarter of AKI cases being related to drug nephrotoxicity, current assays are not able to predict patients at risk or to detect early stages of the disease [
8
,
9
]. The mechanism for drug-induced nephrotoxicity include tubular cell toxicity, crystal nephropathy, changes in glomerular hemodynamics, rhabdomyolysis, and thrombotic microangiopathy. However, detection in hospitalized patients is very often delayed by the lack of specific assays, while routine parameters such as sCr, BUN, and eGFR are influenced by several factors leading to erroneous mechanism identification and tardive diagnosis [
58
].
Cisplatin is a widely used anticancer drug especially in solid malignant tumors [
59
,
60
,
61
,
62
,
63
,
64
]. However, one of the main factors limiting the use of cisplatin (cis-diamminedichlorolatinum (II), CDDP) is the associated nephrotoxicity [
65
,
66
,
67
,
68
]. Frequently, toxic levels concentrating in the kidneys determine that injury occurs inside the proximal tubules, affecting to a lesser degree the glomeruli and the distal tubule. Interestingly, it seems that the S3 segment of the proximal tubules is affected even in the case of non-toxic drug concentration [
16
,
69
]. Increased levels determines tubulointerstitial disease with subsequent tubular necrosis, resulting in a sCr increase and GFR decrease [
70
].
Clinical studies illustrated that in 10 days of cisplatin therapy, sCr and urinary albumin increase while GFR decreases in 8–10% of patients [
71
]. Dose adjustments forced by these side effects can limit its clinical use and efficacy.
3.1. Cellular Mechanism
Cisplatin associated renal injury first manifests through glutathione-S-transferase-mediated glutathione conjugates formation. Gamma-glutamyl transpeptidase (GGT) later cleaves the latter to cysteinyl-glycine derivates. These are converted by an aminopeptidase N (APN) into cysteine-conjugates that enter the proximal tubule epithelial cells. They are further metabolized to a reactive thiol group which is highly nephrotoxic [
68
]. The fact that GGT is predominantly found at the apical surface of the proximal tubule's epithelial cells make it a desirable and possible target for managing cisplatin associated nephrotoxicity [
72
].
The mechanisms involve subsequent down-regulation of basolateral organic anion to kidney transporter-mediated uptake and cation transporters including organic cation transporter 2 (OCT2) and copper transporter1 (CTR1) [
73
,
74
,
75
,
76
]. Apically-localized efflux transporters such as antimicrobial extrusion protein (MATEs), multidrug resistance-associated proteins (MRPs) [
77
], and adenosine triphosphate (ATPases) mediate urinary cisplatin excretion [
78
].
3.2. The Intrinsic and Extrinsic Pathway of Apoptosis
3.3. Oxidative Stress in Cisplatin-Induced AKI
Another mechanism involved in cisplatin-nephrotoxicity is oxidative stress and the subsequent cytochrome P450 activation. In cisplatin-associated AKI, mitochondrial dysfunction associated oxidative stress leads to intracellular reactive oxygen species (ROS) accumulation. Previous research showed that cisplatin administration is followed by increased oxidative stress levels and alteration in the expression of various antioxidant enzymes [
96
,
97
,
98
]. Mitochondria is the home of the cellular ATP synthesis and the main source of ROS production. Cellular stress disrupts mitochondrial activity with increased ROS production and decreased ATP formation. ROS amplifies nicotinamide adenine dinucleotide phosphate (NADPH) and nicotinamide oxidase 2 (NOX-2) activity and alters glutathione peroxidase (GPX) and superoxide dismutase (SOD), reducing their antioxidant effect [
99
,
100
,
101
,
102
,
103
,
104
]. DNA damage results in ROS overproduction, with mitochondrial catalase (CAT), glutathione (GSH), and SOD inhibition and subsequent increase in renal tubular cells apoptosis [
105
,
106
,
107
]. Widely available techniques such as ELISA, immunoblotting, immunofluorescence, and immunohistochemistry may be used to measure the activity of the above-mentioned enzymes, taking into consideration that they may serve as a target in cisplatin induced nephrotoxicity.
3.4. Inflammation Cytokines and Chemokines in Cellular Damage
Various pro-inflammatory cytokines and interleukins are secreted in the process, including IL-1, 1β, 6, 18, CXCL1, 8 and CCL2, 5, 10. Detecting them may be helpful in early AKI diagnosis in the context of cisplatin therapy. Moreover, they may hold better sensitivity and specificity than current assays.
4. Assessment of KIM-1 in Cisplatin-Induced Nephrotoxicity
KIM-1 is a novel biomarker that seems to be more sensitive and specific in identifying and monitoring nephrotoxic associated AKI. Moreover, its levels closely mirror the amount of renal tissue damage. Using such biomarkers in addition to classical assays such as sCr in routine clinical practice will allow better risk stratification and overall management, based on early diagnosis and appropriate intervention. However, further studies are warranted to validate its utility and identify proper cut-off values in early toxic renal injury.
5. Future Directions/Perspective Regarding KIM-1 in Drug-Induced Nephrotoxicity
6. Strategies to Prevent Cisplatin Nephrotoxicity
Selectively inhibiting p53 is a tempting field of research as a possible therapeutic target in managing AKI in cisplatin treated patients.
Despite several agents being currently regarded as having possible protective effects against cisplatin-associated AKI, this complication is still difficult to predict, to diagnose early and properly manage, as the nephrotoxic effects must be weighed against the tumor extension. Newer strategies are under development in the attempt to limit cisplatin nephrotoxic effects without altering its properties as a potent chemotherapeutic agent.
7. Discussion
Taking into consideration that AKI remains a global issue and that its etiology varies, more studies investigate its mechanisms, early detection, preventive, and therapeutic strategies. Neoplasia is growing in incidence; however each and every chemotherapeutic agent has several adverse effects, including nephrotoxicity. Using more specific assays in identifying chemotherapeutics' toxic effects enables researchers to better monitor these effects and thoroughly evaluate renal structure and function alterations. Cisplatin (Platinol) a platinum-based chemotherapy drug is used frequently in many types of neoplasia.
Cisplatin-induced nephrotoxicity leads to dose and time-dependent molecular changes.
Research currently focuses on various models of cisplatin associated AKI. Among known mechanisms are mitochondrial dysfunction with subsequent ROS formation and inflammation, apoptotic pathways, and autophagy. In preventing and/or limiting the extent of cisplatin induced AKI, adequate hydration is still the cornerstone.
Taking into consideration that current assays lack sensitivity and specificity and that they are elevated only late in the progress of the disease, newer, more sensitive and specific for proximal tubular injury biomarkers are required in cisplatin induced AKI. Of note, before administering any potential nephrotoxic drug, a complete evaluation of renal function should be made, with close follow-up of high-risk patients. Properly identifying and early diagnosis of cisplatin induced nephrotoxicity becomes all the more important since most patients recover upon drug interruption and with appropriate therapeutic measures.
The prediction ability of novel biomarkers still remains uncertain, however their utility in early diagnosis is of outmost importance. KIM-1 was isolated in atrophic epithelial cells of the proximal tubule; this biomarker shows promise in early diagnosis of renal damage. Its soluble form is a 90 kDa molecule (as compared to the membrane bound 104 kDa form) found in the urine of both animals and humans with renal injury. Its presence was associated with AKI in several experimental studies [
34
,
41
,
42
,
43
,
44
,
45
,
46
,
47
,
48
,
49
,
50
] and some authors suggest that it may be predictive of cisplatin nephrotoxicity [
119
,
120
,
121
,
122
,
123
,
124
,
125
,
126
,
127
,
128
,
129
,
130
,
131
,
132
,
133
,
134
,
135
]. Anti-KIM-1 antibodies have been developed as a potential therapy in neoplasia characterized by KIM-1 overexpression (renal, ovarian, and lung carcinomas) [
167
,
168
].
Future studies are trying to validate newer, more specific biomarkers in clinical practice for early diagnosis, monitoring, and even novel therapeutic targets in cisplatin induced AKI.
8. Conclusions
It is anticipated that early detection AKI biomarkers would be available for use in laboratory research and clinical studies relatively soon. The development of rapid, dipstick assays for KIM-1 could enable a better cisplatin associated AKI diagnosis, also improving patients' care. As identifying both high-risk patients and incipient AKI are both desiderates of these new biomarkers, if proven to be efficient, these assays will become useful even in emergency settings. Urinary KIM-1 levels are elevated in cisplatin induced AKI and may help in the differential diagnosis of proximal epithelial cells injuries. Although further studies are needed to explore the mechanisms behind cisplatin nephrotoxicity and the role of KIM-1 in this setting, this novel biomarker is showing promise in early diagnosis and prognosis of AKI.
Author Contributions
Conceptualization, E.M.G., D.M.T., M.F. and S.R.; methodology, E.M.G., A.C., C.M.L. and S.R.; formal analysis, M.C., C.F.C., M.A.M.; investigation, C.R., D.M.T., S.R., E.M.G., C.F.C., and C.M.L.; resources, A.C., M.F., S.R., C.R., D.M.T. and M.C.; writing—E.M.G., S.R., M.F., D.M.T.; writing—review and editing, D.M.T., M.F., C.R., S.R., E.M.G.; visualization, A.C., C.M.L., C.F.C., M.C., and M.A.M.; supervision, D.M.T., C.R. and M.F.
Funding
This research received no external funding.
Conflicts of Interest
The authors declare no conflict of interest.
Abbreviations
| | |
| --- | --- |
| CKD | chronic kidney disease |
| AKI | acute kidney injury |
| sCr | serum creatinine |
| GFR | glomerular filtration rate |
| eGFR | estimated glomerular filtration rate |
| BUN | blood urea nitrogen |
| KIM-1 | kidney injury molecule-1 |
| ATN | acute tubular nephritis |
| OCTs | organic cation transporters |
| CTRs | copper transporters |
| ATP | adenosine triphosphate |
| AMPK | AMP-activated protein kinase |
| ER | endoplasmic reticulum |
| Bcl | B-cell lymphoma |
| FasL | Fas ligand |
| TNFα | tumor necrosis factor alpha |
| TNFR | tumor necrosis factor receptor |
| MAPK | mitogen-activated protein kinase |
| NADPH | nicotinamide adenine dinucleotide phosphate |
| DAMPs | damage-associated molecular pattern molecules |
| TLR-4 | toll-like receptor-4 |
| ROS | reactive oxygen species |
| NOX2 | NADPH oxidase 2 |
| GPX | glutathione peroxidase |
| SOD | superoxide dismutase |
| CAT | mitochondria inhibits catalase |
| TNFR | TNF receptor |
| JNK | c-Jun N-terminal kinase |
| ERK | extracellular signal–regulated kinases |
| Tim-1 | T cell immunoglobulin mucin-1 |
| NAG | N-acetyl-β-glucosaminidase |
| DMTU | Dimethylthiourea |

Figure 1. Kidney injury molecule-1 structure. Immunoglobulin-like domain (Ig-like Dm), N-glycosylation sites (N-gly), mucin domain (Mucin Dm), metalloproteinase (MMPs), cytoplasmic domain (Cyt Dm), and P–tyrosine (Tyr–P) site.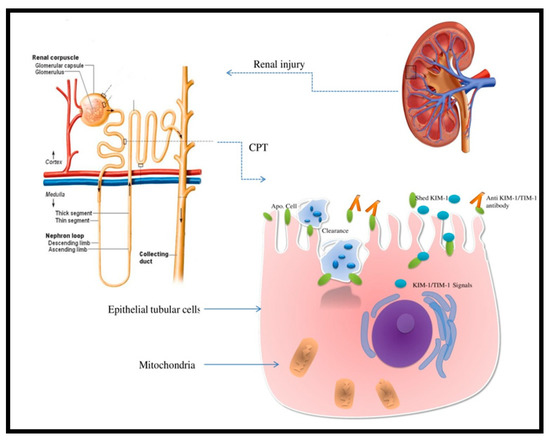 Figure 2. Kidney injury molecule-1 (KIM-1)/T cell immunoglobulin mucin-1 (TIM-1) expression in the proximal convoluted tubule (CPT) after renal injury phagocyting apoptotic cells. The extracellular domain is shed and the phosphatidylserine receptor enhances apoptotic bodies and necrotic debris phagocytosis.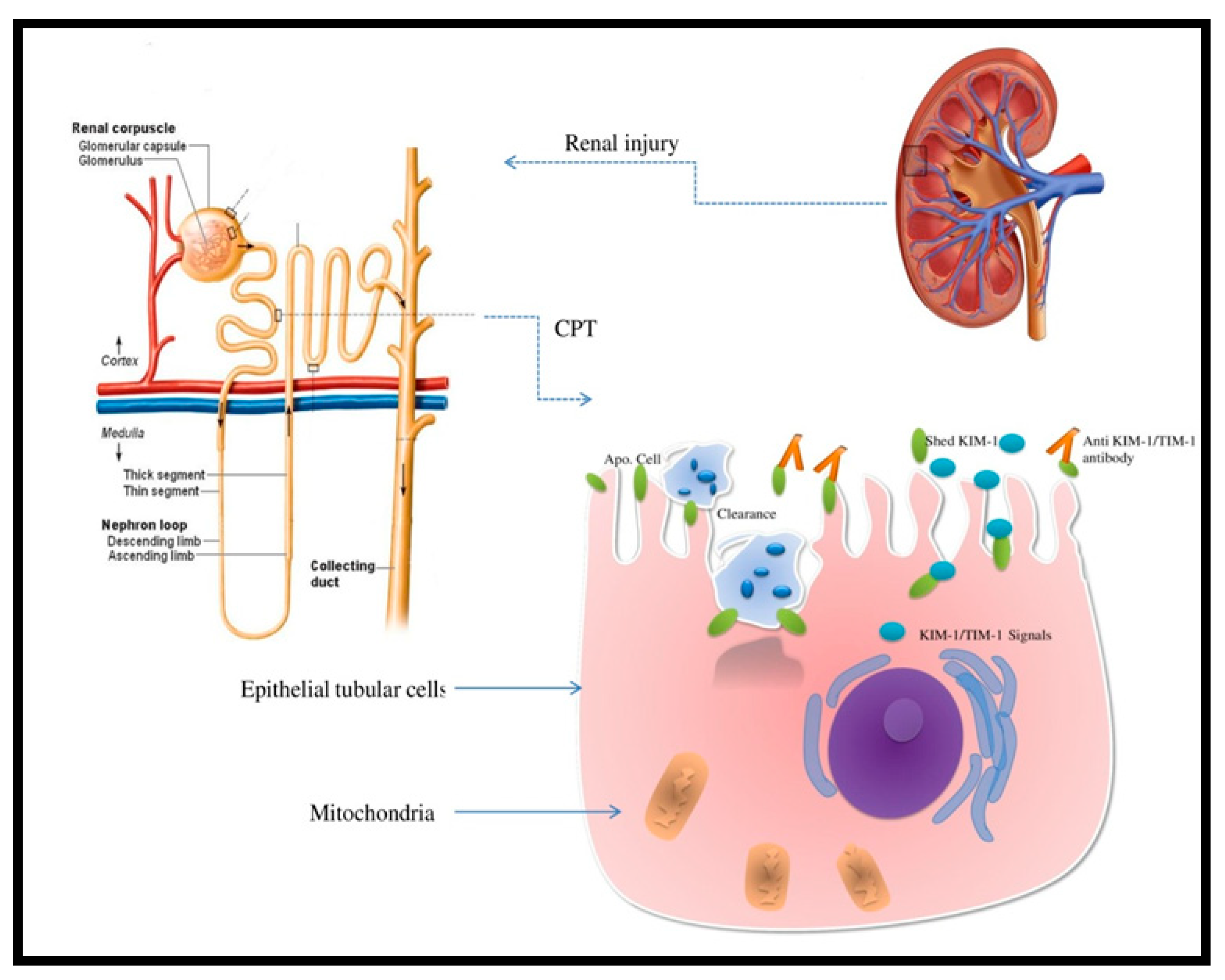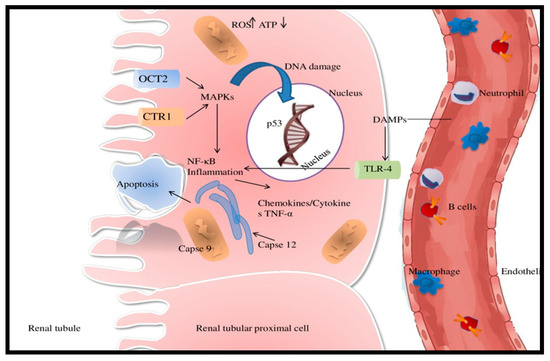 Figure 3. The complex mechanisms of cisplatin-induced acute kidney injury (AKI). Adenosine triphosphate (ATP); copper transporter 1 (Ctr1)(CTR1); damage-associated molecular pattern molecules (DAMPs); mitogen-activated protein kinase (MAPK); nuclear factor kappa-light-chain-enhancer of activated B cells (NF-κB); organic cation transporter (OCT2); reactive oxygen species (ROS); toll-like receptor-4 (TLR-4); tumor necrosis factor alpha (TNF-α).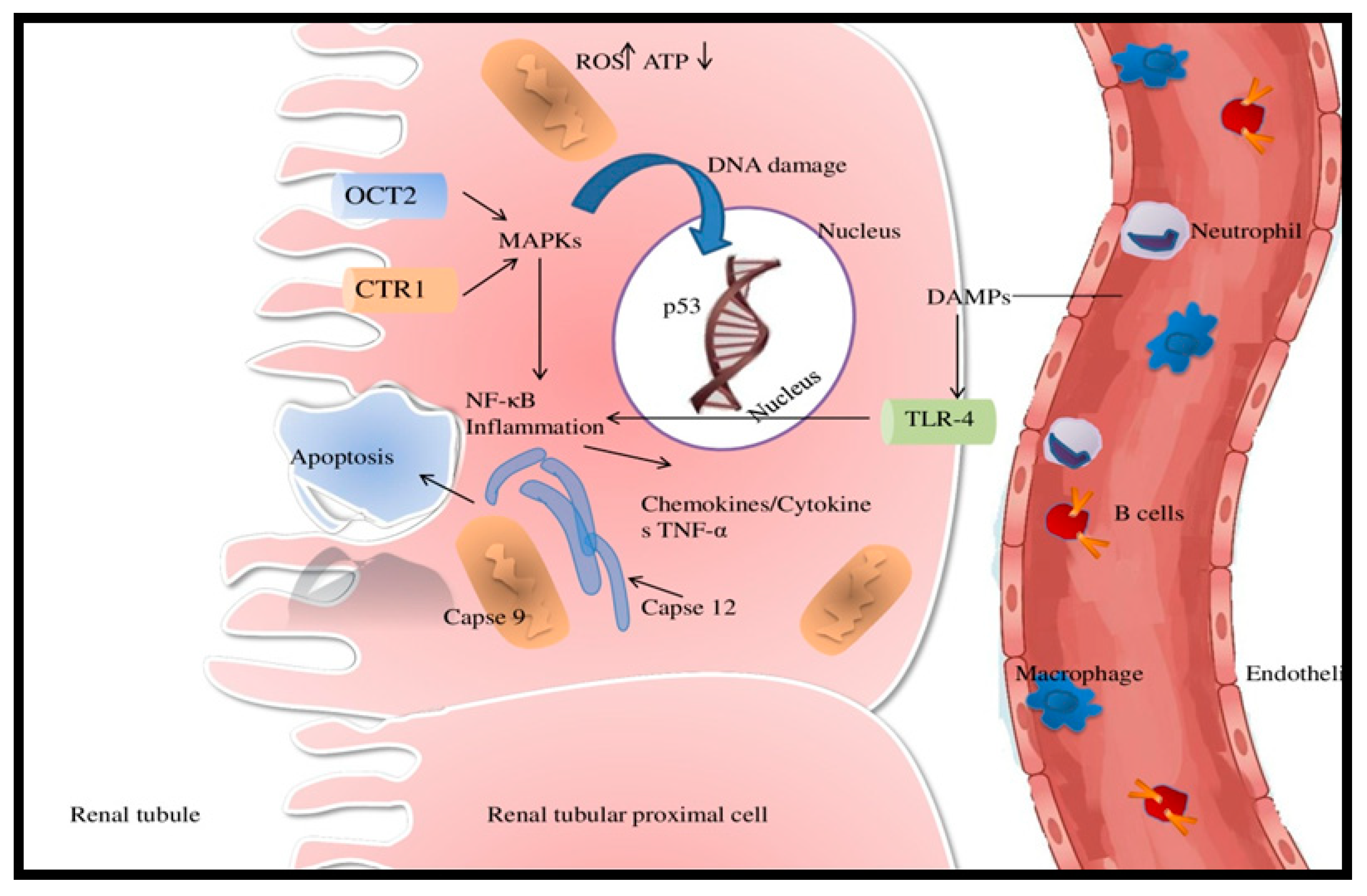 Chemotherapy Agents
Therapeutic Doses
Administration Time and Detection
Increased Detection of Serum/Urine/Immunostaining
References
Cisplatin (Cl2H6N2P)
Dose ranging from 0.01 mM to 100 mM
KIM-1 detection after 2 weeks
↑ KIM-1, ↑NGAL
[137]
6 mg/kg
3rd day
↑ KIM-1, clusterin
[24]
1 mg/kg/day
3rd day
↑ KIM-1, clusterin
[139]
6 mg/kg (1 mg/mL)
3rd day
↑ KIM-1, clusterin, plasma cystatin
[133]
One dose: 6 mg/kg
7th day and 10th day
↑ NGAL
↑ urinary
NAG, ↑ KIM-1
[141]
50 mg/m2
2nd and 3rd day
↑ KIM-1, NGAL and cystatin
[125]
100 µmol/L
3rd day
↑ KIM-1, ↑NGAL
[130]
5 μM
24 h
↑ KIM-1, ↑NGAL
[129]
5 mg/kg
2nd day
↑KIM-1
[136]
400 μM during 6 h or 10 μM during 1 day
6, 24, 48 h
↑ NGAL, ↑KIM-1, ↑HMGB1
[126]
80 mg/m2, 125 mg/body
7th day
↑ KIM-1, ↑ MCP-1 ↑ NGAL
[127]
Doxorubicin (C27H29NO11)
0.001 mM to 0.2 mM
0, 3, 7, 10, 14 day
↑KIM-1 ↑NGAL
[137]
20 mg/kg
20th day
↑ KIM-1
[145]
Fluorouracil (5-FU) (C4H3FN2O2)
50 mg/kg/day
17th–21st day
↑ KIM-1, ↑ NGAL
[140]
150 mg/kg
21st day
↑ KIM-1
[147]

© 2019 by the authors. Licensee MDPI, Basel, Switzerland. This article is an open access article distributed under the terms and conditions of the Creative Commons Attribution (CC BY) license (http://creativecommons.org/licenses/by/4.0/).