Open Access This article is
freely available
re-usable
Communication
Personalized Treatment Response Assessment for Rare Childhood Tumors Using Microcalorimetry–Exemplified by Use of Carbonic Anhydrase IX and Aquaporin 1 Inhibitors
1
Department of Pediatric Surgery, University Children's Hospital Basel, 4031 Basel, Switzerland
2
Department Neurofarba, Sezione di Scienze farmaceutiche, University of Florence, 50139 Florence, Italy
3
Biological Calorimetry Lab, Department of Biomedical Engineering, University of Basel, 4123 Allschwil, Basel, Switzerland
*
Author to whom correspondence should be addressed.
Received: 22 August 2019 / Accepted: 5 October 2019 / Published: 9 October 2019
Abstract
:
We present a novel approach to a personalized therapeutic concept for solid tumors. We illustrate this on a rare childhood tumor for which only a generalized treatment concept exists using carbonic anhydrase IX and aquaporin 1 inhibitors. The use of microcalorimetry as a refined in vitro method for evaluation of drug susceptibility in organotypic slice culture has not previously been established. Rapid microcalorimetric drug response assessment can refine a general treatment concept when it is applied in cases in which tumors do not respond to conventional chemo-radiation treatment. For solid tumors, which do not respond to classical treatment, and especially for rare tumors without an established protocol rapid microcalorimetric drug response testing presents an elegant novel approach to test alternative therapeutic approaches. While improved treatment concepts have led to improved outcome over the past decades, the prognosis of high risk disease is still poor and rethinking of clinical trial design is necessary. A small patient population combined with the necessity to assess experimental therapies for rare solid tumors rather at the time of diagnosis than in relapsed or refractory patients provides great challenges. The possibility to rapidly compare established protocols with innovative therapeutics presents an elegant novel approach to refine and personalize treatment.
Keywords:
CAIX inhibitor; AQP1; rare pediatric cancer; isothermal calorimetry; drug susceptibility; clear cell renal carcinoma; organotypic slice culture
Author Contributions
Conceptualization, S.J.G. and O.B.; Formal analysis, S.J.G. and O.B.; Funding acquisition, S.J.G. and O.B.; Methodology, S.J.G. and O.B.; Resources, S.J.G., S.G.H.-C., C.T.S. and O.B.; Writing-original draft, S.J.G. and O.B.; Writing-review & editing, S.J.G., S.G.H.-C., C.T.S. and O.B.
Funding
The calorimetry work of O.B. was supported by the Merian Iselin Stiftung, Basel. The slice culture experiments of SJG were in part supported by research grants by the Stiftung krebskranke Kinder-Regio basiliensis, the Stiftung pro UKBB, and the University of Basel.
Acknowledgments
The authors thank Urs Kym for technical support.
Conflicts of Interest
The authors declare no conflict of interest. The funders had no role in the design of the study; in the collection, analyses, or interpretation of data; in the writing of the manuscript, or in the decision to publish the results.
Abbreviations
| | |
| --- | --- |
| CAIX | Carbonic anhydrase IX |
| AQP1 | Aquaporin 1 |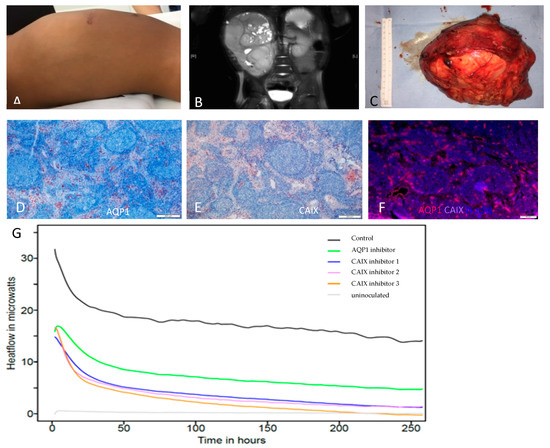 Figure 1. Clinical presentation (A) The child presented with a large abdominal mass, which was not reduced in size after initial chemotherapy. The scar was a result of the initial surgical biopsy. (B) MRI of primary clear cell sarcoma of left kidney following chemotherapy. Despite few necrotic areas the tumor is largely intact and appears to be vital. (C) Large tumor after resection. Immuno-staining (D AQP1 IHC, E: CAIX IHC, F: AQP1 and CAIX IF stainings) The response to the specific inhibitors corresponded with the protein expression profiles of AQP1 (mostly in vibrovascular septae and vessels and CAIX (most strongly within tumor nests). Microcalorimteric measurements (G) Microcalorimetric measurements showed a decrease metabolic activity under treatment with AQP and CAIX inhibitors compared to medium control. (Control – medium, Drug 1—AQP1 inhibitor TEA, Drug 2—FC8-325A, Drug 3—FC8-207A, Drug 4—FC12-520A).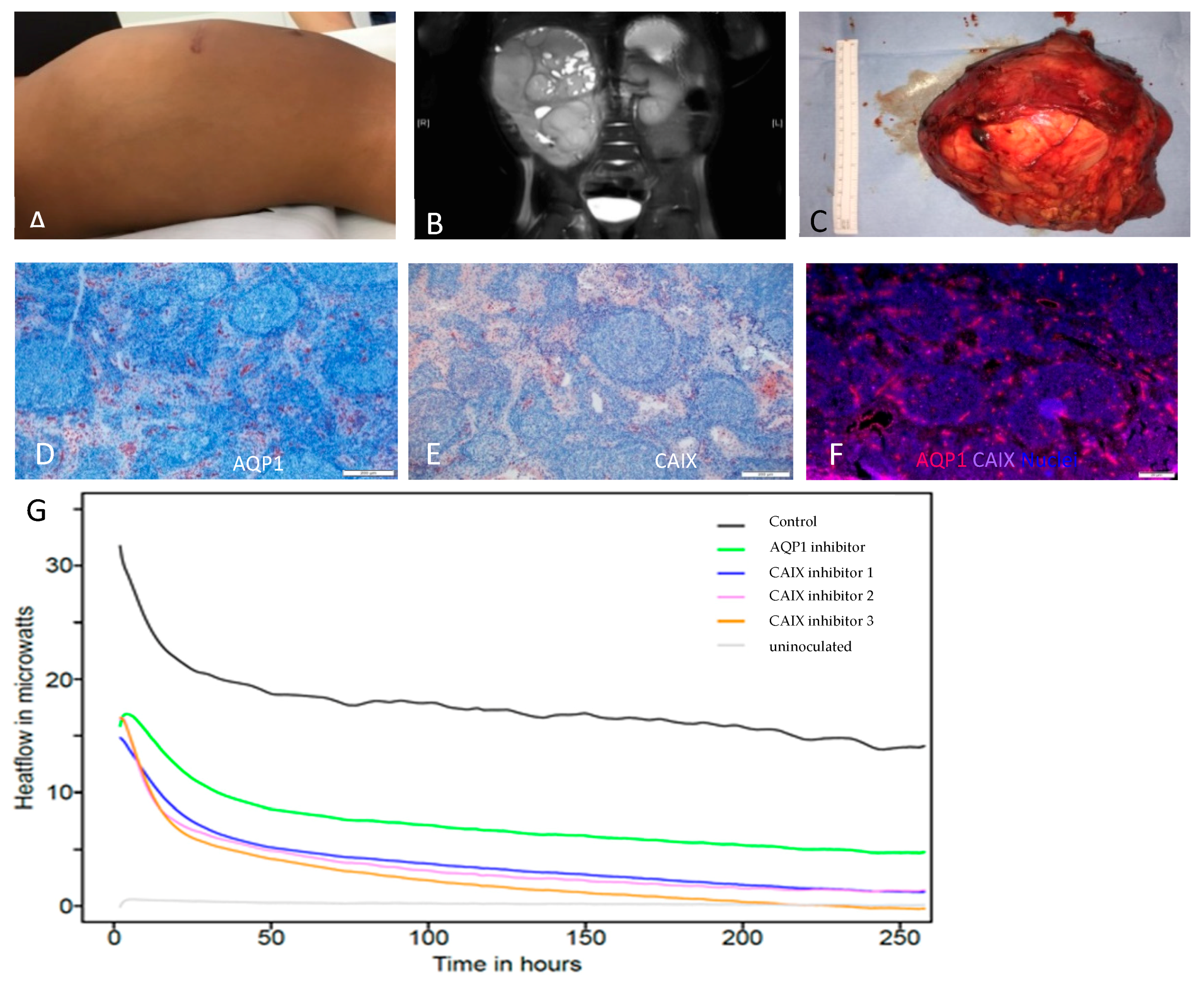 © 2019 by the authors. Licensee MDPI, Basel, Switzerland. This article is an open access article distributed under the terms and conditions of the Creative Commons Attribution (CC BY) license (http://creativecommons.org/licenses/by/4.0/).