Open Access This article is
freely available
re-usable
Review
Big Lessons from Tiny Flies:
Drosophila melanogaster
as a Model to Explore Dysfunction of Dopaminergic and Serotonergic Neurotransmitter Systems
1
Institute of Pharmacology and the Gaston H. Glock Research Laboratories for Exploratory Drug Development, Center of Physiology and Pharmacology, Medical University of Vienna, A-1090 Vienna, Austria
2
Department of Neurobiology, University of Vienna, A-1090 Vienna, Austria
*
Author to whom correspondence should be addressed.
Received: 22 May 2018 / Accepted: 13 June 2018 / Published: 16 June 2018
Abstract
:
The brain of
Drosophila melanogaster
is comprised of some 100,000 neurons, 127 and 80 of which are dopaminergic and serotonergic, respectively. Their activity regulates behavioral functions equivalent to those in mammals, e.g., motor activity, reward and aversion, memory formation, feeding, sexual appetite, etc. Mammalian dopaminergic and serotonergic neurons are known to be heterogeneous. They differ in their projections and in their gene expression profile. A sophisticated genetic tool box is available, which allows for targeting virtually any gene with amazing precision in
Drosophila melanogaster
. Similarly,
Drosophila
genes can be replaced by their human orthologs including disease-associated alleles. Finally, genetic manipulation can be restricted to single fly neurons. This has allowed for addressing the role of individual neurons in circuits, which determine attraction and aversion, sleep and arousal, odor preference, etc. Flies harboring mutated human orthologs provide models which can be interrogated to understand the effect of the mutant protein on cell fate and neuronal connectivity. These models are also useful for proof-of-concept studies to examine the corrective action of therapeutic strategies. Finally, experiments in
Drosophila
can be readily scaled up to an extent, which allows for drug screening with reasonably high throughput.
Keywords:
Drosophila
; dopamine; serotonin; neurodegeneration; neurotransmitter transporters; vesicular monoamine transporters
1. Introduction
The dew-loving, black-bellied fruit fly
Drosophila melanogaster
(
Figure 1
A) has grown into a cherished tool used to probe biological processes over the 100 years. In his Noble Prize acceptance speech, Thomas H. Morgan, the father of
Drosophila
research, stressed the importance of
Drosophila
for genetics but humbly questioned the impact of fly biology on human physiology and pathophysiology [
1
]. The progress, which has been made in the past 80+ years is striking: It is clear that many fundamental biological processes are conserved between people and
Drosophila
. Along with other model organisms, such as mouse or zebrafish,
Drosophila
has greatly enriched our understanding of the human biology and medicine. Owing to its very short life cycle, the availability of rich and sophisticated genetic tools, the ease of maintenance, and more (or most) importantly cost-effectiveness,
Drosophila
embodies an "ideal" model organism.
The
Drosophila
genome comprises around 14,000 genes. These are spread over four chromosomes. Importantly, approximately 75% of all disease-related human genes have orthologues in
Drosophila
[
2
]. The life cycle of
Drosophila melanogaster
consists of four stages: Egg, larva, pupa, and fly. The duration of the life cycle is temperature-dependent and it is completed in about ten days when the flies are maintained at 25 °C.
Drosophila
lends itself to large-scale genetic screens [
3
,
4
,
5
], cell specific transgene expression [
6
,
7
,
8
], and precise genome editing (reviewed in [
9
,
10
]). The availability of this large genetic tool box makes
Drosophila
an ideal model organism to study conserved biological processes. Unbiased genetic screens in the flies led to the discovery of many genes, including those encoding potassium and transient receptor potential channel and clock genes. In such forward screens, random mutations are generated in the flies using chemical agents such as ethyl methyl sulfonate [
11
], X-ray radiation [
12
], or genetic means such as transposon-mediated mutagenesis [
9
]. The resulting mutations-carrying flies are subsequently screened for pre-defined behavioral phenotypes. The availability of single nucleotide polymorphism maps [
13
] and whole-genome sequencing [
14
] made reverse screens possible, such that the function of predefined genes can be studied. Various genetic tools, including transposable P elements [
9
], homologous recombination [
15
], and RNA mediated genome editing tools such as RNA interference [
16
] and CRISPR/Cas system [
17
] can be used for precise genome editing. The phenotype of the mutant flies can then be studied. The GAL4/UAS system, a binary ectopic expression system, can also be used to express a transgene of interest (a rescue cDNA construct or a disease relevant cDNA construct) in tissue- or cell-specific manner [
7
].
Remarkably, many neurotransmitters are common to
Drosophila
and mammals; i.e., dopamine, serotonin, histamine, GABA, glutamate, and acetylcholine. Invertebrates lack the dopamine β-hydroxylase, and phenylethanolamine-
N
-methyl-transferase, which are involved in the synthesis of epinephrine and norepinephrine, and instead convert tyrosine into tyramine and octopamine. The current review will focus on the monoamine neurotransmitters dopamine and serotonin and capture the current understanding of these neurotransmitter systems in flies.
2. The Dopaminergic System
3. The Serotonergic System
4. Cross-Talk between the Dopaminergic and Serotonergic Systems
Evidence of interactions between dopaminergic and serotonergic system has repeatedly been reported in mammalian and invertebrate systems [
97
,
114
,
115
,
116
,
117
]. In flies, most neuropils are innervated by both dopaminergic and serotonergic neurons with a few exceptions. Interestingly, a small population of fly neurons shows a positive immunoreactivity for both dopamine and serotonin [
97
]. A general consensus in both mammalian and invertebrate field is that at the system level, serotonin acts as an inhibitor of behavior [
118
,
119
], whereas dopamine is primarily involved in arousal [
120
,
121
]. For instance, dopamine-deficient flies show a reduced locomotion phenotype [
23
,
31
], which can be mimicked via the activation of serotonergic neurons [
112
]. A recent study, performed in flies, revealed a role of a serotonin-dopamine axis in long-term memory formation [
95
]: A pair of newly identified bilateral serotonergic projection neurons control the activity of MP1 dopaminergic neurons, which are involved in long-term memory formation. Inhibition of Dunce phosphodiesterase, which restricts the cAMP levels at the presynaptic region and hence the cAMP/PKA signaling [
122
], in serotonergic neurons results in serotonin release which activates 5HT-2A receptors in MP1 dopaminergic neurons, subsequently resulting in long-term memory formation at the mushroom body [
95
]. DDC mutant flies, which lack neuronal dopamine and serotonin, have an extended serotonergic arborization in the larval stage: This was, in part, suppressed by dopamine feeding [
107
]. In neonatal rodents, 6-hydroxydopamine lesioning is commonly used in combination with a norepinephrine reuptake inhibitor to selectively target dopaminergic neurons [
123
]. The resulting selective loss of dopaminergic neurons affects the serotonergic innervations in a region-specific manner [
124
,
125
]. In addition, the extensive serotonergic arbor plasticity is not limited to developing brains, since a selective loss of dopaminergic neurons in the adult mouse brain also leads to extensive sprouting of serotonergic processes [
126
]. Aberrant serotonergic signaling—resulting from a change in dopaminergic input and vice versa—is thought to contribute to the evolution of several disorders including depression, schizophrenia, and Parkinson's disease (reviewed in [
127
]). Consistent with findings in the dopamine-deficient mammalian brain, the serotonergic neurons sprout in dopamine-deficient flies; this results in increased density of projections to territories in the mushroom body, which are sparsely innervated by serotoninergic neurons in wild type flies [
97
]. The competitive interaction between dopaminergic and serotoninergic projections is further substantiated by the observation that the serotoninergic projections are rarefied in the mushroom body of wild type flies, after these have been fed
l
-dopa for 10 days [
97
]. These findings suggest that the serotonin-dopamine interactions are conserved across species and over large evolutionary distances. It is therefore justified to consider
Drosophila
a suitable model for studying aberrant dopamine and serotonergic signaling.
Excitatory neurotransmission in the brain relies on glutamate. Dopamine and serotonin also impinge on glutamatergic synapses and this cross-talk is thought to be important in several psychiatric disorders, e.g., schizophrenia, autism, bipolar depression [
128
,
129
]. It appears counterintuitive to use the simple brain
Drosophila
as a model organism for studying complex disorders of higher brain function in man. In addition, protostome invertebrate phyla express glutamate-gated chloride channels. Thus, in contrast to mammals, glutamate can act in both, excitatory and inhibitory manner in
Drosophila
[
130
,
131
,
132
]. Nevertheless, it is possible to capitalize on
Drosophila
to analyze components of regulatory circuits: This is epitomized by experiments designed to understand the impact of dysbindin/dystrobrevin binding protein 1, the product of a schizophrenia susceptibility gene in people. In both mouse [
133
] and flies [
134
], reduced expression of dysbindin results in a hyperdopaminergic and hypoglutamatergic phenotype. The crucial insight from
Drosophila
was the finding that this alteration resulted from the action of dysbindin in to different cellular compartments, i.e., neuronal and glial for the hypoglutamatergic and heyperdopaminergic signaling, respectively [
134
].
5. Conclusions
A collection of sophisticated genetic tools allows for spatial and temporal control over gene expression in
Drosophila melanogaster
. In addition, flies can perform complex tasks by relying on some 100,000 neurons in their brain. It is therefore possible to map neural circuits supporting individual aspects of behavior and the required decision making and memory formation with amazing precision. In comparison to mammals (e.g., mice, which have around 30–35,000 dopaminergic [
135
] and 26,000 serotonergic neurons [
136
]), flies have a small number of dopaminergic and serotonergic neurons. These are grouped into clusters and their widespread neurites reveal a substantial degree of overlap.
Drosophila
provides a unique opportunity to understand the role of serotonergic and dopaminergic transmission in a reductionist approach. Firstly, large scale screens can be performed in a cost- and time-efficient manner. Secondly, the capacity to introduce human orthologs allows for studying the encoded proteins including disease-associated variants in vivo. Finally,
Drosophila
is a very elegant animal model, not only for understanding biological processes, but also for performing drug screening. It is self-evident that every model has its limitations: A striking difference between mammalian and invertebrate neurons is their distinct morphology: Fly neurons are unipolar; a single neurite projects from the cell body and gives rise either to axonal and dendritic arborization or to an axonal shaft with multiple projections [
137
]. In mammals, neurons are predominantly bi- or multipolar, i.e., dendrites and axons originate separately from the cell body. In addition, and by definition, a reductionist approach aims at eliminating complexity. The number of possible connections rises exponentially as the number of neurons increases. Thus, there are inherent limits to what the
Drosophila
brain can teach us about the human brain and its complex disorders, e.g., schizophrenia, depression and autism.
Author Contributions
All authors contributed to writing the text and approved the final version.
Acknowledgments
Work from the authors' laboratory is funded by grants of the Austrian Science Fund (P31255-B27 and SFB35-10 to Sonja Sucic and Michael Freissmuth, respectively) and by the Wiener Wissenschafts und Technologie Fonds WWTF LS17-026.
Conflicts of Interest
The authors declare no conflict of interest.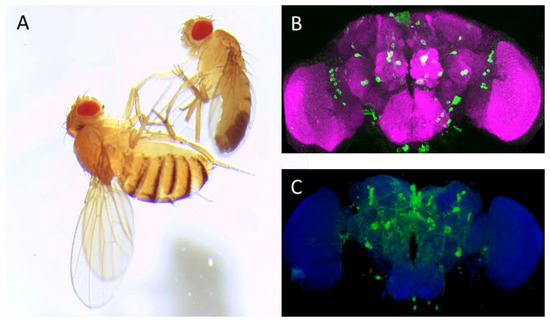 Figure 1.
Drosophila melanogaster
(
A
) and adult fly brain (
B
,
C
). (
A
): Image of adult female (
left
) and male (
right
) Canton-S
Drosophila melanogaster
; (
B
): Anterior view of adult fly brain carrying serotonin transporter protein trap (Bloomington Drosophila Stock Center no. 60529, Bloomington, IN, USA). The cell bodies of serotonergic neurons are labeled in
green
by expression of GFP; and (
C
): Posterior view of TH Gal4; mCD8:GFP adult fly brain: The dopaminergic neurons are delineated by their expressing the murine GFP-tagged CD8, which uniformly labels the neuronal membrane. ImageJ 3D Viewer plugin was used to generate the image. Anti-neuronal cadherin antibody (MNCD2, DSHB, University of Iowa, IA, USA,
magenta
(
B
) and
blue
(
C
)) was used to delineate the adult fly brain. Scale bar: 50 μm.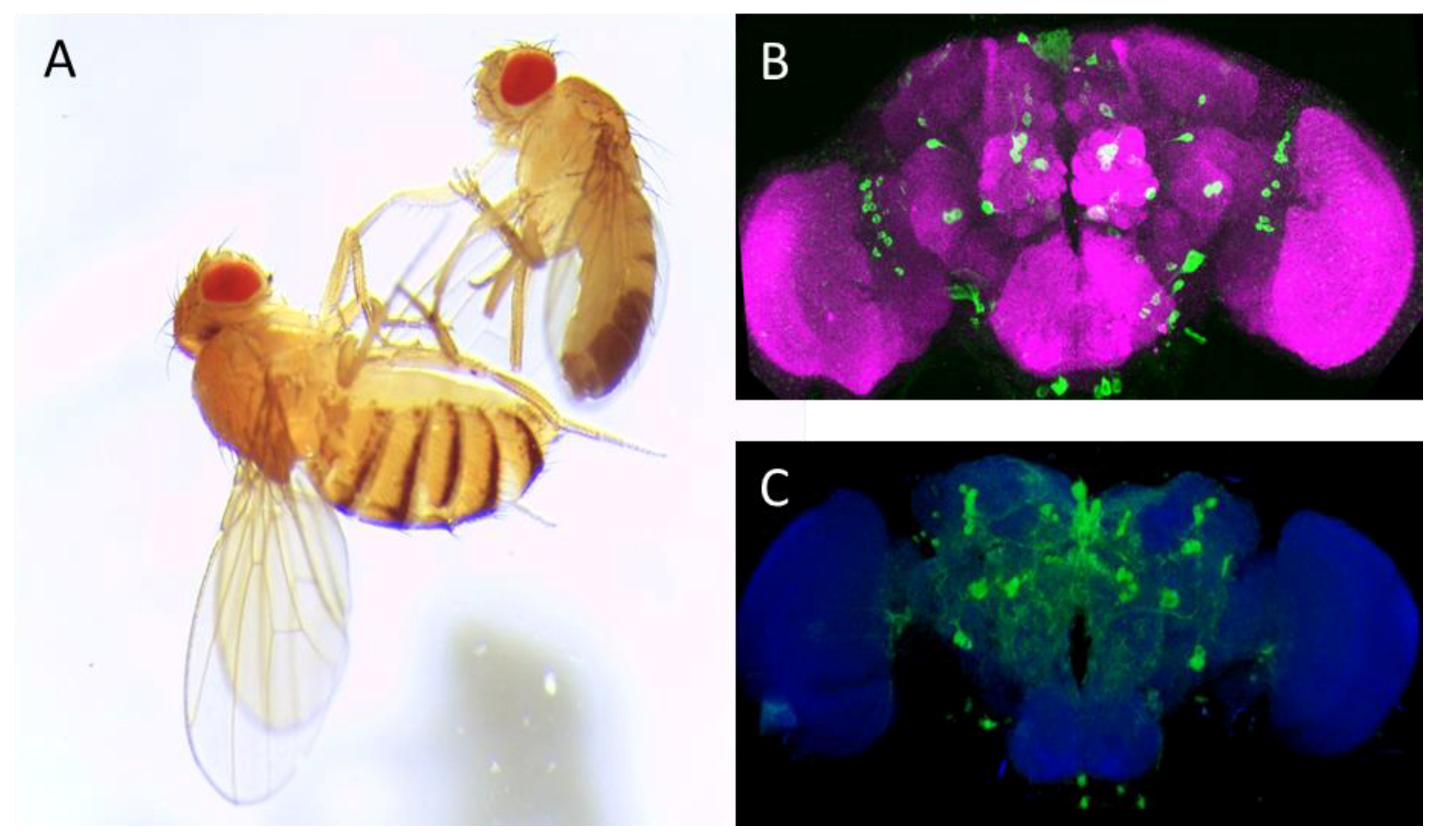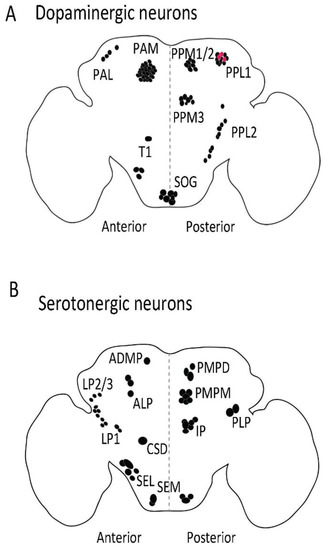 Figure 2. Distribution of dopaminergic (A) and serotonergic (B) neurons in adult fly brain. The dopaminergic and serotonergic neurons are distributed in various clusters in flies. Anti-TH antibody (Abcam, 128249, Cambridge, UK) was used to label dopaminergic neurons and serotonin transporter protein trap (bloomington stock no. 60529) was used to visualize serotonergic cell bodies in adult fly brain. PAM: Protocerebral anterior medial; PAL: Protocerebral anterior lateral; PPL: Posterior protocerebrum lateral; PPM: Protocerebral posterior medial; T1: Thoracic 1; SOG: Subesophagal ganglion; PLP: Posterior lateral protocerebrum; ADMP: Anterior dorsomedial protocerebrum; ALP: Anterior lateral protocerebrum; LP: Lateral protocerebrum; PMPM: Posterior medial posterior medial; SEL: Subesophageal lateral; CSD: Contralaterally projecting, serotonin-immunoreactive, deutocerebral; SEM: Medial subesophageal ganglion; PMPD: Posterior medial protocerebrum, dorsal; IP: Inferior medial protocerebral. Red dot: PPL1 dopaminergic neurones (A) that also produce serotonin. Black dot: Dopaminergic (A) and serotonergic (B) cell bodies.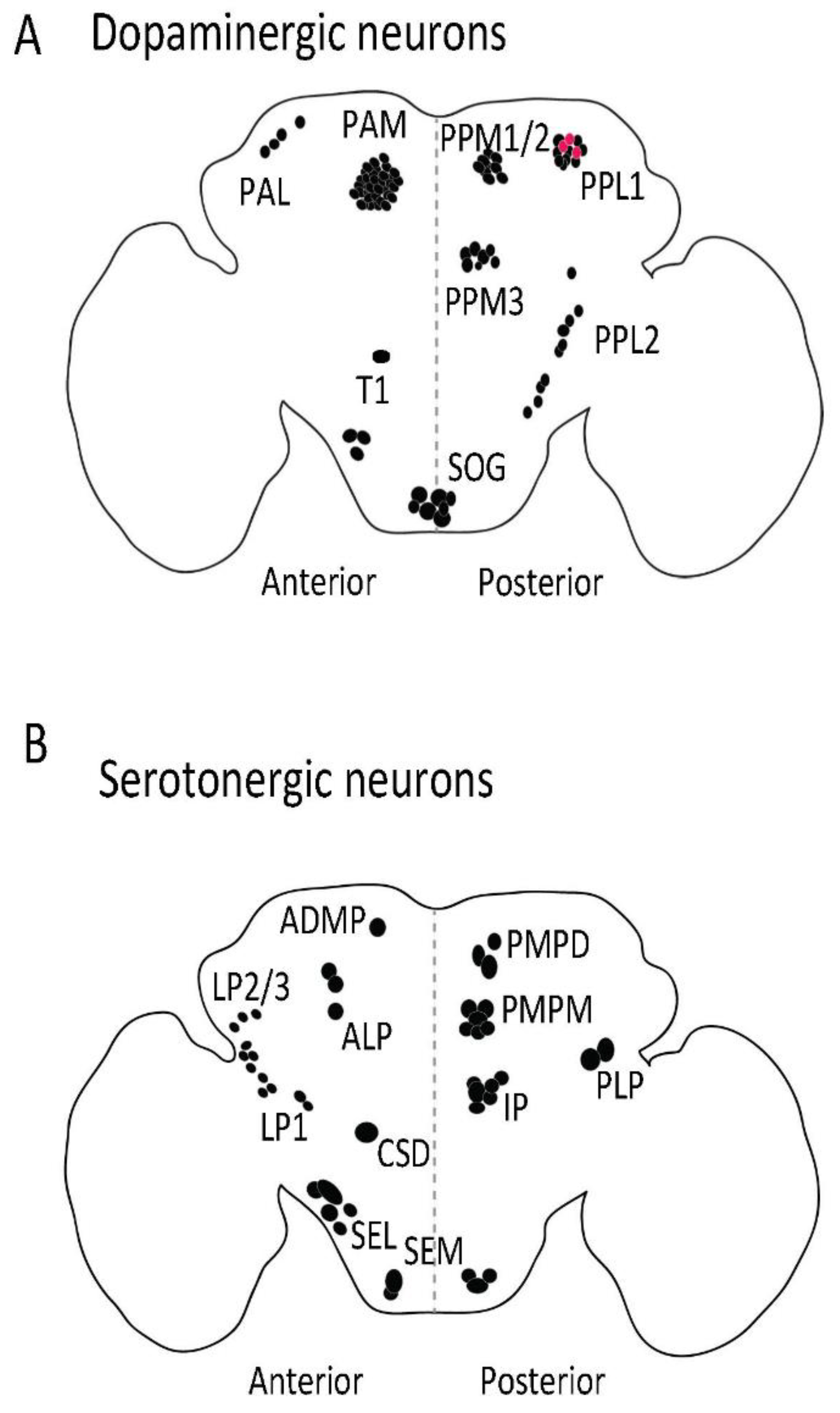 Neuronal Cluster
Function
Ref.
Dopaminergic neurons
PAM
Sugar reward, reward signaling, long-term and short-term memory formation, aversive memory formation, negative geotaxis, promote wakefulness, foraging behavior, promote oviposition preference
[22,71,77,138,139,140,141]
PAL
Involved in mating drive
[142,143,144]
PPL1
Aversive memory formation, sugar reward and nutrient value, negative geotaxis, modulate sleep,
Inhibit oviposition preference
[1,3,4,5,7,11,12,145]
PPM2
Protein consumption preference
[146]
PPM3
Aggression phenotype
Modulate sleep, promote oviposition preference
[7,14,15,16]
T1
Aggression phenotype
[21]
SOG
Proboscis extension in response to satiety state
[147]
Serotonergic neurons
PLP
Aggression
[148]
PMPM
Modulate anesthesia resistant memory and sleep
[149,150]
CSD
Modulate ethanol perception
[111]
SEL
Long term memory formation
[95]
Neuronal circuitry has been functionally linked to a number of dopaminergic and serotonergic neurons belonging to different clusters. Similar to mammals, flies carry monoaminergic neurons organized into clusters and the neurons vary in their anatomy and postsynaptic targets. PAM: Protocerebral anterior medial; PAL: Protocerebral anterior lateral; PPL1: Posterior protocerebrum lateral; PPM: Protocerebral posterior medial; SOG: Subesophagal ganglion; PLP: Posterior lateral protocerebrum; PMPM: Posterior medial posterior medial; SEL: Subesophageal lateral; CSD: Contralaterally projecting, serotonin-immunoreactive, deutocerebral.

© 2018 by the authors. Licensee MDPI, Basel, Switzerland. This article is an open access article distributed under the terms and conditions of the Creative Commons Attribution (CC BY) license (http://creativecommons.org/licenses/by/4.0/).