Open Access This article is
freely available
re-usable
Review
Type 1 Diabetes and Its Multi-Factorial Pathogenesis: The Putative Role of NK Cells
1
Type 1 Diabetes Centre, Infectivology and Clinical Trials Research Department, Children's Hospital Bambino Gesù, Viale San Paolo 15, 00146 Rome, Italy
2
VisMederi srl, Strada del Petriccio e Belriguardo, 35, 53100 Siena, Italy
*
Author to whom correspondence should be addressed.
Received: 7 February 2018 / Accepted: 7 March 2018 / Published: 10 March 2018
Abstract
:
Type 1 diabetes (T1D) affects millions of people worldwide and is the prevalent form of all pediatric diabetes diagnoses. T1D is recognized to have an autoimmune etiology, since failure in specific self-tolerance mechanisms triggers immune reactions towards self-antigens and causes disease onset. Among all the different immunocytes involved in T1D etiopathogenesis, a relevant role of natural killer cells (NKs) is currently emerging. NKs represent the interface between innate and adaptive immunity; they intervene in the defense against infections and present, at the same time, typical features of the adaptive immune cells, such as expansion and generation of memory cells. Several recent studies, performed both in animal models and in human diabetic patients, revealed aberrations in NK cell frequency and functionality in the peripheral blood and in damaged tissues, suggesting their possible redirection towards affected tissues. NKs oscillate from a quiescent to an activated state through a delicate balance of activating and inhibitory signals transduced via surface receptors. Further accurate investigations are needed to elucidate the exact role of NKs in T1D, in order to develop novel immune-based therapies able to reduce the disease risk or delay its onset.
Keywords:
Type 1 Diabetes; NK cells; autoimmune diseases
1. Introduction
T1D Immunopathology: Looking Inside the Puzzle
3. Role of NK Cells in T1D
Several studies suggest that NKs could be involved in one or multiple steps of the immune-mediated attack that leads to T1D (rev in [
40
,
71
]). For their potential to interact with APCs, NKs might interfere in the priming of autoimmune responses. They might influence the downstream response, affecting the proliferation and generation of autoreactive B and T lymphocytes because of cytokine secretion (rev in [
72
,
73
]). NK cells represent the major source of IFN-
γ
(vide supra) that may significantly contribute to the excessive, uncontrolled, and unresolved autoimmune response mediated by autoreactive T cells.
3.1. Animal Studies
Spontaneous animal models of T1D have always been instrumental in understanding its pathogenetic mechanisms. Among the most investigated, the NOD mouse most closely resembles human disease (rev in [
74
]). In addition, Bio Breeding diabetes-prone [BB], Komeda [KDP], LEW 1AR1/-iddm rat strains were investigated (rev in [
74
]). Nevertheless, evidences for the role of NKs addressing either a promoting or a protective effect in disease onset and development were only reported in NOD mice (
Table 1
) [
75
,
76
,
77
,
78
]. We need however to point out that NOD mice are characterized by an unusual composition in the genomic regions that influence NK cell activity; thus, whether this murine model can indeed foresee the NK cell behavior in human T1D is still a debated issue [
11
].
Among the initial evidences, beside their recovery in the pancreas of non-obese diabetic (NOD) [
79
] and BDC/NOD mice [
76
], Flodstrom's group (2002) observed the destructive effect of NKs within NOD pancreatic cells [
75
]
.
Further, in the study by Poirot et al. (2004) [
76
] preferential NK cell recruitment was found in the aggressive insulitic lesions of BDC2.5/B6.H-2
g7
versus BDC2.5/NOD animals [
76
]. NK cell recruitment was enhanced in the aggressive insulitis of BDC2.5/NOD mice following CTLA-4 (cytotoxic T lymphocyte antigen 4) blockade, indicating the early involvement of this subset in β cell destruction [
76
]. NKs with a specific phenotype (higher levels of CD69 and CD25, lower levels of L-selectin (CD62L)) were identified in the pancreas of NOD mice in the study performed by Brauner and colleagues (2010) [
78
]. A decreased activity emerged in pancreatic compared to spleen NKs, thus confirming their putative involvement in the inflammatory process [Brauner 2010]. Pancreatic NKs initially could mediate proinflammatory effector functions, potentially contributing to organ-specific autoimmunity, but later on they could become hyporesponsive because of exhaustion or regulation [
78
]. Another study evidencing a protective role of NK
s
in the development of T1D was performed by Lee and colleagues (2004), showing downregulation of autoreactive cytotoxic T lymphocytes (CTL) that limits β cell destruction [
77
]. This may address NK cells as possible targets of a novel approach for the prevention of autoimmune diabetes [
77
].
3.2. Human Studies
Ambiguous results on NK cell aberrations have been reported in T1D patients (
Table 2
) with the limitation regarding the use of peripheral blood samples that might not precisely reflect the ongoing process in the infiltrated pancreatic islets [
80
]. Some investigations described a reduced NK cell number, altered lytic activity and changes in the expression of activating receptors in T1D peripheral blood mononuclear cells (PBMC) (rev in [
30
,
81
]), whereas other studies highlighted the association between stage of disease and the presence of transitory cellular differences [
82
,
83
]. Functional abnormalities have also been reported in NK cells of T1D patients. A reduced lytic capacity, as determined by cytotoxicity assays, was also reported, but not universally confirmed [
84
,
85
], both in recently diagnosed and/or long-standing T1D patients [
82
,
83
].
Defects in NK cell frequency and activation were found in patients with latent autoimmune diabetes in adults (LADA) [
86
]. Accordingly to previous results from recent-onset T1D patients [
40
,
85
,
87
], a consistent reduction in NK cell frequency was shown in the peripheral blood of LADA patients, probably correlated with a parallel NK cell increase in the draining lymph nodes and pancreas [
86
]. Although T1D and LADA showed a different activating NK cell phenotype, the finding of reduced NK cell frequency allows to hypothesize comparable immunological alterations, i.e., an attenuated NK cytotoxic phenotype in the periphery and altered NKR expression (rev in [
30
]). As opposite to studies underlying that the disease onset is marked by a slight reduction in NK cells, Rodacki et al. (2007) found that this subset is unusually activated in some patients with IFN-
γ
expression [
40
]. Lower expression of NK p30/p46 activating receptor molecules was attributed to prolonged hyperglycemia. Decreased expression of NKG2D was detected in diabetic patients independently of disease duration as well as an increased frequency of KIR gene haplotypes [
40
].
An intriguing hypothesis concerning T1D development is that T1D susceptible subjects could manifest a higher predisposition to viral infections due to an aberrant responsiveness of pancreatic cells to IFN-
γ
(rev in [
81
]). The autoimmune process might be triggered by the release of autoantigens due to NK cell activity. Autoantigens could stimulate autoreactive T cells and initiate disease. In recent onset T1D patients, Dotta and colleagues (2007) [
80
] observed several cases of infections of β cells due to Coxsackie B4 virus, leading to the infiltration of NKs into pancreatic islets, with consequent insulitis and β cell destruction.
4. Molecular Mechanisms of NKs in T1D
5. Conclusions and Future Perspectives
Although many details of the complex pathophysiology of T1D have been completely clarified, several aspects remain unknown. Observing the complex puzzle of the different immunocytes involved in T1D pathogenesis, in addition to the traditional view of the concerted action of T, B lymphocytes, macrophages and DCs, NK cells appear as a still "undiscovered" player to be investigated. Although initially identified as innate lymphocytes (rev in [
30
]), they show characteristics of the adaptive immune system (vide supra). Thus, this subset is reasonably implicated in autoimmunity and tissue inflammation [
105
,
106
]. Abnormalities in the number and activity of NK cells, leading to instability of immune system and uncontrolled proliferation of certain immunotypes [
81
], have been reported both in animal models and T1D patients (vide supra). Some of these alterations are linked to its onset while others seem to be a consequence of the disease [
71
], with the development of severe clinical implications.
Nevertheless, from the literature evidences above discussed, the exact role of NKs in T1D pathogenesis is still ambiguous [
107
], probably due to the extent of different NK subsets presenting functional differences; protection or exacerbation of the autoimmune disease may be due to disequilibrium between the different subsets [
108
]. Thus, a deeper investigation of functional NK subsets and their inflammatory and regulatory phenotypes could unravel their functional effect in T1D [
107
]. This concept is strengthened by the recent observation that among their pleiotropic features, contrary to dogma, NKs cells can also act as "memory like cells" expanding upon autoantigenic exposure [
33
] as already demonstrated in response to viruses [
109
]. This opens new research pathways that may lead to elucidate their characterization and the appropriate balance of activating and inhibitory receptors in different stages of disease in this particular subset. This also may lead to discover prevalent functional effects in different stages of disease leading to unexpected subtle immunomodulatory effects either in the peripheral blood or at insulitis level. Furthermore, memory like NK cells could also be expanded under autoantigen-nonspecific bystander conditions as viral infections that may be contributing to the disease pathogenesis [
33
] (
Figure 2
).
Certainly, future studies are necessary to clarify mechanisms of interaction with APC, T cells and target pancreatic β-cells that are ultimately destroyed [
84
]. Understanding the exact role of NK cells in the pathogenesis and progression of T1D and which particular NK subsets are involved could help determine if they can be manipulated therapeutically in autoimmune diseases [
108
] to support the development of novel immune-based strategies. These would have the aim to reduce T1D risk or delay disease onset. Furthermore, the elucidation of NK abnormalities and their putative involvement in the risk of infections or neoplasia in T1D patients could be useful to prevent the occurrence of these conditions during disease progression.
Acknowledgments
Italian Ministry of Health Ricerca Corrente RC201702P003967. We acknowledge Marsha Pellegrino for providing linguistic revision.
Author Contributions
Valeria La Marca, Elena Gianchecchi and Alessandra Fierabracci analyzed literature and wrote the manuscript.
Conflicts of Interest
The authors declare no conflict of interest.
Abbreviations
| | |
| --- | --- |
| DM | Diabetes Mellitus |
| T1D | Type 1 Diabetes |
| T2D | Type 2 Diabetes |
| GDM | Gestational Diabetes Mellitus |
| HLA | Human leukocyte antigen |
| PTPN22 | Protein tyrosine phosphatase non-receptor type 22 |
| IL-2RA | Interleukin 2-receptor alpha |
| GWAS | Genome wide association studies |
| SNP | Single nucleotide polymorphism |
| GAD65 | Glutamic acid decarboxylase isoform 65 |
| IA-2 | Tyrosine phosphatase-like insulinoma-associated antigen |
| IGRP | Islet-specific glucose-6—phosphatase catalytic subunit-related protein |
| TCR | T cell receptor |
| Th | T helper |
| Treg | T regulatory cells |
| IL | Interleukin |
| TNF-α | Tumor necrosis factor α |
| IFN | Interferon |
| Foxp3 | Forkhead box P3 |
| BCR | B cell receptor |
| NO | Nitric oxide |
| DC | Dendritic cells |
| APC | Antigen-presenting cell |
| pDC | Plasmocytoid dendritic cell |
| NK | Natural killer |
| NKT | NK-like T |
| KIR | Killer cell immunoglobulin-like receptor |
| HSC | Hematopoietic stem cell |
| GM-CSF | Granulocyte-macrophage colony stimulating factor |
| MIP | Macrophage inflammatory protein |
| NKR | NK receptor |
| MHC | Major Histocompatibility Complex |
| MHC I | Major Histocompatibility Complex class I |
| NOD | Non obese diabetic |
| CTLA-4 | Cytotoxic T lymphocyte antigen 4 |
| CD62L | L-selecting |
| CTL | Cytotoxic T lymphocyte |
| PBMC | Peripheral blood mononuclear cells |
| LADA | Latent Autoimmune Diabetes in Adults |
| NCR | Natural cytotoxicity receptor |
| KLRC3 | Kinase light chain 3 |
| ILT2 | Ig-like transcript 2 |
| HCMV | Human cytomegalovirus |
| PC | Plasma cell |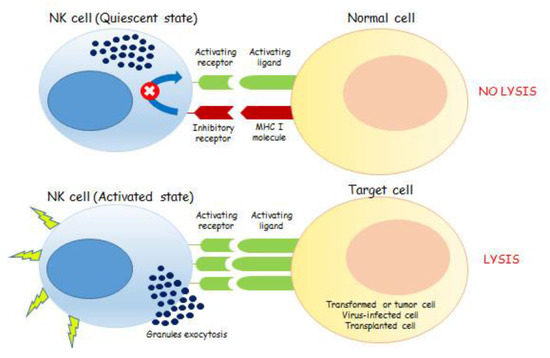 Figure 1. The mechanism of action of NK cells depends on the fine balance between activating and inhibitory signals. The binding of ligands, present on the cell surface and encoded by pathogens or by the host, with activating NKRs leads to NK cells activation. More specifically, NK cells express inhibitory receptors specific for MHC (Major Histocompatibility Complex class I (MHC I)) molecules on target cells. Because of direct ligand interaction, these inhibitory receptors prevent NK cell activation and killing. NK cells also express activation receptors that recognize target cell ligands and can trigger perforin-dependent natural killing. In normal cells, the integration of both activating and inhibitory signals, due to the presence of MHC I molecules, contributes to the overall state of NK quiescence. Conversely, tumor, virus-infected and transplanted cells are characterized by an enhanced expression of activatory ligands, beside the lacking or downregulation of MHC I molecules on their surface. These cells are able to drive NKs toward their activation state thus promoting target cells lysis, through the exocytosis of granzymes- and perforin-containing granules.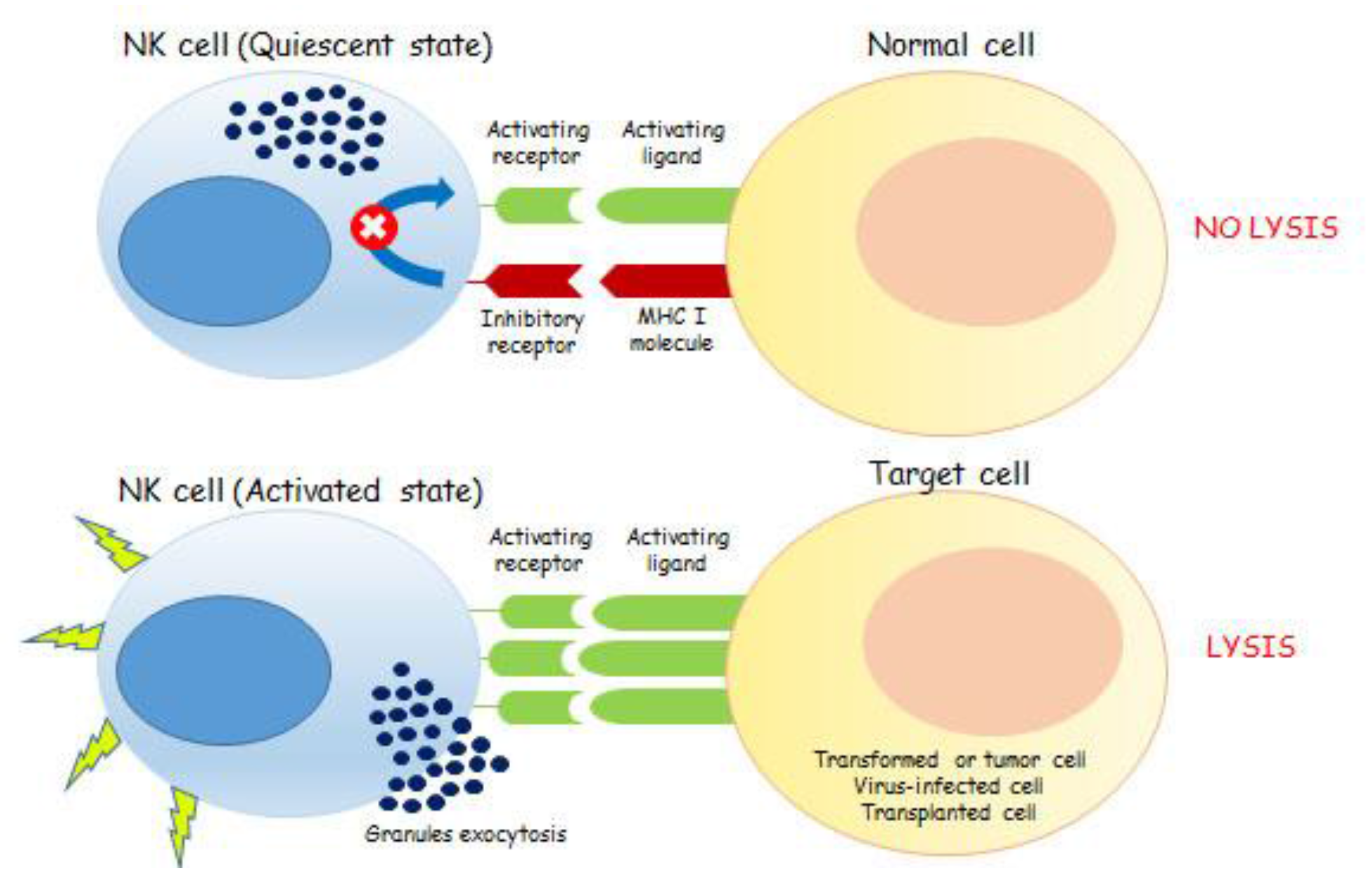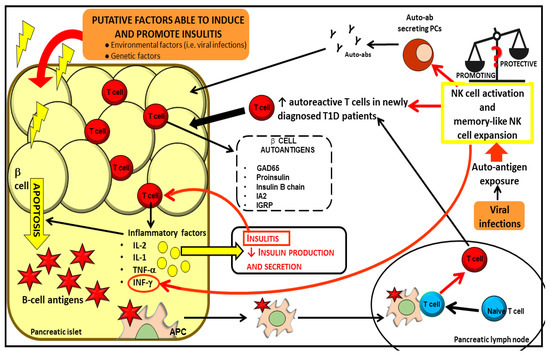 Figure 2. Both genetic and environmental factors cause β cell apoptosis leading to β cell antigen release. Self-antigens induce APC activation. Activated APCs promote the activation of naïve T cells in the pancreatic lymph nodes. Autoreactive T cells infiltrate pancreatic islet and release pro-inflammatory factors promoting insulitis, amplifying the apoptotic process and reducing insulin production and secretion. NKs could be involved in one or multiple steps of the immune-mediated attack that lead to T1D, although their protective or promoting role in this process remains to be elucidated. NKs can affect the proliferation and generation of T and B autoreactive lymphocytes. Mature B cells differentiate in plasma cells (PCs) producing autoantibodies, which, in turn, further contribute to the tissue inflammatory process and destruction. NKs cells can also act as "memory like cells" expanding upon auto-antigenic exposure in response to viruses.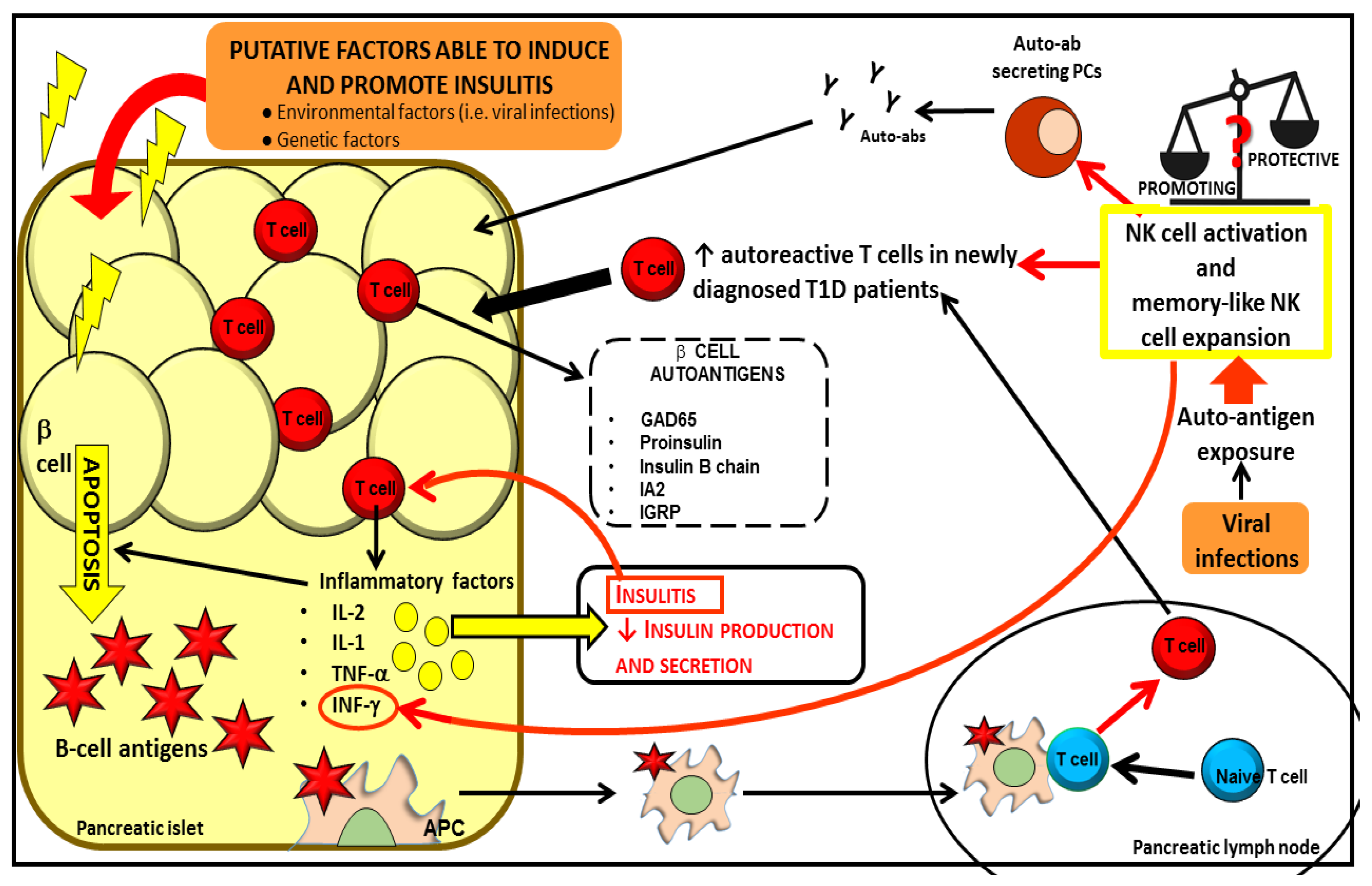 Table 1. Non-obese diabetic (NOD) animal studies supporting the promoting or protective role of NKs towards T1D onset.
Promoting Effects
Protective Effects

Down-regulation of autoreactive CTL NK-mediated limits pancreatic β cell destruction [

77

]

© 2018 by the authors. Licensee MDPI, Basel, Switzerland. This article is an open access article distributed under the terms and conditions of the Creative Commons Attribution (CC BY) license (http://creativecommons.org/licenses/by/4.0/).