Open Access This article is
freely available
re-usable
Review
Scanning the Immunopathogenesis of Psoriasis
1
Dermatology Department, University of Pisa, Via Roma 67, 56126 Pisa, Italy
2
Department of Dermatology and Cutaneous Surgery, University of Miami Miller School of Medicine, 1295 NW 14th St, Miami, FL 33125, USA
3
The Laboratory of Neuroimmunology, Fondazione Santa Lucia, Via del Fosso di Fiorano, 64, 00143 Rome, Italy
*
Author to whom correspondence should be addressed.
Received: 28 September 2017 / Accepted: 4 January 2018 / Published: 8 January 2018
Abstract
:
Psoriasis is a chronic inflammatory skin disease, the immunologic model of which has been profoundly revised following recent advances in the understanding of its pathophysiology. In the current model, a crosstalk between keratinocytes, neutrophils, mast cells, T cells, and dendritic cells is thought to create inflammatory and pro-proliferative circuits mediated by chemokines and cytokines. Various triggers, including recently identified autoantigens, Toll-like receptor agonists, chemerin, and thymic stromal lymphopoietin may activate the pathogenic cascade resulting in enhanced production of pro-inflammatory and proliferation-inducing mediators such as interleukin (IL)-17, tumor necrosis factor (TNF)-α, IL-23, IL-22, interferon (IFN)-α, and IFN-γ by immune cells. Among these key cytokines lie therapeutic targets for currently approved antipsoriatic therapies. This review aims to provide a comprehensive overview on the immune-mediated mechanisms characterizing the current pathogenic model of psoriasis.
Keywords:
psoriasis; pathogenesis; immunology; autoantigen; IL-17; IL-23; cytokines; chemokines; autoreactive T cells; dendritic cells
1. Introduction
Plaque-type psoriasis is a chronic inflammatory skin disease involving both the innate and the adaptive immune compartments, crosstalking with skin tissue cells.
The interaction between hyperproliferative keratinocytes (KCs), inflammatory dendritic cells (DCs), neutrophils, mast cells, and T cells, induces to the development of psoriatic lesions, clinically characterized by sharply demarked, erythematous, and scaly plaques. In the last three decades, the pathogenic model for psoriasis has been profoundly revised according to a broader and deeper understanding of the immune mechanisms leading to plaque formation.
Before the late 1990s, there was a debate on whether KC proliferation was due to intrinsic KC defects triggering an immune response or, viceversa, whether KC hyperproliferation was a secondary phenomenon induced by immune activation and inflammation. In 1995, a milestone study demonstrated psoriatic plaque resolution following selective apoptosis of activated T cells, without affecting KC survival or activation, thus demonstrating the crucial role of the immune system, particularly of T cells, in the disease [
1
]. This immune hypothesis found confirmation in numerous studies and effective immune-targeting therapies [
2
,
3
,
4
,
5
]. Initially, the pathogenic mechanism was thought to be based on the upregulation of interferon (IFN)-γ and interleukin (IL)-12, signaling, with both cluster of differentiation (CD)4+ and CD8+ IFN-γ-producing T cells (named Th1 and Tc1 cells, respectively) as key players [
6
,
7
]. More recently, an accurate characterization of the immune pathways involved in psoriasis led to recognize the role of specific subsets of immune cells and their derived products with the subsequent identification of new therapeutic targets. Thereby, the pathogenic paradigm has been profoundly revised in favor of an IL-23/IL-17 axis (
Figure 1
) [
8
,
9
,
10
]. IL-23 is the most potent inducer of IL-17 production by different cell types, including T cells (named in this manuscript T17 cells), neutrophils, ILC3, NK, NKT cells, and mast cells, that have all been recognized as strong contributors to the pathogenesis in psoriasis [
11
]. Gene products involved in the psoriatic inflammation represent a consistent part of the genetic susceptibility that has been progressively established by numerous GWAS within the last ten years. The identification of psoriasis risk genetic loci, so-called PSORS 1-9, has been improved by GWAS that more accurately described specific susceptibility genes associated with psoriasis, giving reason of its peculiar immunologic profile [
12
,
13
,
14
,
15
,
16
,
17
,
18
,
19
,
20
,
21
,
22
]. Indeed, these studies led to a better understanding of the pathogenic hierarchy and relevance of certain cell types, intracellular signaling pathways, or mediators (cytokines, chemokines, antimicrobial peptides, etc.) in psoriasis compared to other inflammatory skin disorders, wherein the involvement of the same cell types, cytokines, or signaling pathways determine different pathogenic effects.
More recently, the clinical interest in psoriasis-related comorbid conditions has fueled the investigation on immune-mediated circuits or mediators that could link psoriasis to its comorbidities. The view of psoriasis shifted from a mere skin disease to a skin disorder associated to systemic inflammation and a wide array of concomitant conditions, mirroring other tissue-specific diseases with systemic implications such as Crohn's disease, and rheumatoid arthritis (the so-called immune-mediated inflammatory diseases, IMIDs) [
23
]. Hence, psoriatic skin inflammation is not confined to the lesional site, as high levels of cytokines and activated immune cells circulate into the bloodstream affecting also distant uninvolved skin, and other tissues or organs [
24
,
25
,
26
,
27
,
28
,
29
,
30
,
31
]. This review aims to illustrate the immune pathogenic mechanisms in psoriasis, with a focus on the cellular and soluble contributors, and a survey of the current pathogenic model.
2. Main Cell Types Involved in Psoriasis
A large plethora of immune cells contribute, to different extents, to the pathogenesis of psoriasis. In this section, we will illustrate the role and the most relevant supporting evidence of each cell type.
3. Main Cytokines in Psoriasis
Pathogenic circuits involve multiple mediators, including cytokines that are currently identified as the most druggable targets. Functional studies in animal models, in vitro experiments, transcriptomic and ex vivo evidence, successful (and unsuccessful) clinical experiences in treating psoriasis have all helped define the role of each cytokine in inducing the psoriasis phenotype and its therapeutic relevance (
Figure 2
A).
4. The Current Pathogenic Model
Psoriasis can be classified as an IL-23/IL-17-mediated disorder as strongly supported by various lines of evidence. Among them, genetic findings highlighted the importance of IL-23 signaling and the T17 differentiation in psoriasis as some genetic variants of both IL-23 subunits and IL-23R genes confer predisposition to the disease, whereas an IL-23R variant protects against psoriasis [
201
,
202
,
203
,
204
]. In addition to this axis representing the core of psoriasis pathogenesis, upstream cytokines (IFN-α, IFNγ, and TNFα), synergizing cytokines (IL-22 and TNFα), and downstream mediators (IL-8, IL1F9, and CCL20) complete the pathogenic puzzle (
Figure 2
B). pDCs, mDCs, and autoreactive T cells, in concert with mast cells and neutrophils, prime the pathogenic cascade. Subsequently, IL-23/IL-17-mediated inflammation, supported by other pro-inflammatory and pro-proliferative molecules derived from T cell activation, induces tissue responses that in turn participate to the pathogenic mechanism, favoring migration of inflammatory cells from bloodstream to the lesional site, proliferation (induction of epidermal hyperplasia and neoangiogenesis), and generation of feed-forward loops that fuel inflammation. This cytokine-driven process is transduced intracellularly by the upregulation of certain signaling pathways, including NF-κB signaling whose initial activation may be genetically determined by CARD14 gene (mapping on PSORS2) variants [
205
,
206
]. Similarly, variants of the TRAF3IP2 gene, recognized as another susceptibility gene, affects IL-17 and TNF signaling [
207
,
208
,
209
].
4.1. Early Phases
The activation of immune cells, in particular DCs and/or autoreactive T cells, characterizes the early steps of the pathogenic cascade. Because of the immunologic microenvironment, both pDCs and mDCs, once activated, are skewed toward an "inflammatory" phenotype, turning into relevant producers of cytokine and other inflammatory mediators, and becoming mature antigen presenting cells (DC-LAMP+) expressing T cell costimulatory molecules, such as CD86 and HLA-DR. As previously described, pDCs may be activated by various triggers (
Figure 4
), and represent the initiators of the pathogenic inflammatory cascade through their ability to produce IFN-α. A downstream effect of IFN-α production by pDC is the activation of mDCs, which become highly inflammatory dermal DCs (Tip-DCs), expressing TNF, NO, IL-20, and the p40 cytokines. Within the dermis, IL-23—producing Tip-DCs and mature DC-LAMP+ DCs interact with T cells driving their differentiation towards a dominant IL-17+ T cell phenotype [
210
]. Another alternative pathway for priming the pathogenic cascade is represented by T cells producing mainly IFN-γ, and to a lesser extent IL-17A. These IL-17—producing lymphocytes are specific for self-antigens, such as LL-37, ADAMSTL-5, and neolipid antigens. Nevertheless, no monoclonal expansion of autoreactive T cells characterizes the T cell compartment as diverse polyclonal α/β and γ/δ T cell repertoires have been detected in lesional psoriatic skin [
211
].
4.1.1. Dendritic Cell Activators
TLR Agonists
DCs are activated by diverse TLR agonists, in particular by self-RNA or DNA derived from virus or bacteria. However, self RNA or DNA derived from dying cells may also activate DCs when it is assembled in complexes together with LL37, IL-26, and other AMPs, as they could bind TLR7, -8, or -9. TLR7 and TLR9 are selectively expressed by pDCs, whereas mDCs express TLR3 and TLR8 [
212
,
213
,
214
]. Forming complexes with LL37, self-DNA and self-RNA cannot be degraded and they could bind endosomal TLR7 and -9 in pDCs or TLR8 in mDCs. In particular, self-DNA, when condensed with LL37, DEFB4, hBD3, and lysozyme, is able to trigger pDC activation through TLR9 [
70
] and to induce IFN-α, while self-RNA complexed with LL37 stimulates mDCs to produce TNF and IL-6 and to become fully mature [
72
]. Of note, mature DC-LAMP+ mDCs in lesional psoriatic skin co-localize with self-RNA-LL37 complexes [
57
], and pDCs in lesional psoriatic skin co-localize with LL37 [
215
]. More recently, a Th17 cytokine with direct antibacterial activity, IL-26, was shown to be highly expressed in psoriasis lesional skin, and to promote pDC-derived IFN-α production when complexed with self-DNA, through TLR9 [
73
].
Chemerin
Chemerin is an inflammatory tissue protein produced by fibroblasts, mast cells, and endothelial cells that has been detected in ovarian cancer ascites and in the synovial fluid of rheumatoid arthritis patients [
216
,
217
]. Increased levels of chemerin expression has been also detected in lesional psoriatic skin compared to distant uninvolved skin, in atopic dermatitis, and in normal skin. In psoriatic dermis, fibroblasts represent the major source of chemerin which is able to induce pDCs migration in vitro and ERK1/2 phosphorylation [
95
]. Thus, chemerin, binding to its cognate receptor, chemR23, expressed on pDCs, acts as a chemotactic factor for the recruitment of pDC to prepsoriatic skin [
109
]. Indeed, chemerin expression specifically marks the early phases of evolving psoriatic skin correlating with pDC migration and activation: chemerin expression patterns are different in chronic stable plaques compared to recent plaques or to unaffected skin adjacent to psoriatic lesions. Along these lines, unaffected adjacent skin, as well as recent lesions, is characterized by strong expression of chemerin in the dermis, accompanied by neutrophil, pDC, and mast cells infiltration [
109
]. On the contrary, low chemerin expression can be detected in chronic stable plaques showing neutrophil and CD8+ lymphocyte accumulation within the epidermis, but rare pDCs [
109
,
111
].
Thymic Stromal Lymphopoietin (TSLP)
Although TSLP was established as major proallergic cytokine in atopic dermatitis (AD) [
218
], recently it has been also proved to contribute to human psoriasis physiopathology [
166
]. TSLP is mainly produced by KCs, while mDCs are the major TSLP-responsive cellular subset in both humans and mice [
219
,
220
]. TSLP induces DC maturation and production of inflammatory cytokines (i.e., IL-4, IL-12, and IL-23), that may be synergistically enhanced by CD40L [
166
,
221
]. Thus, given the central role of mDC-derived IL-23 in psoriasis, and its relevance in driving IL-17 production, TSLP is becoming a novel player within the complex cytokine network supporting the IL-23/IL-17 axis (
Figure 1
).
4.1.2. Autoantigens
The identification of the
primum movens
triggering the inflammatory cascade in psoriasis is a fascinating aspect of psoriasis pathogenesis. It has become clear that multiple early triggers could exist, not exclusively linked to DC activation by TLR agonists, as described above.
The presence of autoantigens and autoreactive T cells, and thus an autoreactive mechanism in psoriasis, was suggested by the early 2000s, with the presence of streptococcal M protein-specific T cells cross-reacting against self-antigens (type I keratins). This phenomenon was thought to be due to molecular mimicry induced by the highly similar structure characterizing streptococcal M protein and type I keratins [
222
,
223
]. More recently, a psoriasis mice model was developed based on an autoimmune mechanism, wherein injection of IL-17-producing CD4+ T cells recognizing desmoglein 3 as autoantigen was able to develop psoriasis-like lesions [
224
]. This autoimmune hypothesis has been fostered by the crucial role that the IL-23/IL17 axis plays in other autoimmune disease, and by the strong pathogenic association with HLA-C*06:02, a HLA- Class I molecule, recognized as a psoriasis-susceptibility gene. Nevertheless, the identification of the first autoantigen in psoriatic patients occurred only in the recent years, in 2014, with the detection of circulating and skin-infiltrating autoreactive T cells against LL37 [
146
], followed by the identification of other autoantigens including ADAMTSL5 and lipid antigens generated by phospholipase A2 group IVD (PLA2G4D) [
225
,
226
].
LL37
LL37 is secreted by keratinocytes, neutrophils and macrophages, and its expression can be induced by IL-17 stimulation [
146
]. It is highly expressed in lesional psoriatic skin and it is pathogenically relevant as it forms complexes with extracellular self-nucleic acids activating DCs through TLR7/8/9 [
70
,
71
,
72
]. Its pathogenic relevance has been strengthened by the identification of LL37-specific autoreactive T cells, belonging to both CD4+ and CD8+ T-cell compartments, that were found in 46% of psoriasis patients and even more frequently in moderate-to-severe psoriasis patients [in up to 75% of patients with Psoriasis Activity Severity Index (PASI) > 10] [
146
]. LL37 is presented by both HLA-Class I (i.e., Cw6*02) and HLA-Class II alleles (HLA-DR1, -DR4, and -DR11,), promoting CD8+ and CD4+ activation, respectively [
146
]. LL37-targeting T cells secrete key-pathogenic cytokines and chemokines, particularly IFN-γ, but also IL-17, IL-22, IL-21, IL-22, and IL-8, and they express skin-homing chemokine receptors, namely CCR4, CCR6, and CCR10 [
146
].
Thrombospondin Type 1 Motif-Like 5 (ADAMTSL5)
A melanocyte-derived protein, ADAMTSL5, has been identified as an autoantigen in 2015 by Prinz's group [
225
]. ADAMTSL5 expression is induced by CXCL1, a neutrophil chemoattractant and a melanocyte growth factor, and it is produced by KC upon IL-17 stimulation with IL-17 [
225
]. ADAMSTL5 expression has been detected not only in melanocytes, but also in keratinocytes throughout the epidermis. The number of melanocytes in psoriatic lesional skin is increased and, notably, T cells, including cytotoxic T cells, co-localize with melanocytes [
227
]. However, melanocytes detected in psoriatic epidermis do not show signs of cell death, and their number increases in psoriatic lesions, suggesting that melanocytes are likely targets of a non-cytotoxic CD8+ T cell–mediated autoimmune response [
224
]. Similar to LL37, ADAMTSL5 expression pattern mirrors the infiltrating pattern of T cell and DCs aggregates in the superficial dermis of lesional skin. The high expression of both autoantigen peptides, namely ADAMTSL5 and LL37, in lesional skin co-localizes with DCs, neutrophils, macrophages, and T cells, and it significantly decreases in psoriatic lesional skin treated with either an IL-17 or a TNF blocker [
228
,
229
]. This may suggest that ADAMTSL5, as well as LL37, are presented to autoreactive CD4+ T cells by HLA-Class II molecules, and to CD8+ T cells by HLA-Cw6*02, that are expressed on antigen-presenting cell surface within the dermal lymphoid tissue structures [
225
,
229
].
Lipid Antigens Generated by Phospholipase A2 Group IVD (PLA2G4D)
Besides peptides, lipid-originated antigens may also be recognized as non-self by T cells [
226
].
Phospholipase A2 group IV (PLA2G4D) is a novel PLA2 enzyme that is absent in normal skin whereas it is highly expressed and shows enhanced activity in psoriatic skin lesions [
230
]. PLA
2
expression is detected in mast cells and keratinocytes, and it generates the lipid products that are presented by antigen presenting cells through CD1a, a lipid antigen-presenting protein that shares similarities with HLA-Class I molecules [
231
]. The interaction between CD1a and PLA2G4D-originating lipid antigens induces activation of T cells and release of IFN-γ, IL-17, and IL-22. CD1a-reactive T cells are increased in the blood and skin of patients affected by psoriasis and they also express CLA+, suggesting their ability to migrate into the skin [
232
,
233
].
4.2. Amplification Phase and Tissue Cell Response
The amplification phase consists of a wide activation of T cell subsets and other immune cells that boost inflammation and consequent tissue cell responses. In particular, DC activation leads to a reorganization of the dermal T cell infiltration, and to the formation of DCs/T cell clusters that facilitate the activation of the T cell response. Of note, these clusters also co-localize with autoantigens. Moreover, most of the infiltrating dermal DCs secrete IL-23, thus sustaining IL-17-producing T cells. The IL-23/IL-17-driven inflammation is further amplified by the large amounts of pro-inflammatory and pro-proliferative mediators, and it contributes to boost the typical psoriatic tissue cell response, characterized by a typical gene expression profile and histology. In this scenario, keratinocyte-mediated feed-forward circuits are central for inflammatory cell recruitment and for the amplification of inflammatory and proliferative signals. IL-17A acts in synergism with other key-cytokines in psoriasis such as TNF-α and IL-22, stimulating the expression AMPs (LL37, β-defensins, LCN2, S110A family proteins), inflammatory cytokines (IL-1 family members and IL-6), and chemokines (CXL1, -3, -5, -8, and CCL20). In particular, IL-17, together with IL-22 and TNF-α, stimulates KCs to produce CXCL-1, -3, and -8, chemokines attracting neutrophils and sustaining their activation and survival. This synergism increases also the production of CCL20, important for recruitment of CCR6+ skin-homing cells, such as IL-17-producing T cells, IL-22-producing T cells, and DCs [
54
,
86
,
87
,
119
]. Additionally, the CCL20/CCR6 chemokine system, together with the CCL19/CCR7 axis, is centrally involved in the dermal lymphoid aggregate formation. These aggregates consist of mature mDCs expressing DC-LAMP/CD208, CD11c, HLA-DR, CCR6, and T cells expressing CCR6+ that produce both IL-17 and CCL20 [
86
,
87
,
234
,
235
]. The formation of these clusters induces the in situ activation of T cells, and it represents the downstream effect of DC activation and maturation by autoantigens or TLR ligands [
236
,
237
]. The massive presence of mature DC-LAMP+ DCs aggregated with T cells contributes to the chronic inflammatory process and it correlates with clinical induration scores of psoriatic plaques and with disease severity. Moreover, IL-17 could drive broad feed-forward loops enhancing directly or indirectly the expression of far upstream mediators such as LL37 and CXCL1. On the other hand, TLRs, which are considered crucial in the early steps of the pathogenesis of the disease, could also have effects on far downstream steps once inflammation is established. In fact, the inhibition of TLR7, 8, and 9 is able to suppress IL-23-induced inflammation in a mice model, decreasing also the IL-17 signature genes and the down-stream IL-17 signaling [
238
].
All together these results support the concept that in psoriasis a vicious loop reverberates the IL-17 signal within the lesional site.
In a similar manner, IFN-γ amplifies IFN-γ signaling and induces the recruitment of IFN-γ-producing cells, via KC production of CXCL9, CXCL10, and CXCL11, that attract CXCR3+ T cells which are highly enriched in IFN-γ-producing T cells (
Figure 3
C) [
89
]. Though KCs are considered the key responding cells to the cytokine microenvironment, the contribution of other tissue cells should be underscored. The relevance of melanocytes in the pathogenesis of the disease has become more appreciated since the identification of a melanocyte-derived autoantigen. Endothelial cells favor inflammatory cell migration into lesional sites through the expression of adhesion molecules including ICAM-1, VCAM-1, ELAM-1, HECA-452, and 4D10I-CAM [
239
,
240
]. Fibroblasts also secrete chemerin, other pro-inflammatory products such as IL-6, and MMPs [
119
].
5. The Pathogenic Cascade Compendium
The early steps of the pathogenic cascade consists in the activation of IFN-α-producing pDCs triggered by TLR agonists, and/or the activation of autoreactive T cells producing IFN-γ, and other key-cytokines such as IL-17. While autoreactive T cells may potentially initiate the pathogenic process, leading to the psoriatic phenotype, pDCs, through their IFN-α-production, stimulate mDC to become highly inflammatory dermal DCs producing TNF-α, IL-23, IL-20, and NO. Besides IFN-α, they may be also stimulated by TSLP and TNF-α. Their IL-23 production stimulates IL-17 producing cells, which include Th17, Tc17, γδ T cells, ILC3, mast cells, and neutrophils. IL-17, in cooperation with other cytokines such as TNFα and IL-22, induces the development of the psoriasis phenotype through tissue cell activation. The most relevant tissue response is provided by keratinocytes that, releasing chemokines and other pro-inflammatory molecules (AMPs), sustain skin inflammation.
6. Conclusions
Nowadays, psoriasis is the best-studied immune-mediated skin disease. Multiple cytokine-mediated signaling pathways can be traced within the psoriasis transcriptome, although just a few turned out to be crucial for the development of the psoriasis phenotype, with their blockade being therapeutically advantageous. The classic view of psoriasis pathogenesis was established on the IL-12/Th1 pathway but has now been profoundly revised, and "under the IL-17 light", the pathogenic role of IFN-γ has been reconsidered, placing it in the early steps of the psoriatic cascade, and acting as an activating factor for antigen-presenting cells. The current pathogenic model is centered on the IL-23/IL-17 axis, and it is being dynamically integrated and remodeled according to new acquisitions, such as the recent identification of autoantigens and autoreactive T cells. However, many aspects still need to be elucidated, and their clarification will help to better understand the pathology of psoriasis and to improve the therapeutic strategy against this disease.
Author Contributions
Andrea Chiricozzi conceived the manuscript; Andrea Chiricozzi designed and created the figure set; Andrea Chiricozzi, Elisabetta Volpe, Giovanna Borsellino wrote the manuscript; Marco Romanelli, and Paolo Romanelli critically revised the whole manuscript.
Conflicts of Interest
The authors declare no conflict of interest.
Abbreviations
| | |
| --- | --- |
| β-DEF | β-defenin |
| CCL | CC chemokine ligands |
| CXCL | chemokine (C-X-C motif) ligand |
| CLA | cutaneous lymphocyte antigen |
| DCs | dendritic cells |
| EGF | epidermal growth factor |
| ELAM-1 | endothelial leukocyte adhesion molecule-1 |
| GWAS | genetic-wide association studies |
| HBEGF | heparin-binding EGF-like growth factor |
| HLA | Human leukocyte antigen |
| ICAM-1 | intercellular adhesion molecule-1 |
| IFN | interferon |
| IL | interleukin |
| ILC | innate lymphoid cells |
| iNOS | intracellular nitric oxide synthase |
| KCs | keratinocytes |
| mDC | myeloid Dendritic Cell |
| MMPs | matrix metalloproteinases |
| NKT | natural Killer T cell |
| NO | nitric oxide |
| pDC | plasmacytoid Dendritic Cells |
| STAT | signal transducer and activator of transcription |
| TLR | toll-like receptor |
| TNF | tumor necrosis factor |
| TSLP | thymic stromal lymphopoietin |
| VCAM-1 | vascular cell adhesion protein 1 |
| VEGF | vascular endothelial growth factor |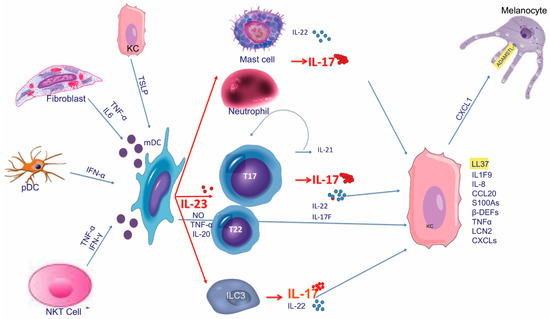 Figure 1. The pathogenic model based on the IL-23/IL-17 axis inducing the development of psoriatic phenotype. Multiple factors induce mDCs activation with consequent IL-23 production (IFN-α, TSLP), that, in turn, stimulates mainly T cell subsets, but also ILC3, mast cells, and neutrophils, to secrete IL-17. Other cytokines derived from T cells, mast cells, and ILC3 (IL-22, IL-17F, and IL-21), and from mDCs (TNFα, NO, and IL-20) contribute to the development of psoriatic skin. Autoantigens involved in this pathway are highlighted in yellow. T17 and T22 cells represent all T cell subsets producing mainly IL-17 and IL-22, respectively. The IL-23/IL17 axis, the main immune pathway in psoriasis pathogenesis, is highlighted in red, while the other immune signals are designed in blue. CCL: CC chemokine ligands; CXCL: chemokine (C-X-C motif) ligand; ADAMTSL5: Thrombospondin Type 1 motif-like 5; β-DEF: β-defenins; IFN: interferon; IL: interleukin; KC: keratinocyte; mDC: myeloid Dendritic Cell; NKT: Natural Killer T cell; NO: nitric oxide; pDC: plasmacytoid Dendritic Cells; TNF: tumor necrosis factor; TSLP: Thymic stromal lymphopoietin.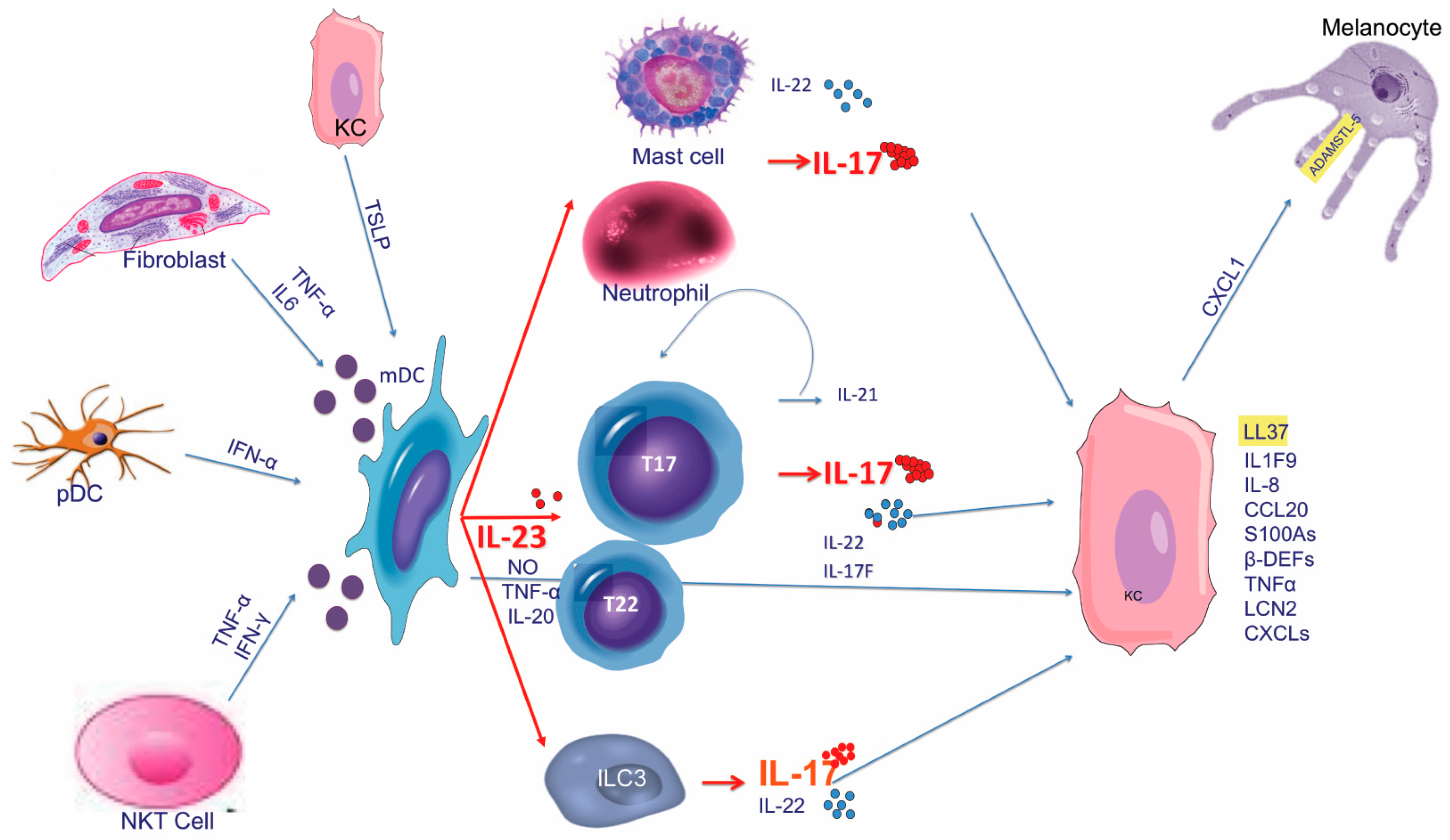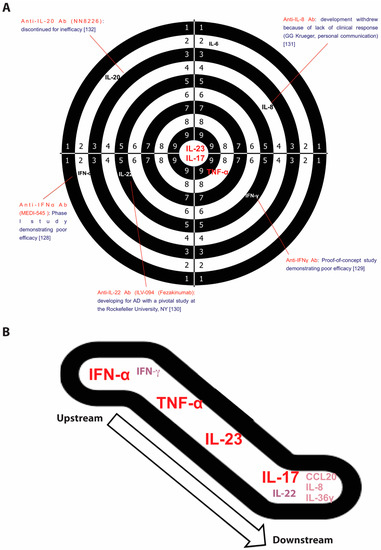 Figure 2.
Therapeutic "hierarchy" of pathogenic cytokines in psoriasis. (
A
) The shooting target shows the best targets for treatment of psoriasis (IL-17, IL-23, and TNF-α). Moving away from the center, other pathogenic cytokines have proved to be less therapeutically relevant because their blockade resulted in a poor clinical response [
11
,
128
,
129
,
130
,
131
,
132
]; (
B
) key-cytokines (IFNα, TNFα, IL-23, and IL-17) in upstream and downstream points within the psoriatic inflammatory cascade, and other relevant contributors: IFN-γ, IL-22, IL-1F9, IL-8, and CCL20. CCL: CC chemokine ligands; IFN: interferon; IL: interleukin; TNF: tumor necrosis factor.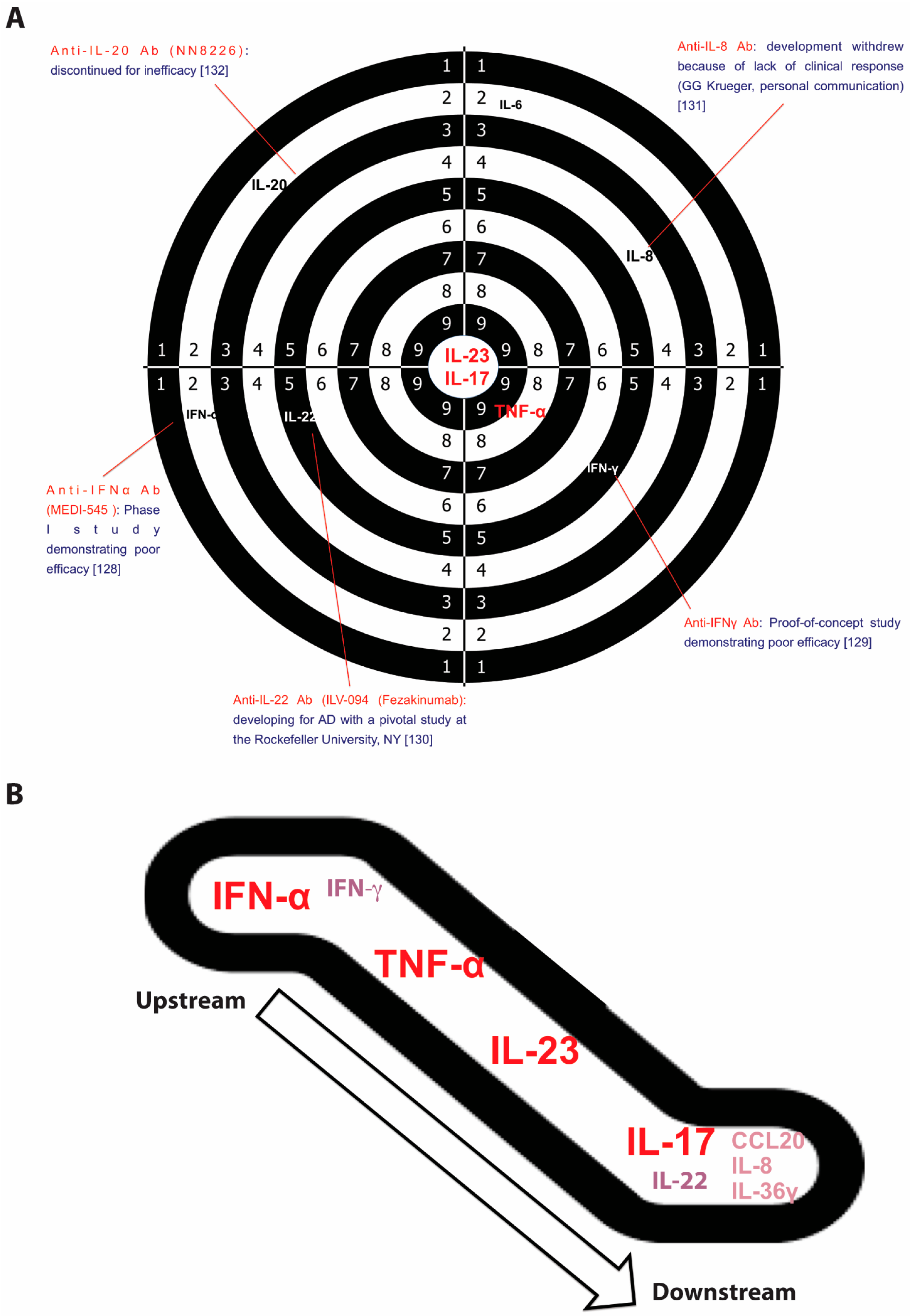 Figure 3. Feed-forward inflammatory circuits involving keratinocytes. IL-17 auto-amplifies its signal through the stimulation of keratinocytes which then produce CCL20 (A) or other chemoattractans (B) recruiting IL-17-producing T cells (A) and other inflammatory cells. In a similar auto-sustaining manner, IFN-γ-secreting T cells are recruited through keratinocyte production of chemokines (CXCL9-11) induced by IFN-γ (C). CCL: CC chemokine ligands; CCR: C-C chemokine receptor; CXCL: chemokine (C-X-C motif) ligand; CXCR: C-X-C motif chemokine receptor; IFN: interferon; IL: interleukin; KC: keratinocyte; Th: T helper; Tc: T cytotoxic; TNF: tumor necrosis factor.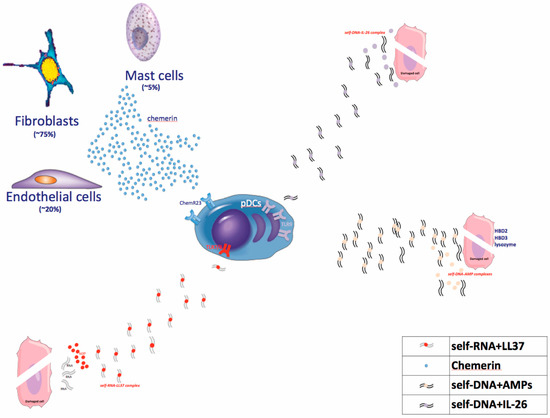 Figure 4. Activation of pDCs. Self-nucleic acids (both DNA and RNA) derived from damaged cells when complexed with AMPs, including LL37, and Th17-derived cytokine IL-26, can activate pDCs through TLR activation. pDCs migration and activation can be also induced by chemerin, an inflammatory protein mainly secreted by fibroblasts. pDCs: plasmacytoid Dendritic Cells; TLR: Toll-like Receptor.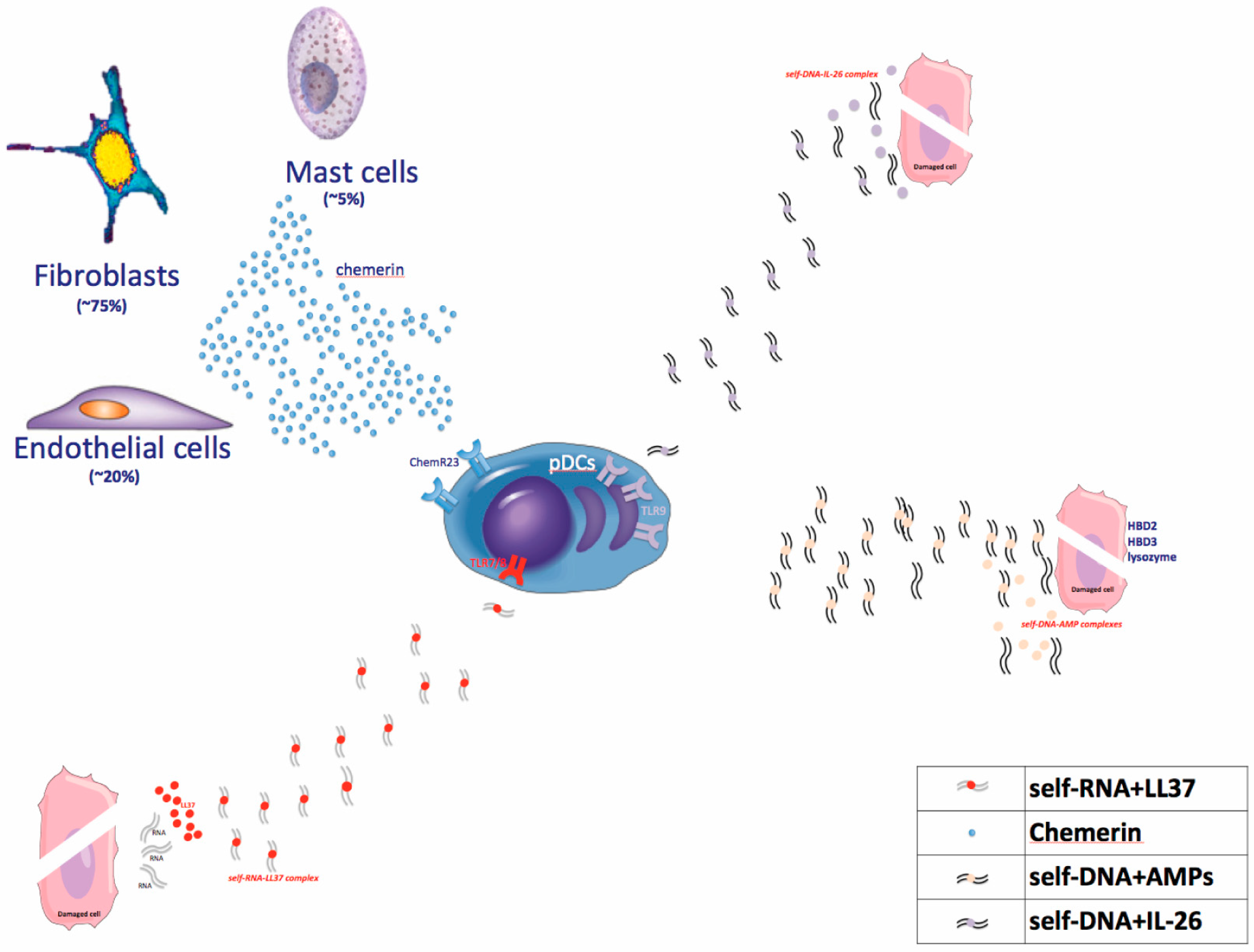 © 2018 by the authors. Licensee MDPI, Basel, Switzerland. This article is an open access article distributed under the terms and conditions of the Creative Commons Attribution (CC BY) license (http://creativecommons.org/licenses/by/4.0/).