Open Access This article is
freely available
re-usable
Review
A Novel Perspective on the ApoM-S1P Axis, Highlighting the Metabolism of ApoM and Its Role in Liver Fibrosis and Neuroinflammation
1
Department of Clinical Biochemistry, University Hospital of Copenhagen, Rigshospitalet, Blegdamsvej 9, 2100 Copenhagen, Denmark
2
Department of Biomedical Sciences, Faculty of Health and Science, University of Copenhagen, Blegdamsvej 3, 2200 Copenhagen, Denmark
3
Department of Cardiology, University Hospital of Copenhagen, Rigshospitalet, Blegdamsvej 9, 2100 Copenhagen, Denmark
*
Author to whom correspondence should be addressed.
Received: 29 June 2017 / Accepted: 25 July 2017 / Published: 27 July 2017
Abstract
:
Hepatocytes, renal proximal tubule cells as well as the highly specialized endothelium of the blood brain barrier (BBB) express and secrete apolipoprotein M (apoM). ApoM is a typical lipocalin containing a hydrophobic binding pocket predominantly carrying Sphingosine-1-Phosphate (S1P). The small signaling molecule S1P is associated with several physiological as well as pathological pathways whereas the role of apoM is less explored. Hepatic apoM acts as a chaperone to transport S1P through the circulation and kidney derived apoM seems to play a role in S1P recovery to prevent urinal loss. Finally, polarized endothelial cells constituting the lining of the BBB express apoM and secrete the protein to the brain as well as to the blood compartment. The review will provide novel insights on apoM and S1P, and its role in hepatic fibrosis, neuroinflammation and BBB integrity.
Keywords:
apolipoprotein M; Sphingoshine-1-Phosphate; lipid metabolism; liver fibrosis; blood brain barrier
2. The Apolipoprotein M/Sphingoshine-1-Phosphate (ApoM/S1P) Axis—Introduction to the Concept
3. ApoM—Regulation, Modification and Release
4. ApoM Acts as S1P Scavenger in the Proximal Convoluted Tubule
ApoM is highly expressed in renal proximal tubule cells and secreted into the pre-urine by an unknown mechanism. Megalin, also known as LDL receptor related protein 2 (LRP2) is also expressed in proximal tubule cells and recognizes apoM among other lipocalins [
54
,
60
,
61
]. Interaction between apoM and megalin induces its internalization followed by degradation of apoM [
50
]. Thus, healthy mice excrete neither apoM nor S1P in the urine. In contrast, urine samples from LRP2
-/-
mice comprise ~6 nM S1P and quantifiable amounts of apoM, suggesting megalin as a primary apoM receptor in proximal tubule cells [
62
]. The urinary loss of S1P does however not affect the respective plasma concentration, which suggests a unique role of kidney derived apoM.
Studies in an apoM
Q22A
mouse model revealed low apoM plasma levels due to its inability to associate with HDL particles [
50
]. Free circulating apoM
Q22A
will be rapidly filtrated by the kidney, followed by interaction with the megalin receptor, internalization and degradation. The hydrophobic signal peptide facilitates apoM solubility in apolar solvents and by the kidney excreted apoM emerges at a higher molecular mass [
54
]. This observation raises the question whether apoM associates with other intracellular (e.g., phospholipids or cholesterol) or extracellular factors to aid water solubility and probably export.
We hypothesize that apoM and albumin are crucial S1P scavenger in the kidney, indispensable for S1P recovery (
Figure 1
). Indeed, albumin enters the proximal tubule via glomerular filtration [
63
] and may already carry S1P molecules. ApoM on the other hand is de novo synthesized and secreted by endothelial proximal tubule cells. To achieve solubility apoM is most likely intracellularly lipidated and/or associates with another soluble intra- or extracellular carrier protein. By an unknown pathway the complex is secreted into the pre-urine where apoM can bind free S1P followed by re-uptake via the megalin receptor. Whether apoM is recognized by other receptors downstream of the proximal tubule is however unknown to date and needs to be investigated in the future. If such an uptake occurs, we suggest that only minimal amounts of apoM are recovered. Megalin deficiency alters the plasma S1P levels only marginally [
62
] and thus a secondary transport system (probably located downstream of the proximal tubule) could be involved in apoM/S1P recovery from the pre-urine. Albumin reabsorption in the proximal tubule is mediated by cubilin, a co-receptor interacting with megalin [
64
]. It can however be only speculated whether albumin acts as an alternative S1P scavenger, notably due to its low S1P binding affinity [
24
] and putative occupation by other molecules. Renal uptake of apoM [
50
] and albumin [
63
,
65
] is probably accompanied by either lysosomal degradation and consequent release of scavenged S1P, or export to peritubular capillaries. Aseem et al. reported that cubilin haploinsufficiency results in decreased plasma albumin and apoA-I levels, thereby suggesting an export mechanism of scavenged proteins from proximal epithelial tubule cells to the adjacent blood vessels [
66
]. Surface plasmon resonance binding studies did however not show a response between apoM and cubilin, hence megalin is to date the only known receptor which interacts with apoM [
54
]. Whether apoM associates with apoA-I in the pre-urine, as documented for plasma apoM, to achieve solubility before or after release into the proximal tubule or post uptake via megalin is unknown to date. Thus, further studies are required to elucidate whether scavenged apoM is exported to the systemic blood flow by the proximal tubule endothelium. Lipoprotein associated-apoM as well as albumin from peritubular capillaries may further mediate S1P export, binding and transport to other cellular networks. Whether S1P
per se
acts as signaling molecule to steer the process is unexplored and needs to be addressed by further studies.
5. S1P Release from Primary Synthesizing Cells
6. S1P Release Mechanism from ApoM
7. The Role of ApoM in Liver Fibrosis
Nevertheless, the controversial findings between HDL-apoM and S1P receptor mediated effects on liver regeneration suggest that HDL associated apolipoprotein(s) may play a unique role in tissue regeneration post traumatic injury. ApoM may exert such a role, even though more experiments are needed to clarify the mechanisms.
8. ApoM May Exert an Essential Role in Cerebral S1P Transport
9. Conclusions
The discovery of apoM revealed a crucial element in transport of S1P and also suggests a unique role of apoM in distinct organ systems. Whereas hepatic apoM shuttles S1P through the blood circulation to different cellular networks, kidney derived apoM acts as a scavenger to prevent urinal S1P loss. The role of BBB derived apoM is essentially unknown to date. Several reports identified a link between the apoM/S1P system and liver fibrosis as well as brain inflammation. Reports on HDL-apoM and S1P receptor mediated effects on liver regeneration are controversial, but a unique role of apoM may be evident. ApoM further exerts a crucial role in minimizing CNS associated inflammatory processes in respective model systems. Whether the apolipoprotein is directly involved or serves a secondary role needs to be addressed in further studies. Moreover, modulation of the apoM/S1P system may be an efficient strategy to enhance CNS directed drug transportation via temporal BBB opening.
Acknowledgments
This work was supported by The Novo Nordisk Foundation (#NNF13OC0003898) and the Danish research Council (#1331-00337B) to Christina Christoffersen. Stefan Hajny was supported by a grant from the University of Copenhagen, Faculty of Health and Science.
Author Contributions
Stefan Hajny and Christina Christoffersen conceived the concept for this review. Stefan Hajny collected and analyzed data from the available literature, and Christina Christoffersen critically supervised and revised the manuscript.
Conflicts of Interest
The authors declare no conflict of interest.
Abbreviations
| | |
| --- | --- |
| apoD | Apolipoprotein D |
| apoE | Apolipoprotein E |
| apoM | Apolipoprotein M |
| BBB | Blood-Brain-Barrier |
| BDL | Bile duct ligation |
| CCl4 | Carbon tetrachloride |
| CNS | Central Nervous System |
| EAE | Autoimmune Encephalomyelitis |
| EC | Endothelial cell |
| ECM | Extracellular matrix |
| FOXA2 | Hepatocyte nuclear factor 3-β |
| HDL | High Density Lipoproteins |
| HNF-1α | Hepatocyte Nuclear Factor-1α |
| HSC | Hepatic stellate cell |
| LDL | Low Density Lipoprotein |
| LRP2 | LDL receptor related protein 2 (Megalin) |
| pBCEC | porcine Brain Capillary Endothelial Cell |
| PKC | Protein kinase C |
| PLTP | Phospholipid Transfer Protein |
| RBC | Red blood cell |
| S1P | Sphingosine-1-Phosphate |
| S1P1 | S1P receptor 1 |
| SA | Serum albumin |
| SMA | Smooth muscle actin |
| SPHK | Sphingosine Kinase |
| SPNS2 | Sphingolipid Transporter 2 |
| SR-BI | Scavenger receptor class B member 1 |
| TGF-β | Growth Factor β |
| VLDL | Very Low Density Lipoprotein |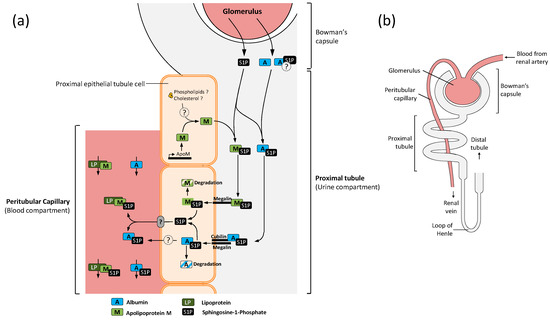 Figure 1. (a) Albumin and apoM operate as scavenger proteins in the proximal tubuli of the kidney to recover glomerular filtrated S1P. Whereas apoM is de novo synthesized and secreted by proximal epithelial tubule cells, albumin (probably already loaded with S1P) enters the tubuli through the glomerulus. Upon binding of free S1P, apoM interacts with the megalin receptor and albumin with its co-receptor cubilin, followed by internalization. A fraction of albumin may be further exported to adjacent peritubular capillaries (probably loaded with S1P molecules) whereas another portion undergoes protein degradation associated with release of scavenged S1P. Current evidence suggests that apoM will be rather degraded than exported. ApoM associated lipoproteins and/or albumin from peritubular capillaries further induce the export of accumulated S1P from the proximal tubule epithelium. These proteins are also involved in S1P binding and transportation to other cellular networks. (b) Macroscopic representation of the renal tubule system, highlighting the most relevant structures involved in apoM and albumin mediated S1P recovery.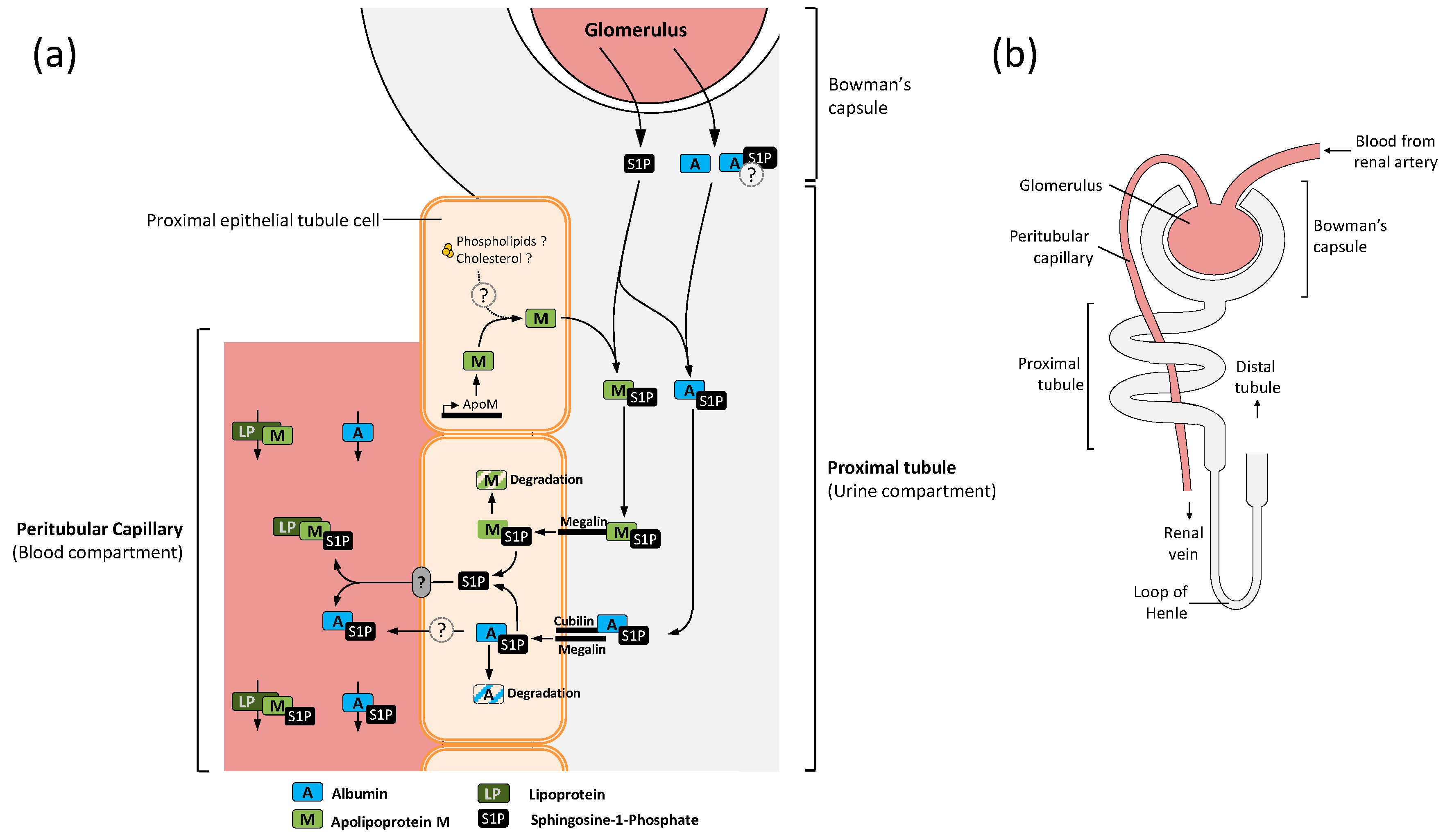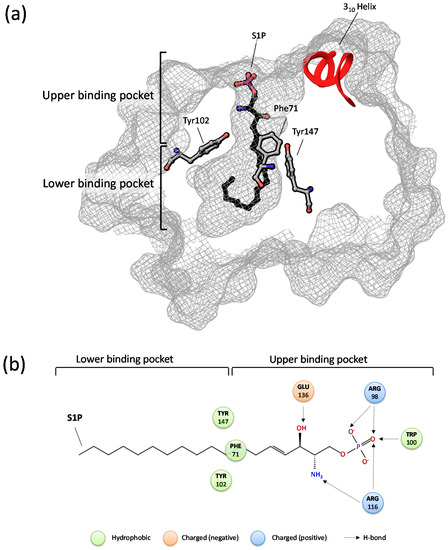 Figure 2. (a) Schematic representation of human apoM in complex with S1P. The amino acid residues Phe71, Tyr 102 as well as 147 play a leading role in separating the hydrophobic binding pocket into a lower and upper section. The 310 helix may furthermore play a significant role in recognition and binding of small molecules. (b) The upper part of the binding pocket exerts a critical role in fixating the S1P phosphate head in apoM via Arg98, Trp100, Arg116 and Glu136 interaction.

Table 1. Average KD values of S1P binding to various acceptor proteins. RApoM: recombinant human Apolipoprotein M; ApoD: human Apolipoprotein D; RBP: human retinol binding protein; SA: human Serum Albumin.
Table 1. Average KD values of S1P binding to various acceptor proteins. RApoM: recombinant human Apolipoprotein M; ApoD: human Apolipoprotein D; RBP: human retinol binding protein; SA: human Serum Albumin.
Ligand
ApoM
ApoD
RBP
SA
Retinoic acid
1.8 µM [18]
4.0 µM [19]
~2.7 µM [28]
0.21 µM [20]
~0.18 µM [28]
33.3 µM [29]
Retinol
2.2 µM [18]
0.2 µM [19]
~0.08 µM [28]
0.19 µM [20]
~0.26 µM [28]
13.2 µM [29]
S1P
rApoM ~0.9 µM [8]
HDL associated 0.021 µM [24]
LDL associated 0.0024 µM [24]
N/A
N/A
22.0 µM [24]
© 2017 by the authors. Licensee MDPI, Basel, Switzerland. This article is an open access article distributed under the terms and conditions of the Creative Commons Attribution (CC BY) license (http://creativecommons.org/licenses/by/4.0/).