The Relationships Between Biological Activities and Structure of Flavan-3-Ols
1
Department of Functional Genomics and Experimental Pathology, Cancer Institute "Ion Chiricuta", 34-35 Republicii, Cluj-Napoca 400015, Romania
2
Faculty of Biology and Geology, Babes-Bolyai University, 44 Gheorghe Bilascu, Cluj-Napoca 4000006, Romania
3
Department of Surgical Oncology, University of Medicine and Pharmacy, "Iuliu Hatieganu", 8 Victor Babes, Cluj-Napoca 400427, Romania
4
Department of Surgery, Cancer Institute "Ion Chiricuta", 34-35 Republicii, Cluj-Napoca 400015, Romania
5
Department of Immunology, University of Medicine and Pharmacy "Iuliu Hatieganu", 8 Victor Babes, Cluj-Napoca 400427, Romania
*
Author to whom correspondence should be addressed.
Received: 27 October 2011 / Revised: 23 November 2011 / Accepted: 5 December 2011 / Published: 13 December 2011
Abstract
Flavan-3-ols are involved in multiple metabolic pathways that induce inhibition of cell proliferation. We studied the structure-activity relationship of gallic acid (GA) and four flavan-3-ols: epigallocatechin gallate (EGCG), epigallocatechin (EGC), catechin (C), and epicatechin (EC). We measured the cell viability by the MTT assay and we determined the concentration of testing compound required to reduce cell viability by 50% (IC
50
). All tested compounds showed a dose-dependent and time-dependent inhibitory antiproliferative effect on Hs578T cells; IC
50
values varying from the 15.81 to 326.8 µM. Intracellular ROS (reactive oxygen species) were quantified using a fluorescent probe 2',7'-dichlorofluorescin diacetate (DCFH-DA). Only the treatment with 10 µM EGC and EGCG was able to induce a significant decrease of ROS concentration and increased levels of ROS were registered for 100 µM EGCG, EGC and GA. Flavans-3-ols and GA induced apoptosis in a dose- and time-dependent manner, which indicated that the induction of apoptosis mediated their cytotoxic activity at least partially. The galloylated catechins have shown a stronger antiproliferative activity and apoptotic effect than the one produced by non galloylated catechins. The galloylated flavan-3-ols are potential therapeutic agents for patients with triple negative breast cancer via induction of apoptosis.
View Full-Text
►

▼

Figures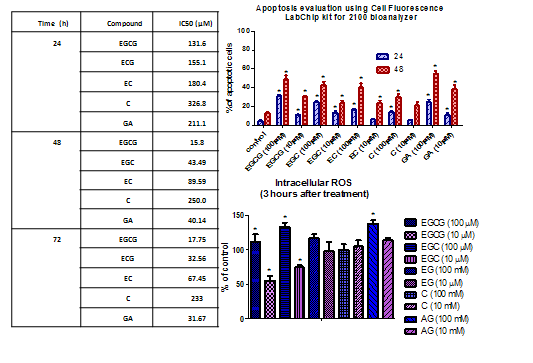 Graphical abstract

Share & Cite This Article
MDPI and ACS Style
Braicu, C.; Pilecki, V.; Balacescu, O.; Irimie, A.; Berindan Neagoe, I. The Relationships Between Biological Activities and Structure of Flavan-3-Ols. Int. J. Mol. Sci. 2011, 12, 9342-9353.
Related Articles
Comments
[Return to top]